2020 was a year of years!  On the bright side,  it forced people into the kitchen!   New cooks, people who don't like to cook, lazy cooks and also experienced home cooks all took to the kitchen banging the pots and pans around trying new things.  We are so glad to have been part of that with you!   Your nice comments and following have meant so much to us!  To a wonderful 2021!  LET'S EAT!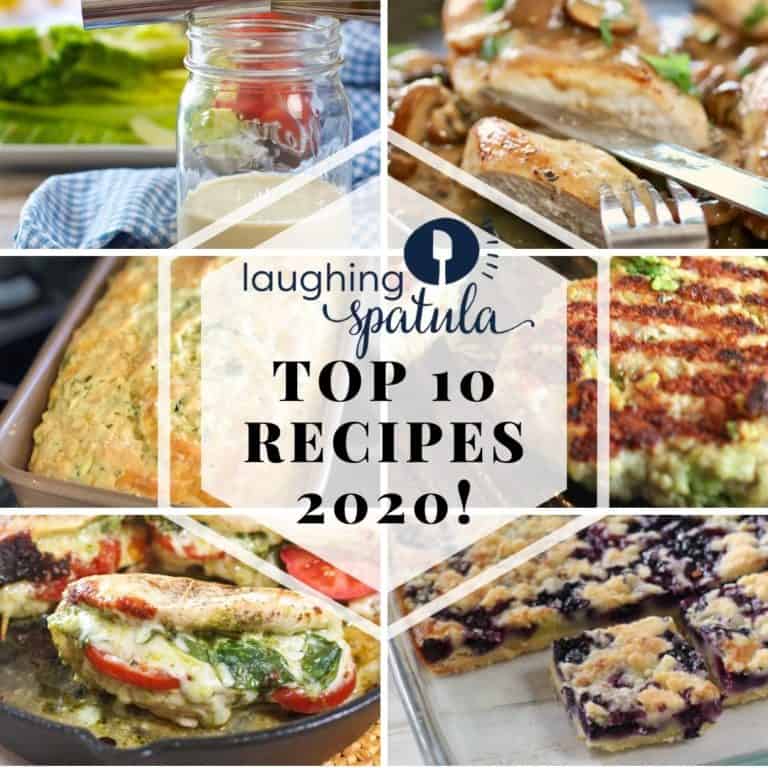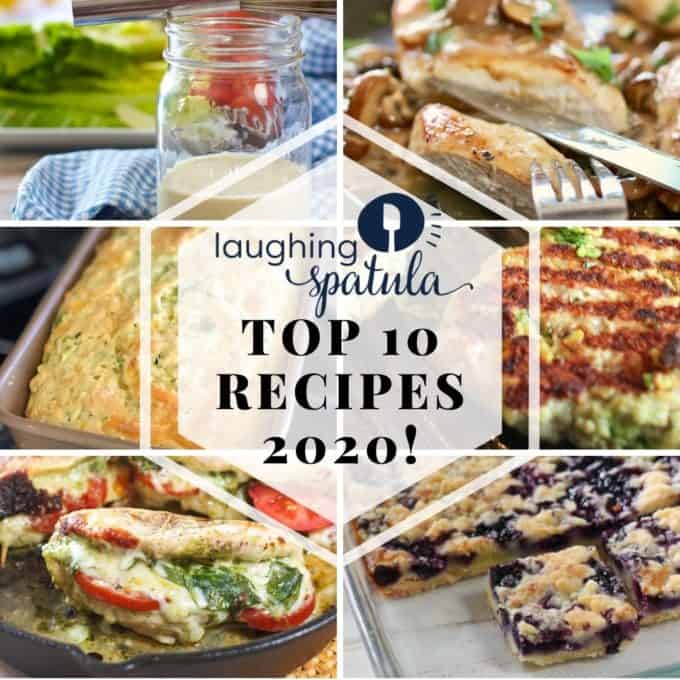 These are YOUR FAVORITE recipes of 2020.  You viewed them millions of times.  Some have been around for years but many are brand new in 2020.  Starting at number 10 and going backward.   
BONUS RECIPES: We have added a few additional recipes at the end of this post that we expect to see in the Top 10 2021!
#10 –  CHICKEN AVOCADO BURGER – this is not a new recipe and in fact it may be the one that put Laughing Spatula on the map…if we are in fact on the map :).  Ground chicken with chunks of avocado mixed right in!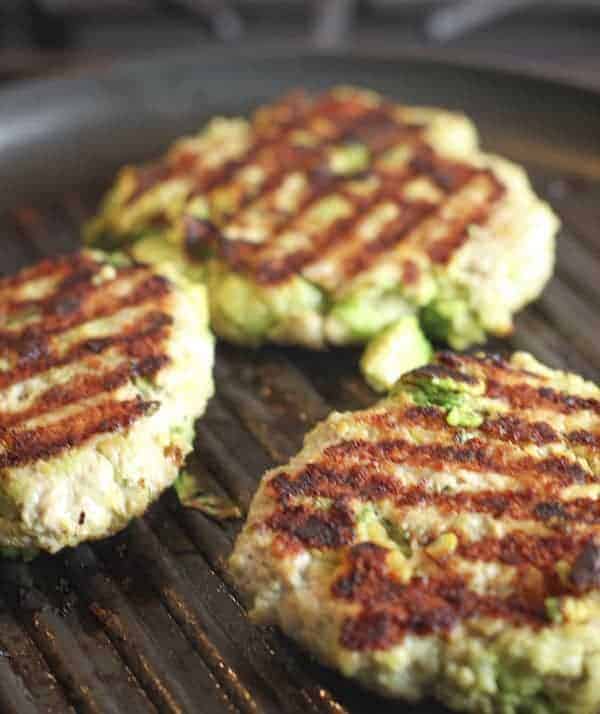 #9  – ROASTED LEMON CHICKEN WITH ROSEMARY – A one pan wonder dish!  Everything goes in the pan covered with a delicious easy to make marinade.  No wonder you guys love this.  Comfort food without the fuss!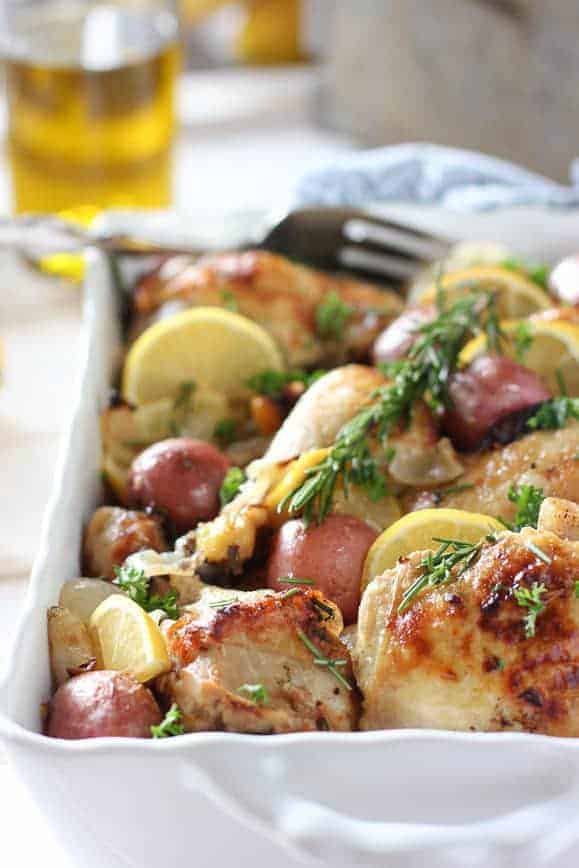 #8 – SHEET PAN FAJITAS –  Sliced chicken breast, peppers and onions slathered with a spicy blend of cumin, chili powder and a bit of olive oil and in the oven it goes!  One pan and done!  Your #1 Healthy recipe!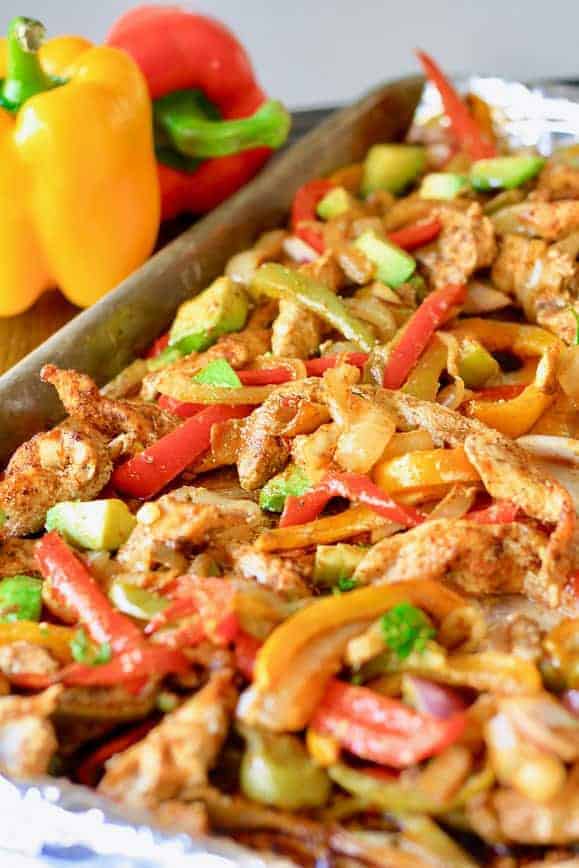 #7 – PESTO AND MOZZARELLA STUFFED CHICKEN – when you want something that looks fancy but actually only takes one pan and 30 minutes!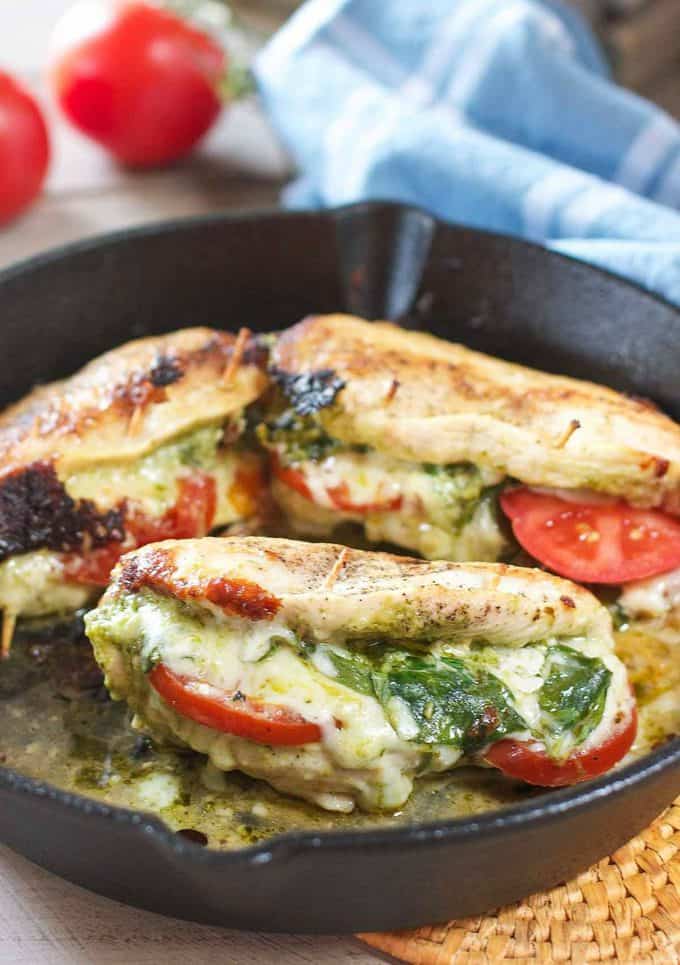 #6 – EASY CHICKEN IN TOMATO SAUCE – Who knew chicken and tomato sauce was a thing?  Sure didn't see this one coming but another one pan wonder that you guys loved – light and healthy to boot!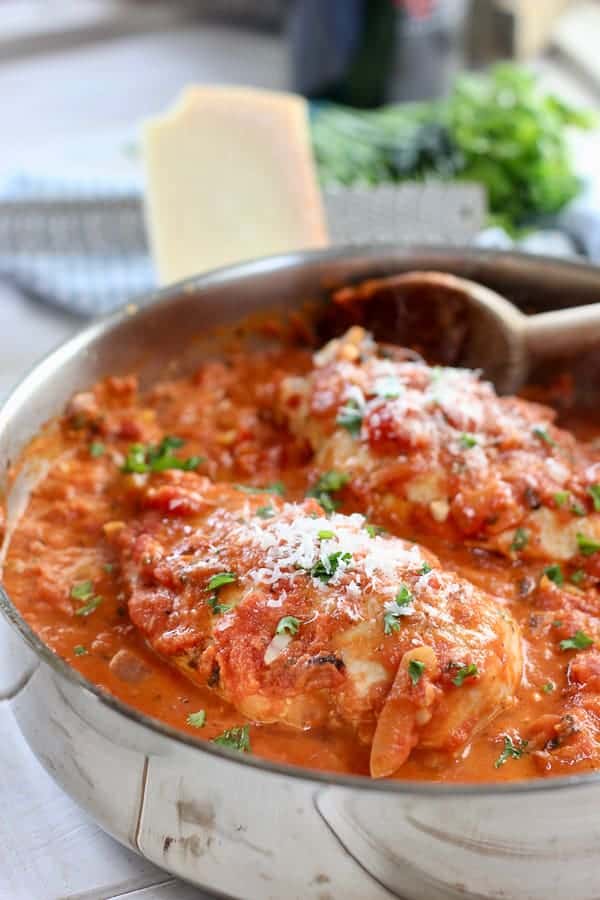 #5  – CHICKEN BREASTS IN MUSHROOM PAN SAUCE  – You can never have too many chicken breast recipes in your recipe box and you guys tell us all the time that this is your go to  'I'm to tired to cook dinner recipe'.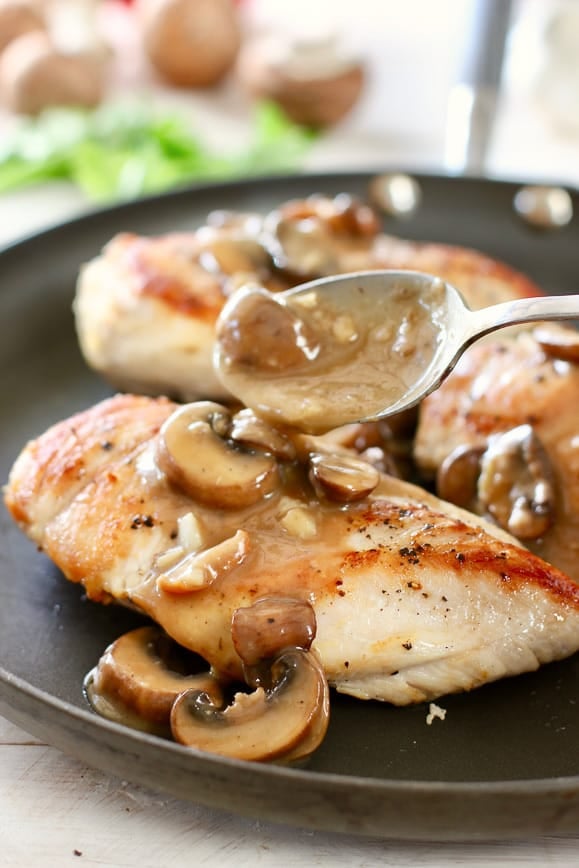 #4 – 3 MINUTE SKINNY CAESAR DRESSING –  This greek yogurt based salad dressing will fool everyone who tries it. Sure doesn't taste skinny!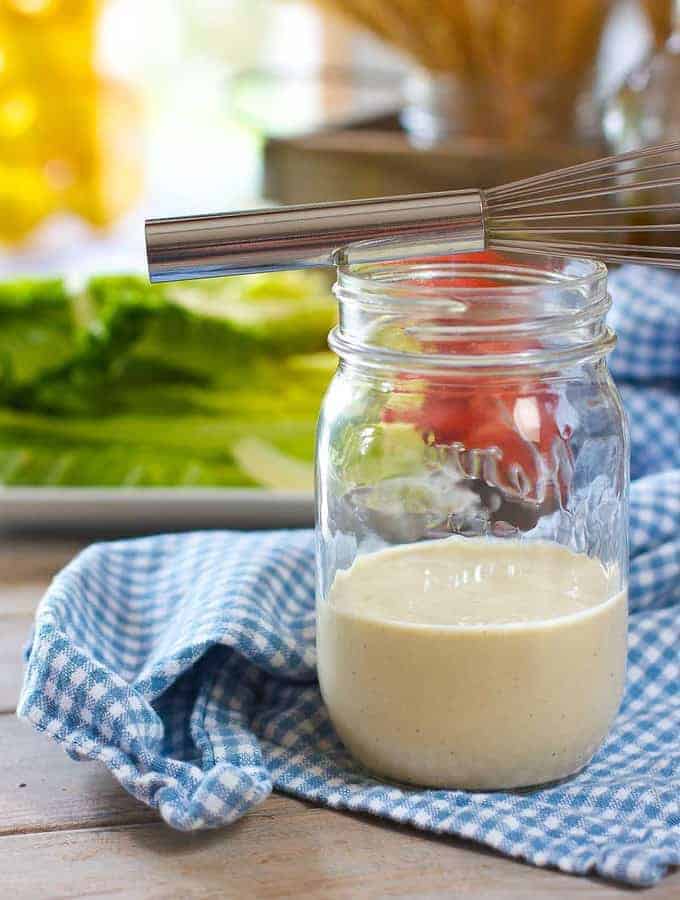 #3 – EASY BLUEBERRY PIE BARS –  The crust doubles as the topping making these incredibly easy!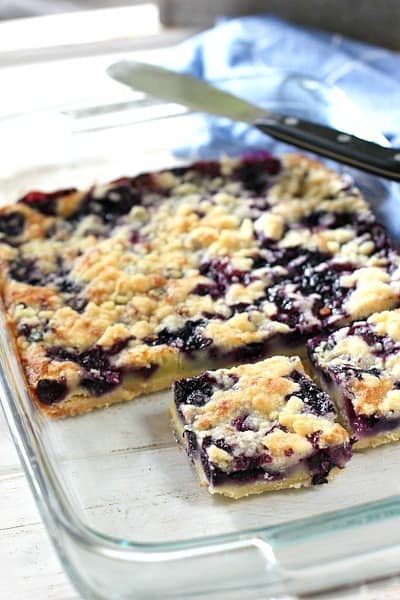 #2 – 5 MINUTE CHOCOLATE PUDDING – Creamy and delicious – this is the dessert you have been cuddling up to during the year of wonders!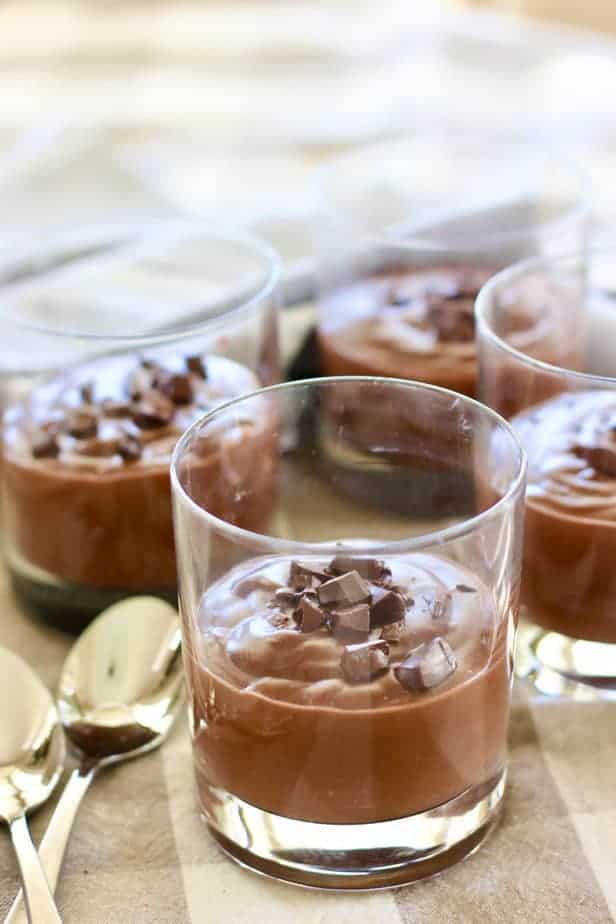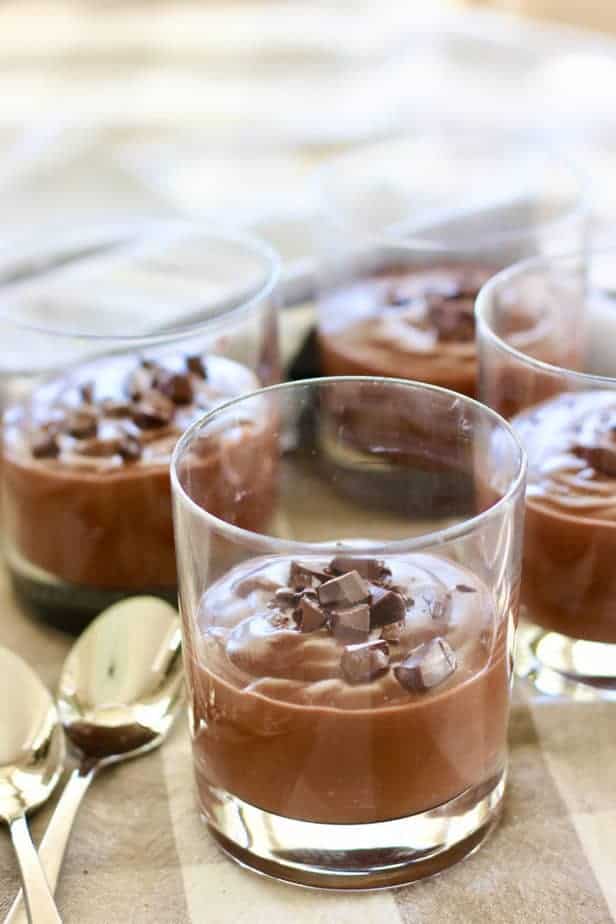 #1 – SAVORY ZUCCHINI CHEDDAR BREAD –  Wow!  So this was a bit of surprise.  We are usually known for our delicious meals.  It was kinda wonderful to have one of our side dishes rise to the top!  Millions of page views, pics, comments and Pinterest repins attest to a perfect easy, no rise loaf!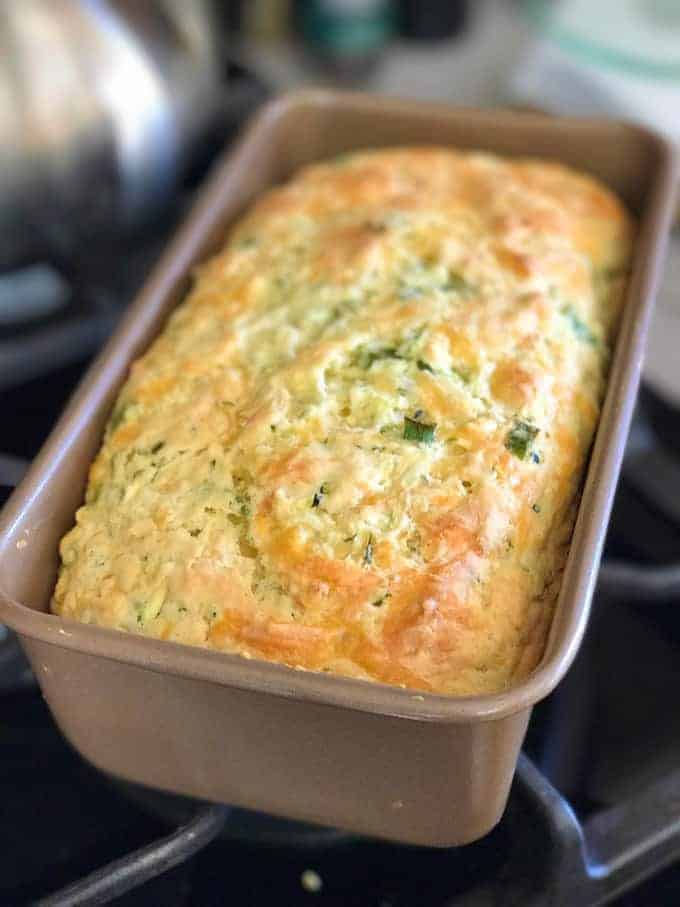 TRENDING RECIPES FOR 2021!  Here are a few of the new recipes paving the way to the top!
CHICKEN IN WHITE WINE SAUCE –  30 minutes and one pan! So easy with tons of flavor!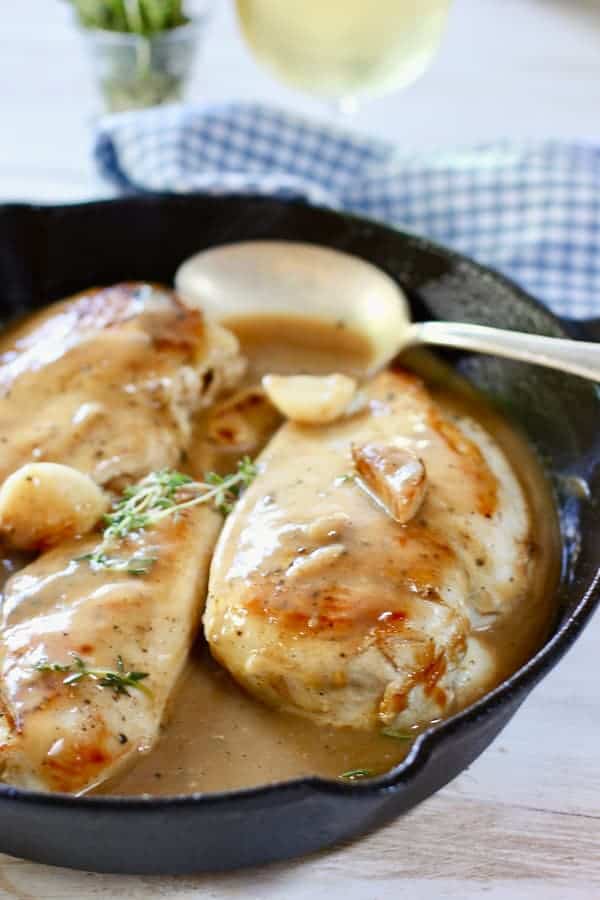 3 STEP FALL OFF THE BONE OVEN BAKED RIBS – Doesn't get easier or better than these!  Everyone is loving the easy clean up and tender ribs in this recipe!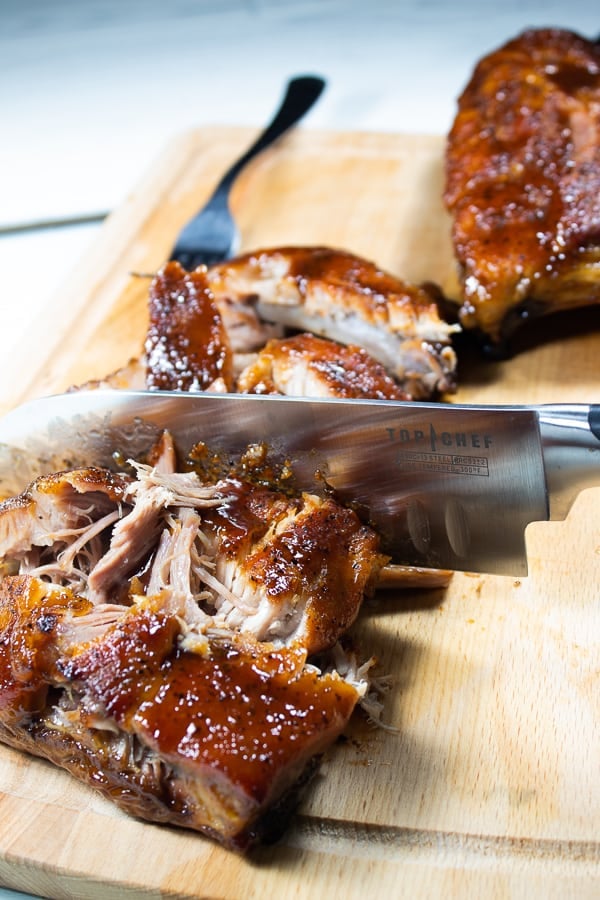 HONEY GLAZED SALMON WITH ORANGE AND GINGER – A simple marinade mixed up in a jar and into the oven on a foil lined pan for easy clean up!  The flavor of this easy recipe go boom!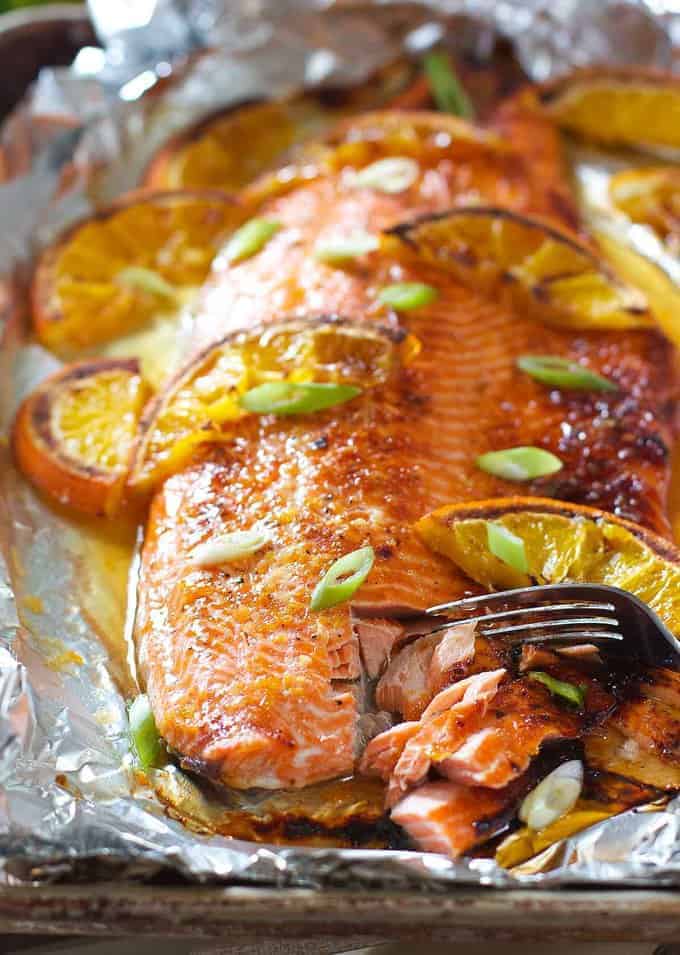 PAN SEARED PORK CHOPS – Sometimes easy is the best!  We give you all the instructions for tender seared pork chops every time!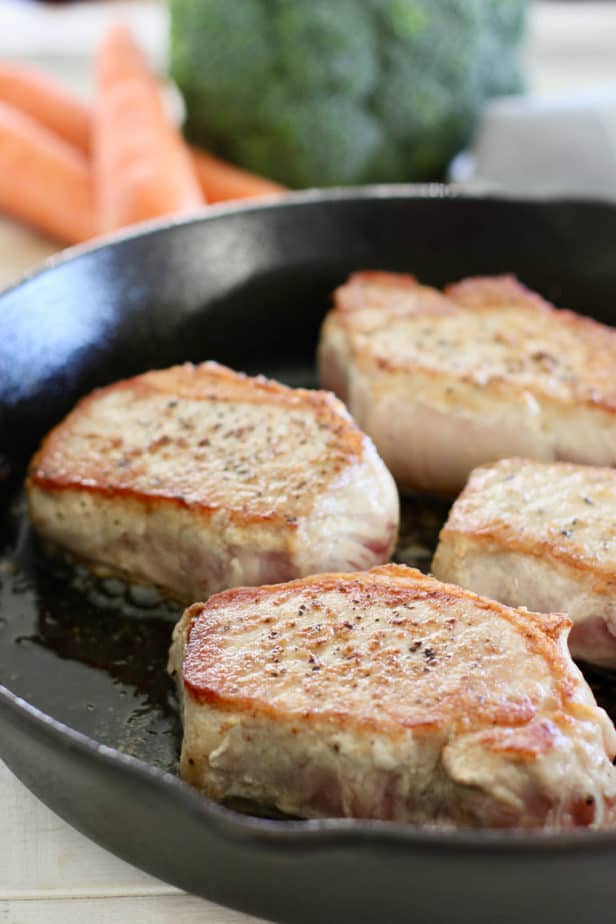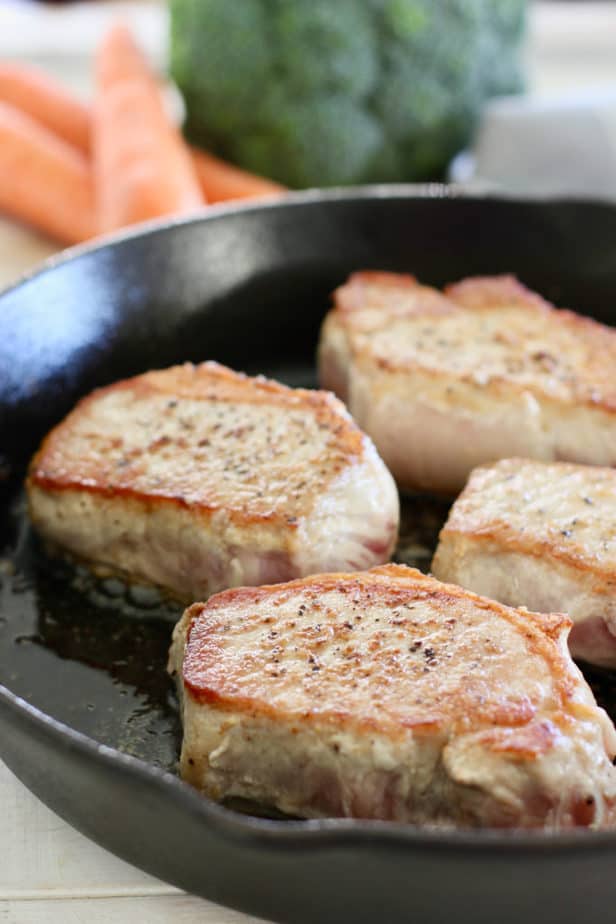 TACO PIE! – This 1970 Pillsbury Bake off Winner is still a family favorite!  Make with ground beef, chicken or turkey!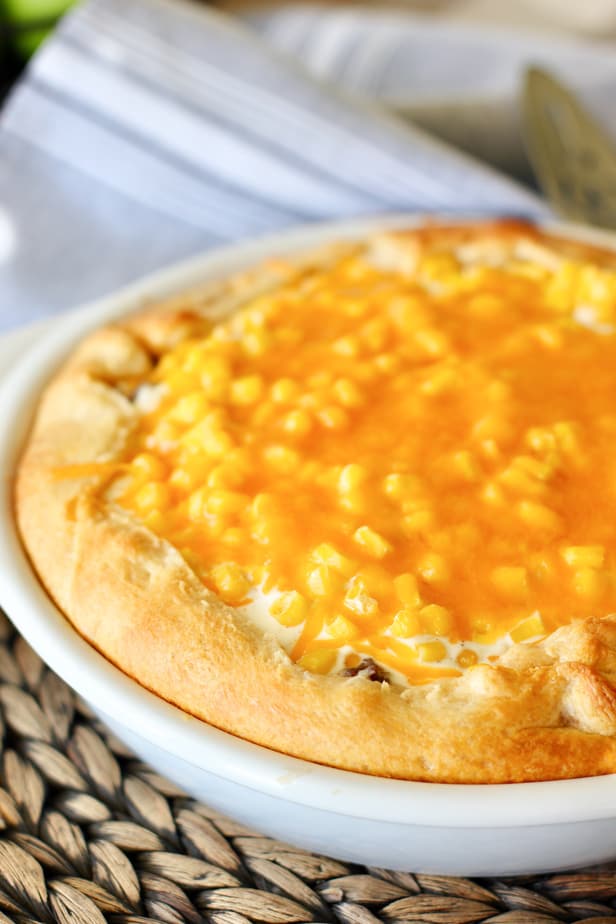 MINI QUICHE IN WONTON WRAPPERS – This year we fell in love with WONTON Wrappers!  This version is clearly your fave!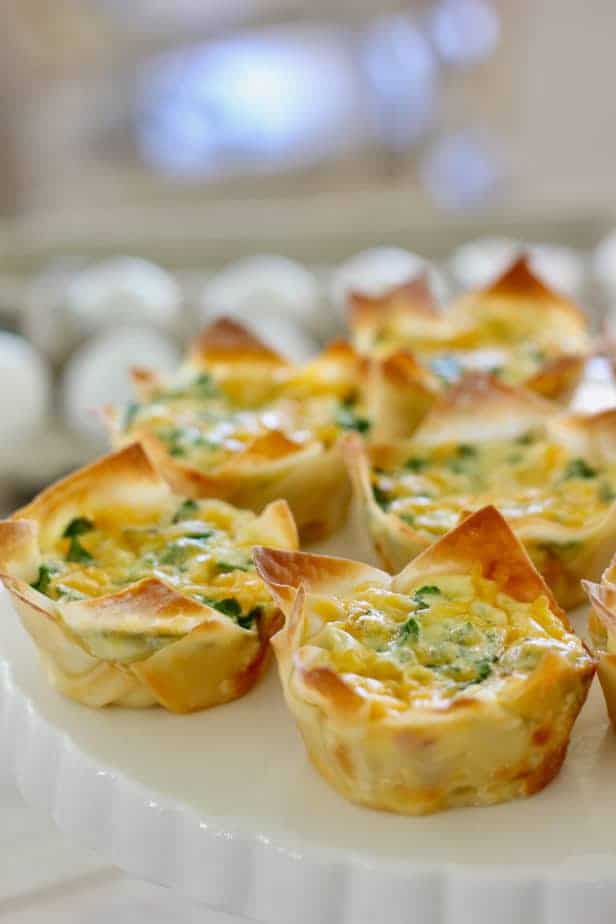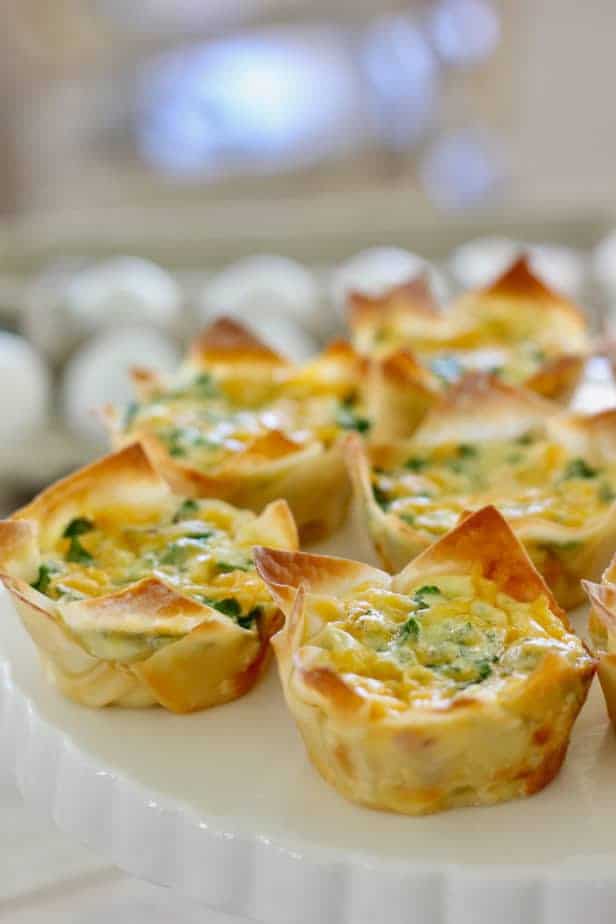 That will round up our 2020 Favorites and our 2021 predictions!  
Wishing you all the happiness 2021 can bring and then some…cause I do believe we deserve 'then some' :). 
Hugs,
Kathi and Rachel