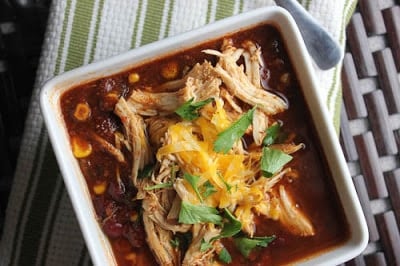 I love secret ingredients!  Something that makes a recipe really different and stand out.  The secret to this soup is… a bottle of beer!  Beer instead of broth, now that's my kind of recipe! (especially if you throw this together in the morning and take a little taster before dumping it in the pot..who doesn't like a little beer breath in the morning?).
You can't really 'taste' the beer but it does add a certain depth of flavor.  If you don't drink alcohol, you can substitute chicken broth…but try the beer, the chances of any alcohol being left after 5 hours in a slow cooker are pretty slim.
You can also substitute kidney beans for chili beans, regular canned diced tomatoes instead of those with green chilies, I  think you could go with just about anything you got in your cupboard on this and not mess it up too bad!
Ingredients
1 onion, chopped
1 (16 oz) can chili beans
1 (15 oz) can black beans
1 (15 oz) can whole kernel corn, drained
1 (8 oz) can tomato sauce
1 (12 oz) can or bottle beer – stouter the better
2 (10 oz) cans diced tomatoes with
green chilies, undrained
1 (1.25 ounce) package taco seasoning
3 whole skinless, boneless chicken
breasts
shredded Cheddar cheese and sour cream for topping
sour cream (optional)
crushed tortilla chips (optional)
Directions
Place the onion, chili beans, black beans, corn, tomato sauce, beer, and diced tomatoes in a slow cooker. Add taco seasoning, and stir to blend. Lay chicken breasts on top of the mixture, pressing down slightly until just covered by the other ingredients. Set slow cooker for low heat, cover, and cook for 5 hours.

Remove chicken breasts from the soup, and allow to cool long enough to be handled. Shred and stir back into the soup.  Serve topped with shredded Cheddar cheese, a dollop of sour cream, and crushed tortilla chips, if desired.

.