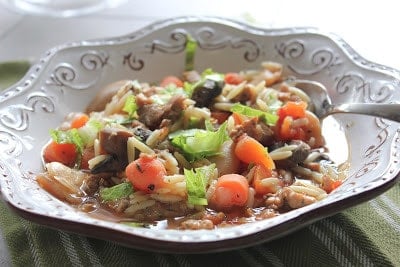 Spring is in the air in Seattle (well as much as Spring can ever be in the air in Seattle), so I thought I'd get soup out of my system until fall!
This can be prepared stove top or slow cooker. Slow cooker works a little better because the sausage has time to marry with the rest of the ingredients.
Feel free to mix up the pasta a bit, I just thought Orzo would be a nice change. I used a real rough chop on everything for a bit of a rustic soup.
…and yes, that is chopped lettuce on top, it was the only green thing I had in my fridge besides left over St Patrick day cupcakes, and those don't look good sprinkled on soup.
Ingredients
4 Italian Chicken Sausage Links (about 1 lb total)
1 onion, chopped
2 large cloves garlic, chopped
1 cup carrots, chopped
1 cup sliced cremini mushrooms
2 teaspoons dried oregano
2 teaspoons dried basil
1 14 oz, can cannelli beans – drained and rinsed
1 14 oz can diced tomatoes – undrained
1 32 oz container of low sodium chicken broth
1 cup orzo
Chunk of Parmesean rind if you have one hanging around….
salt and pepper to taste
Heat medium skillet over medium high heat.  Remove sausage from casings and crumble into skillet (here's a little trick: use a potato masher to crumble up the sausage while cooking).  Add onion, carrot and garlic.  Cook until sausage is light brown and veggies are tender.  About 10 minutes.
To slow cooker add: mushrooms, oregano, basil, beans, undrained tomatoes and Parmesan rind.  Add meat mixture to slow cooker, season with salt and pepper, and add broth.  Stir well and cook on low for 5 hours or higher three hours on low.  Stir is orzo during last 30 minutes of cooking.
Top with Parmesan and serve with some Sweet Sexy Buns!