Hark! My Summer Corn & Salmon Chowder is born. At just a little over 30 minutes, this comes together quickly, and its great with a big ole loaf of sourdough.
Salmon is one of my weaknesses. Healthy, buttery, and delicious. We had salmon 2 nights in a row and I still wasn't done, I wanted more! It was a rainy Seattle day and I wanted a big bowl of creamy chowder goodness.
Here in Seattle, we're known for our seafood. We live about 40 minutes outside of downtown and I really just wanted some salmon chowder without heading into the city. If you are ever in Seattle and want a killer bowl of casual chowder, Ivars is my recommendation. It's a little campy, and yeah- it's a chain, but it's an institution, people! The chowder is fab, thick and delicious. If you want a more upscale/night out environment, I'd recommend Duke's Seafood.  They serve a sourdough bread that I TELL YOU, will put you into a carb coma…It is the best bread on the planet. They actually share the recipe for it on their blog- check it out here!
Let's learn how to make Summer Salmon & Corn Chowder!
How do I make this Summer Salmon and Corn Chowder?
Easy! We're going to start with a simple mirepoix (mirepoix is a French word for your traditional chopped soup vegetables consisting of carrot, onion & celery). Then we'll add in our spices, corn (I used frozen but fresh would be even better for some crunch), add in your broth, then chopped red potatoes and simmer until the potatoes are soft. Once done, rough chop your cooked salmon, add it in along with some whipping cream. Done!
I am dairy free- how do I make chowder without the dairy?
Well, this is a tough one, but you have a couple options. 1) Use a cornstarch slurry. It will thicken it up and give a creamyness without any cream (use 1/4 cup water with 2 tablespoons cornstartch- mix in a separate container until fully combined and add mixture to soup). 2) Just don't! This would be a good Manhattan style chowder (red chowder) with no creaminess, and one 8 oz can of fire roasted tomatoes, along with 1/2 cup of tomato sauce.
Where do you get your salmon?
I purchased my 2 filets from Trader Joes. They come in a little vacuum pack. You could also do frozen for this meal as well. Costco Salmon is always fresh and delicious. I used two 4 oz. filets in my chowder, but you can adjust depending to your liking.
How do I cook salmon for the salmon chowder?
Place salmon on a sheet pan sprayed with non stick. Bake at 450 for 12 minutes. That's it! If it's not cooked completely all the way through it's okay, it will finish cooking in the soup. Once completely cooked, shred salmon with a fork and add to chowder.
What else can I do to make this the most delicious Summer Salmon and Corn Chowder?
We added some poblano pepper for some added crunch and flavor. We seed ours to eliminate the heat.
If you are fan of spice, add in some jalapeño!
Red bell pepper would be great as well.
Roast your corn for additional flavor; add corn to a sheet pan, toss with olive oil and broil for 3-4 minutes or until roasted to your desire.
If you prefer a thicker chowder, add in a cornstarch slurry. Use 1/4 cup water with 2 tablespoons cornstartch- mix in a separate container until fully combined and add mixture to soup.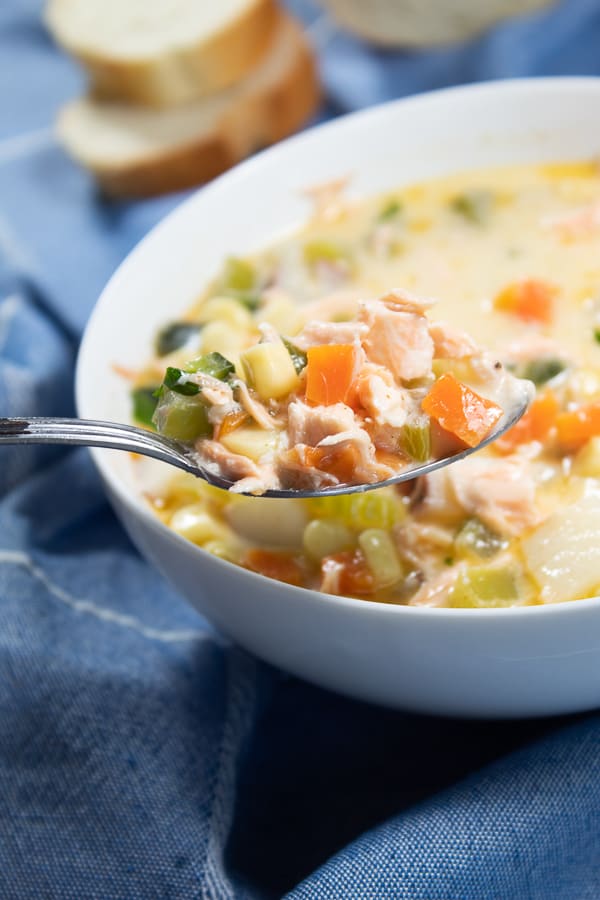 Are you a seafood fiend looking for other great recipes? Check out these Greek Salmon Kabobs with Lemon Baked Rice. SO DELICIOUS and fresh tasting. We also love this 30 Minute Mediterranean Fish Skillet for weeknights because it's so simple to make. This Ciopinno recipe from Chew Out Loud is also delicious, and healthy to boot.
Enjoy your delicious salmon chowder & let me know what you think!
Cheers to summer, warm weather, and delicious food.
Rachels
What do you think about this recipe? Have questions? Comment below! Don't forget to like us on Facebook, and connect with us on Instagram and tag your @Laughingspatula recipes with #laughingspatula, while you're at it…We love to see your pics! 
Summer Salmon & Corn Chowder
A delicious, summery chowder with corn and salmon.
Ingredients
8

oz

salmon

I used 2 four oz filets from trader joes

1/2

cup

chopped onion

1/2

cup

peeled & chopped carrot

2

cups

corn

canned, frozen, or fresh

1/2

cup

chopped celery

1

tbsp

fresh chopped garlic

1.5

cups

peeled and cubed red potatoes

5

cups

chicken broth

1

cup

heavy whipping cream

half and half works as well

cornstarch slurry

1/2 cup water + 2 tbsp cornstarch mixed well

1

chopped poblano pepper

salt and pepper

1

tbsp

dried thyme
Instructions
preheat oven to 450 degrees. bake salmon on sheet pan for 12-14 minutes or until cooked through, or close-to. remove when cooked, and shred with fork. set aside.

in a soup pot, add olive oil, poblano pepper, thyme, garlic, celery, onion and carrot. Stir until onion is translucent.

add chicken stock, potatoes, and corn. simmer until potatoes are cooked through.

add heavy chipping cream and salmon. stir in cornstarch slurry and reduce heat to medium-low. Simmer until thick, about 3 minutes.

serve soup with sourdough bread and enjoy!
Nutrition Facts
Summer Salmon & Corn Chowder
Amount Per Serving
Calories 453
Calories from Fat 252
% Daily Value*
Fat 28g43%
Cholesterol 112mg37%
Sodium 165mg7%
Potassium 1037mg30%
Carbohydrates 32g11%
Protein 22g44%
Vitamin A 3965IU79%
Vitamin C 34.7mg42%
Calcium 94mg9%
Iron 2.6mg14%
* Percent Daily Values are based on a 2000 calorie diet.