Have you ever taken a bite of something that is soooo good, and somebody tries to talk to you and you are so deep into that bite, that you can't talk?  You just give them a crazy lady stare and keep chewing and smiling, chewing and smiling….
Well, this is that kinda dish.  And not only is it a flavor bomb, it is super easy to make and all in one pan!   It doesn't have to be pretty to taste good right?  This dish is perfect in it's imperfections! All that gooey cheese and dripping pesto.  But yet, it's not so bad on the fat-o-meter.  Just 2 tablespoons of pesto, a few slices of fresh tomato and a quarter cup of mozz!
To start, slice your chicken horizontally,  but not all the way through.  So it opens like a book.  A really tasty book :).
Spread on the pesto.  Add sliced tomatoes, mozzarella cheese and a sprinkle of spinach if you like.
Now just fold it over and secure with a couple toothpicks.  It's sloppy and perfect!
Drizzle with olive oil.  Sprinkle with salt and pepper and give it a quick sear in an oven proof skillet.  Cast Iron was made for this but any oven proof skillet will work or just move it from your skillet to a baking sheet.
After searing on both sides,  bake for about 8 minutes and you have the tastiest thing you can do to a chicken breast.
If I were a chicken, this is how I'd like to be remembered….
NOTES:
I used store bought Pesto.  Love Costco brand.
Sear on both sides and finish baking in the oven in the same skillet or move to a foil covered baking sheet.
Serve with a dipping sauce made of pesto and mayo or greek yogurt if watching your calories (that is my fave chicken dipper BTW.  1/2 cup non fat Fage yogurt with a few teaspoons of pesto).
You can see all my One Pot Dinners here!
To easy dinners!
Clink!
Kathi
Another super easy meal for you to try!  20 Minute One Pan Shrimp and Orzo Dinner!
And one more!  Creamy One Pot Chicken and Rice!
Pesto Tomato and Mozzarella Stuffed Chicken Breasts
Ingredients
4

chicken breasts

8

tablespoons

pesto

8

slices

tomato

1

cup

grated mozzarella cheese

2

tablespoons

olive oil

salt and pepper
Instructions
Preheat oven to 400 degrees.

Cut chicken breasts horizontally but do not cut all the way through. Open up. (see photo above)

Spread entire opens surface of chicken with 2 tablespoons pesto.

Add 2 sliced tomatoes to half of the chicken.

Top with 1/4 cup of grated mozzarella.

Sprinkle with salt and pepper and drizzle on a bit of olive oil.

Heat oven proof skillet over medium high heat. Add 1 tablespoon of olive oil.

When olive oil is sizzling, carefully add chicken.

Sear on each side for 2-3 minutes using tongs to turn.

Finish baking in oven for about 8 minutes or until meat thermometer reads 165 degrees.

Serve with steamed broccoli or another simply prepared veggie and mayo/greek yogurt dip.

For a dip: Combine 1/2 cup mayo or greek yogurt with several teaspoons pesto
Nutrition Facts
Pesto Tomato and Mozzarella Stuffed Chicken Breasts
Amount Per Serving (4 g)
Calories 585
Calories from Fat 450
% Daily Value*
Total Fat 50g 77%
Cholesterol 97.1mg 32%
Sodium 896mg 37%
Total Carbohydrates 5.9g 2%
Protein 31.6g 63%
* Percent Daily Values are based on a 2000 calorie diet.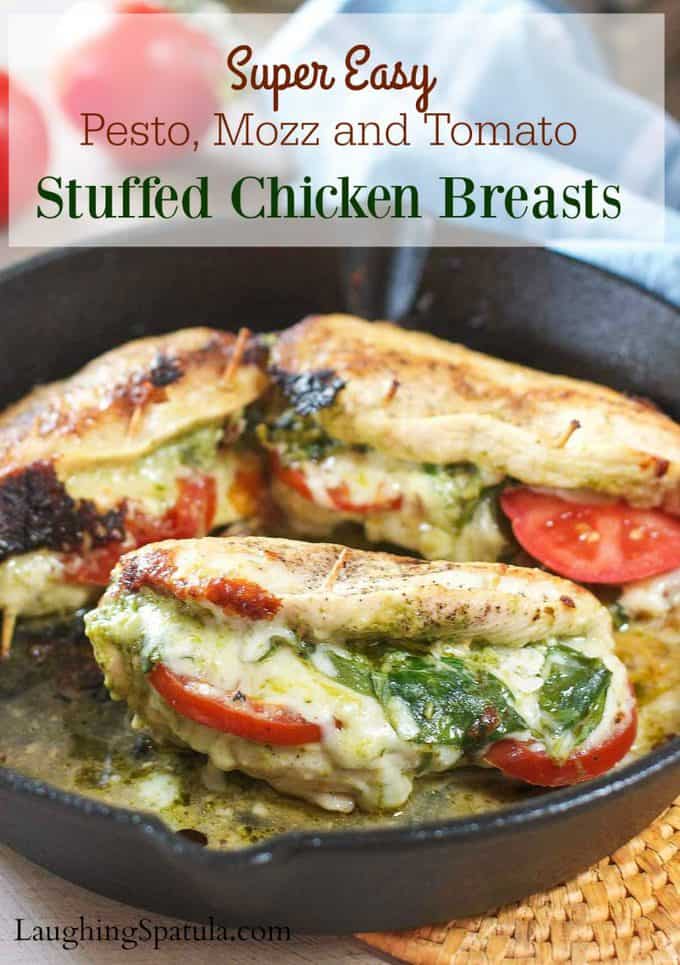 Other stuff thats yummy: