I had theeeee craving for something spicy, easy, and quick and this fajita stuffed chicken was just the trick!
I'm currently on the Whole30 diet, and I just had a craving for some big flavors.For the seasoning on this chicken, I used Trader Joes Chile & Lime seasoning  and it was just great (EDIT- I just found out this is NOT Whole30 friendly- you've been warned!)! Little zesty and a little spicy, it was just what the flavor doctor ordered (I feel like I should TM that- Flavor Doctor- sounds like a Guy Fierri term.).Fajita Stuffed chicken- here we go!
Behold, world…This picture makes me feel like the Van Freakin' Gogh of Whole30 meals. TAAA DAAAA…..
My favorite thing about this chicken, besides the big flavor that is, is the COLOR! I love food with color- so much more fun than boring old chicken and rice on a plate. Plus…It's super easy to make and looks much more impressive than it actually is. 
P.S. If you're reading this and wondering what exactly the Whole30 diet is- here's a a quick 411 on the Whole30 scoop. It's a whole body reset I really recommend for anybody, but the book is a must. I got mine at Costco, but Amazon has it, too.
**Comment and share your favorite Whole30 tips, tricks and recipes with us below, or find us on Facebook, like us, and join in the Whole30 discussion there!
Whole30 eliminates all of the processed food and overall bad stuff in the everyday American diet. It is a full body reset- caveman style, if you will. No chemicals, no processed anything, and especially- no sugar.
It is not meant to be a forever diet, but it will certainly open your eyes to how much 'stuff' is in your every day food. You will start to read ingredients. You will start to notice how often sugar is in your food (chicken broth!? There's sugar in chicken brother, for gods sake!).
You can still enjoy GOOD FOOD. I love Whole30 because I don't feel starved- I can eat (almost) what I want, when I want and still see a great healthy return. Proscuitto with eggs, avocado and tuna, chicken & cauliflower, apples & cinnamon…the food is incredible, and you won't go hungry.
You'll see words like 'compliant' and 'sugar dragon' a lot. Compliant just means it follows the Whole30 approved food plan (I.E. no additives, sugar, or processed anything) and the sugar dragon- well, that's the evil dragon that gives you sugar cravings. J The sugar dragon goes away, but sometimes the diet makes you feel like you're going through withdrawls the first few days. Don't worry- that's short term and only lasts a day or so while your body gets used to only having whole foods.
Hope you enjoy as this tasty meal as much as I did!
Did you like this Fajita Stuffed Chicken recipe? Here's a few other ideas for you!
Check out our 1 pan Southwest Chicken & Rice! It's a simple 1 pan dish that combines flavors of the Southwest with classic chicken and rice for a quick weeknight meal. 
Our Chili Lime Chicken Burgers with Avocado Salsa are Whole30 friendly and SO GOOD. I'd crave them any time of the year, and they're especially healthy. If you're Whole30, just leave out the breadcrumbs. They are great topped with compliant Trader Joes Hatch Valley Salsa.
This Greek Chicken Sheet Pan Dinner is so easy for weeknights, and you can easily adjust it to your family's taste. Topped with feta and baked with lemons, your kitchen will smell AMAZING while it cooks! We even have a video (about 3/4 down the page) to make it easier for you.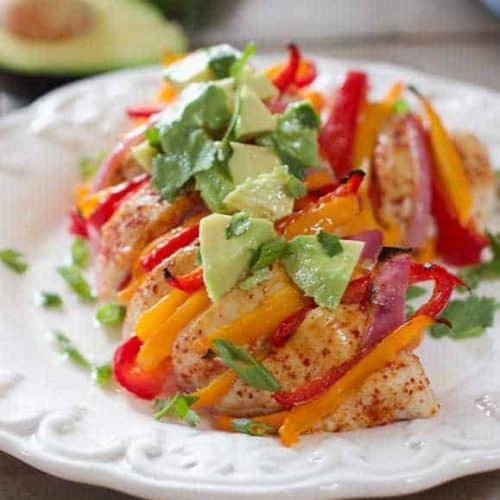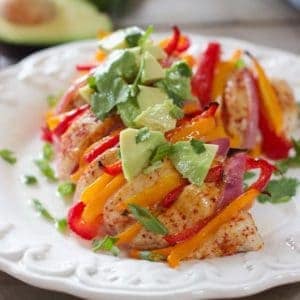 Fajita Stuffed Chicken
This easy to make, Whole30 compliant weeknight meal is great for the whole family! With bright colors and only a 30 minute cook time, you're sure to love this new go-to!
Print
Pin
Rate
Ingredients
1

half

bell pepper, orange - sliced

Any color will do-

1

half

bell pepper, red - sliced

Any color will do-

1

half

red onion, sliced

4

large

boneless chicken breasts

2

tablespoons

taco seasoning

I used Trader Joe's Chili Lime Seasoning
Instructions
Preheat oven to 400 degrees and spray a baking sheet with non-stick spray.

Using a clean cutting board, make 5 or 6 horizontal slits in each chicken breast, without cutting all the way through.

Rub seasoning over chicken breasts. Add more seasoning if desired. Be sure to coat inside of chicken slits.

Stuff chicken slits with julienned bell peppers, and onions generously. While cooking, the peppers and onions will cook down.

Place on baking tray for 20-25 minutes, or until chicken breast is full cooked and internal temperature reaches 165 degrees.

Top with cilantro, avocado, and salsa. Enjoy! Serves well with Spanish or Cauli rice!
Nutrition
Calories:
196
kcal
|
Protein:
23
g
|
Fat:
10
g
|
Saturated Fat:
3
g
|
Cholesterol:
72
mg
|
Sodium:
172
mg
|
Potassium:
248
mg
|
Vitamin A:
210
IU
|
Vitamin C:
1.2
mg
|
Calcium:
12
mg
|
Iron:
0.9
mg