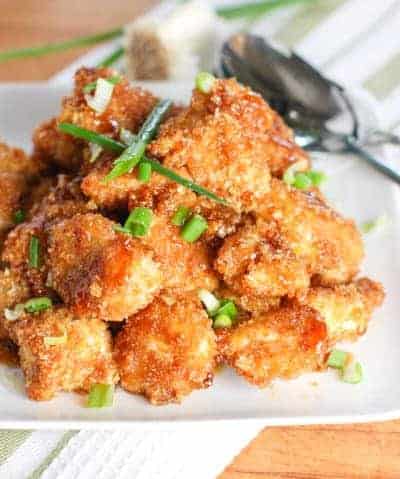 It probably  goes without saying that I spend a whole lot of time searching around for great recipes to share with y'all. I try to avoid any recipe that is too popular because a.) I want to have original recipes and b.) I do not want to step on my fellow food bloggers toes and hijack their hard work.
The problem is, I am missing out on some super duper recipes!  So what's a food blogger to do?  My head says no but my tummy says yes…and my tummy always wins.  I'll always link it back to the original author.  I just thought it would be fun to try some of these very popular recipes!
A lot of the recipes I love seem to include Panko Crumbs.  I do have a small obsession with them.  See Panko Crusted Salmon and Perfectly Baked Fish Sticks posts just to name a few.  I like to pre brown the crumbs in a hot skillet before using.  It isn't completely necessary,  but if you have ever had white crumbs on what is supposed to be golden brown crusted something, then you might want to give it a whirl.  Just heat up a dry non stick skillet over medium high heat.  Toss in the Panko crumbs and stir them around for about 5 minutes until they get a very light brown.  Careful not to over brown, they still have to go in the oven, you are just giving them a head start!
It is no wonder this chicken dish is so popular! It is one of the best chicken recipes I have made and I make a whole lot of chicken recipes!  Mr. Spatula ate two servings then finished off my last two bites.  I made a big batch so leftovers are in my future!
No special instructions – comes together easily.  I could see this served over rice or as an appetizer. Double  the sauce recipe and use as dip!  I'll be risking it all and making this again and again!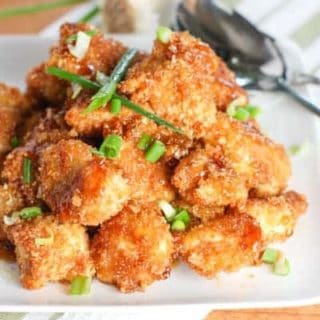 Baked Honey Garlic Chicken
Ingredients
1

pound

chicken breasts - cut into 1 inch cubes

1

egg

1

cup

Panko crumbs

salt and pepper

Sauce

1/3

cup

honey

4

cloves

garlic

minced

2

tablespoons

soy sauce

1/4

cup

water

1

tablespoon

cornstarch

1 1/2

tbsp

sriracha sauce

optional
Instructions
Preheat oven to 400F. Dip chicken pieces in egg and then roll in bread crumbs until fully coated. Place on a baking sheet lined with foil or parchment paper. Bake for 15-20 minutes until chicken is cooked through and coating is brown.

While chicken is cooking, make the sauce. Add the honey, garlic, and soy sauce to small sauce pan. In separate small bowl combine 1/4 cup water and 1 tablespoon cornstarch Add to saucepan. Heat all ingredients until boiling. Cook for one minute and remove from heat.

Pour over cooked chicken pieces - toss and serve. Garnish with sliced green onion and sesame seeds.
Notes:  Adopted from Kirbies Cravings

Other stuff thats yummy: