Simple and delicious Parmesan Crusted Pork Chops!  Whats the secret to a tender chop?  Let us show you how cook up a quick, easy and tender pork chop with just a few ingredients!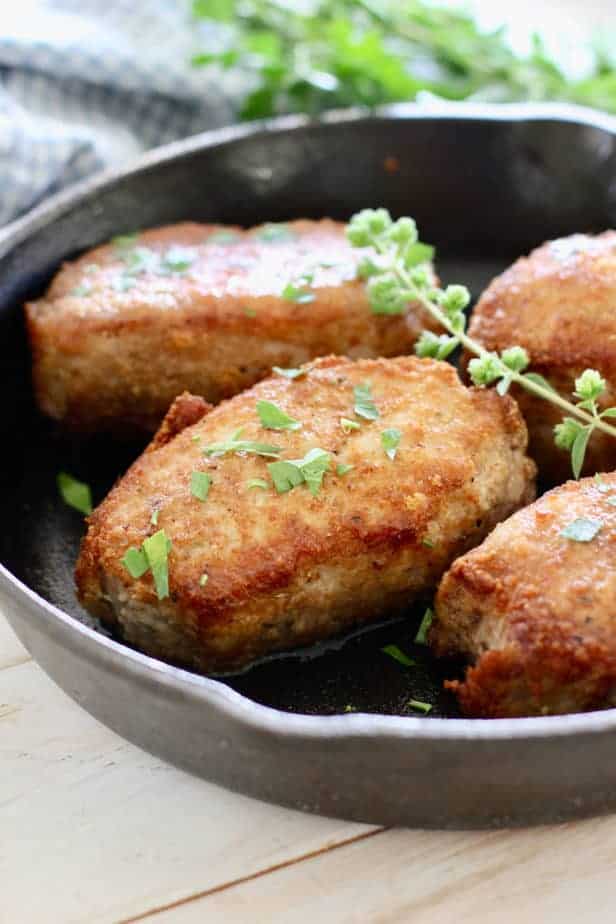 The secret to a juicy and tender pork chop is not exceeding an internal temperature above 145 degrees.  (unless you are braising or slow cooking of course..thats a whole 'nother cooking technique).
A good meat thermometer is an essential piece kitchen equipment,  even for seasoned cooks.  We use it almost every day and have saved many a piece of protein from ruin by using it!  Hand one to the guy in front of the BBQ before he destroys the chicken or fish.  Not that we know anyone like that…just a suggestion :).     Rachel and I love this one from OXO .
We also love a cast iron skillet!  If you don't own one you can still whip up these delicious chops but  We love this one from Lodge and Rachel and I own it in every size.  You can spend more but why?
Whats so special about a cast iron skillet you ask?
Distributes even heat.
 Will go from stove top to oven.
Lasts a lifetime for minimal investment.  How many of you have your Mom or Grannys cast iron skillet?  Those are the best ones…hold on to it!
 Most important – THE SEAR!   Crisp, clean, golden sear you just can't get from baking alone or a non stick pan.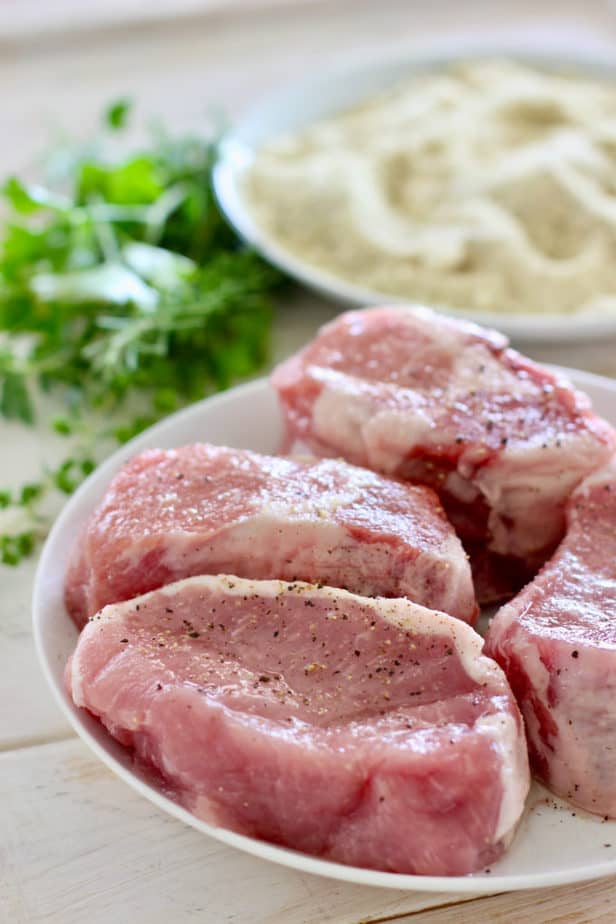 What kind of pork should I use for these Parmesan Crusted Chops?
You can see we used a thick boneless chop and they were delicious.  But a thinner cut will be good as well.  Bone-in will work too.
Trick is to not let them go to long and get tough.
PRO TIP:  If using a thinner cut omit the oven time and simply continue to cook on the stove top in the skillet until done.
Bread Crumb PRO TIP  :  A ratio of one to one parmesan to bread crumbs is perfect.  We love using this method as you can eyeball how much breadcrumb mixture you need and not have too much waste.  Parmesan ain't cheap and we hate waste!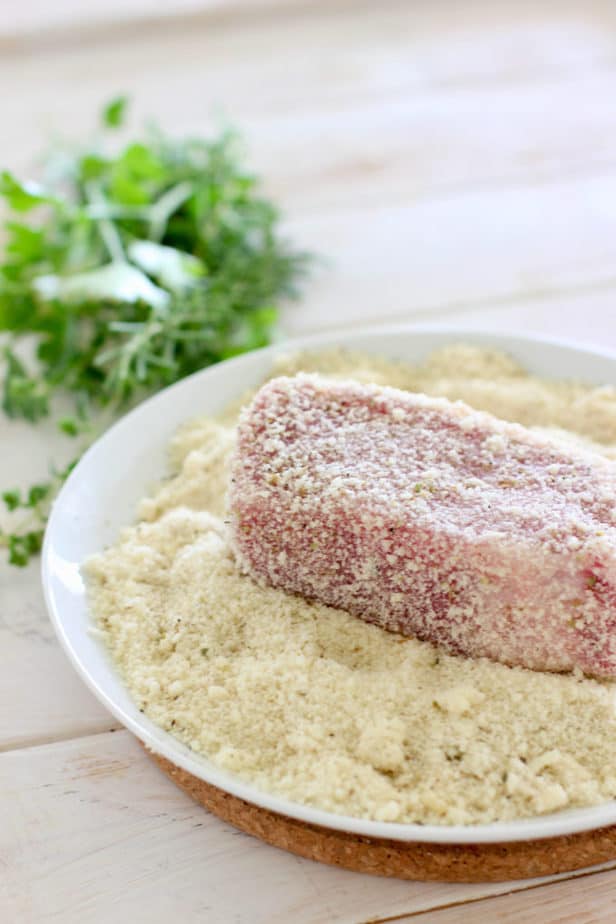 Heat your cast iron skillet using medium high heat until it begins to smoke.  Add your butter and oil.
Butter will give you that nice crust and oil will keep the butter from burning.
 Butter and oil are BFF's in your cast iron pan!
Cook 2-3 minutes on each side until a nice crust forms.
Depending on the thickness of your pork and whether it needs additional cook time, transfer to a 400 degree oven.  Baking for an addition 10 minutes, checking add another 3-4 minutes at a time and checking.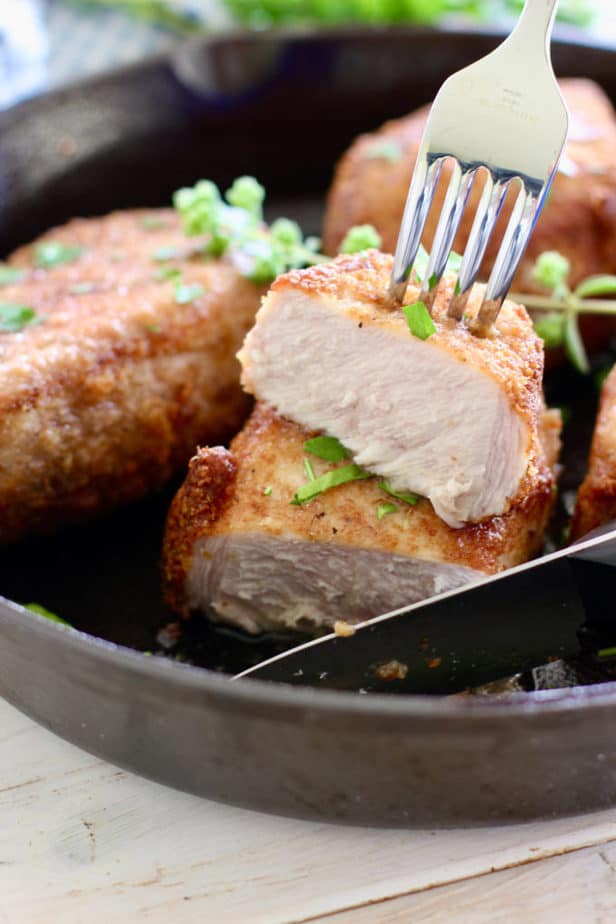 Let your chops rest for 5 minutes before cutting into them...ahhhhh finally.  The perfect pork chop!
Finish the dish!  What to serve with these perfectly crusted chops!
Loaded Mashed Potato Casserole
or just a simple green salad and some steamed veggies and rice!
Have a delicious day!
Clink!
Kathi and Rachel
  What do you think about this recipe?Have questions?Comment below!Don't forget to like us on Facebook, and connect with us on Instagram and  tag your @Laughingspatula recipes with #laughingspatula,while you're at it…We love to see your pics! 
Hey and check out our new YouTube Channel!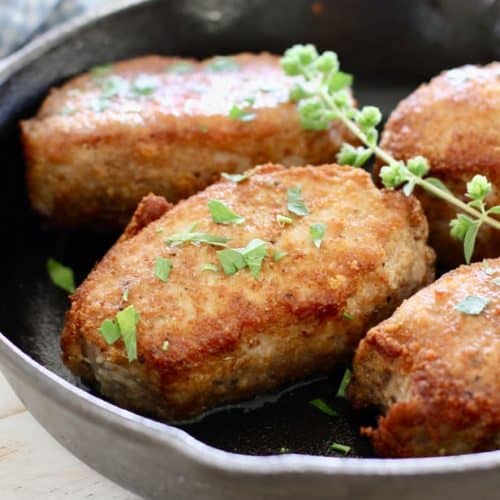 Parmesan Crusted Pork Chops
Easy delicious and perfectly cooked Parmasan Crusted Pork Chops! Let us show you have to make tender pork chops your whole family will love!
Ingredients
1

tablespoon

olive oil

1

tablespoon

butter

salt and pepper

4

pork chops

boneless or bone in

1/3

cup

seasoned bread crumbs

un seasoned bread crumbs or panko crumbs can be substituted seasoned with a 1/2 teaspoon each salt, oregano and garlic powder

1/3

cup

grated parmasan cheese
Instructions
NOTE: If your pork chop is 1" thick or more preheat oven to 400 degrees. Bake chops for about 10 minutes after searing. (instructions in recipe card below). If less than 1" thick you can cook through in the skillet itself. 
Preheat skillet to medium high heat. (cast iron is preferred but any heavy duty skillet will work).

While skillet is heating combine parmesan and seasoned bread crumbs on plate. Pat dry pork with paper towels. Sprinkle with salt and pepper.

Add butter and olive oil to preheated skillet.

Dredge pork chops into bread crumb mixture pressing down to coat. Coat sides of chops as well if needed.

Place into hot skillet. Do not touch. After 2-3 minutes turn and sear remaining side. Sear sides of pork if a particularly thicker cut.

Check for doneness. If a thicker chop, more than 1", put in 400 degree oven for 10 minutes or until thermometer reaches 145 degrees.

If using a thinner chop reduce heat to medium and continue to cook, turning on occasion until internal temperature reaches 145 degrees.

Let rest for 5 minutes before serving.
Recipe Notes
Sear and then bake if pork chops are over 1 inch in thickness.
Boneless or bone-in pork chops will work with this recipe. Simply make sure the internal temp reaches 145 degrees.
Nutrition Facts
Parmesan Crusted Pork Chops
Amount Per Serving
Calories 338
Calories from Fat 171
% Daily Value*
Fat 19g29%
Cholesterol 105mg35%
Sodium 350mg15%
Potassium 533mg15%
Carbohydrates 7g2%
Protein 34g68%
Vitamin A 179IU4%
Vitamin C 1mg1%
Calcium 120mg12%
Iron 1mg6%
* Percent Daily Values are based on a 2000 calorie diet.