Alright- real talk, it takes 35 minutes to make this dish, but 35 isn't as catchy as 30…so straight up sorry for that.  You will forgive me when you make this…I promise!  It could be the easiest and, not to mention, healthiest dinner you make!  #Paleo #Whole30 #onepotwonder.  Do you guys ever say 'pound' instead of 'hashtag'?   pound myageisshowing.
So lets say it's 1968-ish and your husband, lets call him Darrin.  Darrin calls you from work to tell you he is bringing his boss, Larry,  Larry Tate,  home for dinner.  You…lets say your name is Samantha, can do two things.  You can wiggle your nose and create a perfect dinner, but you know this makes Darrin mad,  or you can go all human and make this in 35 minutes!  What do you do?  (somebody is watching too much TV Land).  I'm just saying that even with little or no cooking skills, and not much time, you can still bang this out with amazing results !
It only takes a few ingredients and there really isn't anything tricky about it.  You can use chicken breasts, or thighs.  I used breasts this time but I'm a thigh girl so I'll give that a try next time.  I really wanted to top it with Feta (like most everything), but I was trying to keep it Paleo so I went without, but I would totally recommend some Parmesan or Feta on top.  A little angel hair pasta underneath  wouldn't be so bad either.
If you still want to impress Larry Tate on short notice – you might want to try a sheet pan diner like this Roasted Chicken  .  No nose wiggling required.  pound easypeasydinner.
This 30 minute chicken puttanesca is so easy to make- make it to perfection with this video featuring our 30 minute chicken puttanesca recipe!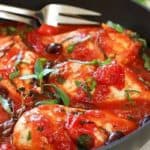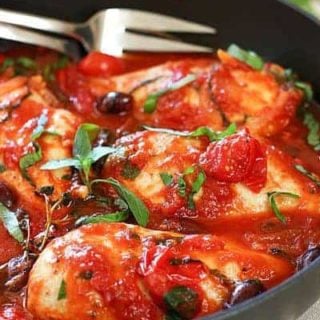 30 Minute Chicken Puttanesca
This easy one skillet dish will become a family favorite!
Keyword:
skillet chicken dinner, healthy chicken dinner, whole30, paleo
Ingredients
4-5

boneless chicken breasts

1

tablespoon

olive oil

1

cup

onion - halved and sliced

3

cloves

garlic - rough chopped

1 14

oz

can crushed tomatoes

1

cup

cherry tomatoes

1/2

cup

pitted kalamata olives

1/4

cup

fresh basil - chopped

plus a handful for garnish if desired

salt and pepper to taste
Instructions
Heat olive oil in large skillet.

Rinse and pat dry chicken. Sprinkle with salt and pepper.

Brown chicken on both sides - about 3-4 minutes. Remove from pan and set aside. (it won't be completely cooked. You will finish cooking with sauce).

Saute onion until translucent.

Add garlic and cook for one minute.

Add crushed tomatoes and basil. Season with salt and pepper to taste.

Nestle chicken breasts on top of sauce.

Spread cherry tomatoes and olives on top.

Simmer uncovered for about 20 minutes or until chicken is cooked through.

Top with additional basil for garnish
Nutrition Facts
30 Minute Chicken Puttanesca
Amount Per Serving
Calories 310
Calories from Fat 144
% Daily Value*
Total Fat 16g 25%
Cholesterol 72mg 24%
Sodium 480mg 20%
Potassium 708mg 20%
Total Carbohydrates 14g 5%
Protein 26g 52%
* Percent Daily Values are based on a 2000 calorie diet.