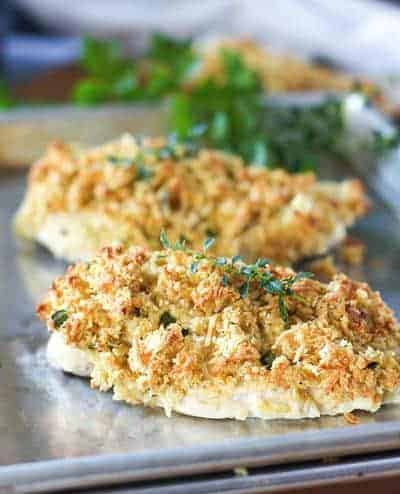 Another crunchy, crusty, easy recipe for you!  Who doesn't like crunchy stuff?  Everybody loves crunchy stuff right?
This is right on the heels of my Herb and Feta Crusted Salmon that I posted last week.   Gettin' my crunch on this fall!
This is one of the recipes, that once you make it, you will be whipping it up weekly!   Perfect for a week night meal and just as yummy for company.  Only five ingredients and most of those you probably have hiding in your pantry.
The crunchy topping keeps the chicken so moist.  I had to show you how it slices up. The white balance on this pic is totally sucky, but you get the idea.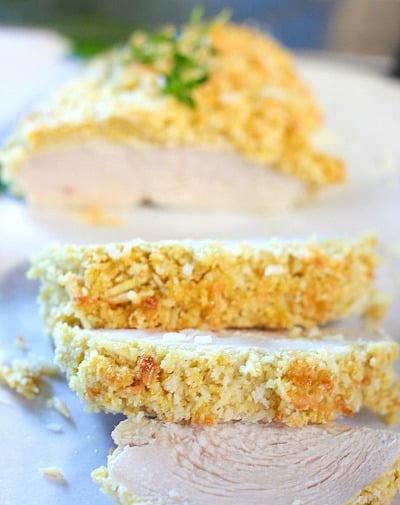 I have been making this for years.  I first had it in a restaurant outside of Seattle when I was just a young chef.  I made it for years after that and I guess I just kinda forgot about it.  I started whipping it up a month or so ago when I was in a hurry and I thought…hey, wait, I have a food blog!  Lets post it on there!  Always thinking….mind like a steel trap.
I usually serve this with a Dijon/Greek yogurt dip.  Two parts yogurt to one part Dijon…or if your waistline is smaller than mine and your arteries are clearer, you can use mayo.
And if you are still looking for another easy chicken breast recipe…check out this 30 minute Chicken Puttanesca!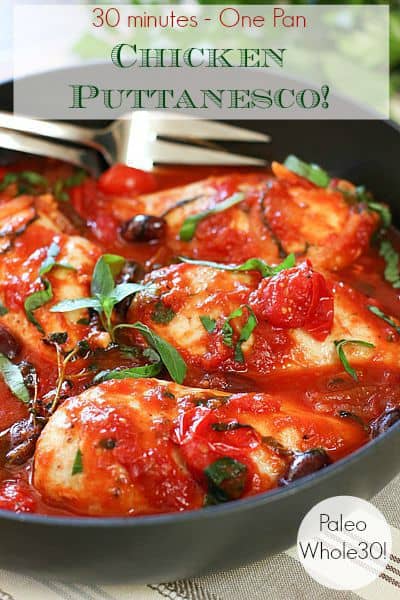 Clink!
Kathi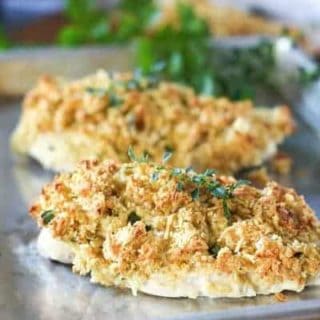 Baked Parmesan Dijon Crusted Chicken
Ingredients
4

chicken breasts

1

cup

panko crumbs

1/2

cup

shredded parmesan cheese

1/3

cup

dijon mustard plus 2 tablespoons for brushing on chicken

1

tablespoon

melted butter

1/4

teaspoon

salt
Instructions
Preheat oven to 400 degrees.

Line baking sheet with foil or parchment for easy clean up.

Place chicken breasts on prepared baking sheet.

Brush with 2 tablespoons dijon mustard.

In a medium bowl, combine remaining ingredients using a fork until mixture is crumbly.

Lightly press mixture on top of chicken breasts.

Bake for 22-25 minutes or until chicken breasts are cooked through.

Let cool about 5 minutes before slicing.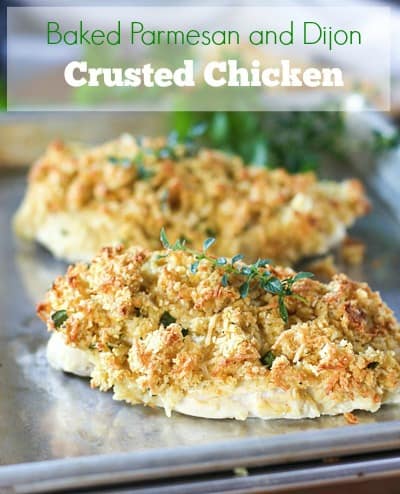 Other stuff thats yummy: