This fabulous baked spaghetti with chicken parmesan meatballs is one of my all time favorites!And that says a lot!
The recipe is semi-homemade, so it saves you some time, but gives you all the flavor of all home made. Delish!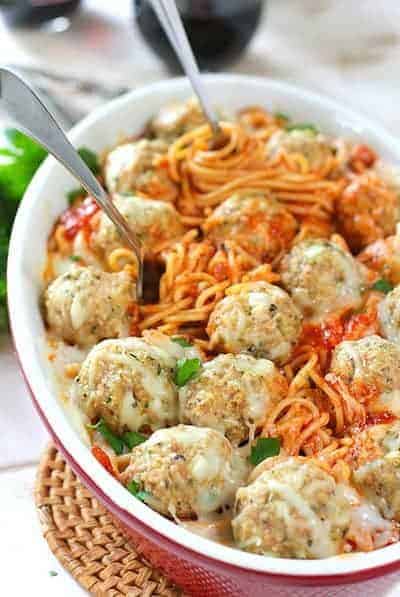 Do you remember that show called 'Semi-Homemade'  with that really pretty blonde lady?  Not sure if it's still on but this recipe is kinda like that. You use a few store bought ingredients along with a few fresh ones.   It's a little bit country and a little bit rock and roll…no wait, thats Donnie and Marie…there goes my age showing again!
This recipe combines a few of my faves.  Chicken Parmesan Meatballs and Baked Spaghetti.  At first I thought, who would wanna make a spaghetti casserole?  Why not just serve it up from the pan without tossing it in a casserole dish?  Why dirty one more dish?  Becaussseeee, this makes a big old batch and you can serve it out of said dirty casserole dish for days!  Not to mention the flavors become all beautiful while baking.  So totally worth the extra dish!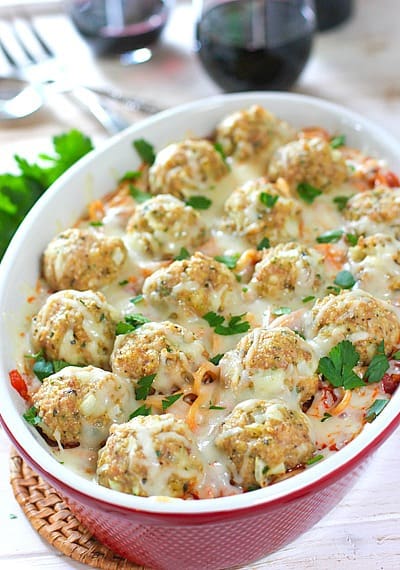 This recipe got me through at least four episodes of Scandal with noodles to spare!  You use a jar of good marinara for the sauce which really cuts down on the prep time.  I bake the meatballs rather than sauté in a pan.  Line your sheet pan and no clean up!   Cook some pasta…toss, top with cheese and you have dinner for days and maybe even an extra Scandal episode on Monday!
Tips to make Spaghetti and Chicken Parmesan Meatballs
Use a good jar of marinara.  The better the sauce, the better the casserole.  I used Roasted Garlic from Trader Joes but there are plenty to choose from at your local grocer.
12 ounces of pasta is perfect for a 9 x 9 casserole.  Just eyeball it…using 3/4 of a box.  It's so tempting to throw that whole pound of pasta in but trust me, your casserole will come up dry. If you must use the whole pound of pasta, increase the marinara and use a 9 x 13 dish.
Ground chicken is very available these days but ground turkey will work just great.  Stay away from the 'all breast' meat kind.  Rather dry.
Now if you are still looking for a big old pot of something to make on Friday so you can lay back and enjoy the weekend.  Give my Italian Sausage and Mushroom Soup a try!
Baked Spaghetti and Chicken Parmesan Meatballs
This yummy casserole is a great way to get your spaghetti and meatballs on the table!
Ingredients
Meatballs

1

pound

ground chicken

1

egg

1/3

cup

panko or regular breadcrumbs

I used panko

2

cloves

garlic

minced

1/2

cup

onion

chopped

1/4

cup

chopped fresh parsley

or 2 tablespoons dried

2

teaspoons

Italian Seasoning

1/2

cup

grated parmesan

1/2

teaspoon

salt

1/4

teaspoon

pepper

Spaghetti

12

ounces

uncooked spaghetti

1 32

ounce

jar of good marinara sauce

1 1/2

cups

grated mozzarella cheese
Instructions
Preheat oven to 400 degrees.

Line a baking sheet with foil or parchment for quick cleanup.

Bring a large pot of water to boil for pasta.

While water is coming to a boil make meatballs.

Add all meatball ingredients to large bowl.

Gently combine until just mixed. (over mixing will make for a tougher meatball).

Shape into 2 inch meatballs and place on lined baking sheet.

Bake for 10-12 minutes or until cooked through.

While meatballs are baking

Cook pasta according to package directions.

Drain and return to pan you cooked the pasta in.

Combine pasta and marinara sauce.

Pour into 9 x 9 casserole dish.

Top with cooked meatballs.

Bake for 20-25 minutes or until center is hot and bubbling.

Top with cheese.

Bake an extra 5 minutes.

Serve!
Nutrition Facts
Baked Spaghetti and Chicken Parmesan Meatballs
Amount Per Serving
Calories 509
Calories from Fat 144
% Daily Value*
Fat 16g25%
Cholesterol 121mg40%
Sodium 1399mg58%
Potassium 1127mg32%
Carbohydrates 56g19%
Protein 33g66%
Vitamin A 1200IU24%
Vitamin C 15.5mg19%
Calcium 300mg30%
Iron 3.8mg21%
* Percent Daily Values are based on a 2000 calorie diet.