These yummy treats clock in at only 100 calories each!  Am I skinny yet?  I am pretty sure I look skinnier….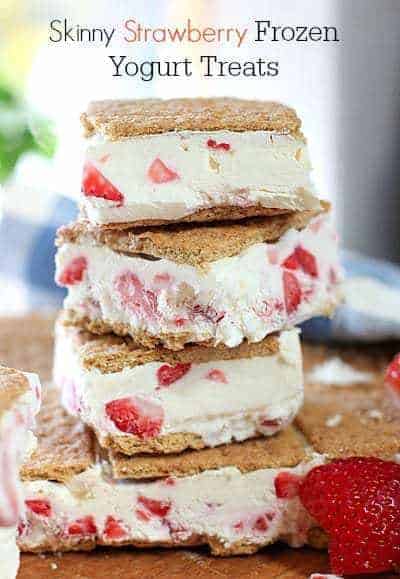 Ice cream. Which usually means calories, guilt, more ice cream, more guilt….it's a vicious cycle!  But I am hear to help…thats what I do.  I'm a helping food blogger.  You are welcome.
These little babies clock in at only 100 yummy calories a piece. I'll take two please!  Fresh strawberries, vanilla yogurt and whipped topping.  (I used Cool Whip brand but if you are looking for a more clean eating version there is TruWhip.)
I am not going to spend a lot of time telling you how great these are and how easy they are to make because I need to talk about something much more important.  Rachels Wedding Shower last week!  Holy smokers was it a kick.  I do throw a good party…I mean I'm Laughing Spatula right?  Nothing boring about that.
Held at a quaint little winery outside of Seattle called Bookwalter where we laughed, played a few games (they were really cool, fun games put together by the grooms beautiful sister, Allison).  The weather was perfect, the wine divine. Some of the hubby's showed up toward the end of the day to drive a few glowing gal's home….eeks, guess there was too much flowing wine?
I got all crafty and stuff.  It happens.  I ordered personalized stencils from Etsy and glass etched a wine glass for each guest.  Great party favor and a perfect accessory when at a winery!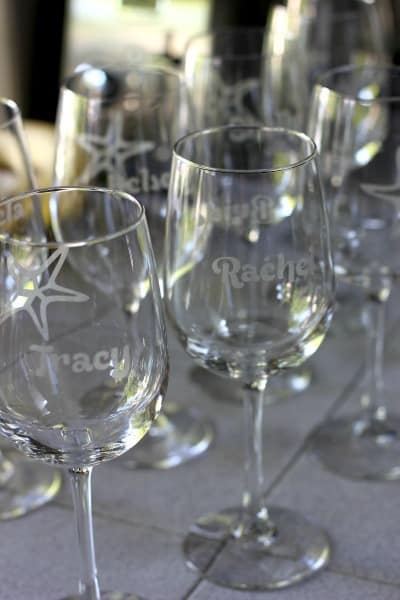 My daughter and beautiful nieces.  I do not spend enough time with them and catching up was so fun!  I have two sisters who couldn't be there…sad face.  But their beautiful daughters made up for it.  My two sisters each have two girls and I have one.  Not a boy in the bunch!  Hello hormones!
The bride to be is beautiful. True, I am a little bias but I'd say she's a looker!
Prince Charming, rescuing his beautiful bride to be from potential shoe disaster….
My BFF, Raela, the "Fairy God Mother of the Bride".  She is truly Rachel's second Mom and has been my best friend for over 30 years.  We share a wicked sense of humor, blonde hair, a good tan and a big laugh…what would I do without her?  I hope I never have to find out….love this girl.
And of course there was food….and cupcakes!
The wedding will be held on the beach about an hour outside of Seattle.  I can't wait to share those pics!
Oh ya, about this recipe!  You are gonna toss some fruit, whipped topping and yogurt in a bowl and pour it on graham crackers.  Add more grahams, freeze and you got treats!  You can swap out the strawberries for any kind of fruit.  Blueberries or peaches would be fabulous.  Super easy, really great treat on a hot..or not so hot…(Seattle remember?)…Summer day!
Clink!
Kathi
Looking for another waist friendly dessert?  Try these delicious 100 Calorie Double Chocolate Brownie Cupcakes!  You will never know they come in at only 100 chewy yummy calories each!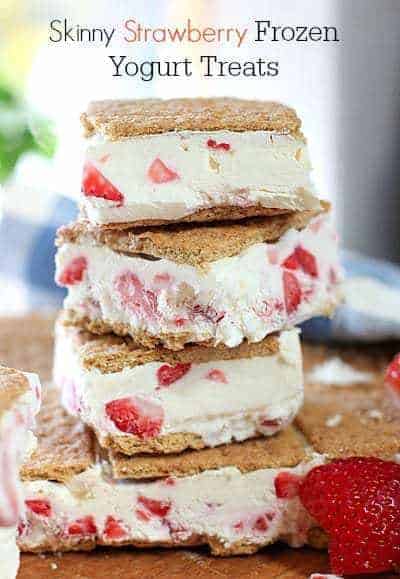 Skinny Strawberry Frozen Yogurt Treats
100 Calorie treats that make a big batch! No guild when eating these!
Ingredients
16

ounces

low fat vanilla yogurt

I used two 8 oz containers of low fat Yoplait

8

oz

container of low fat whipped topping

I used low fat Cool Whip brand

2

cups

chopped fresh strawberries

24

graham crackers
Instructions
Line a 9 x 13 baking pan with plastic wrap.

Combine yogurt, whipped topping and strawberries in a large bowl.

Place 12 half's of grahams crackers onto of plastic wrap. (you might be able to squeeze in another quarter at the end).

Spread strawberry mixture on top of crackers and place remaining crackers on top.

Cover with more plastic wrap and freeze for at least 4 hours.

Slice and serve!

Store in ziploc bag in freezer.
Recipe Notes
We used regular, not greek style yogurt with these yummy bars.  We also like to let them sit out for 10 minutes before enjoying them.
Nutrition Facts
Skinny Strawberry Frozen Yogurt Treats
Amount Per Serving
Calories 102
Calories from Fat 27
% Daily Value*
Fat 3g5%
Cholesterol 4mg1%
Sodium 206mg9%
Potassium 174mg5%
Carbohydrates 30g10%
Protein 4g8%
Vitamin A 45IU1%
Vitamin C 13.3mg16%
Calcium 102mg10%
Iron 1.2mg7%
* Percent Daily Values are based on a 2000 calorie diet.