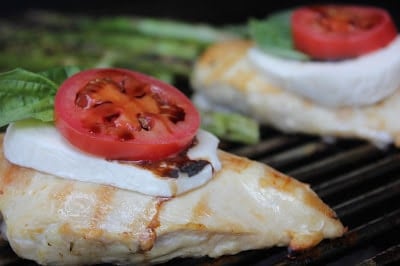 Apparently I need two new categories for my recipes: Titled RFM and RFR.  That would be 'Recipes from Mom' and ' Recipes from Rob'!  This one is an RFR but the next one will most likely be an RFM!
Doesn't get much better than this…easy, healthy, fast!  I'd say those are three requirements that make this a perfect recipe.  Great for weeknights but fancy enough for guests.
I tossed some fresh asparagus in a bit of olive oil and threw it on the grill with the chicken.  Reduced a bit of Balsamic Vinegar on the stove to top it off and Chicken Perfection!
Ingredients
4 chicken breasts
2 tablespoons olive oil
4 thick slices of fresh mozzarella
4 slices fresh tomato
1/3 cup balsamic vinegar
Instructions
Heat your grill to medium high heat.  Rub  chicken with olive oil, salt and pepper to taste. As chicken is cooking, pour balsamic vinegar into sauce pan  and simmer until reduced by half. Set aside. (this takes only about 3-5 minutes once it starts to simmer).
When chicken is thoroughly cooked, top with mozzarella, basil, tomato slice and about a tablespoon of the balsamic reduction.  Serve warm or chill chicken and serve cold the next day…made a perfect lunch for me!