This Easy and Authentic Tiramisu Recipe takes less than 30 minutes to make and requires no cooking.    If I had any idea how easy this Tiramisu recipe was to make, I would have made it years ago!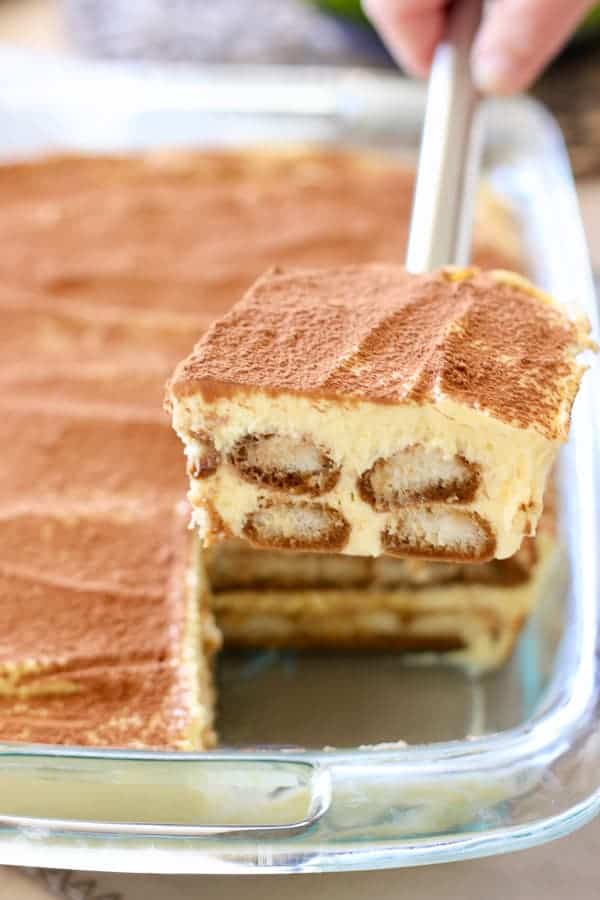 I made this delicious dessert for a progressive dinner party we had in our new home in Palm Springs.  I served it to our VERY Italian neighbor who claimed it some of the best she has ever had!  Total Tiramisu validation!
Because there is no whipped cream or stiff beaten egg whites to make in this recipe.  It is super easy!  Made the old fashioned way with egg yokes and marscopone cream (an italian version of cream cheese and readily available), it's simple and a show stopper of a dessert!
Doesn't Authentic Tiramisu have raw eggs in it?
 Is this stuff safe to eat?
Yes this does have raw egg yolks in it and it doesn't bother me at all.  All of my 15 guests who enjoyed this dessert are still up and running :).  The chances of samonella poising has always been rare, but these days it is almost unheard of.  Best suggestion:   Use fresh eggs!
How to make Easy and Authentic Tiramisu:
Separate your yolks and egg white.  Save the egg whites for another use, like a healthy breakfast tomorrow!
Add the egg yolks to a large mixing bowl along with the powdered sugar.
Beat unit light a fluffy and the sugar is fully dissolved.  About 3 minutes.
Add your marscopone cheese and beat for another 1-2 minutes.  Guess what?  You just made the creamy filling for your Tiramisu…how easy was that!?
Brew  your strong coffee.  3 cups of water to 6 tablespoons of ground coffee.   You can also use espresso if you have it,  but I found the strong coffee worked beautifully.
We added two tablespoons of coffee liquor (like Kahlua).  You can omit this if you must,  but we loved how the liquor really enhanced the coffee.
Cool the coffee before dipping your lady fingers in the coffee bath.
What do I need to know about Lady Fingers?  What if I can't find them?
Ladyfingers, sometimes known by their Italian name savoiardi, are sponge cake type cookies.  The have become much easier to find these day and are located in the cookie aisle.  We used a crispy cookie, opposed to those that are very soft and cake like in texture .   We found ours at Whole Foods.
Substitute thin sliced sponge cake, angel food cake or even pound cake in a pinch.  You can usually buy these whole in your local bakery.
Dip those lady fingers quickly!  Do not soak…these are very tender cookies and fall apart easily.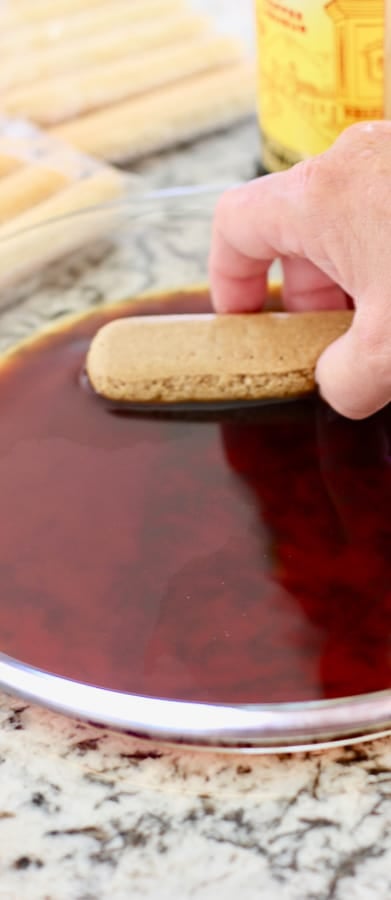 One quick dip and into your 9 x 13 pan.  
LIne them up any way you like.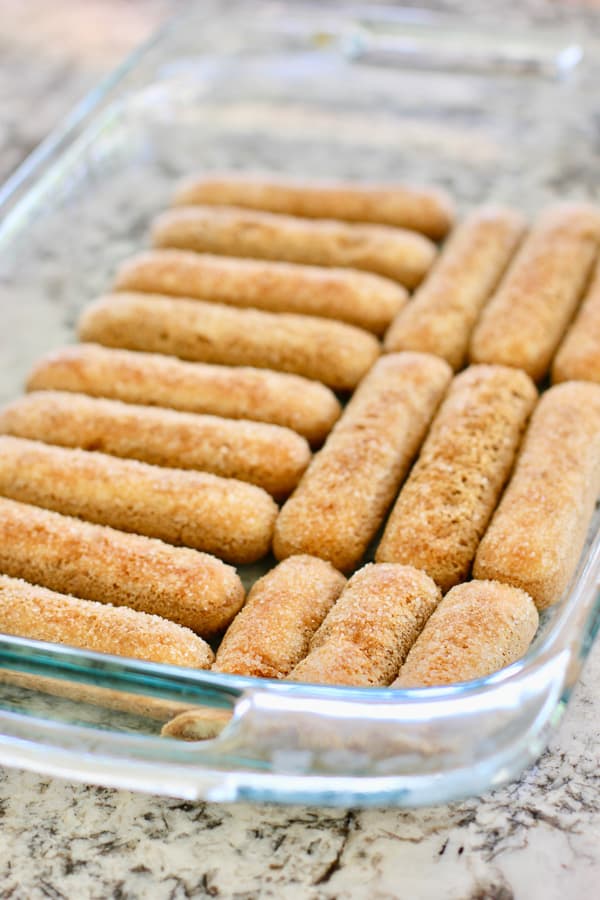 Spread half of your delicious and creamy filling on top of the dipped cookes !
Hey your almost done!
What makes this Tiramisu 'Authentic'?
We did a lot of research for this recipe and I can tell you there are a hundred 'authentic' Tiramisu recipes and all are different.   We created this recipe using a little of this and a little of that…the best of the authentic recipes and always keeping in mind simple is better.
Our goal was to keep this as EASY as possible and still remain true to the origins of the recipe.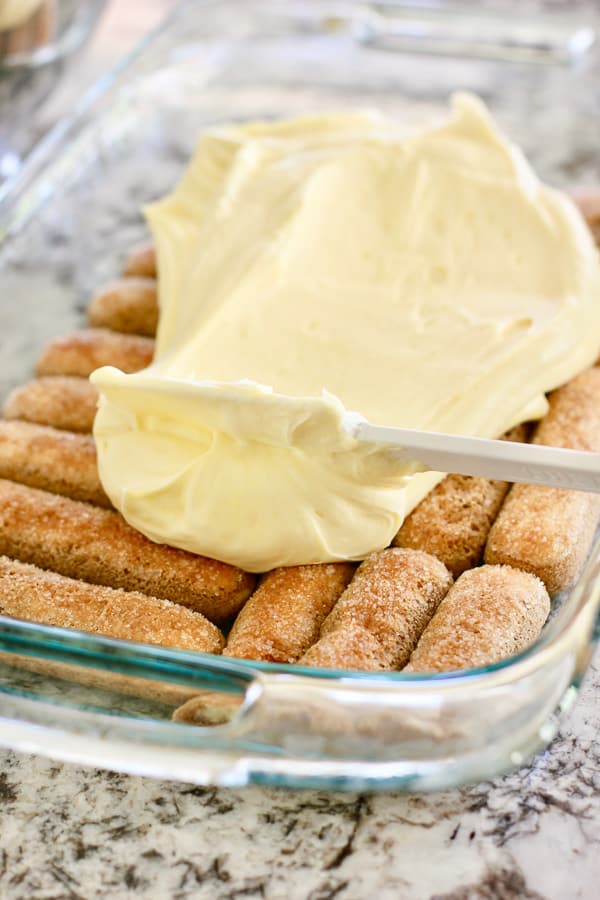 Layer cookies, cream, cookies, cream.  Two layers ending in cream.
Sprinkle unsweetened cocoa on top.  (I used a tea ball…little short on gadgets in my new California home, but I thought it worked perfectly!).
Cover and chill for at least 4 hours…best if overnight.
It's show time!  Serve this up proudly and watch it go!  This beauty is going to make a lot of people really, really happy!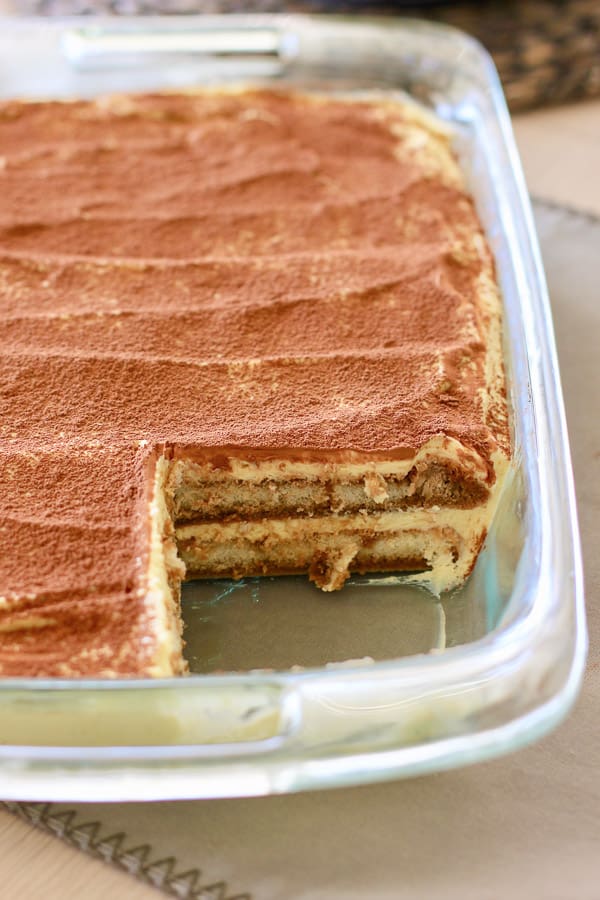 Store in the refrigerator for up to 3 days.
This is one of those recipes that I can hardly wait to make again!  Great excuse to throw a party!
We love easy desserts for a crowd and two of our favorites are this Chocolate Mousse Cake with only 3 ingredients and this Fresh Key Lime Cake, no artificial green stuff here!
Mangia!
Clink!
Kathi
 What do you think about this recipe?Have questions?Comment below!Don't forget to like us on Facebook, and connect with us on Instagram and  tag your @Laughingspatula recipes with #laughingspatula,while you're at it…We love to see your pics! 
Hey and check out our new YouTube Channel!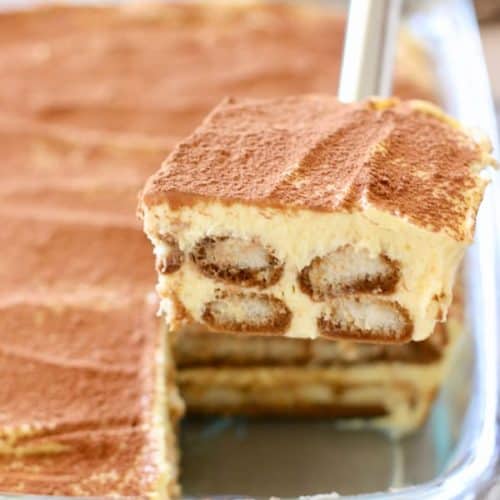 Easy Tiramisu
This incredibly easy to make Tiramisu is made authentically and requires no whip cream or beaten egg whites. It takes less than 30 minutes to make and makes a large batch in a 9 x 13 cake pan.
Print
Pin
Rate
Ingredients
3

cups

strong coffee, cooled

brew 3 cups of water to 6 tablespoons coffee

2

tablespoons

coffee flavored liquor

optional but recommended

6

large

egg yolks

2

cups

powdered sugar

24

ounces

mascarpone cheese

48

lady fingers

crisp variety, not soft baked

1/3

cup

unsweetened cocoa
Instructions
Brew strong coffee and cool. Add coffee liquor (if using).

Separate your egg yolks from the whites. (Saving the egg whites for a later use.)

Add egg yolks and powdered sugar to large mixing bowl. Using a standing mixer or hand held electric mixer, beat until light and creamy. About 3 minutes.

Add mascarpone cheese to the egg mixture and beat for about another 2 minutes until light and fluffy.

Dip lady fingers into cooled coffee one by one. Dip quickly, not letting them soak. Arrange half of cookies in bottom of 9 x 13 pan.

Spread half of the egg and marscapone mixture on top of the soaked lady fingers. Add another layer of soaked lady fingers and the remaining cream mixture.

Sprinkle with unsweetened cocoa cover with plastic wrap and refrigerate 4 hours or overnight.

Can be stored in refrigerator for up to 3 days.
Notes
Depending on the shape of your pan, round edges, square edges etc, you may have a few cookies left over.
Use fresh eggs! (Salmonella in eggs has always been rare, and it's gotten even rarer but to avoid any concern, best to use the freshest eggs available.
Marscapone cheese is found near the cream cheese and readily available in most store. We found ours at Trader Joes.
Use the crispy cookie variety of Lady Fingers, opposed to the soft ones. Thinly sliced sponge cake, angel food cake or even pound cake can be substituted for the lady fingers.
Store in the refrigerator for up to 3 days.
Nutrition
Calories:
395
kcal
|
Carbohydrates:
36
g
|
Protein:
7
g
|
Fat:
24
g
|
Saturated Fat:
13
g
|
Cholesterol:
188
mg
|
Sodium:
75
mg
|
Potassium:
71
mg
|
Sugar:
14
g
|
Vitamin A:
875
IU
|
Calcium:
86
mg
|
Iron:
1.6
mg