Easy Pumpkin Sheet Cake with Cream Cheese Maple Frosting! – This delicious sheet cake will feed a crowd of hungry pumpkin eaters!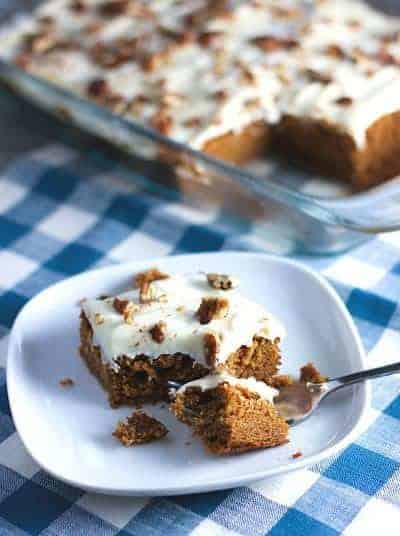 Cheater, cheater Pumpkin Cake Eater!  I am calling this a cheater recipe because I posted it several years back when my blog was just a baby.  I don't think it got the attention it deserves. What a tragic cake story huh?  Poor lonely cake…just sitting on this blog waitin' for some love…
You can forgo the homemade frosting on this one, although I provided the recipe for you frosting die hards.  But if time is of the essence, and you can't stand one more dirty bowl to clean,  buy a can of cream cheese frosting and add two tablespoons of maple syrup.  Lazzzzyyy cook…yup, thats me!
I love that sheet cakes are so popular again.  Who has time to bake up a couple layers and decorate?  I can almost guarantee  that you will never see a fancy schmancy cake on my site. I don't have the patience or the talent…but sheet cakes?  I can do that!
This recipe takes one cup of pumpkin puree, not pumpkin pie filling, just the puree.  You will have a bit left from the can, simply freeze it for next time.
If you need a bit more pumpkin in your life and who doesnt?  Try my Pumpkin Crunch Muffins!
Growing tired of pumpkin but still need a great holiday dessert?  Gingerbread Cookie Bars might be for you!  All the flavor of a cookie in a gooey easy to make bar!
To delicious and easy cakes!
Clink!
Kathi
Pumpkin Sheet Cake with Maple Frosting
This delicious and easy to make cake will serve a crowd of hungry pumpkin eaters!
Ingredients
2

cups

brown sugar

1

cup

canned pumpkin puree

3

eggs

1

cup

flour

½

teaspoon

baking soda

1

teaspoon

baking powder

1

tablespoon

pumpkin pie spice

1

teaspoon

vanilla

1/2

cup

melted butter

Frosting - Shortcut: Buy a can of cream cheese frosting and add two maple syrup)

1

8 oz

package cream cheese

at room temp

1

cube butter

at room temp

2

tablespoons

maple syrup

2

cups

confectioners sugar

1/2

cup

chopped Pecans
Instructions
Preheat oven to 350 degrees.

Combine brown sugar, pumpkin and eggs in a mixer bowl until well combined.

Add flour, baking powder, baking soda and pumpkin pie spice. Mix well.

Bake for approximately 40 minutes or until center of cake springs back easily when touched. Cool completely before frosting.
Frosting - Cheater method: buy one can of cream cheese frosting and add two tablespoons maple syrup
To make your own frosting: Cream together cream cheese and butter. Add remaining ingredients.

Spread onto cooled cake. Top with chopped pecans.

Other stuff thats yummy: