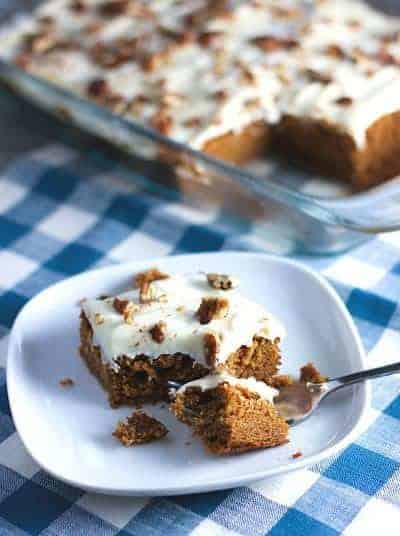 Cheater, cheater Pumpkin Cake Eater!  I am calling this a cheater recipe because I posted it several years back when my blog was just a baby.  I don't think it got the attention it deserves. What a tragic cake story huh?  Poor lonely cake…just sitting on this blog waitin' for some love…
You can forgo the homemade frosting on this one, although I provided the recipe for you frosting die hards.  But if time is of the essence, and you can't stand one more dirty bowl to clean,  buy a can of cream cheese frosting and add two tablespoons of maple syrup.  Lazzzzyyy cook…yup, thats me!
I love that sheet cakes are so popular again.  Who has time to bake up a couple layers and decorate?  I can almost guarantee  that you will never see a fancy schmancy cake on my site. I don't have the patience or the talent…but sheet cakes?  I can do that!
This recipe takes one cup of pumpkin puree, not pumpkin pie filling, just the puree.  You will have a bit left from the can, simply freeze it for next time.
If you need a bit more pumpkin in your life and who doesnt?  Try my Pumpkin Crunch Muffins!
Growing tired of pumpkin but still need a great holiday dessert?  Gingerbread Cookie Bars might be for you!  All the flavor of a cookie in a gooey easy to make bar!
Have a great week guys!
Clink!
Kathi
Pumpkin Sheet Cake with Maple Frosting
Ingredients
2

cups

brown sugar

1

cup

canned pumpkin puree

3

eggs

1

cup

flour

½

teaspoon

baking soda

1

teaspoon

baking powder

1

teaspoon

cinnamon

1

teaspoon

nutmeg

1

teaspoon

ground ginger

1/2

cup

melted butter

tablespoons

Frosting - Shortcut: Buy a can of cream cheese frosting and add two maple syrup)

1

oz

package 8 cream cheese

at room temp

1

cube butter

at room temp

2

tablespoons

good Maple Syrup

1

teaspoon

vanilla

2

cups

confectioners sugar

Chopped Pecans if desired
Instructions
Mix together cake ingredients, adding melted butter last. Pour into a 9 x 13 inch pan. Bake at 350 until the cake springs back when lightly touched, about 40 minutes.

Frosting

(make from scratch or buy a can of cream cheese frosting and add 2 tablespoons maple syrup!)

cream together cream cheese and butter. Add remaining ingredients and spread on cooled cake.

Sprinkle with chopped pecans if desired.

Other stuff thats yummy: