Is there anything better than a simply roasted chicken?  The flavor is nothing like anything you can get anywhere else.  You master this simple recipe and you can feed your family for ever!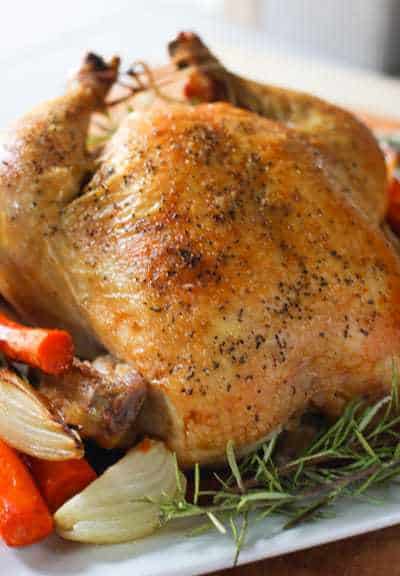 After years of cooking, I mean 'years'…I have learned my limitations in the kitchen.  I don't do fancy.   I have tried and it's always a disaster.   You won't find beautifully decorated cupcakes or perfectly plated up food on my blog.  I haven't got the talent or patience.  But you give me a 9 x 13 pan, a casserole dish or a beautiful chicken to roast and I'm your girl!
A perfectly Easy Roast Chicken is the simplest recipe  you will ever make.
If you never learn to cook anything else, you can survive on roast chicken alone.  Sure, you can buy them at Costco and the grocery store but they are not the same.  The Costco roast chickens are so injected full of sodium I start retaining water after the first bite and the poor excuses for chickens at the grocery stores are shriveled up little three pounders and heaven knows whats injected in them.  I am not saying I don't use them, because I do on occasion, but not often and given the choice – homemade is always the best and healthiest.
Treat yourself to a whole organic, no sulfide added chicken when you can.  But when you can't pony up the extra dollars, just buy the biggest, freshest chicken you can find.  (the one in this photo almost resembles a turkey – go big or go home!).
Tips for the perfect Easy Roast Chicken:
Washing the bird?  There is a little bit of controversy on this subject lately. Now 'they' are saying that you spread more germs rinsing off chicken than it's worth.    Cooking will remove all those nasty germs.   You can google it and make up your own mind.  Me?  I rinse.  I don't scrub, I just rinse.  Pat dry with paper towels.  The dryer the skin the crispier the crust.
Trussing – yes, you need to do that.  It's a fancy word for tying up the legs of the chicken.  No skill required.  Just tie them up and knot it. It not only makes for a pretty presentation it allows the chicken to cook evenly.  Tuck in those wings too so they don't get overcooked.
Preheat the oven – even though you have an hour and half cooking time, you need to preheat for even cooking.
Potatoes or no?  I do not cook my potatoes with my chicken.  I find they soak up the oil from the bird and I don't like the texture.  You can certainly throw some in and give it a try,  but use firm potatoes like yukon golds or red potatoes.
Giblets yes or no?  I discard them although they make a nice addition to gravy – but that's another post at another time…we are just doing chicken today 🙂
Set your uncooked chicken on top of your vegetables.  They make a perfect roasting rack.
Stuff the chicken with aromatics but know it does not impart huge amounts of flavor so if you don't have them, don't sweat it…but it sure does make your kitchen smell yummy 🙂
Thats about it  – it's truly one of the easiest things you will ever cook and did I mention leftovers?  Well what kind of post would this be if I didn't!  If you follow this blog you know that I am a leftover junkie!  See my rotisserie chicken Pinterest board for a few ideas on how to use your left over chicken.
Simple food, is the best food!
Clink!
Kathi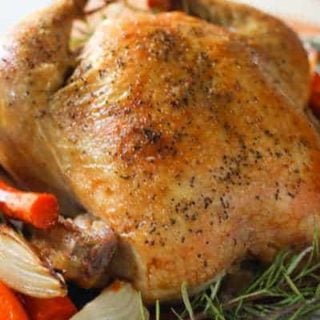 Easy Roast Chicken
This Easy Roast Chicken is perfect in it's simplicity! Once you learn how to make this, you can feed yourself and your family for years to come! Use the leftovers for all kinds of recipes!
Print
Pin
Rate
Ingredients
1

5-6 pound

Whole Chicken

1

bunch fresh Rosemary

2

lemons quartered

2

yellow onions peeled and quartered

6

whole carrots - peeled

5

cloves

garlic - peeled and left whole

Olive oil

Salt and Pepper
Instructions
Preheat oven to 400 degrees.

Line a roasting pan with foil for easy clean up if desired (I always desire this!).

Remove giblets from cavity of chicken along with any excess fat and discard.

Rinse inside and out and pat dry with paper towels.

Rub skin with olive oil.

Salt and pepper inside and out.

Stuff cavity with rosemary, lemons and garlic.

Tie legs and tuck in wings of chicken.

Stack vegetables on roasting pan and set chicken on top.

Roast for about 1 to 1 1/2 hours until meat thermometer (placed between thigh and breast) reads 165 degrees.

Remove from oven and let rest 15 minutes before carving.

Serve with roasted vegetables.
Nutrition
Calories:
287
kcal
|
Carbohydrates:
13
g
|
Protein:
21
g
|
Fat:
16
g
|
Saturated Fat:
4
g
|
Cholesterol:
81
mg
|
Sodium:
120
mg
|
Potassium:
514
mg
|
Fiber:
3
g
|
Sugar:
5
g
|
Vitamin A:
10345
IU
|
Vitamin C:
27.9
mg
|
Calcium:
54
mg
|
Iron:
1.5
mg