Sheet Pan Mahi Fajitas!  This recipe works for all kinds of fish.  Cod, Tilapia and Halibut to name a few.
The recipe is basically the same as my Sheet Pan Chicken Fajitas and my Salmon Sheet Pan Fajitas, but  you are going to give the veggies a 10 minute head start.  White fish cooks a bit faster than chicken or salmon.
Simply chop your veggies and toss in the simple fajita marinade you just whipped up.  Then nestle, (isn't that a better word than plop?  Although I probably plop more than nestle).  Okay than, 'nestle' the fish fillets right on top of the the par cooked veggies  and bake for an additional 20 minutes.  Ding dinner done!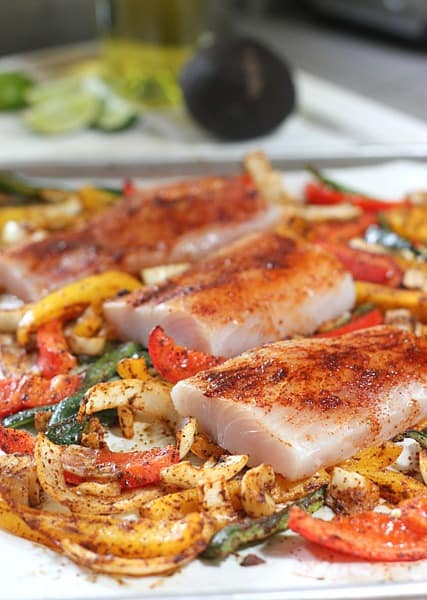 Serve it up with  tortillas, or just plop nestle it on salad,  or wrap it up in a lettuce leaf for a delish lettuce wrap.
Don't get me started on the leftover lunchbox thing here. Perrrfeect for that!  I love me some leftover lunchbox stuff!
NOTES:
I buy my Mahi from Costco, frozen – love, love, love it.  Thaw before using.  Always comes out perfect at 400 degrees for 20 minutes.
If you are using a less thick fillet like Tilapia, make sure and adjust your cooking time.
Line your sheet pan!  Parchment works best but foil will in a pinch.  The spices brown up pretty good and your 'easy dinner' will be for not as you scrub the pan.
Use the convection feature of your oven if you have it.  It helps brown up the veggies.
Check out all my favorite Sheet Pan Dinners here!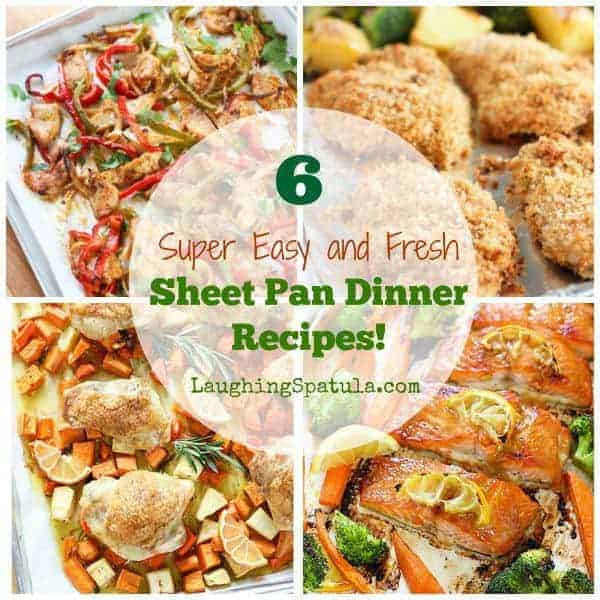 Serve along side this yummy Best Spanish Rice dish!
Have a wonderful week guys!
Clink!
Kathi
Sheet Pan Mahi Fajitas
Ingredients
4

Mahi Fillets

or other white fish

1

red pepper - sliced

1

yellow pepper - sliced

1

poblano pepper - sliced

1

onion - sliced

Marinade

1/3

cup

olive oil

1

tablespoon

chili powder

1 1/2

teaspoon

cumin

1/2

teaspoon

garlic powder

1

teaspoon

salt

1/2

teaspoon

pepper
Instructions
Preheat oven to 400 degrees.

Line large baking sheet with parchment or foil.

Combine all marinade ingredients in small dish.

Reserve 2 tablespoons of marinade to brush on fish.

Toss chopped veggies in remaining marinade.

Spread onto prepared baking sheet.

Bake for 10 minutes.

Brush fish fillets with reserved marinade.

Nestle fish fillets on top of veggies.

Bake for additional 20 minutes or until fish is firm to the touch.

Serve with all your favorite fajita condiments!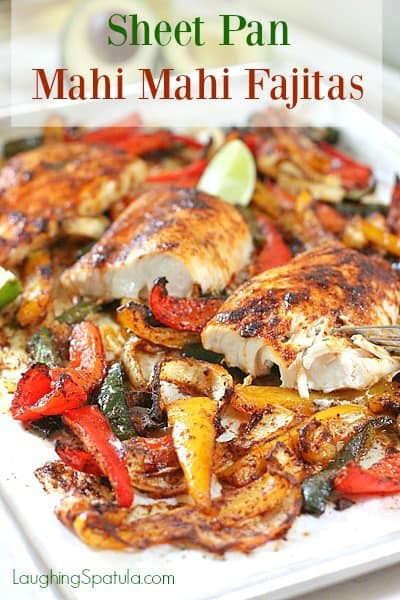 Other stuff thats yummy: