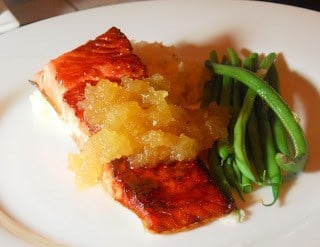 I have never seen another recipe like this one.    We were in Maui and I was watching  one of those tourist channels and they were preparing this salmon at a restaurant in Lahaina.  I have been making it ever since!  This is one of those recipes that works during the week but is also a show stopper when you have guests. There are only 5 ingredients…that works for me!
The preperation is super, super easy.   I serve with garlic mashed potatoes and green beans, but sweet potatoes and any veggie would work.  If you are not a pineapple fan, omit the salsa and serve with a garlic cream sauce…cream sauce goes with everything!
2 tablespoons vegetable oil
4-6 salmon fillets (with or without skin, the skin can be removed after baking)
1/2 cup granulated sugar
1 20 oz can crushed pineapple
1 1/2 cup granulated sugar
For Marmalade
In medium saucepan, combine pineapple and sugar.
Simmer over medium high heat, stirring occasionaly until edges starts to brown.  About 30 minutes.  Keep warm.
For Salmon
Preheat oven to 375 degrees
In medium skillet, heat 2 tablespoons olive oil until hot but not smoking.
Pour sugar onto plate.  Press salmon fillets into sugar,  sugar one side only.
Add fillets to hot skillet, sugar side down.  Cook until sugar carmalizes, about 4 minutes (try not to move them around too much so they form a nice crust)
Remove from pan and put on foil lined baking pan.  Bake for additional 10 minutes or until firm.
Remove skin from salmon, if any, before serving.
Serve warm with pineapple salsa!