Honey, fresh oranges and ginger…what a wonderful combo for salmon!  Just a few wholesome ingredients and WOW!  Easy clean up and leftovers for tomorrows lunch!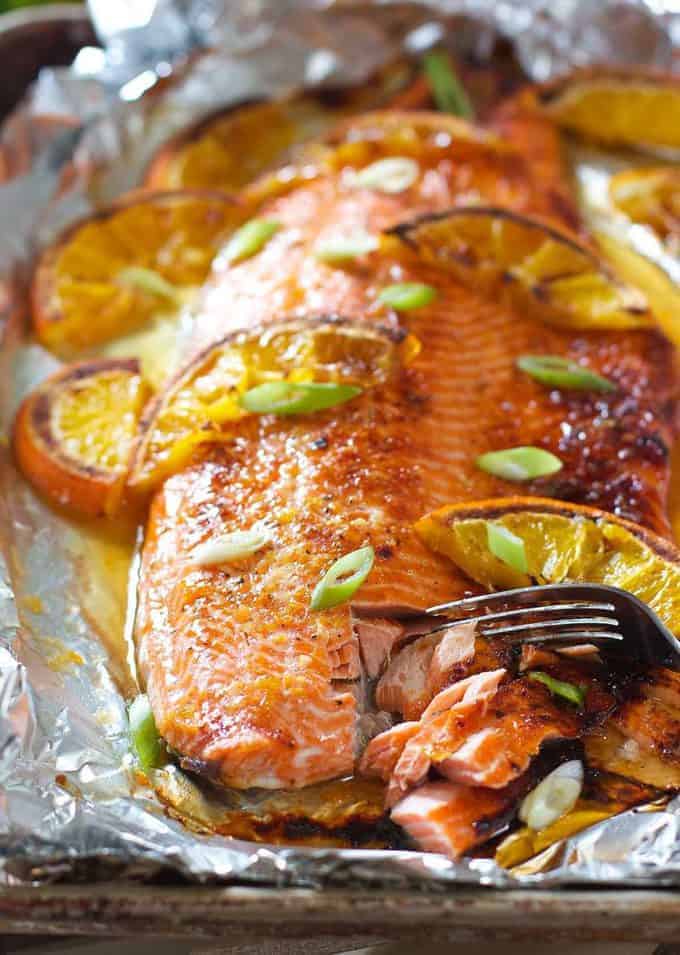 My taste buds are going through mid life crisis.  There are a lot of foods that I used to love and can't eat anymore.  Have you guys ever had that happen?  Soy sauce is one of them.  A lot of the glazed salmon recipes have that ingredient….so I made up my own version!     (I also no longer like fresh tomatoes,  ketchup, nutmeg and martinis !  I can live without ketchup but martinis…come on!  Although, now I crave pesto, plain yogurt, lime and bourbon flavored anything ,including just bourbon, so it's not all bad…)
How to make Honey Glazed Salmon with Orange and Ginger
This is a simple little glaze you whip up.  No need to marinate since we are grating the ginger and garlic and using orange zest.  It infuses the honey really quickly.  Just mix, pour and bake!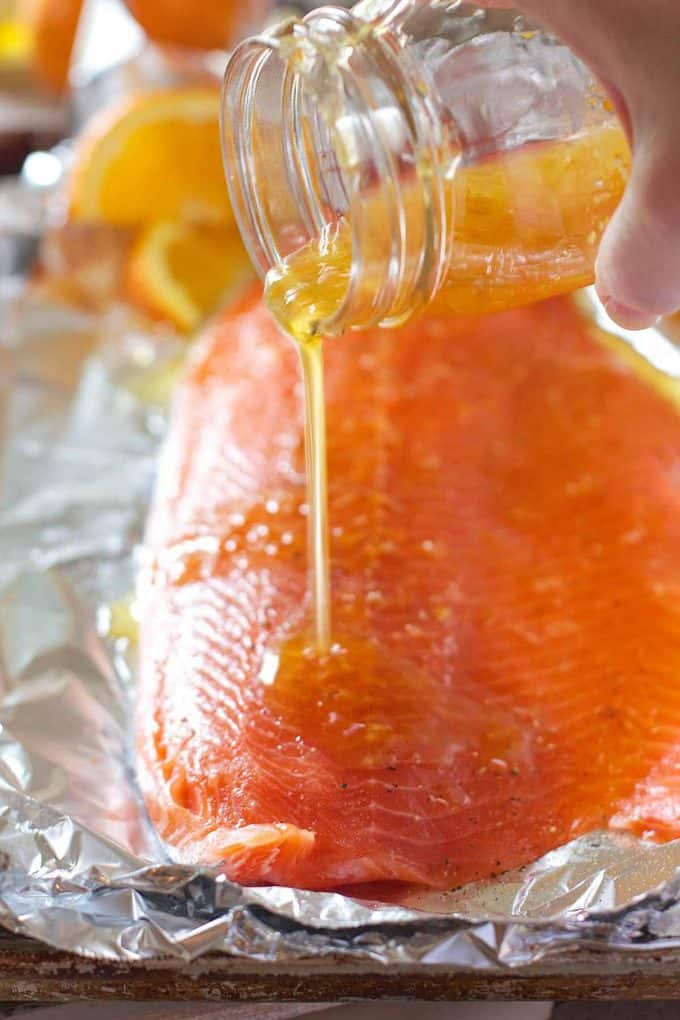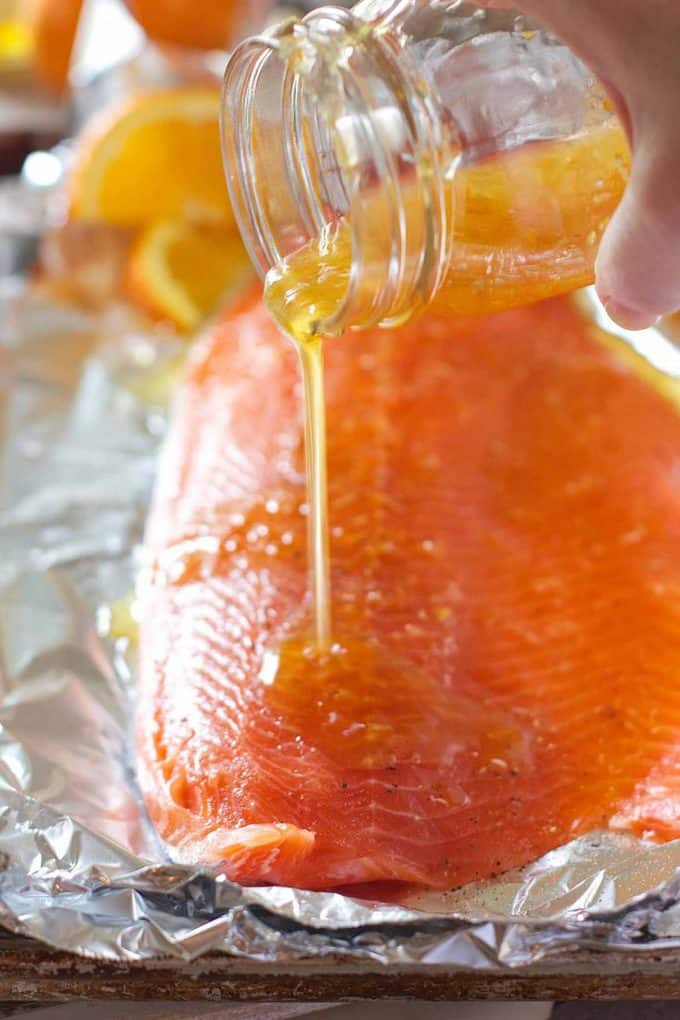 I covered my baking sheet in foil, which is a real clean up saver.  The honey makes the salmon all crispy and crackly and tastes like heaven, but makes clean up no fun.  What good is a quick dinner if you are scrubbing the pan all night?
I buy Steelhead Salmon (which is really a trout, but is a form of salmon),  from Costco.  The Atlantic farm raised salmon they sell has no flavor in my opinion.  It's a tick cheaper but not enough to warrant a salmon that tastes like newspaper. Not that I have ever ate newspaper….just to clarify.
To grate the ginger and garlic, just peel and use the small size grate on your box grater or better yet, use a microplane.  It's the best ten bucks you will spend.  I love this tool and use it for everything!  Makes zesting a breeze too.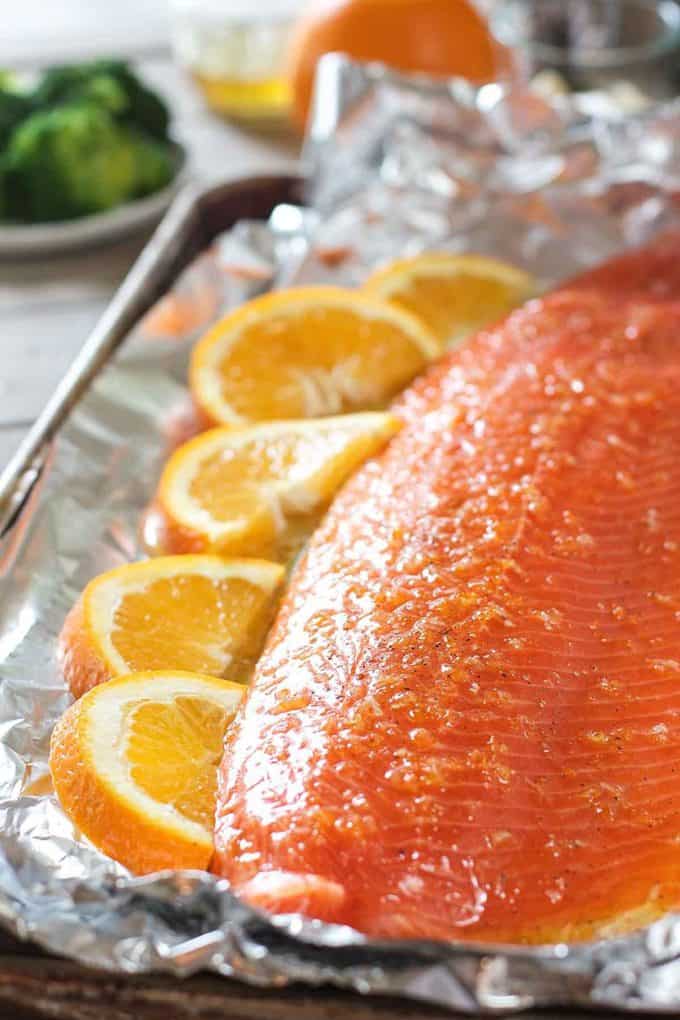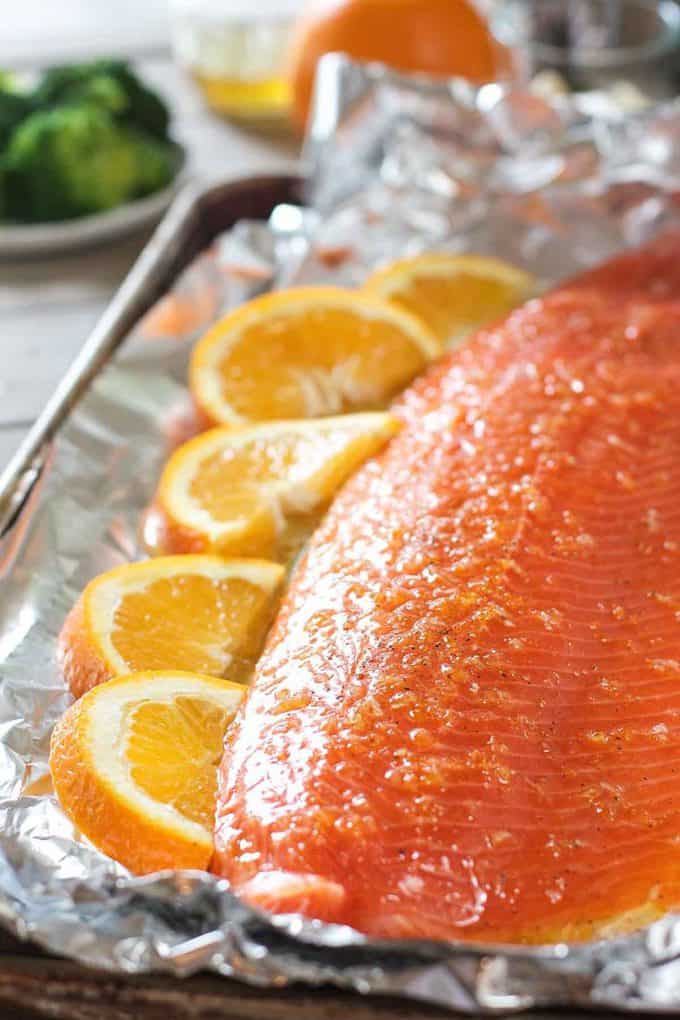 I lay sliced oranges around the salmon and let them get all brown while cooking in the glaze that runs off  the fish.   I don't put them on the fish while baking.  It leaves imprints that are not really pretty and also keeps the honey from caramelizing on the fish.  Just toss them on after the salmon is done for garnish…sooo fancy!
NOTES:
grate your ginger and garlic to infuse the honey.
line your sheet pan with foil for easy clean up.
lay the oranges to the side of the fish to caramelize.
You can see all my Salmon Recipes here!
To simple cooking and yummy meals!
Clink!
Kathi
A couple more Salmon Recipes that you might like!
Baked Feta and Herb Crusted Salmon – super easy and who says cheese doesn't go with fish!
Grilled Salmon Burgers with Avocado Salsa – even if you don't make the salsa…these will quickly become a favorite salmon dinner!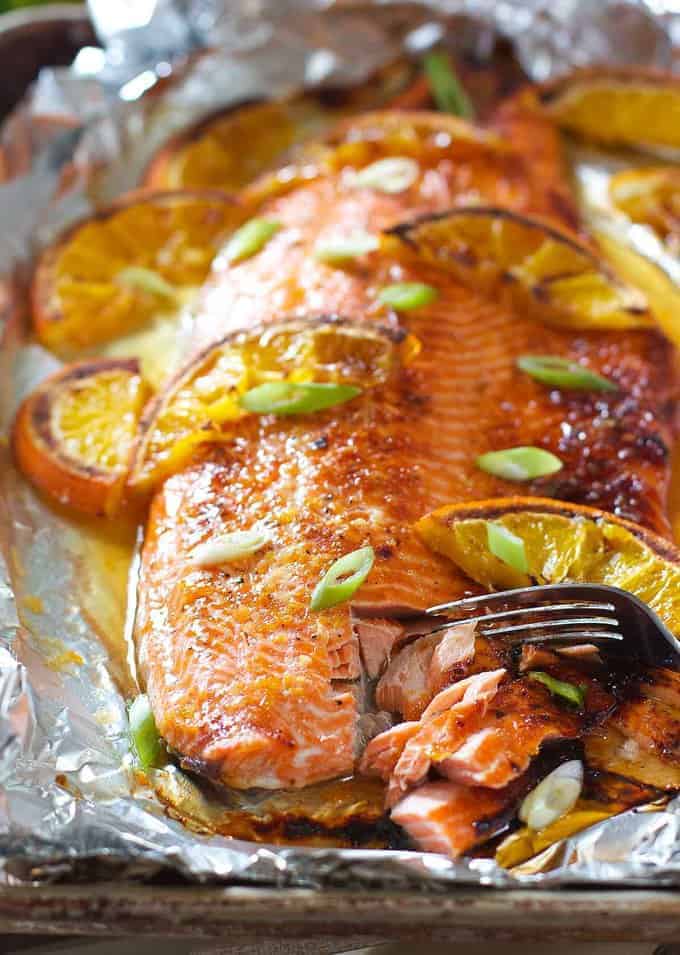 Honey Glazed Salmon with Orange and Ginger
This easy and super fresh and flavor Honey Glazed Salmon with Orange and Ginger will become a regular on your recipe rotation!
Course:
Dinner, Main Course
Ingredients
2

pound

salmon fillet

1/2

cup

honey

2

oranges - 1 for zest and juice and 1 for slicing

1

tablespoon

fresh grated ginger

1

tablespoon

fresh grated orange zest

1 orange worth

2

cloves

garlic

grated

2

tablespoons

fresh orange juice

salt and pepper
Instructions
Preheat oven to 400 degrees.

Line large baking sheet with foil.

Rinse and pat dry the salmon fillet and lay on top of foil.

Liberally salt and pepper entire fillet.

Combine honey, grated ginger, grated garlic, orange zest and orange juice in a small bowl.

Pour over salmon fillet.

Place slices of one orange around fillet.

Bake for 25-35 minutes or until salmon flakes easily with a fork

If you want a bit more caramelization, broil for an additional 2-3 minutes.
Nutrition Facts
Honey Glazed Salmon with Orange and Ginger
Amount Per Serving
Calories 425
Calories from Fat 184
% Daily Value*
Fat 20.4g31%
Cholesterol 83.2mg28%
Sodium 91.1mg4%
Carbohydrates 29.6g10%
Protein 31.5g63%
* Percent Daily Values are based on a 2000 calorie diet.