This White Chocolate Energy Bark is an easy 5 minute recipe that works great for a mid-afternoon snack, or, wrap it up in parchment and tie with twine for a rustic last minute hostess gift!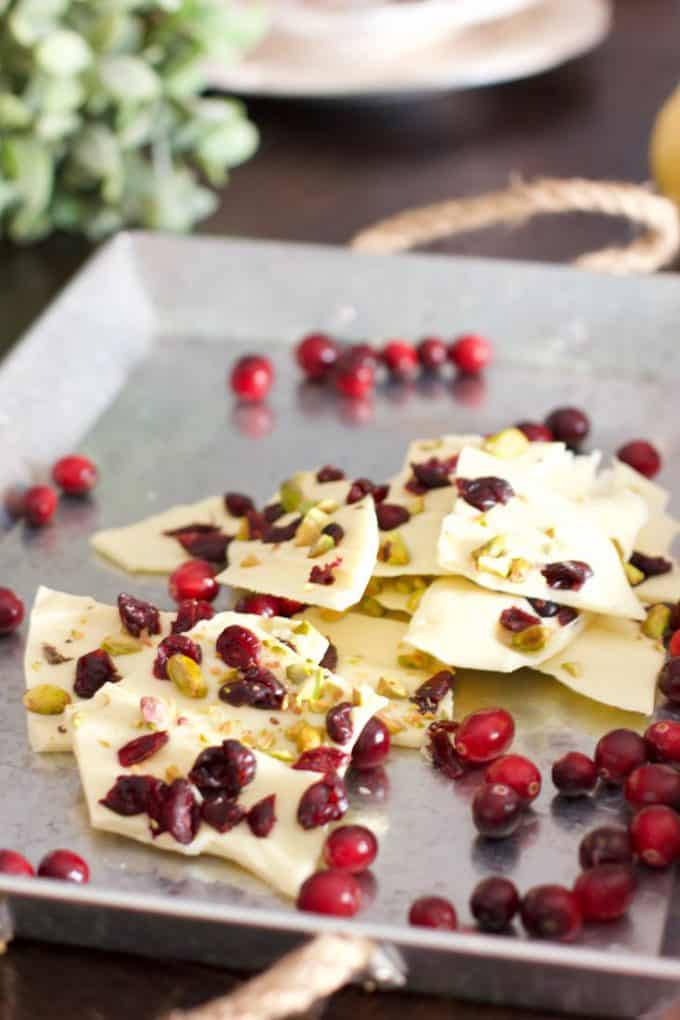 Chocolate- chocolate-chocolate! I love chocolate! I work part time, normally my hours are around the realm of 9:00AM-2:00PM 3 days a week (grueling schedule, huh?). I'm always hungry when I get home but I try to just have a light snack to tide me over until dinner. I made this last week and it was great for an afternoon pick-me-up! The pistachios are salty, and the cranberries are tart- they pair perfectly with white chocolate. If you were wanting be a bit healthier, replace the white chocolate with dark. It's so easy to make, and I love the rustic edges of it. Would be so pretty on a big platter for Christmas time!
Last week I was in Laguna Beach, California. We had a ball! We explored all of Orange County from Huntington Beach to Dana Point (of course with a stop in Disneyland). I flew out of John Wayne Airport in Orange County- probably one of my favorite airports (why? no idea- it's just small, cute, and easy to navigate) and everything was going hunky dory until about 20 minutes into the flight when we hit extreme turbulence. Uh- mayday!! Nervous flyer here!!! In between the major bumps, drops, and anxiety attacks, I made friends with my seat mate to my right. Her name was Gilda, she told me she was 80 years old, she had this awesome east coast accent and I kind of just wanted to hug her from the get go. The turbulence was so bad at one point I grabbed her hand, and being the sweet gal she was, she just smiled and laughed. So the turbulence finally stops, and Gilda tells me about herself- she owns the Newport Beach Tennis Club and her daughter owns Seattle Chocolates! What a family! Gilda's kind smile, stories, and warmth really got me through this awful, bumpy flight, and I have to say- finding kindness in strangers is something I never really appreciated until I got a bit older.
Moral of the story- be kind to everybody that you meet, you never know the difference you can make!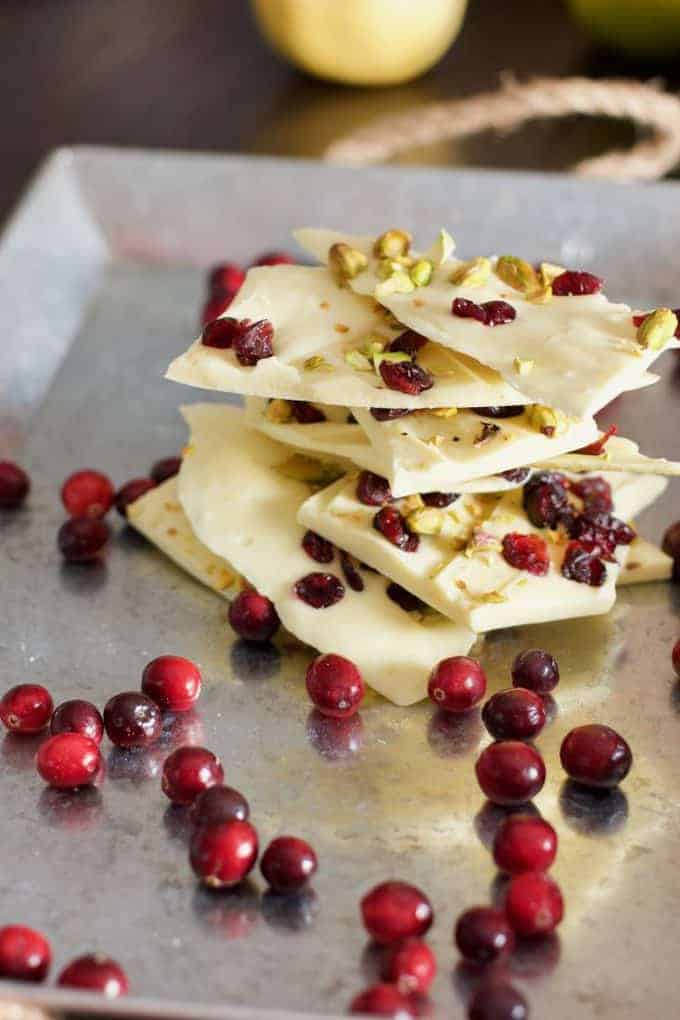 To making new friends on bumpy rides!
Cheers!
Rachel
White Chocolate Energy Bark
White Chocolate Bark! A quick and easy treat for food gift!
Ingredients
1

12 ounce

package white chocolate chips

1

Cup

dried cranberries

1/2

Cup

shelled, peeled and chopped Pistachios

Tip- Throw out any icky brown pieces!
Instructions
Using a double boiler, melt chocolate until smooth and no lumps remain.

Line large baking sheet with parchment paper and spray with non stick spray.

Spread chocolate onto your prepared a baking sheet to about an 1/8th of an inch thick. It doesn't have to be perfect!

Sprinkle your cranberries and pistachios over the melted chocolate. Place in freezer for 7-10 minutes, and break apart 'brittle' style for rustic look. Enjoy!
Nutrition Facts
White Chocolate Energy Bark
Amount Per Serving
Calories 144
Calories from Fat 45
% Daily Value*
Fat 5g8%
Sodium 1mg0%
Potassium 135mg4%
Carbohydrates 23g8%
Protein 2g4%
Vitamin A 50IU1%
Vitamin C 0.7mg1%
Calcium 15mg2%
Iron 0.6mg3%
* Percent Daily Values are based on a 2000 calorie diet.