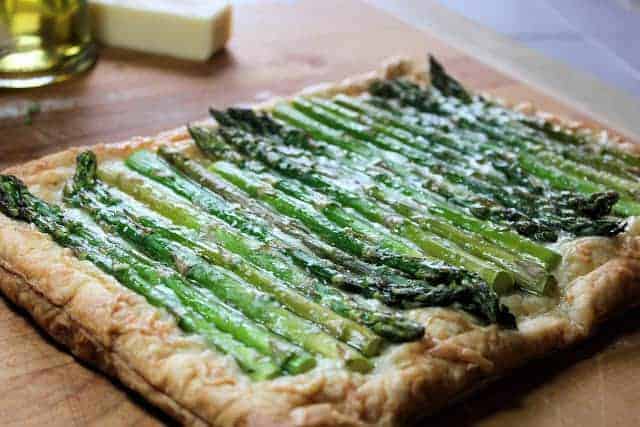 I have a blog fan…I do, I do, I really really do!  His name is Rob and I work with him at the big old coffee shop in Seattle.  He is in close second to my mom in regards to how many recipes he tries of mine….and his partner calls me the "Spatula Lady", which I kinda like 🙂
He is a terrific cook and I got this recipe from him.  He got it from Martha (as in Stewart) but I'm giving him all the credit.  Martha has already had her moment, it's so Rob's turn.
With only a few ingredients, you can put this together very quickly.  It is so impressive looking.  The Gruyere really adds a snap. You could probably try some other cheese like Swiss, or Gouda,   but I would really recommend that you pony up and spend the few extra dollars for the Gruyere, it really make the flavor.
Ingredients
Flour, for work surface
Parchment paper
1 sheet frozen puff pastry
5 1/2 ounces (2 cups) Gruyere cheese, shredded
1 1/2 pounds medium or thick asparagus
1 tablespoon olive oil
Salt and pepper
Preheat oven to 400 degrees.  On a floured surface, roll the puff pastry into a 14-by-10-inch rectangle. Trim uneven edges. Place pastry on a baking sheet lined with parchment paper. With a sharp knife, lightly score pastry dough 1 inch in from the edges to mark a rectangle, this is what forms the edge.
Using a fork, pierce dough inside the markings at 1/2-inch intervals. (not pictured because I forgot this step…paid for it later too, if you don't score the pastry with a fork, the middle puffs up and it makes you say bad words on Easter, then the angry pink bunny give's you the flu the next day….I wish I would have scored my dough, today would have been such a better day).
Bake until lightly golden, about 15 minutes.
Remove pastry shell from oven, and sprinkle with Gruyere.
 Trim the bottoms of the asparagus spears to fit crosswise inside the tart shell; arrange in a single layer over Gruyere, alternating ends and tips. Brush with oil, and season with salt and pepper.
Bake until spears are tender, about 20 minutes.