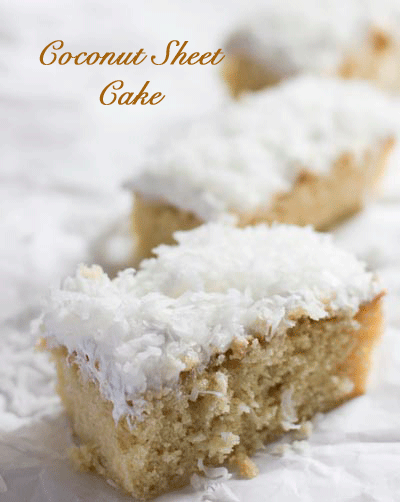 Holy Sheet Cake this is good!  It's an old time recipe that tastes like the cake that your Grandma used to make (not my Grandma, YOUR Grandma,  mine couldn't cook worth squat).   It has 5 eggs, 1 cup of butter, and 2 cups of sugar…don't you roll your eye's at me!  I know, I know!  So fattening!   But listen, it's called  "dessert"  (imagine my chubby fingers making quote marks).  Sometimes, ya just gotta be bad…
Some tips:
Do not omit the coconut extract. Yes, I know that should go without saying…but I'm just saying it anyway.   If  you omit it, you will have vanilla cake…a really cook vanilla cake, but vanilla cake never the less.
If  you are not in the mood to "deal with" (chubby fingers quote marking again…) making homemade frosting…. buy  the canned kind and add 1 teaspoon of coconut extract.
I got the recipe from Stylemepretty.com.  She used a very nice coconut glaze…I opted for frosting, I think both would be good!
More great sheet cake recipes live here : Pumpkin Sheet Cake and Apple Cake
So make this for the holidays, a birthday, a bad day, a good day, just make it, because "I said so", and "it is good".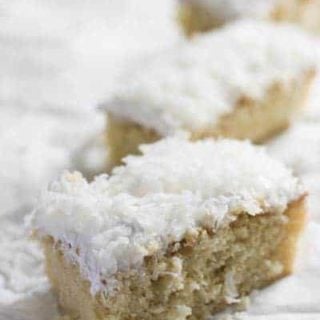 Coconut Sheet Cake
Ingredients
2

cups

all-purpose flour

1½

tsp

baking powder

1/2

tsp

salt

1

cup

unsalted butter

at room temperature

2

cups

sugar

5

eggs

at room temperature

1

cup

whole milk

or low-fat

1

tsp

coconut extract

3½

oz

Angel Flake sweetened

shredded coconut

For Frosting

1

oz

package 8 cream cheese

at room temp

1

cube butter

at room temp

1

teaspoon

coconut extract

1

teaspoon

vanilla

2

cups

confectioners sugar

1/2

cup

additional coconut to sprinkle on top
Instructions
Preheat oven to 325°F. Spray a 9 x 13 cake pan with non stick spray.

In a large bowl, whisk together flour, baking powder and salt.

In a separate bowl, cream the butter and sugar together using an electric mixer until fluffy (about 3 minutes). Add in eggs, one at a time, and mix well.

Stir in the milk, coconut extract and shredded coconut. Finally, stir in the flour, baking powder and salt mixture, stirring gently to combine.

Pour batter into prepared pan and bake until golden brown, about 1 hour

Cool cake completely before frosting.

For Frosting

Combine cream cheese and butter together using an electric mixer until well combined. About 3 minutes. Add coconut extract, confectioners sugar. Mix until fluffy. Spread over cooled cake and top with remaining coconut.

Other stuff thats yummy: