Oh my- Crispy Coconut Lime Chicken Drumsticks!
These babies are deeeeeeeelish! Something about eating a drumstick feels so visceral; primal, if you will. I was in my zone. I was ready to chow. These things…and not to toot my own food horn, but – they're just crazy good.  I am partial to anything with coconut and lime. Drinks, smoothies, soap, chicken, lotion, tanning oil, shrimp…I've always been a coconut gal.
Oh man guys- This Whole30 diet is making me want some junk food. Yeah- I feel great, and yeah- I've lost some weight (I went against the rules an weighed myself- couldn't help it!), but boy oh boy so I want something crispy and junk-food like!
Behold: Crispy Coconut Lime Chicken Drumsticks
We're having a small get together for the Super Bowl this weekend and  I might even make them again. My guests' aren't on Whole30 so I'll serve with some sweet chili dipping sauce, I think.
This chicken makes me want to plan a trip to somewhere tropical. I think I'll do that. My parents just got back from Maui and I was so jealous I had a hard time stomaching that they went without me and my hubby (first trip they've taken alone in 30 years). It's fine. I'm fine. I'll just be here in the frickin' freezing cold Seattle weather. I'm fine. Funny- the older I get (28- a real geezer) I want sunshine more and more. I was so excited for Fall and Winter but after about 5 months of nastiness, I'm ready for some sunshine. My hubby and I have discussed moving to California a lot recently- I wouldn't be surprised if we ended up there in a few years. He went to college there and loved it. Me? I just want palm trees and a pool, please. If you live in Southern California- what are your thoughts on living there? What are the best areas to raise a family? 
Jeez Louise- enough babble- enjoy these Crispy Coconut Lime Chicken Drumsticks and 'go football' on Sunday (I hate sports- no idea who's even playing- I just like the Super Bowl for the food! lol!). 
Bone Apple Teeth! (I saw a Youtube video where this kid couldn't say 'Bon Apetit'…Not sure why this cracks me up…Bizarre sense of humor). 
Cheers-Rachel
P.S. Do you like this recipe and want to try a few more like it?
This Thai Chicken Coconut Curry will heal what's missing! Oh man, guys…This stuff is amazing and so easy for a fabulously different weeknight meal.
I'm a big fan of anything with the word 'ball' in it (again..bizarre sense of humor..) and these Jalapeno Popper Cheese Balls (ha..balls..) are a great game day appetizer! Coated in bacon, these will for sure be a crowd favorite! Sounds like a ball to me!
Are you falling off of the diet wagon and need to hop back on? Click here for 12 easy, healthy and fresh recipe ideas! (Kind of like 'every time a bell rings an angel earns its wings', I gain a freakin' pound anytime the word 'diet' is spoken. These recipes taste like you're NOT dieting, but they're in fact healthy and just so easy to make!).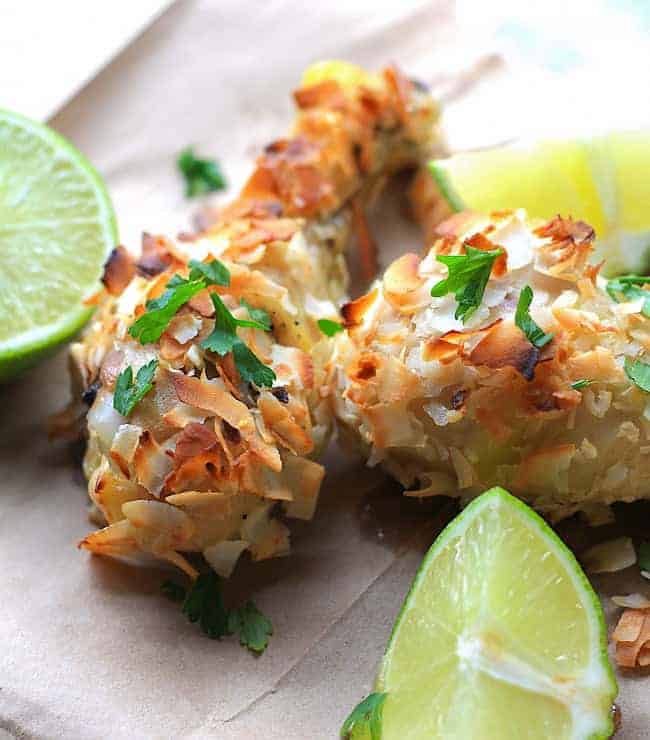 Crispy Coconut Lime Chicken Drumsticks
These delicious, Whole30 approved yummies are perfect for game day, or a weeknight dinner!
Course:
Appetizer, Dinner
Ingredients
Chicken Marinade
1

Package

Chicken Drumsticks (with skin)

Mine had 8 to a pack, figure 2 per person for an appetizer, or 3 per person for dinner.

1

Cup

Unsweetened Coconut Milk

1

Teaspoon

Sea salt

1

Tablespoon

Garlic Powder

1

Teaspoon

Black Pepper

2

Tablespoons

Lime Juice

1/2

Teaspoon

Zest of 1 Lime
Crispy Coconut "Breading"
1

Cup

Unsweetened Coconut Flakes

I use Bob's Red Mill because they're bigger flakes. If you aren't on Whole30, use sweetened for a great salty/sweet punch!

1

Medium

Lime (for garnish)
Instructions
Preheat oven to 400 degrees. Line baking sheet with foil, spray with nonstick, and set aside.
Chicken Marinade & Breading
Mix marinade in large size bowl with room for chicken to soak.

Cut slices in drumstick meat, under the chicken skin (this will help infuse flavor). Add chicken to marinade mixture and rub the mixture into the chicken.

In a separate bowl, combine the "breading" ingredients. 1 by 1, transfer drumsticks to "breading", ensuring drumsticks are full coated in coconut flake mixture.

Add "breaded" chicken drumsticks to sheet pan, and when finished, cover with a piece of foil (this helps the coconut not burn while baking).

Bake for 25 minutes with piece of foil covering pan. When 25 minutes is up, remove piece of foil, and bake without for an additional 5 minutes to brown coconut. Keep an eye on it to ensure your coconut does not burn (all ovens heat differently- this is my disclaimer so your coconut does not burn!). (Reminder- If you're unsure if your chicken is done- use a meat thermometer- it should be an internal temp of 180 degrees Fahrenheit.)

Place on a festive platter, and squeeze lime juice over drumsticks. Garnishes well with parsley, or lime zest.




Serve with sweet and sour, or sweet chili sauce (both are NOT Whole30 compliant, FYI) and enjoy!
Nutrition Facts
Crispy Coconut Lime Chicken Drumsticks
Amount Per Serving
Calories 291
Calories from Fat 252
% Daily Value*
Fat 28g43%
Cholesterol 1mg0%
Sodium 601mg25%
Potassium 297mg8%
Carbohydrates 10g3%
Protein 3g6%
Vitamin C 4.3mg5%
Calcium 15mg2%
Iron 1.9mg11%
* Percent Daily Values are based on a 2000 calorie diet.