Who doesn't love a good old fashioned cheeseburger? While grilling burgers year round isn't an option in most places, you can have a juicy, skillet burger any day of the year with a Stovetop Burger! A delicious seasoned meat is formed into patties, and cooked to perfection on the stove, top with melty cheese for one of the best burgers you'll ever have. 

The key to perfect skillet burgers is seasoned, high quality beef.
I prefer using ground chuck- it has less fat than regular ground beef and does not compromise the flavor.  Ground chuck has about 15-20% far whereas regular ground beef has around 30% fat.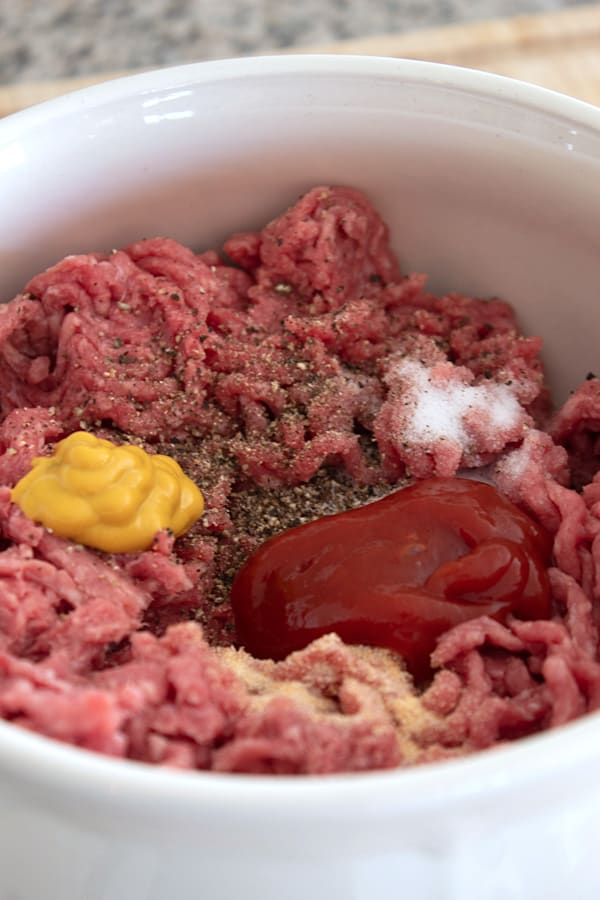 Stovetop Burger Seasoning:
The ketchup and mustard are the key ingredient to perfect tasting burgers, reminiscent of the kind you get at a 50's diner.
Mustard
Ketchup
Onion Powder
Salt
Pepper
I recommend mixing the beef together with the seasoning ingredients using clean hands. You want to be careful not to overmix the beef, doing so will result in chewy meat. Mix them just until the seasoning is combined, about 30-45 seconds for tender beef burger patties. 
Divide the meat into 4 equal portions, and form them into patties, placing them onto a plate or platter once done. The burger patties do not need to be perfect- the less handling, the better the burger. One of the biggest mistakes of homemade burgers is forming them into round balls, and smashing them down. Doing this causes the meat to be overworked, and results in burgers that shrink. Top each patty with salt and pepper, which will help form a crust. Allow the burgers to sit on the counter while you heat the skillet on the stovetop.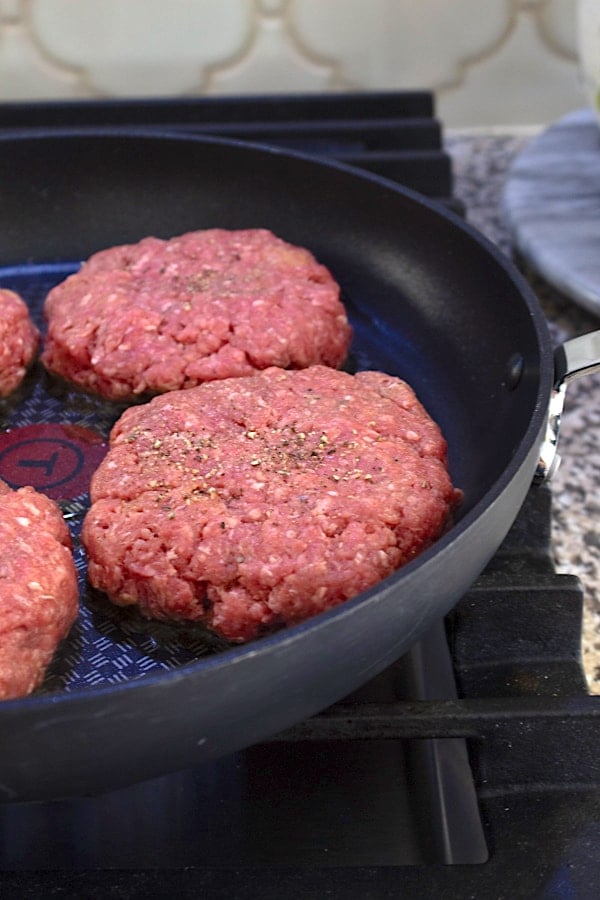 How to Pan Cook Burgers on the Stove
Once the pan is hot, add a smidge of olive oil, and add the burgers to the pan- you can choose to use a cast iron pan, but you'll want to make sure it is well seasoned if you do, as the meat can tend to stick to it if it is not seasoned. A nonstick pan will also work, as will a grill pan, Chef's choice. Grill the burger on each side for about 3-6 minutes, depending on the level of 'doneness' you desire.
PRO TIP: We like to leave the lid on when cooking burgers- it traps in steam helping to cook them, and keeps the meat moist.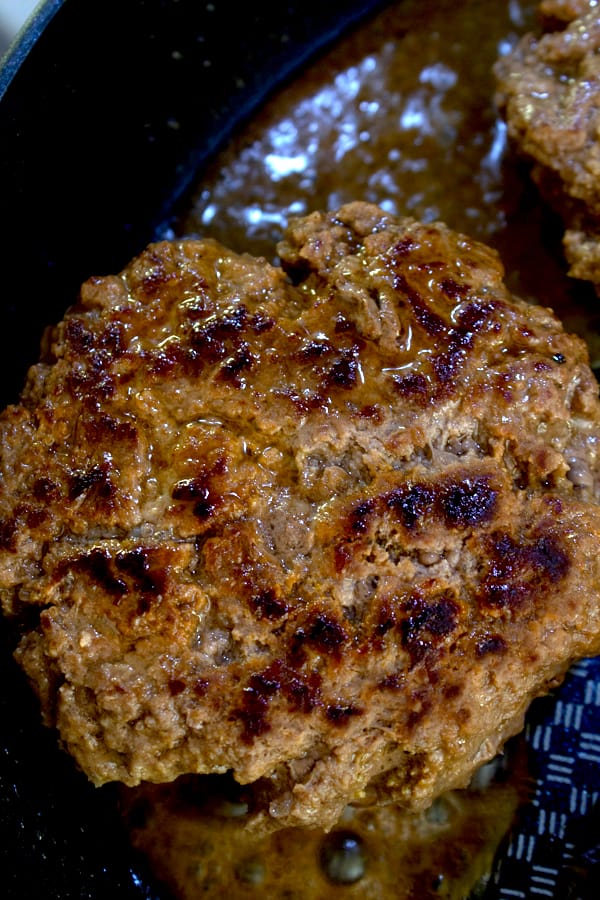 Use an electronic meat thermometer ensures a perfectly cooked stovetop burger.
We recommend cooking your burger about 5-7 degrees less than your desired level of doneness, as the burger will continue to cook outside of the pan while it rests before serving. Allowing the burger to rest for 5-10 minutes allows for the meat to absorb the juices after it cooks, for a deliciously tender and moist burger.
The Spruce Eats has a fabulous guide on which temperature yields which level of cooking for burgers, check it out here. Ground meat is considered fully cooked at its thickest point once it reaches 160 degrees fahrenheit per the USDA. 
Well done: 160 -165 degrees fahrenheit (brown center)
Medium-well: 150-155 degrees fahrenheit (brown exterior with a hint of pink in center)
Medium: 140-150 degrees fahrenheit (brown exterior with light pink center)
Medium-rare: 130-140 degrees fahrenheit  (brown exterior, pink middle with a little bit of red in the center)
Rare: 120-125 degrees fahrenheit (brown/pink exterior, red/pink throughout center)
A properly stovetop burger will yield a delicious crust, that easily pulls from the pan. If it doesn't pull from the pan, leave it. It will release on its own once it is ready. Once the burger has reached your desired level of cooking, add cheese if you like, and let the burger sit on a clean cutting board or plate for 5-10 minutes before serving, to preserve the juice.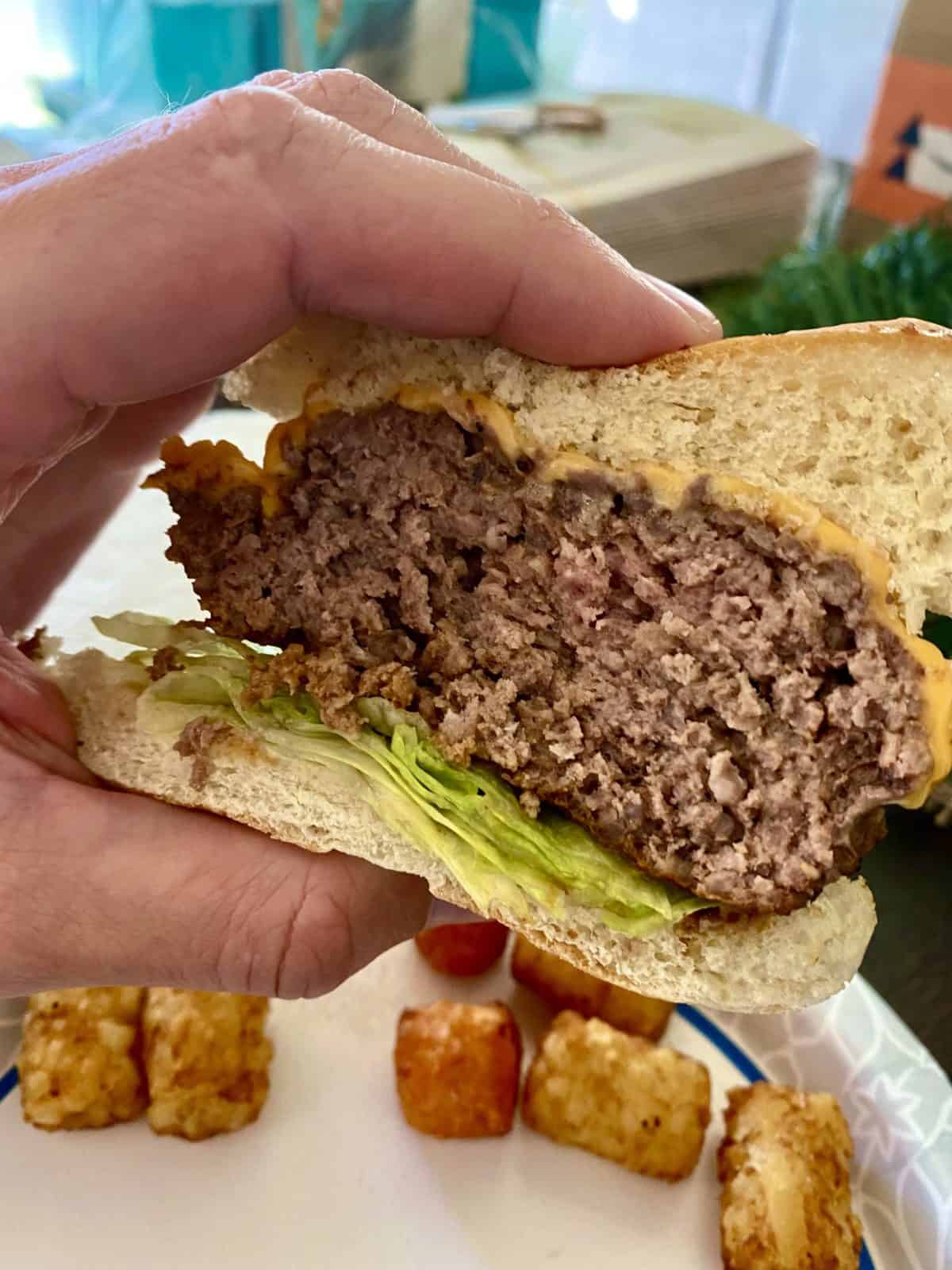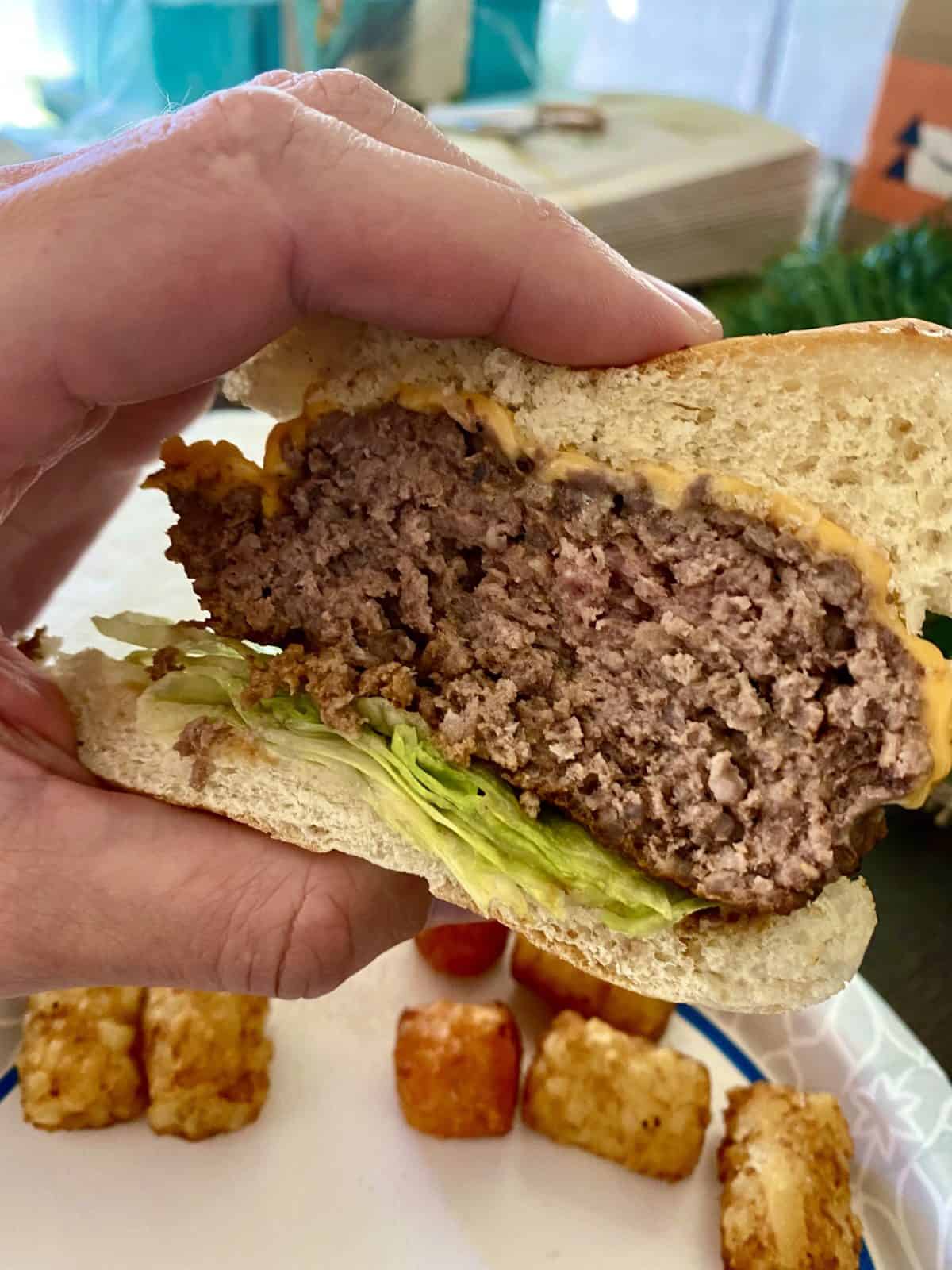 We had our burgers medium well- but we also have a 19 month old, and we're cautious with making sure our meat is fully cooked for him. Usually we'd prefer a medium rare burger, but mom duties call, and he matters most! We served our burgers with tater tots from the airfryer, but I'd also recommend Air Fryer Potato Wedges or if you're going low carb, serve your burger in a lettuce wrap with Smashed Brussel Sprouts on the side! 
If you are a burger fiend, here are a few recipes to try!
What do you think about this recipe? Have questions?Comment below! Don't forget to like us on Facebook, and connect with us on Instagram and tag your @Laughingspatula recipes with #laughingspatula. We love to see your pics! 
Enjoy! – Kathi and Rachel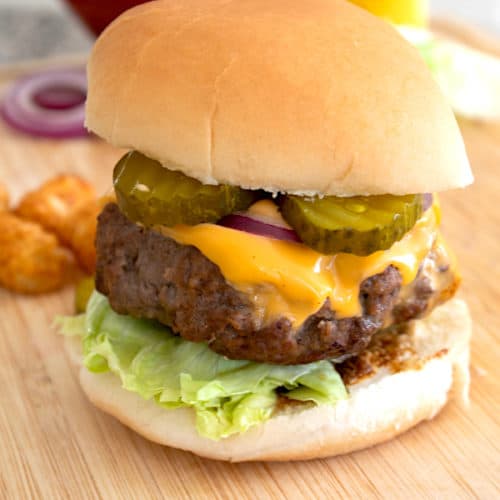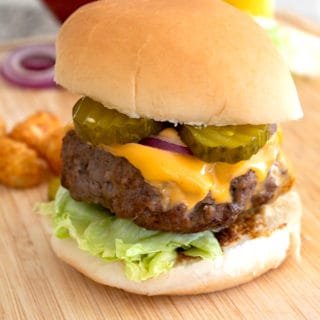 Stovetop Burgers
A delicious seasoned meat is formed into patties, and cooked to perfection on the stove, topped with melty cheese for one of the best burgers you'll ever have. 
Print
Pin
Rate
Ingredients
1

lb

ground beef, or ground chuck

1

tbsp

ketchup

2

tsp

yellow mustard

1.5

tsp

onion powder

.5

tsp

salt

.5

tsp

ground pepper

1

tsp

olive oil

(for pan)
Instructions
Combine beef, ketchup, mustard, onion, salt and pepper. Mix until combined, but do not overmix. Form into 4 patties, top with sprinkle of salt and pepper, and set aside on clean surface.

Heat skillet on medium high heat. Add olive oil. Once hot, add burger patties to pan. Cook for 3-6 minutes on each side. Flip burger and repeat. Cook until desired doneness is reached*.

*See notes in blog post for temperature coking guide.

Remove burgers from skillet, topping with cheese if desired. Allow burger to rest for at least 5 minutes (but no more than 10 to preserve warmth).

Serve on bun, or in lettuce wrap for a low carb option. Top as desired and enjoy!
Nutrition
Calories:
306
kcal
|
Carbohydrates:
2
g
|
Protein:
20
g
|
Fat:
24
g
|
Saturated Fat:
9
g
|
Polyunsaturated Fat:
1
g
|
Monounsaturated Fat:
11
g
|
Trans Fat:
1
g
|
Cholesterol:
81
mg
|
Sodium:
430
mg
|
Potassium:
332
mg
|
Fiber:
1
g
|
Sugar:
1
g
|
Vitamin A:
22
IU
|
Vitamin C:
1
mg
|
Calcium:
27
mg
|
Iron:
2
mg