Easy Cheesy Potatoes Au Gratin! – This dish looks so fancy but it's just potatoes sliced and turned upside down it with cream and cheese!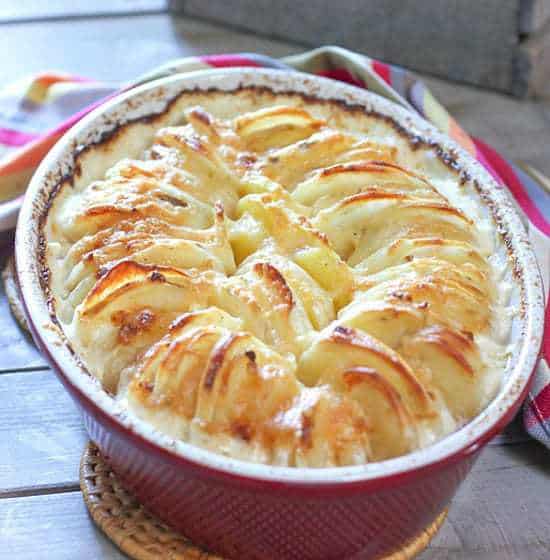 Don't touch that dial!  I know, these look sooooo hard to make,  but believe me when I say they are incredibly easy!  Four ingredients and no fancy equipment needed!   
How to make Cheesy Au Gratin Potatoes!
 I didn't use a mandolin slicer. I didn't even heat up the cream before I poured it in.  I simply sliced the potatoes with my trusty sharp knife and tossed them in cheese, garlic and cream….heavy cream my friends.  No messing around here.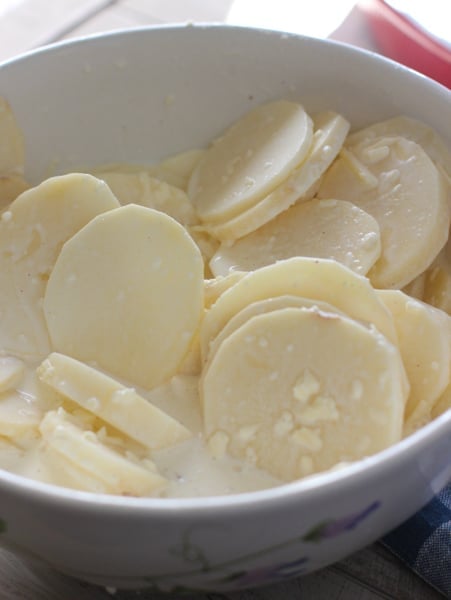 I lined the potatoes up vertically in a 2 quart baking dish.  Poured the remaining cream over these beauties and into the oven it goes!  They come out beautiful every time.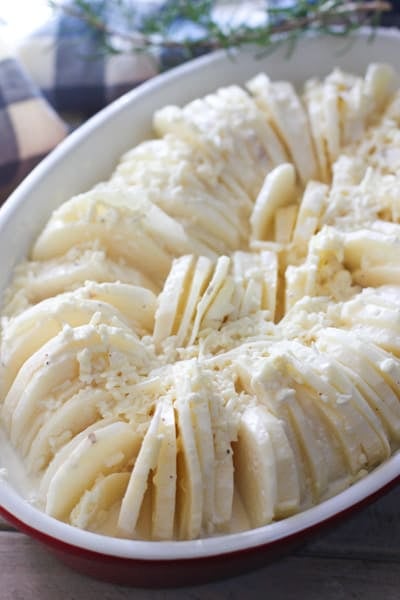 So what is a Gratin?  According to Wikipedia it is a "widespread culinary technique in which an ingredient is topped with a browned crust, often using breadcrumbs, grated cheese, egg and/or butter. Gratin originated in French cuisine and is usually prepared in a shallow dish of some kind."
 OMG thats boring!  Whatever…it's crusty cheesy potatoes with cream on it and it's goooood…
Notes to make Cheesy Potatoes Au Gratin
I used large russet potatoes so it only took about 5-6 of them.  Bigger the tater, the prettier this dish will be.  Over buy your potatoes in case you need an extra to fill in.
I cut off the small ends of the potatoes and discarded them to keep the dish more uniform.  But it doesn't have to be perfect!  You can see there are various sizes of potato and the dish still came out very pretty.
Depending on how thick your potatoes are, and how large your cooking vessel is, the cooking time can vary on this dish.   I would advise removing a small piece of potato from the center, after baked,  to be sure it is completely done.  If it is not tender enough for your liking, bake an additional 10 minutes and check again.
These are best served the day you bake them but can be assembled the day before.  Cover and refrigerate until ready to bake.
Get ready to impress your friends and family with this masterpiece…they will never guess how easy it really was!
To Cheesy Potatoes!
Clink!
Kathi
Cheesy Potatoes Au Gratin
This impressive looking but incredibly easy to make casserole is not only pretty, but tastes amazing! Don't let the fancy exterior fool you, this is a breeze to make!
Ingredients
1

cup

finely grated Gruyère cheese

1

cup

finely grated Parmesan cheese

2

cups

heavy cream

4

cloves

large garlic

minced

2

teaspoons

salt

1

teaspoon

pepper

4

pounds

to 4 ½ russet potatoes

peeled and sliced about 1/8-inch thick., about 6 very large

2

tablespoons

unsalted butter
Instructions
Preheat oven to 400 degrees.

Toss Gruyere and Parmesan together. Remove 1/2 cup and set aside for topping.

In large bowl, add cream, garlic, cheese, salt and pepper.

Add potato slices and toss with your hands until every slice is coated with cream mixture, making sure to separate any slices that are sticking together to get the cream mixture in between them.

Grease a 2-quart casserole dish with butter.

Begin to place potatoes vertically in dish. Continue placing potatoes in the dish, working around the perimeter and into the center until all the potatoes have been added. If necessary, slice an additional potato until all slices are packed somewhat tightly in dish.

Pour the excess cream and cheese mixture evenly over the potatoes until the mixture comes halfway up the sides of the casserole. You may not need all the excess liquid.

Cover dish tightly with foil and transfer to the oven. Bake for 45 minutes.

Remove foil and continue baking until the top is pale golden brown, about 30 minutes longer. Carefully remove from oven, sprinkle with remaining cheese, and return to oven.

Bake until deep golden brown and crisp on top, about 30 minutes longer. Remove from oven and test for doneness. Bake additional 10 minutes if needed.

Cool for 10-15 minutes before serving.
Nutrition Facts
Cheesy Potatoes Au Gratin
Amount Per Serving
Calories 518
Calories from Fat 288
% Daily Value*
Total Fat 32g 49%
Cholesterol 112mg 37%
Sodium 882mg 37%
Potassium 1023mg 29%
Total Carbohydrates 43g 14%
Protein 14g 28%
* Percent Daily Values are based on a 2000 calorie diet.