Our easy sushi bake is the simplest on the internet, but with the most flavor! Easy Baked Sushi is a combination of rice, imitation crab, and toppings, served layered in a baking dish. We like to top ours with a little bit of Sriracha mayo and some wasabi mayo!
What is a Sushi Bake?
It's basically a sushi casserole. A deconstructed baking dish full of  layers of sushi (usually a California roll). Some people use salmon, some use shrimp, or you could go vegetarian too, we opted for surimi (imitation crab) to keep on point with a traditional California sushi roll.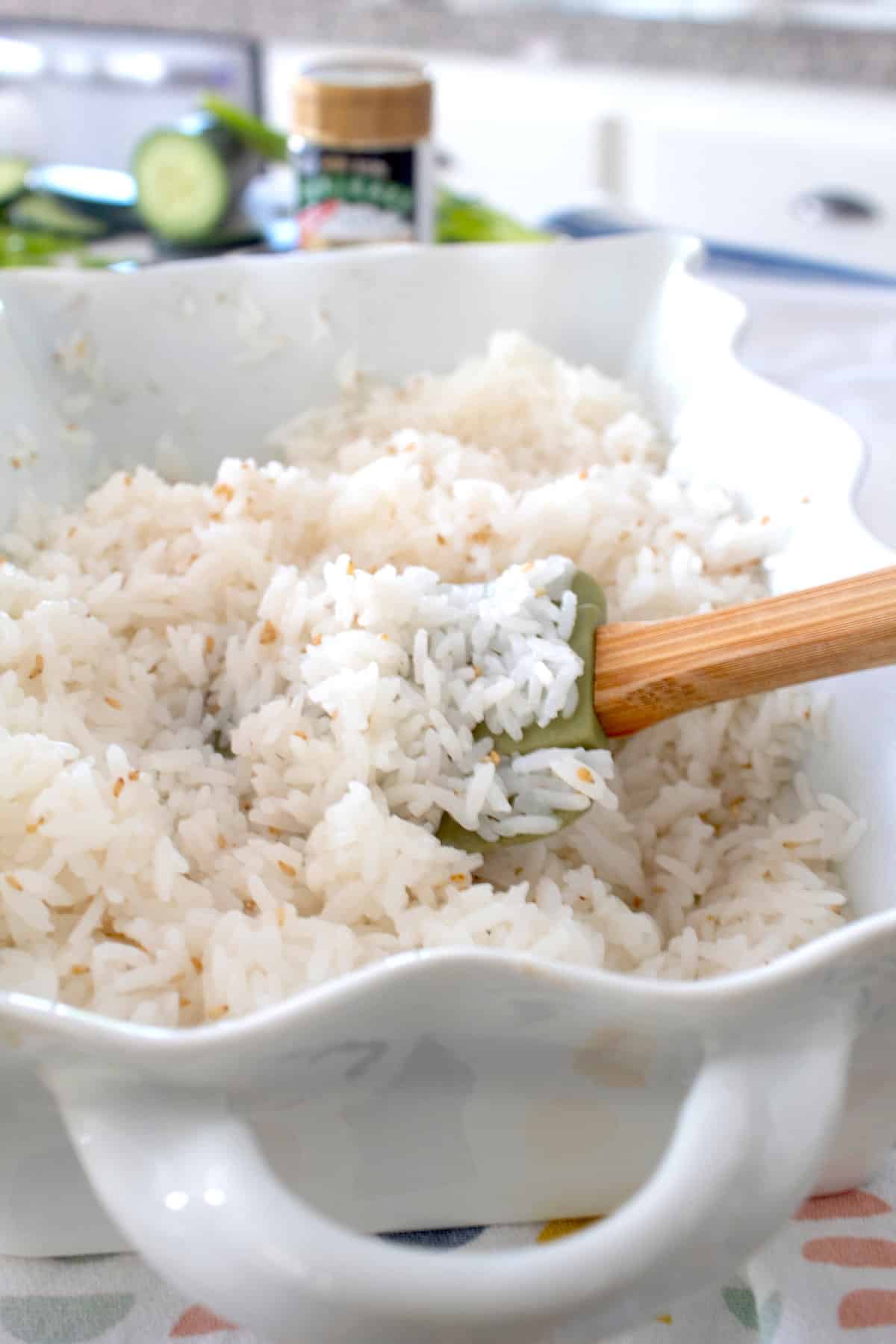 How to Make a Sushi Bake with Rice
There are a fair amount of sushi bake recipes on the internet, but what makes ours unique is how easy we keep it on the cook. For the sushi in our sushi bake, we use our Easy Oven Baked Rice recipe. We bake a simple batch of white rice, and then pour on a rice vinegar mixture along with some sesame seeds and stir it well.
While I'm sure there are some sushi chefs out there rolling their eyes at me for using this method, I'll take the eye roll in a trade off for an easy recipe with the same flavor profile. Plus, I don't have time with a toddler to be standing over the stove, waiting for my rice to cook. If you want to use real sushi rice, try this recipe!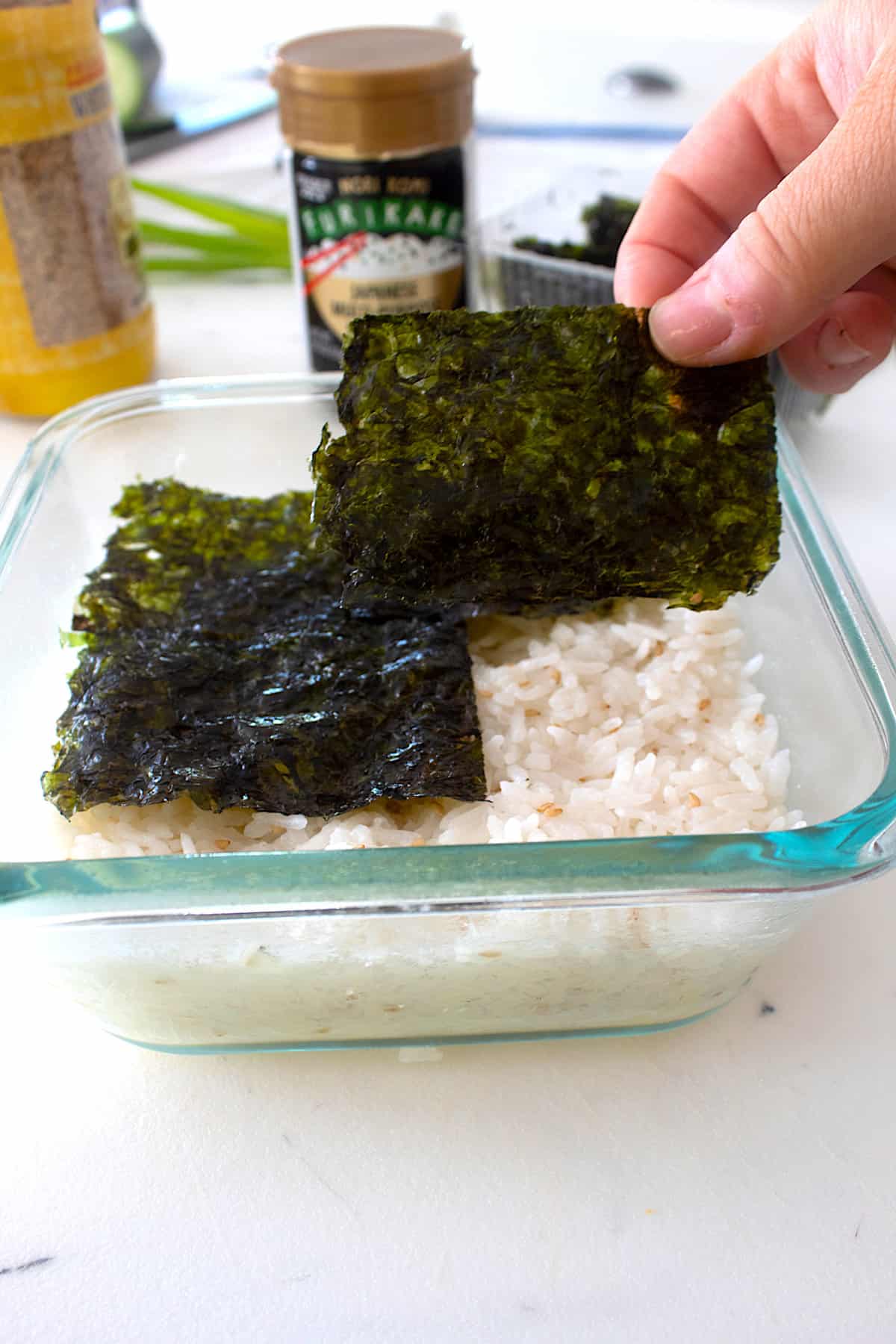 Layering a Sushi Bake
Add the rice to a baking dish,  and press it down to flatten it. Then, top with nori. You should be able to find nori at your local grocery store, but you can also purchase via this link here on Amazon.  You can opt to purchase either whole, half,  or snack sized sheets, whichever you can find at your local grocery store.
Add the nori to the top of the rice. Once the nori touches the warm rice, it will become  sticky, be sure to place it where you really want it to go.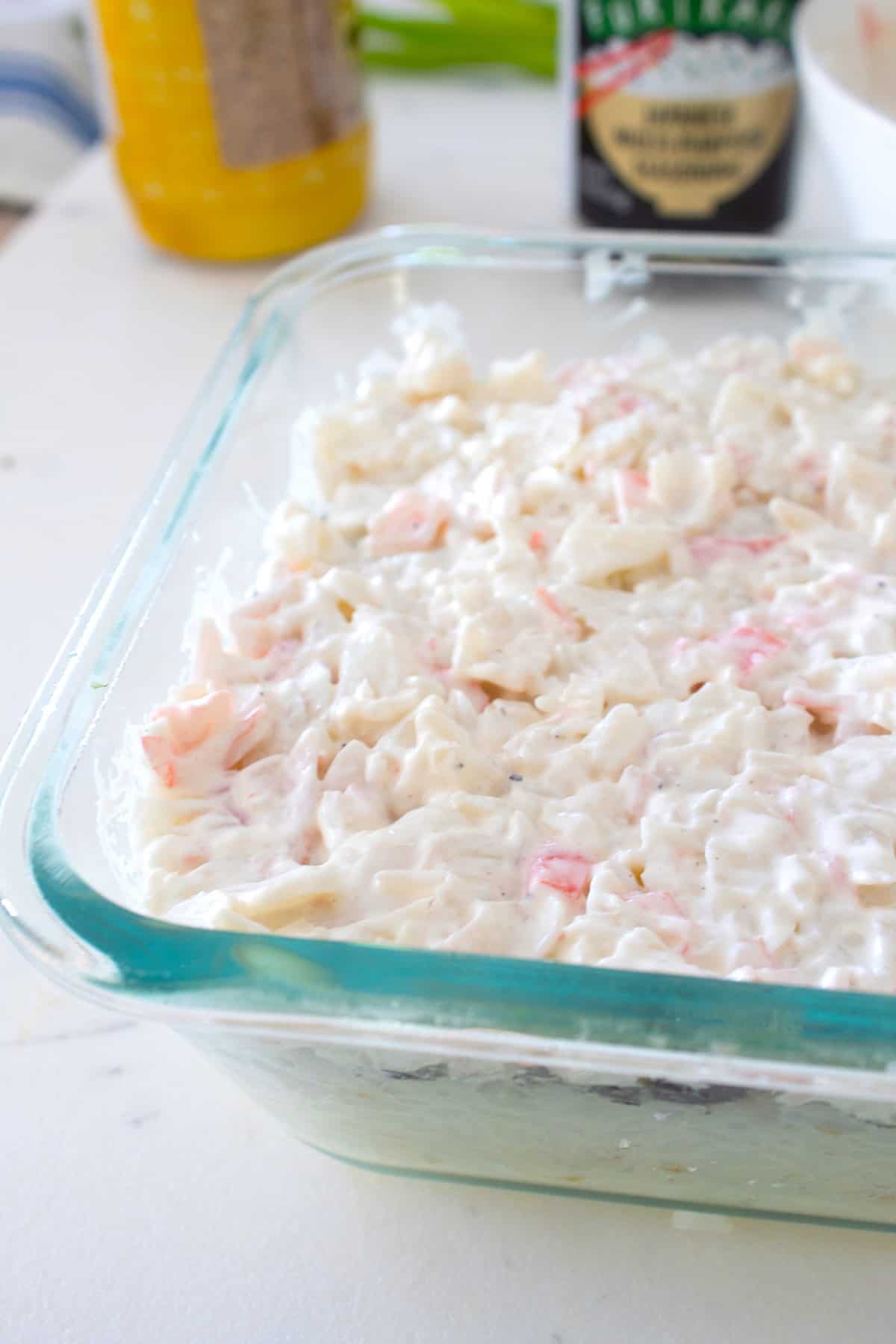 Toppings for a Sushi Bake
Now that we've added our rice and nori, the fun begins! You can top a sushi bake with salmon, imitation crab, real crab, or even just vegetables! For the imitation crab option, we recommend chopping it, or mixing the crab in an electric mixer to shred it finely. Then, mix it with a little cream cheese and some mayonnaise. Japanese mayonnaise is preferred for its flavor, but regular will work as well.
Once fully mixed, place the crab mixture on top of the nori. Press it down to condense it. Bake for about 20 minutes, or until the top is starting to become golden brown.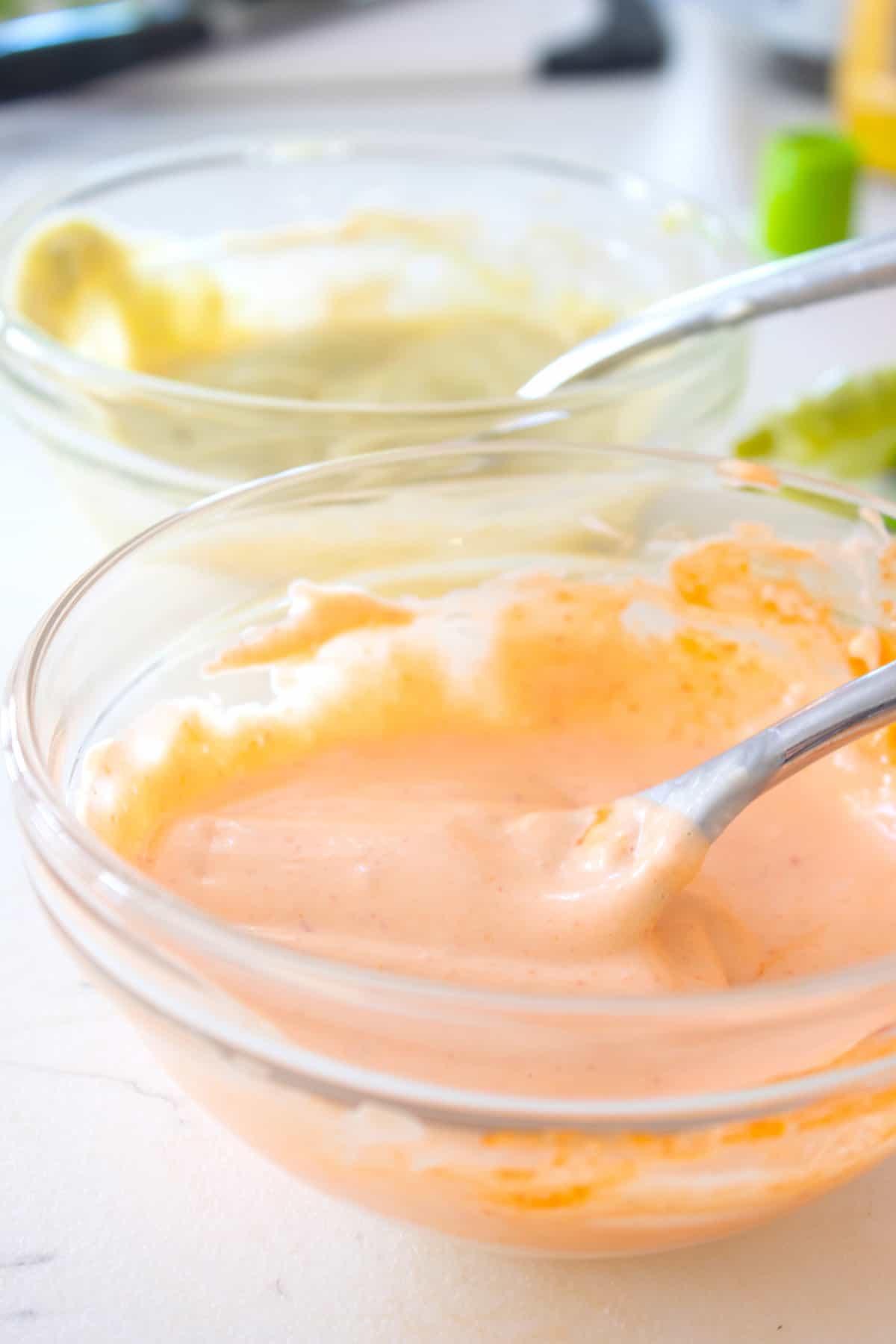 Sauces: Sriracha Mayonnaise and Wasabi Mayonnaise
We drizzle our sushi bake with 2 mayonnaise sauces. They're really simple to make! We still recommend using Japanese Mayonnaise, it's smoother and sweeter than American and makes for a really delicious sauce. Our recipes below are just guidelines- we really recommend starting small and tasting as you go so the heat of both sauces is not too overpowering.
Sriracha Mayonnaise: Mix 1/4 cup mayonnaise with 1 tbsp (or more) of sriracha.

While there is currently a Sriracha shortage, you can usually find off brands (I found mine at Sprouts) that have the same taste. There's also this option on Amazon (is there anything Amazon doesn't have?). 

Wasabi Mayonnaise: Mix 1/4 cup mayonnaise with 1/2 tbsp wasabi paste.

You can usually find wasabi in the Asian aisle of your local grocery store. If not, here's a link– we like this brand.
PRO TIP: Once the sauces are mixed, add the to a plastic bag and cut the tip off, like a piping bag, for perfectly drizzling.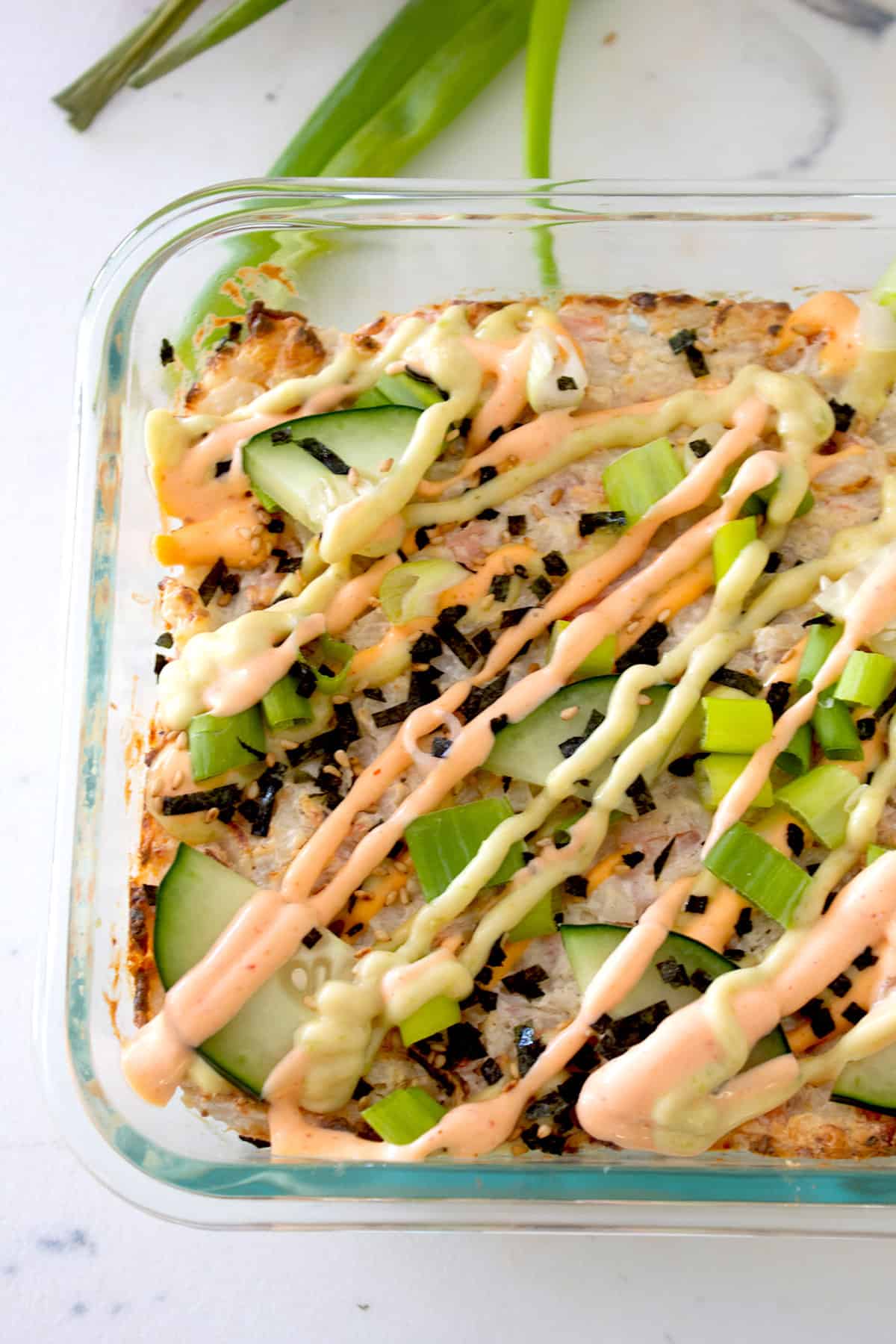 We like to top our sushi bake with sriracha mayo, wasabi mayo, cucumber, green onion, and furikake sprinkles. If you aren't familiar with furikake, you can read all about it here (we love it!). You could also top with avocado, pickled ginger, slivered carrots, soy sauce, teriyaki sauce, or plum sauce.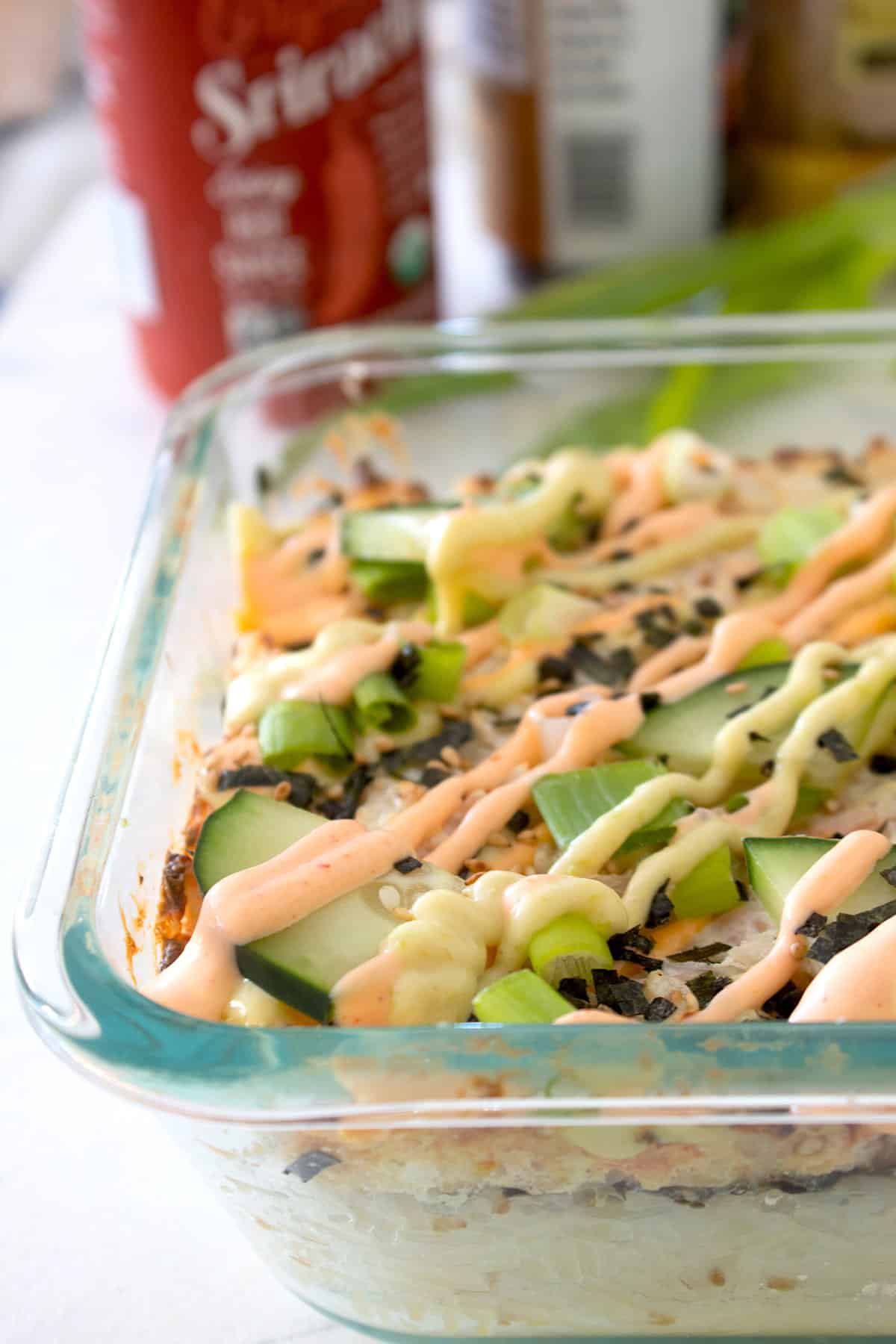 How to Serve a Sushi Bake
Slice your sushi bake just like a piece of casserole! It would be great with a side salad, or on its own. I've also seen some recipes not include the nori in the bake, but serve it on the side. Scoop a bit of the sushi bake onto each piece of nori and enjoy. 
Recipes that pair well with a sushi bake include: 
What do you think about this recipe? Have questions?Comment below! Don't forget to like us on Facebook, and connect with us on Instagram and tag your @Laughingspatula recipes with #laughingspatula. We love to see your pics! 
Enjoy! – Kathi and Rachel
Sushi Bake Recipe
A California roll style sushi bake with time saving tips and tricks to make it easy on the cook!
Print
Pin
Rate
Ingredients
Rice Layer Ingredients
2

cups

cooked rice, still warm

1/4

cup

rice vinegar

2

tsp

sugar

(or honey)

1/4

tsp

salt

3

tbsp

sesame seeds
Crab Layer Ingredients
2

20 oz

packages of imitation crab

1/2

cup

mayonnaise

3

tbsp

cream cheese

1/4

tsp

salt

1/4

tsp

fresh cracked pepper
Other Ingredients & Toppings
nori sheets

1/4

cup

sliced green onions

1/4

cup

sliced cucumber

sesame seeds
Wasabi Mayonnaise
1/4

cup

mayonnaise

1/2

tbsp

wasabi paste
Sriracha Mayonnaise
1/4

cup

mayonnaise

1

tbsp

sriracha sauce
Instructions
Prepare a 9x13 casserole dish. Spray with nonstick spray and set aside. Preheat oven to 350 degrees fahrenheit.
Rice Layer Instructions
In a small bowl, combine rice vinegar, sugar, salt, and sesame seeds. Stir until sugar dissolves.

Pour vinegar mixture over white rice. Stir until fully combined. Add rice to prepared casserole dish. Press down to flatten and condense. Add nori on top of rice.
Crab Layer Instructions
Finely chop imitation crab, or place in electric mixer to shred. Add cream cheese, salt, pepper and mayonnaise and mix until fully combined. Spread mixture over nori layer. Press down to condense.

Bake casserole for 15-20 minutes, or until the top of the crab layer is a light golden brown. Remove from oven.

In 2 small separate dishes, mix together wasabi mayonnaise and srirarch mayonnaise. Drizzle over sushi bake.

Top sushi bake with cucumber, green onions, and other toppings if desired. Serve & enjoy!
Nutrition
Calories:
404
kcal
|
Carbohydrates:
40
g
|
Protein:
5
g
|
Fat:
25
g
|
Saturated Fat:
5
g
|
Polyunsaturated Fat:
13
g
|
Monounsaturated Fat:
6
g
|
Trans Fat:
0.1
g
|
Cholesterol:
17
mg
|
Sodium:
388
mg
|
Potassium:
103
mg
|
Fiber:
1
g
|
Sugar:
2
g
|
Vitamin A:
129
IU
|
Vitamin C:
2
mg
|
Calcium:
55
mg
|
Iron:
1
mg
*This post may contain affiliate links, which means we might receive a very small commission, at no additional cost to you,  should you chose to purchase that linked item. We only link to items we know and trust.   Kathi & Rachel