I have become a morning cook. I like to get all my cooking done in the a.m.
During my working days I would try to cram all the cooking and photography in on the weekends.  Exhausting and not much fun. This blogging thing is supposed to be fun…right? Besides, the light from my kitchen window is perfect around 10:00-11:00 am.
I get no complaints from my customers.  It gives us plenty of time in the evening to do other things…like watch hours of news (ugh) or drink wine (yay).    My point in sharing this trivial piece of information is that we didn't bother to heat this up, we ate it chilled and it was fabulous!  Of course you can eat it right out of the oven if you like to cook your dinner at dinner time.  I've heard of people that do that 🙂   I served it with tomato slices, avocado and a dab of homemade mayo, it was perfect!
There isn't much to this recipe.  You squeeze a lime, rough chop a few ingredients, throw them in a food processor and done!  You could finely chop and grate the ingredients as well. I opted for the food processor because I have a mini chop gadget that I never use and wanted/needed to dust it off.  I have a tendency to get rid of things if I don't use them….this had a month or so before it was hitting' the road.  It now gets to stay…for awhile.
If you have some extra time, let it marinate for 30 minutes or so to increase the flavor.  If not, just go straight in and enjoy!
Paleo and Whole30 compliant…squeaky clean recipe!
Need another reason to cook salmon?  Try Panko Crusted Salmon!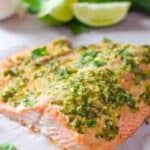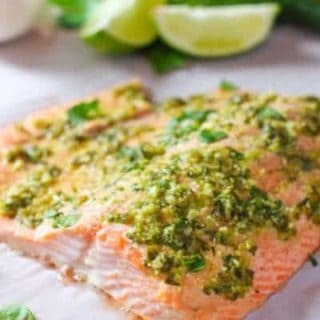 Lime and Garlic Salmon
Ingredients
1 2

pound

salmon fillet .

I used Steelhead from Costco - has a great flavor

1

lime - zested and juiced

1

clove

garlic

2

tablespoons

olive oil

2

tablespoons

flat leave parsley or cilantro - coarsely chopped

1/2

jalepeno

seeded and coarsely chopped
Instructions
Preheat oven to 400 degrees.

Rinse and pat dry salmon fillet.

Place on foil lined baking sheet.

Combine lime zest, lime juice, garlic, olive oil, parsley and jalapeño in food processor and pulse until well combined.

Pour over salmon.

Bake for 18-20 minutes or until salmon is cooked through.
I nabbed this recipe from Closet Cooking.  He has some pretty awesome recipes…check out his game day stuff for Super Bowl snacks…total yum!

Other stuff thats yummy: