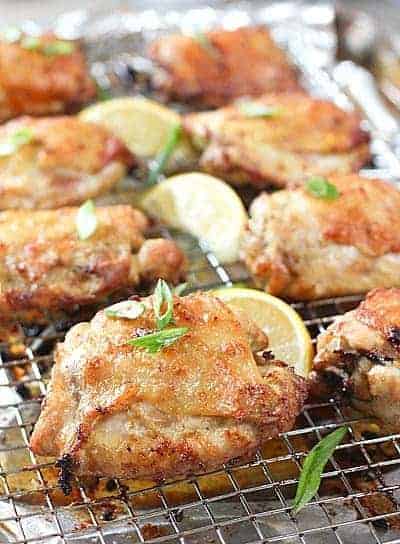 Be still my fried chicken loving heart!  Check out these crispy little beauties!  Chicken thighs that have been rubbed down with a mixture of lemon, garlic and scallions. Baked on a rack to ensure that every last bite is all crispy and crunchy!  And did I mention Paleo and Whole30 compliant?  Yay!
I wanted to come up with a quick chicken recipe, with lots of flavor that didn't include a long marinating time.   This only has to sit for about 20 minutes while your oven preheats.  Super easy.
The trick is to combine all your marinating ingredients in a blender or food processor.  It makes a super amped up marinade.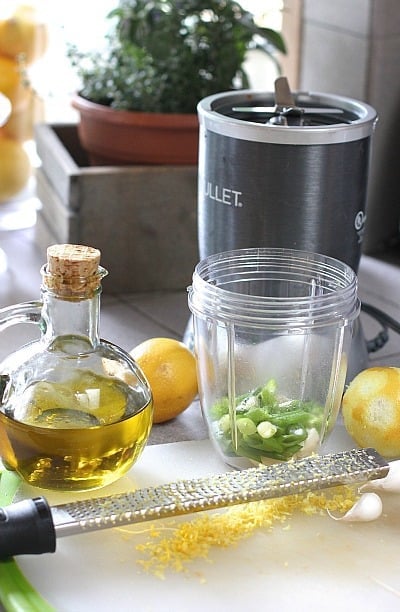 Now get your hands in there…. I mean rub a dub dub all over and under the chicken skin. Then just let it hang out for about  20 minutes and off to the oven it goes!
Don't you love pics of raw chicken with green flecks on it? Yumbo!  But I wanted you to see how easy this is, and how just a few ingredients can turn regular chicken into wow chicken!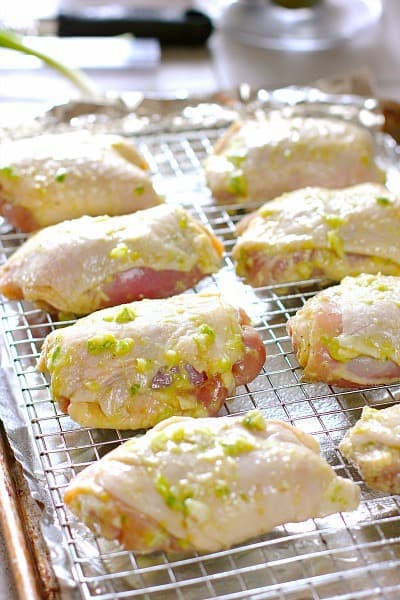 Eww, man, that really is a bad pic…some bloggers might not even put it on their site…mmmm, well, I'm doing it for your own good,  taking one for the team!
If you don't have a wire rack, don't sweat it, simply lay it right on a foil lined sheet pan.
Now expect a bit of splatter with this, just until the fat renders then it all settles down while it gets all crispy and stuff.  I love crispy and stuff…
I borrowed this technique from nomnompaleo.com. She uses it for her Lemongrass Chicken…but alas, no lemongrass in my fridge so I adjusted the recipe to use what I had on hand.  You could easily add grated ginger, rosemary or other herbs to change it up a bit.
Looking for more uses for your sheet pan?  Check out my favorite 6 Sheet Pan Dinners!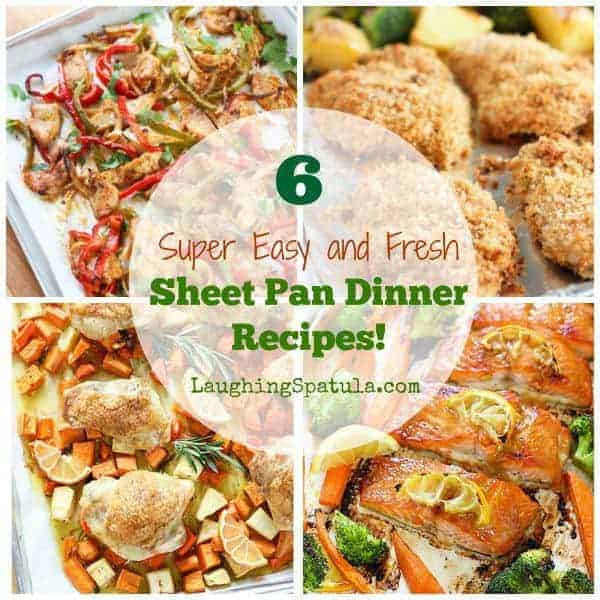 More Whole30 Recipes!  Even if you are not on the plan you will enjoy the freshness of all my Whole30 recipes!
Have a great day!
Clink!
Kathi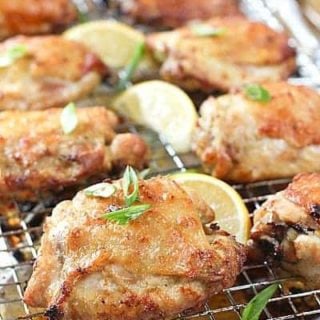 Oven Baked Crispy Chicken Thighs with Garlic, Lemon and Scallion
Total Time
1
hour
10
minutes
Ingredients
8

in

chicken thighs

skin on and bone

5

cloves

of garlic

1

lemon - zest and juiced

4

scallion - green onions

rough chopped

2

tablespoons

olive oil

1/2

teaspoon

salt

1/4

teaspoon

pepper

1/4

teaspoon

chili flakes

optional if you like a bit of heat
Instructions
Line large baking sheet with foil for easy clean up and set rack on top.

Add garlic, zest of one lemon and juice of one lemon, along with scallions, olive oil, salt and pepper to food processor or blender.

Blend for about 20 seconds until well combined and a paste forms.

Pour into large bowl.

Rinse and pat dry chicken thighs.

Add to large bowl with marinade and rub into chicken. Getting under skin.

Cover and let rest while oven preheats.

Preheat oven to 400 degrees. Use convection feature if you have it. No sweat if you don't, just increase cooking time by 5 minutes.

Lay chicken SKIN SIDE DOWN ontop of rack.

Cook for 20 minutes and turn.

Cook for an additional 25 minutes or until internal temp of chicken reaches 165 degrees.

Let rest for 5 minutes and serve!

Other stuff thats yummy: