This is one of the easiest recipes we might have on LaughingSpatula! All you need is a few veggies, a whole chicken, some spices, and then you get to set it and forget it in the slow cooker. You can modify this Slow Cooker Whole Chicken to your liking with using different herbs and spices. It is a simple, easy and healthy chicken dish…just the way we like our recipes!
The first step to cooking a Slow Cooker Roast Chicken is to slice a medley of vegetables, which will be placed underneath the chicken. This helps the chicken cook evenly.
I used mirepoix, a mixture of celery, carrots and onion. I rough chop them and place them in the slow cooker, before adding the chicken. You could also add potatoes if you wanted to! Serve them up with a little bit of gravy on the side, mmmmm.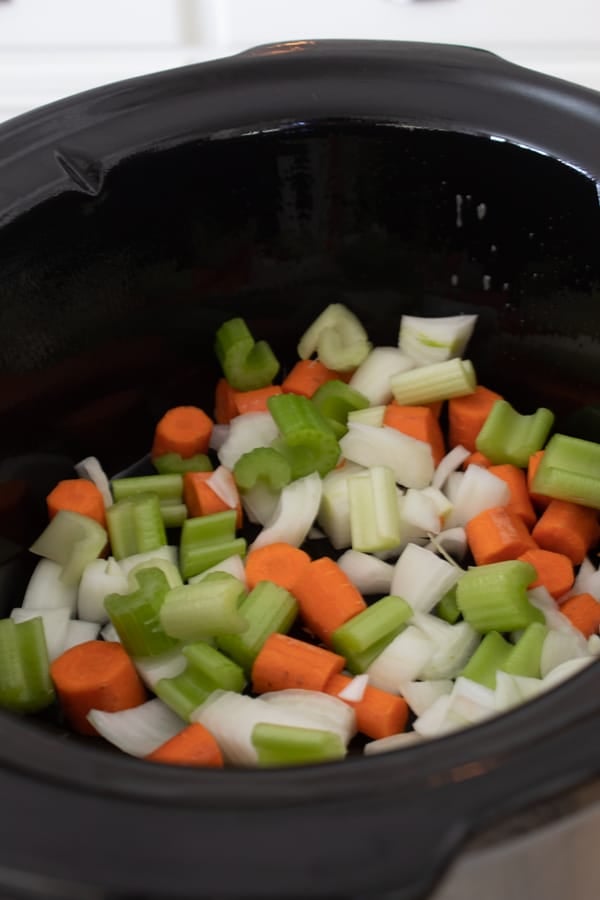 Before you cook the chicken, be sure to remove the neck and gizzards from the inside of the cavity.
Our last step before cooking is to rub the raw chicken (using clean hands) with a little bit of olive oil, then your spices and herbs. The blend I used includes paprika (regular or smoked), granulated garlic, dried rosemary, lemon zest, salt, and pepper.
Set the slow cooker to 'high' and cook covers for 3-4 hours, or until the chicken is 165 degrees fahrenheit (an electronic meat thermometer is recommended) at its thickest point of meat.
While the chicken cooks, be sure to leave it closed for the duration of the first 3 hours before you check the temperature. This keeps the heat trapped in the slow cooker, ensuring even, moist, perfect cooked chicken!
PRO TIP: If you have an older slow cooker with perhaps a lid that doesn't give a great seal, you can always wrap a piece of foil between the slow cooker and the lid to add extra coverage, ensuring a better seal to keep the heat in. 
The end result is a delicious, healthy, and perfectly cooked whole roasted slow cooker chicken! Here's a few more tips to get you the perfect chicken.
Tie up the legs. About 6 inches of cooking twine wrapped around each leg, then tied in the middle to hold them up.
For this recipe, the chicken is best cooked on high in your slow cooker to ensure proper cooking temperature.
Make sure to use a fully thawed chicken.
Make up your own spice mixture. Lemon, herb and garlic. Taco seasoning with bell peppers and jalapeños in the mirepoix base. Rub the chicken with homemade compound butter. This cooking method allows for creativity in flavor!
Make sure your chicken is breast up in the slow cooker.
You can stuff the cavity of the chicken while its cooking, but depending on your stuffing (dressing, lemons, onions, etc.) you may need to increase the cook time.
Chicken is fully cooked once it reaches 165 degrees internally at its thickest point. You can read more about safe minimum cooking temperatures here!
If you're looking for other delicious chicken recipes, here's a few more we love:
Cheers to easy recipes on cozy nights! – Kathi and Rachel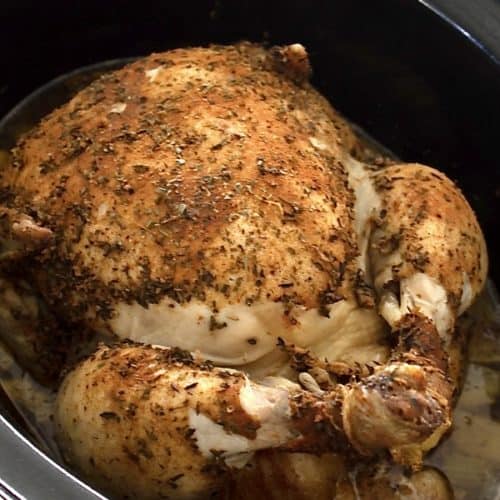 Ingredients
1

5 lb

whole chicken

(remove gizards and neck)

1

whole

onion, chopped

1

cup

rough chopped peeled carrots

(or baby carrots)

1

cup

rough chopped celery
Spice Rub
1

tbsp

olive oil

1

tbsp

fresh lemon zest

1.5

tsp

granulated garlic

1.5

tsp

dried rosemary

1.5

tsp

paprika

(regular or smoked)

1

tsp

salt

1

tsp

pepper
Instructions
Add onion, carrot and celery to slow cooker.

Add spice rub ingredients in small bowl and stir with a fork to combine.

Remove chicken from packaging. Remove neck and gizzards from cavity. Tie legs upwards towards the breast using cooing twine.

Place chicken in slow cooker, and rub with olive oil. Next, rub chicken with spice rub mixture, ensuring all chicken parts are coated.

Place lid on slow cooker and cook on high for 3-4 hours, or until chicken reaches 165 degrees farenheit at its thickest part. Serve & enjoy!

*Remember to leave lid on the entire cooking time to retain heat in slow cooker.
Nutrition
Calories:
123
kcal
|
Carbohydrates:
4
g
|
Protein:
1
g
|
Fat:
3
g
|
Saturated Fat:
1
g
|
Polyunsaturated Fat:
1
g
|
Monounsaturated Fat:
2
g
|
Cholesterol:
1
mg
|
Sodium:
417
mg
|
Potassium:
139
mg
|
Fiber:
1
g
|
Sugar:
1
g
|
Vitamin A:
3889
IU
|
Vitamin C:
3
mg
|
Calcium:
19
mg
|
Iron:
1
mg