Shredded Chicken has so many uses- soups, tacos, sandwiches, even on its own on a salad it is a great source of protein. We make perfect shredded chicken by baking chicken breasts, adding a bit of olive oil to the cooked chicken, and shredding it with a hand mixer. The process from start to finish is only about 30 minutes, making it a quick option for lunch and dinner recipes alike.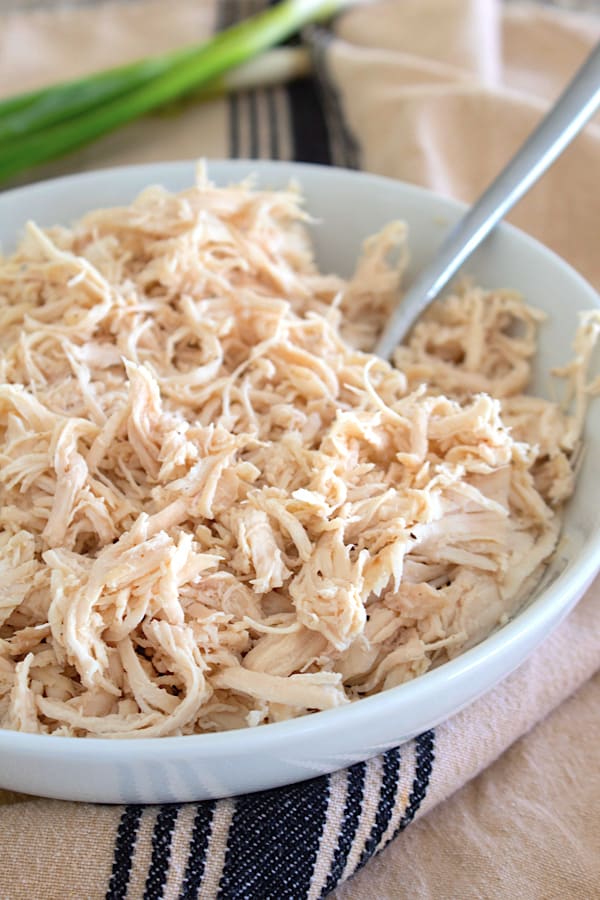 The first step to perfectly shredded chicken is properly cooked chicken breasts.
Preheat the oven to 375 degrees Fahrenheit. Line a sheet pan with foil, and spray it with nonstick. Place 3-4 chicken breasts (or more, depending on how many people you are feeding. You can estimate about one 3-4 oz chicken breast per person) on the sheet pan.
Once the chicken breasts are on the sheet pan, rub them with olive oil, and sprinkle with salt and pepper. Cook the chicken breasts until they are 165 degrees Fahrenheit internally– and not a degree more (okay, a degree or two or three will be fine, but you get the idea). By pulling the chicken breasts out of the oven once they just reach 165 degrees Fahrenheit, you're ensuring the meat is fully cooked, but still retaining its moisture.
Once the chicken is out of the oven, allow it to cool for about 10 minutes. The chicken should still be warm so it shreds easy, but not 'hot'. The next step..is where magic happens. While the chicken is warm (not hot), add it to a mixing bowl, along with 1 tablespoon of olive oil, and shred it on low with a hand mixer. Be cautious to go slow, as there could possibly be splatter from the warm chicken!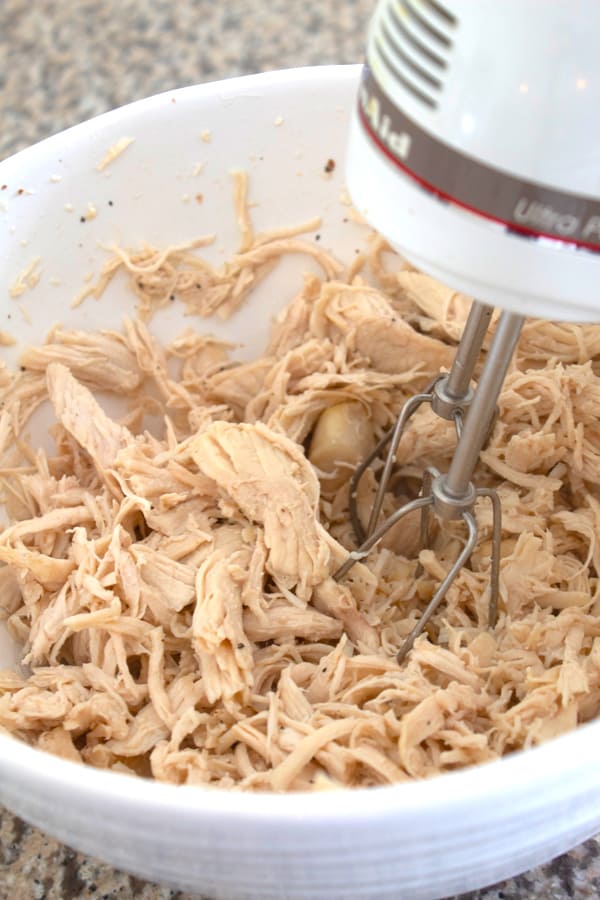 Continue to mix until you reach the desired level of 'shred' you are looking for. Overmixing will result in powdered chicken, so be careful not to overmix. That..is it! That's all it takes to make delicious, perfect & moist shredded chicken.
For recipes to use this chicken with, try these!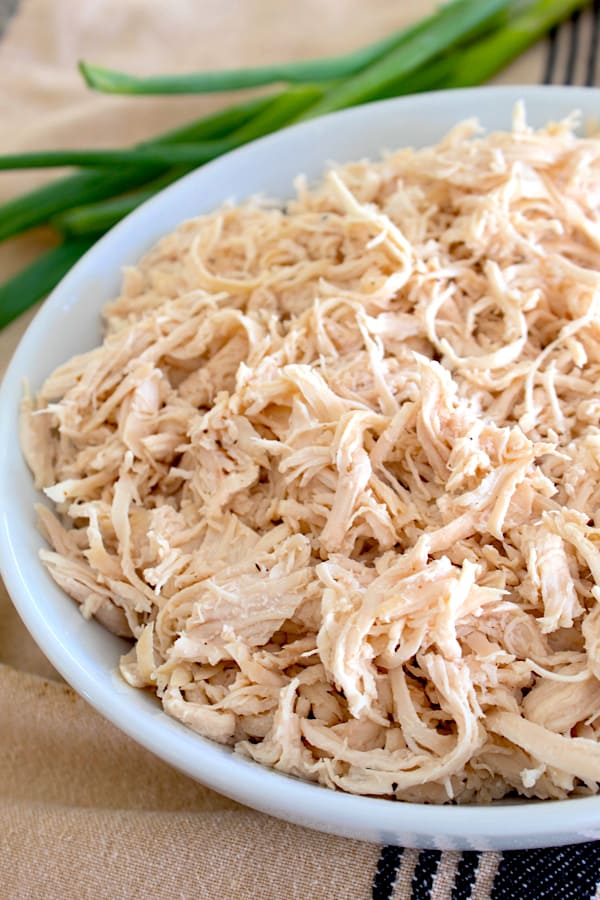 Let's answer a few questions about this recipe:
How do I store it?

Simple store in a ziplock bag, or Tupperware and refrigerate for up to 3 days. You want to eliminate air as much as you can, as it will dry out the chicken

How do I reheat it?

Microwave on medium-high in a damp paper towel for about 1 minute, checking it at 30 seconds to make sure it does't overheat and dry out.

How can I add more flavor?

Loads of options!
Add taco seasoning & water- sauté in a skillet. Spoon onto tacos or salads.
Mix it with BBQ sauce and serve on Hawaiian rolls.
Add feta cheese, marinated artichokes, and serve with rice for Greek bowls.
Toss it with cheddar cheese, pasta, salad, and ranch dressing for a delicious pasta salad.
Mix it with salsa and cream cheese, serve as a dip.
Mix with buffalo sauce, a little mayo, celery and enjoy a buffalo chicken sandwich or salad.

Can I freeze leftover shredded chicken?

Yes! Freeze in an airtight ziplock baggie for up to 2-3 months.
Enjoy this easy and delicious chicken! – Kathi and Rachel
Want to see this handmixer trick in action? Check out this video!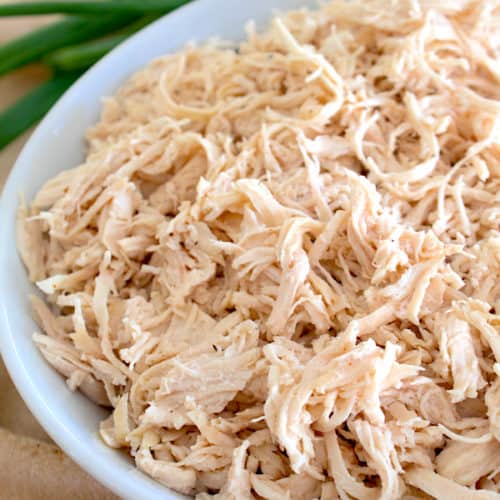 Best Shredded Chicken
A delicious and easy recipe for moist, tender shredded chicken in 30 minutes.
Print
Pin
Rate
Ingredients
4

3-4 oz

boneless skinless chicken breasts

1

tbsp

olive oil

(to rub on chicken)

salt and pepper to taste

1

tbsp

olive oil

(add to shredded chicken to keep moist)
Instructions
Preheat oven to 375 degrees fahrenheit. Prepare a sheet pan with foil and spray with nonstick spray.

Rub chicken breasts with olive oil, and sprinkle with salt and pepper to taste. Cook for approximately 15-20 minutes, or until chicken reaches internal temperature of 165 degrees fahrenheit. Do not let chicken overcook.

Allow chicken to cool for 10 minutes, then place breasts into mixing bowl. Using a handmixer on low*, begin to shred chicken. Gradually increase speed to medium once chicken shreds easily, until desired texture is reached, adding additional olive oil just before finishing with hand mixer.

*Cautious, as warm chicken can splatter hot liquid.

Serve as desired and enjoy!
Nutrition
Calories:
231
kcal
|
Protein:
43
g
|
Fat:
5
g
|
Saturated Fat:
1
g
|
Polyunsaturated Fat:
1
g
|
Monounsaturated Fat:
5
g
|
Cholesterol:
119
mg
|
Sodium:
2
mg
|
Potassium:
7
mg
|
Vitamin A:
1
IU
|
Vitamin C:
1
mg
|
Calcium:
1
mg
|
Iron:
1
mg