A cool and crunchy main dish salad that will feed a family and then some.  Hello lunch box!
This is a noodled up version of my Crunchy Thai Salad.  You can make this spicy or not so much.  I fall in the 'not so much' category, so you will find this recipe on the mild side and family friendly.  For you hotties,  a bigger pinch of chili flakes or a slug of sriracha added to the peanut sauce and you are good!
If you are a follower, you know I love easy meals with tons of flavor.  This is no exception.  The ingredient list may look a little daunting but it's all stuff you most likely have hanging in your pantry.  A little bit of this and a little bit of that…..
I used dry 'chinese noodles' that I found in the asian section of my regular old supermarket but spaghetti will work just fine. Thin spaghetti, even better.  The chinese noodles take only 5 minutes to cook so that was a bonus.
Make your sauce first.  Like all my recipes that include a sauce or dressing, it makes a ton!  I hate coming up short in the sauce department.  Better to be over sauced than under sauced…true?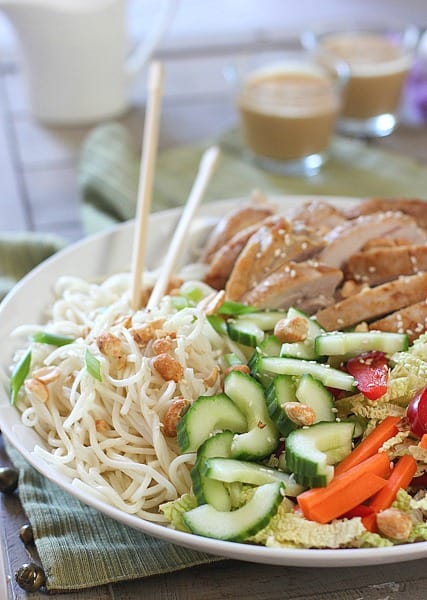 NOTES:
Use grilled or baked chicken thighs, breasts or store bought rotisserie chicken will work just fine.
Sub store-bought cabbage slaw in lieu of napa or savoy cabbage.
You can use spaghetti or thin spaghetti in place of chinese noodles.
Subs for coconut milk:  half and half, chicken stock, almond milk. (regular milk could curdle, not advised).
If you like spicy, heat up the sauce with additional chili flakes or hot sauce.
A few more Thai inspired dishes you might like!
Thai Chicken Coconut Curry Skillet
Clink!
Kathi
Thai Chicken and Noodle Salad with Easy Peanut Dressing
Ingredients
For Peanut Dressing

1/2

cup

peanut butter

smooth or chunky will work

1/3

cup

coconut milk -

lite is fine

1

clove

large garlic

1

tablespoon

fresh chopped ginger

or 2 teaspoons ground

3

tablespoons

soy sauce

3

tablespoons

vegetable oil

2

tablespoons

sesame oil

3

tablespoons

apple cider vinegar

2

tablespoons

brown sugar or honey

1/4

teaspoon

salt

juice of one lime

pinch of red chili flakes - adjust for your taste

For Salad

1

pound

cooked

sliced chicken thighs (chilled or room temp)

4

cups

sliced savoy or napa cabbage

bagged store bought in a pinch

1

carrot

julienned

1/2

large red pepper

sliced

1

english cucumber

seeded and sliced

8

ounces

pasta - chinese noodles or spaghetti

Chopped peanuts for garnish
Instructions
Cook pasta according to package directions - drain and rinse. Chill in refrigerator while making remaining salad.

For Dressing:

Add all ingredients to a blender or food processor. Blend for about 10 seconds. Taste for seasoning, adjust. Add additional coconut milk to thin if necessary.

Plate up noodles, cabbage and chicken.

Drizzle with peanut dressing and sprinkle with additional chopped peanuts if desired.

Other stuff thats yummy: