Baked Chicken and Rice with Honey Mustard is a delicious one pan meal. Tender chicken breasts slathered with honey mustard sauce sit atop a bed of perfect fluffy rice, infused with sweet honey and zesty whole grain mustard. It's an easy one pan meal your whole family will love!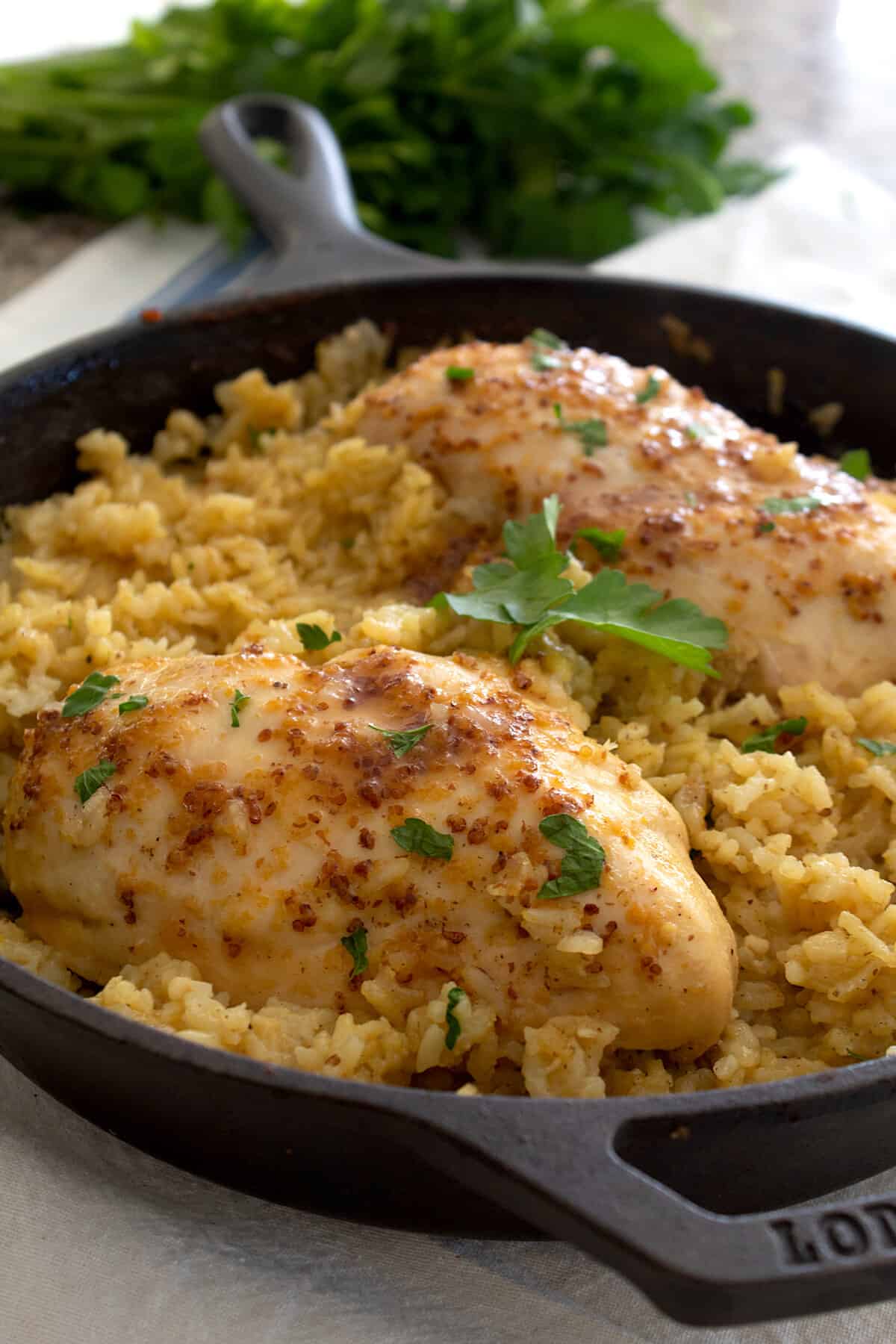 What pan to bake Chicken and Rice in?
I use a simple 9 inch cast iron pan.
You can also use a glass baking dish or casserole dish for this meal and it works great as well.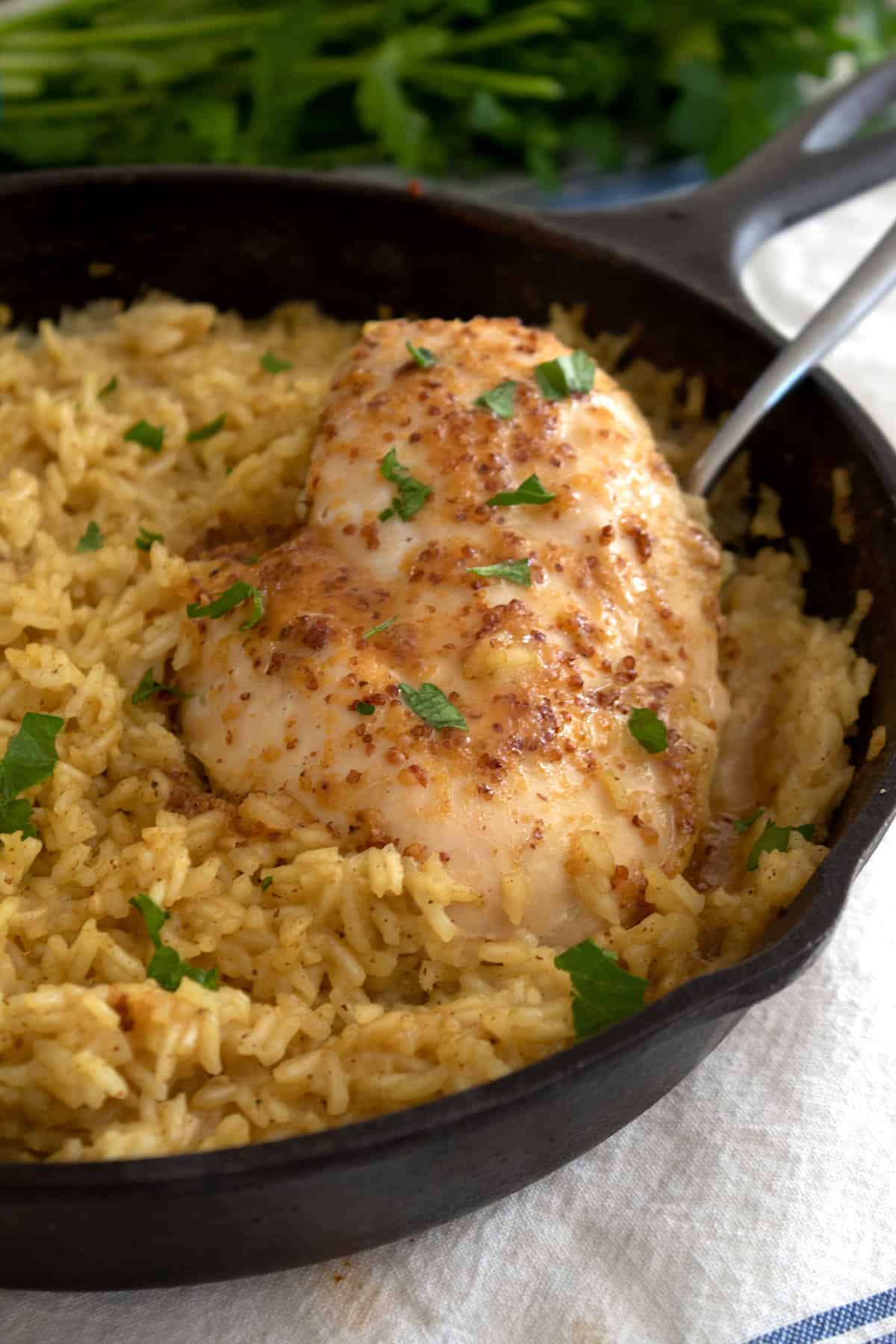 How do I make this chicken and rice with honey mustard sauce?
This simple recipe combines both raw chicken and rice in a pan, and bakes entirely in the oven. It uses a liquid mixture of chicken stock, honey, whole grain mustard, and a few spices. Once it's close to finished, we slather the chicken breasts and bake them for a little longer to get the topping sticky and flavorful.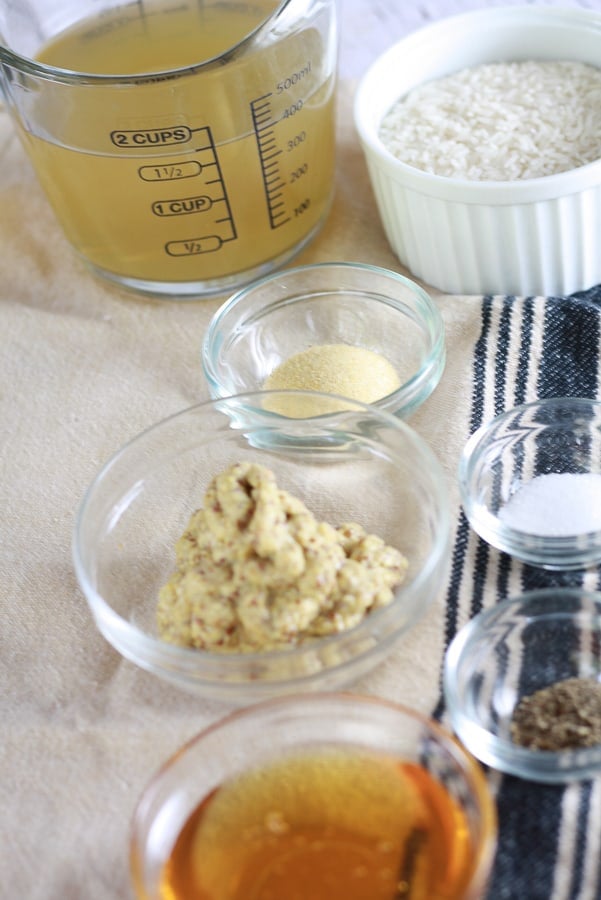 I use whole grain mustard because I like the grains- but you can use dijon if you'd rather, no big. You can even use a flavored dijon mustard (I.E. Horseradish Dijon Mustard, etc) if you like.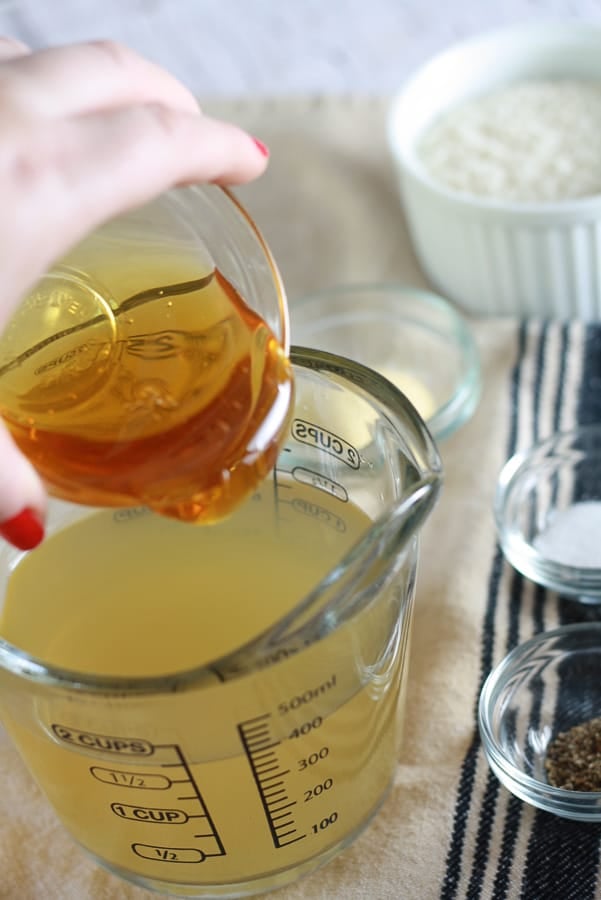 Mix up your honey mustard broth mixture, pour it over your rice, THEN add your chicken breasts on top.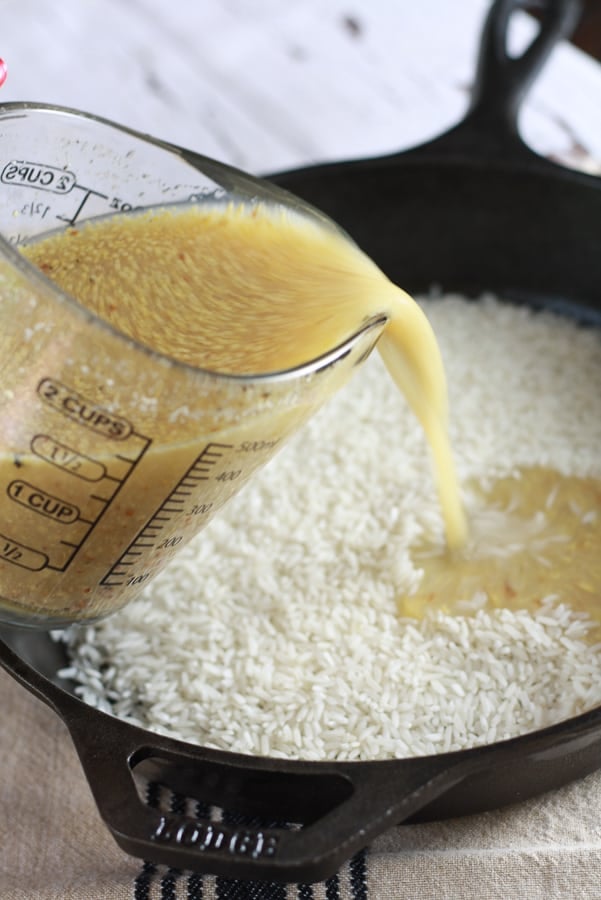 By adding the chicken breasts on top of the rice and liquid, it allows for the rice and liquid mixture to 'meet', allowing it to fully cook to fluffy and delicious perfection, even underneath the chicken breasts.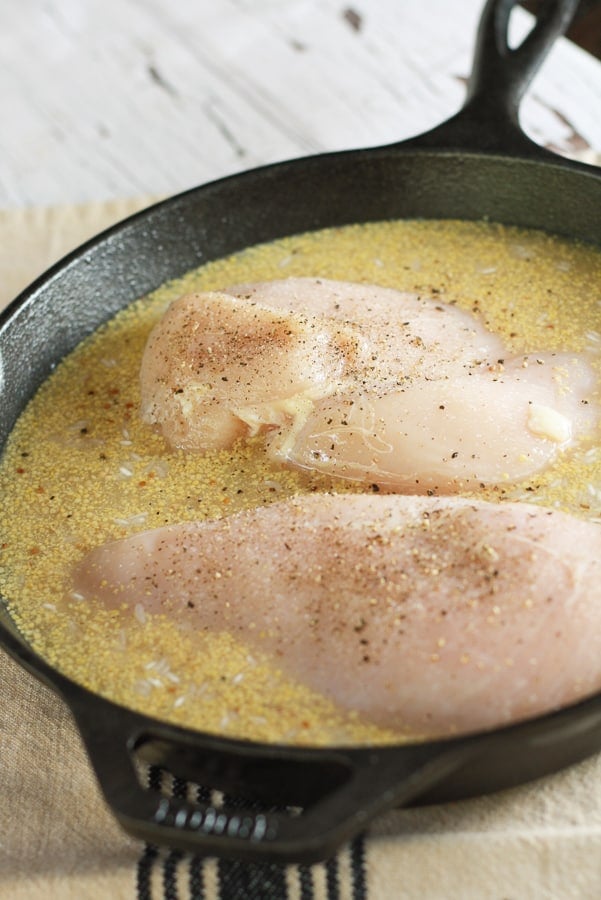 Sprinkle a bit of  salt and pepper on your chicken, cover with foil, and bake for 25 minutes.  Covering with foil is a key step so don't skip it- it helps steam the chicken and rice and keeps the chicken tender and the rice fluffy. 
While this is baking, mix up some additional honey mustard mixture (mustard + honey + salt + pepper), slather it on top of your chicken, remove foil, and bake again for an additional 10-15 minutes or until the rice is fully cooked and your chicken reaches 165 degrees internally. Be cautious not to overcook it so your chicken does not dry out.
Other tips for this one pot Honey Mustard Chicken and Rice dinner:
If you don't have whole grain mustard, use regular dijon! You could use yellow mustard if you're in a pinch as well, but be warned- it will be bright.
Brown Rice method: Increase chicken broth by 1/4 cup and after 25-30 minutes, when chicken is cooked through, remove it, set it aside and continue to cook rice another 15 minutes until soft. This will prevent the chicken from being overcooked. Remember- chicken is fully cooked at 165 degrees farenheit.
You can use fresh garlic as well! Mince it well so it disperses throughout the rice.
Like it spicy? Add 1-2 tbsp of creamy horseradish.
More Chicken and Rice Recipes:
If you love mustard as much as we do, check out these recipes, too!
Cheers!
-Rachel 
Oven Baked Honey Mustard Chicken and Rice
A delicious one pan meal that comes together in a pinch! Simple ingredients all combined in one pan and in the oven it goes!
Print
Pin
Rate
Ingredients
4

boneless chicken breasts

1 3/4

cup

chicken broth

2

tbsp

whole grain dijon mustard

2

tbsp

honey

2

teaspoons

powdered garlic

1/2

teaspoon

salt

1/4

teaspoon

ground black pepper

1

cup

white rice
Honey Mustard Chicken Slather
2

tbsp

honey

2

tbsp

whole grain dijon mustard

salt and pepper to taste
Instructions
Preheat oven to 375 degrees Fahrenheit. Spray shallow baking dish (9x9) or cast iron pan with non stick spray.

In a medium sized bowl, combine chicken broth, honey, mustard, and powdered garlic. Mix well, ensuring honey is combined into mixture and is not sticking to bottom.

Pour white rice into prepared pan or cast iron pan.

Pour broth mixture over rice and stir.

Place chicken breasts on top of rice and broth mixture. Sprinkle chicken breasts with salt and pepper. Cover with foil, and bake for 25 minutes.

Remove from oven, remove foil, and lift chicken breasts and stir the rice around a bit, ensuring liquid is dispersed throughout pan.

Coat chicken breasts with additional honey mustard slather mixture.

Place pan (without foil) back in oven to bake for 10-15 minutes, or until rice is tender.
Nutrition
Calories:
454
kcal
|
Carbohydrates:
56
g
|
Protein:
30
g
|
Fat:
12
g
|
Saturated Fat:
3
g
|
Cholesterol:
72
mg
|
Sodium:
566
mg
|
Potassium:
411
mg
|
Fiber:
1
g
|
Sugar:
18
g
|
Vitamin A:
94
IU
|
Calcium:
38
mg
|
Iron:
2
mg