Braised Artichokes is an easy recipe that results in the most tender and flavorful artichokes we've ever had!  Simple to prepare and so fresh, these are the perfect recipe for any time of year, but we love them especially during the holidays.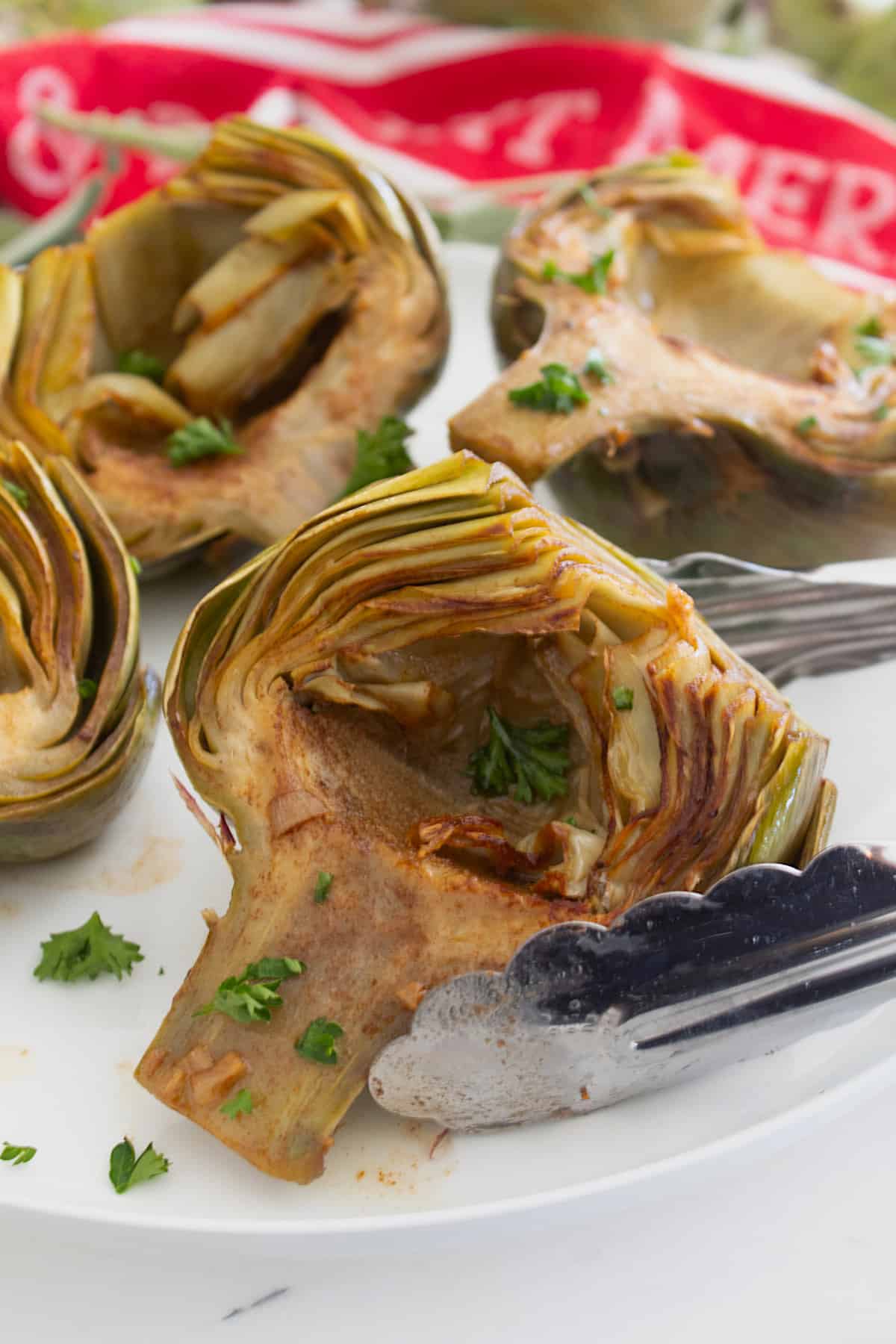 The first step in preparing these delicious Braised Artichokes is to trim them.  This only takes a few minutes and after your first one, you will be a pro!
Quality Artichokes are a Must
This post is sponsored by Ocean Mist Farms, which is perfect because they are known for their Gold Standard of Artichokes! Ocean Mist Farms Artichokes are grown in 2 different regions in California (Castroville and Coachella), which strategically supplies the best quality of artichokes year round, to consumers all over North America.  Click here to find them at your local grocer! 
How to Trim a Fresh Artichoke:
Step 1 : Fill a large bowl with water, and squeeze half a lemon into it.  Artichokes are quick to brown so this step will slow down the oxidization process and clean them at the same time.
Step 2: Remove the exterior bottom hard leaves.  Remove enough leaves until you come to unscarred, and tender leaves.
Step 3: Trim the stem.  Cut the bottom of the stem leaving about two inches. Peel with a paring knife.
Step 4: Cut about one inch off the top of the artichoke to expose all the inner leaves.
Step 5: Using scissors trim any pointy leaves remaining.
Step 6 – Slice in half.  Using a spoon remove the fuzzy part of the artichoke also referred to as the 'choke' (be sure to get all of the hairs, they are not for eating). Toss the prepared artichoke in the bowl of lemon juice/water while you heat the pan.
How to Braise Artichokes:
Braising is a combination cooking method. It combines dry heat (browning) with wet heat (steaming) and yields a restaurant quality flavor. We specifically love it as a method for cooking artichokes, plus the braising sauce infuses the artichoke leaves, giving a high end, deep rich taste.
Heat a large dutch oven or skillet over medium high heat.  Add butter and olive oil.  

PRO TIP: The olive oil helps the butter not to burn in higher temperatures.

Remove the artichokes from the lemon water bowl, and pat dry with a paper towel.

Don't skip drying the artichokes. This helps sear them, and thus develop deep  flavor!

Place cut side down in the hot pan with the butter and olive oil.  Don't touch!  Allow to brown for 3-4 minutes before checking.  When they have reached the desired color, remove to a platter.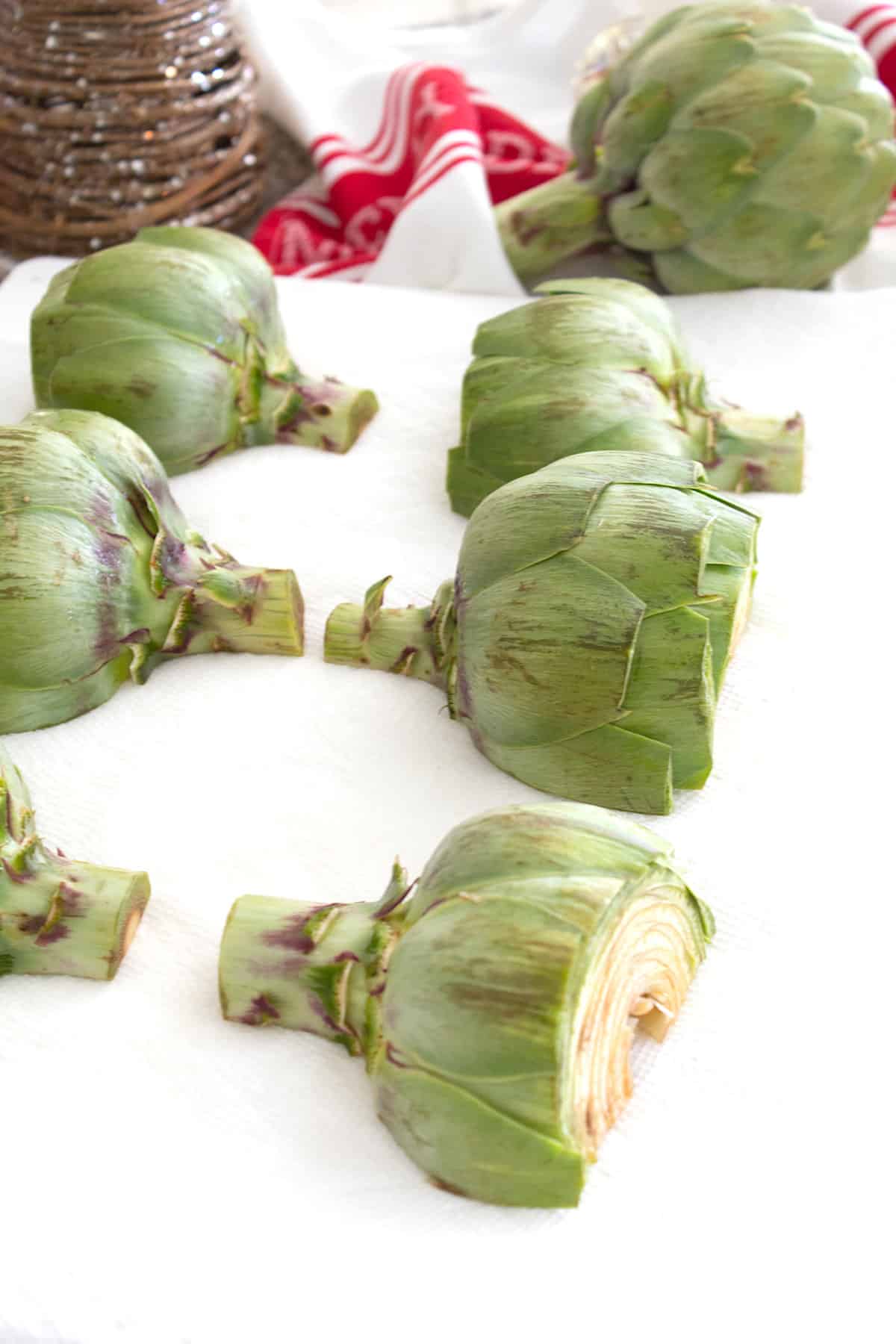 Add an additional tablespoon of butter and olive oil.  Saute the onions and garlic until soft.  Add the white wine, broth & lemon juice and bring to a simmer.  Allow to reduce by half, about 5 minutes. 
Add the artichokes seam side down and one large sprig of rosemary.
Cover and simmer for about 15-20 minutes or until fork tender.  Serve with melted garlic butter if desired.
We hope you love this Braised Artichoke recipe as much as we did!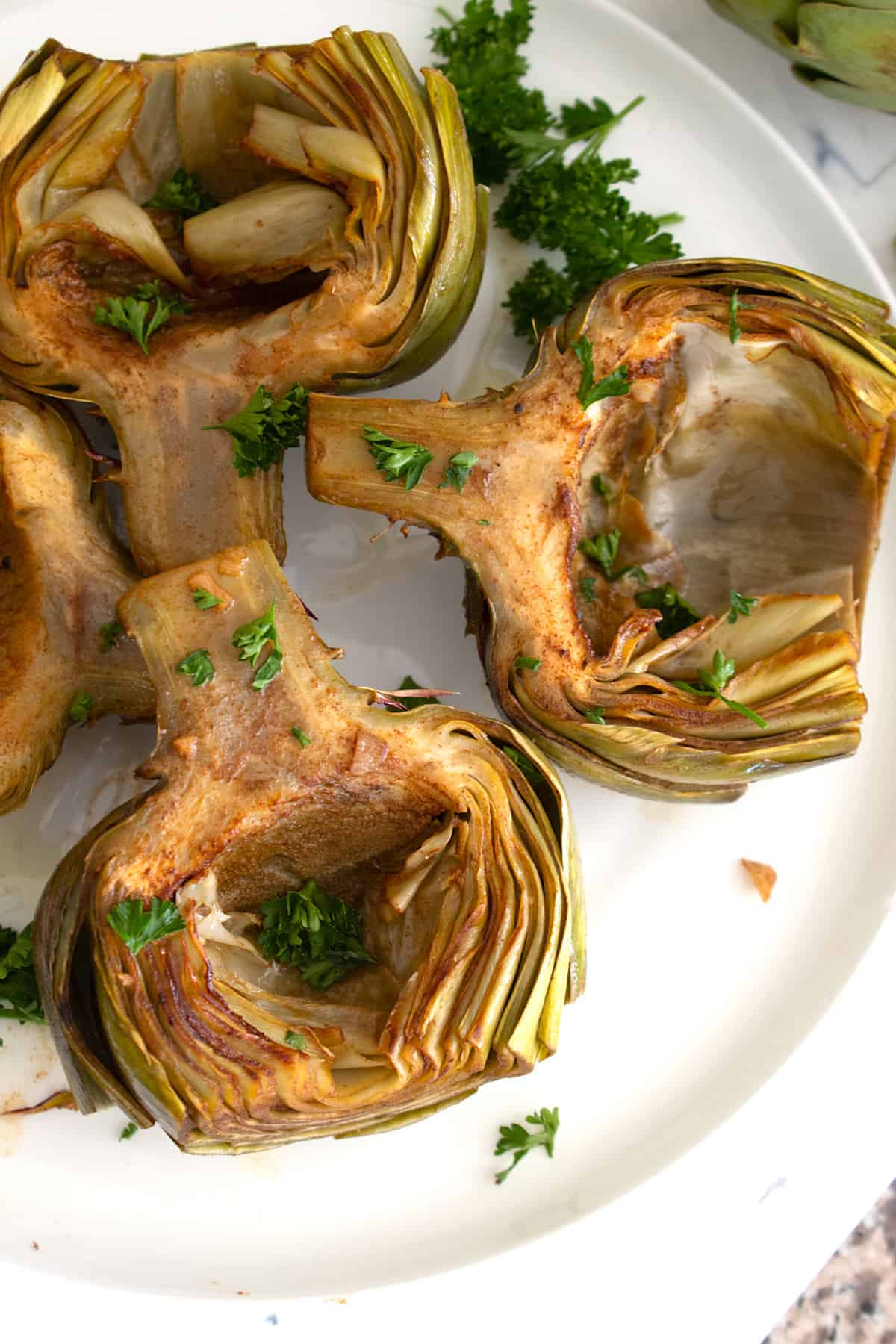 Here are a few other easy appetizer recipes you might enjoy! –
Let's Eat!
Kathi and Rachel
What do you think about this recipe? Have questions? Comment below! Don't forget to like us on Facebook, and connect with us on Instagram and tag your @Laughingspatula recipes with #laughingspatula,while you're at it…We love to see your pics!
Hey and check out our new YouTube Channel!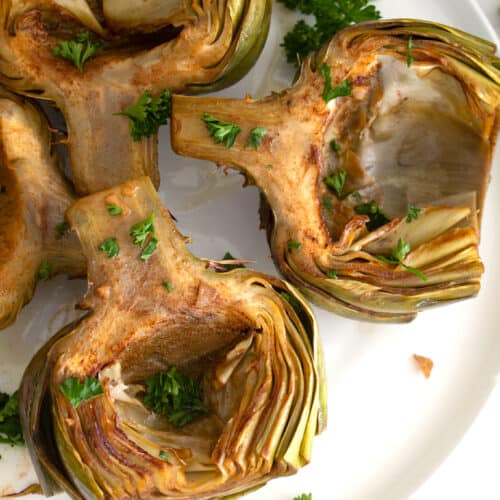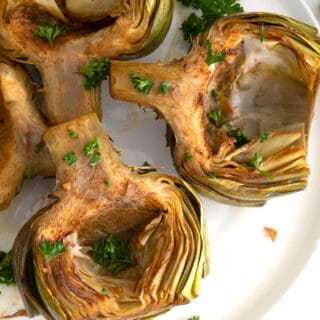 Braised Artichokes
Easy and delicious way to prepare fresh artichokes!
Print
Pin
Rate
Ingredients
3

Ocean Mist Farms Artichokes

2

lemons

(one for water bath, one for braising)

4

tbsp

butter

2

tbsp

olive oil

1/2

medium

onion

(sliced)

3

cloves

garlic

(chopped)

1/2

cup

dry white wine

1

cup

chicken or vegetable stock

salt and pepper to taste

1

large

sprig of herbs

(Rosemary, sage, thyme, etc. Extra for garnish if desired)
Instructions
Fill a large bowl with water. Squeeze half a lemon into it and set aside.

Remove all tough leaves from the bottom of the artichoke leaving unscarred and tender leaves. Trim stem and peel with a pairing knife.

Slice off one inch of the top of the artichoke exposing all the leaves. Trim any pointy leaves with scissors.

Cut artichoke in half. Using a spoon scrape out the fuzzy part, or 'the choke' of the artichoke. Place prepared artichoke in lemon water, cut side down.

Heat a large skillet to medium high heat. Add 2 tablespoons of butter and 1 tbsp of olive oil. Remove artichokes from water bath and pat dry with a paper towel.

Place cut side down into hot pan. Do not touch. Allow to cook for 3-4 minutes before checking for desired color (golden brown). Remove to a platter and set aside.

Add remaining butter and olive oil to hot pan. Add onion and garlic. Saute until soft. Add wine and juice of half lemon. Scrape up all the bits of the bottom of the pan. Simmer wine mixture until reduced by half. About 5 minutes. Add chicken stock.

Place artichokes cut side down into the broth mixture along with a sprig of rosemary. Cover and cook about 15-20 minutes until fork tender.

Transfer cooked artichokes to platter, sprinkle with salt and pepper. Best served warm with french bread.
Garlic Butter Dipping Sauce (optional)
Melt 2 tablespoons of butter and one clove of garlic in a sauce pan or microwave. Allow to cool for 5 minutes. Drizzle over prepared braised artichokes before serving.
Nutrition
Calories:
185
kcal
|
Carbohydrates:
13
g
|
Protein:
4
g
|
Fat:
13
g
|
Saturated Fat:
6
g
|
Polyunsaturated Fat:
1
g
|
Monounsaturated Fat:
6
g
|
Trans Fat:
0.3
g
|
Cholesterol:
21
mg
|
Sodium:
180
mg
|
Potassium:
364
mg
|
Fiber:
5
g
|
Sugar:
3
g
|
Vitamin A:
251
IU
|
Vitamin C:
28
mg
|
Calcium:
48
mg
|
Iron:
1
mg