Fondant Potatoes are a classic and elegant way to serve up potatoes. Crispy on the outside, and deliciously creamy on the inside! They're impressive, flavorful, and so easy to make. We make ours unique by adding white wine, fresh garlic, and fresh thyme. These are a FABULOUS recipe for Christmas, too!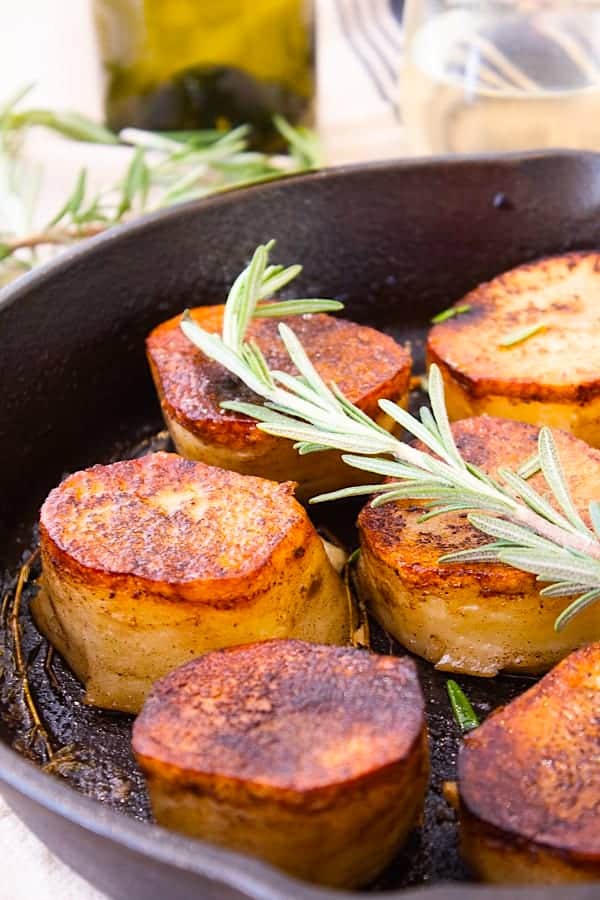 So what exactly are fondant potatoes?
They're potatoes that have been cut into cylinders, then browned and made crispy on one side, and then slowly roasted in a liquid (we choose wine, stock, and aromatics but traditionally it's butter and stock).
Let's get cooking!
Start off by peeling large russet potatoes, and slicing them vertically into slices. They should be between 1 1/2 and 2 inches thick. They likely won't all be even and that's okay. I have a small family and 2 russet potatoes yields about 7 pieces total. I find 1 piece per person is plenty, these little babies are pretty rich.
The beauty of this dish is that it's fantastically rustic, kind of fancy, and a total homage to 80's steak and prime rib houses who used to serve stuff like this. The kind of place my husband's doctor grandfather would go to with his doctor buddies and order a dry martini, straight up. The kind of joint that serves creamed spinach and chocolate lava cake. Alright, alright…everyone complains about how bloggers get too personal and story tell "Damnit Janet just get to the friggin' recipe!" and here I am going on. I heard you, okay? You're so bossy. Back to the recipe, alright? 
Once your fondant potatoes have reached a golden brown, flip them all over. BE CAREFUL OF OIL SPLATTER. This is your warning.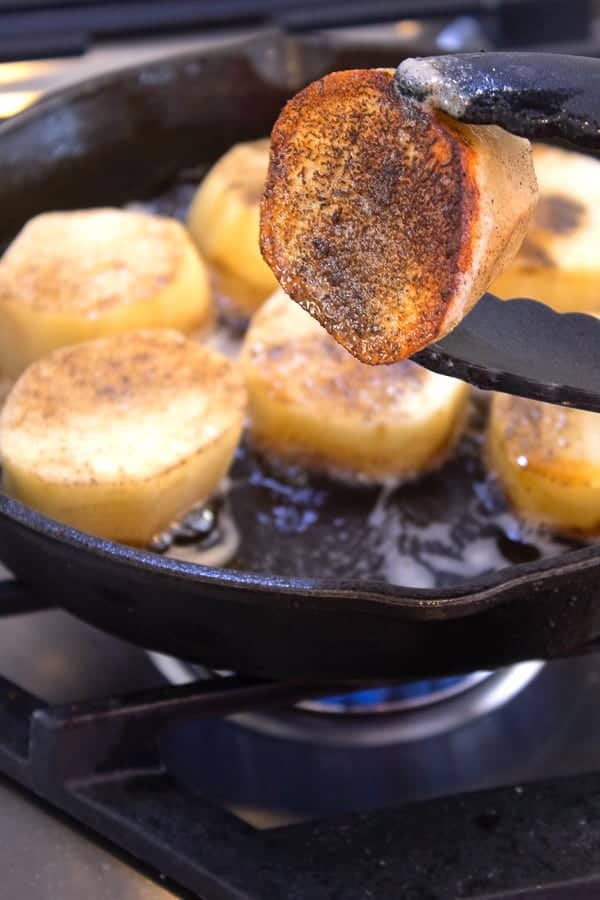 Next, you will use a pair of tongs holding a large 'wad' of paper towels to soak up the extra oil/butter in the pan. Be cautious of how hot this liquid will be; don't put it straight into the trash can with flammable items. I'm trying to have your back here. Put it in the sink for 30 minutes while it cools if you need to. You don't need to get ALL of the liquid, just some of it so there isn't a ton of oil/ butter left in the pan.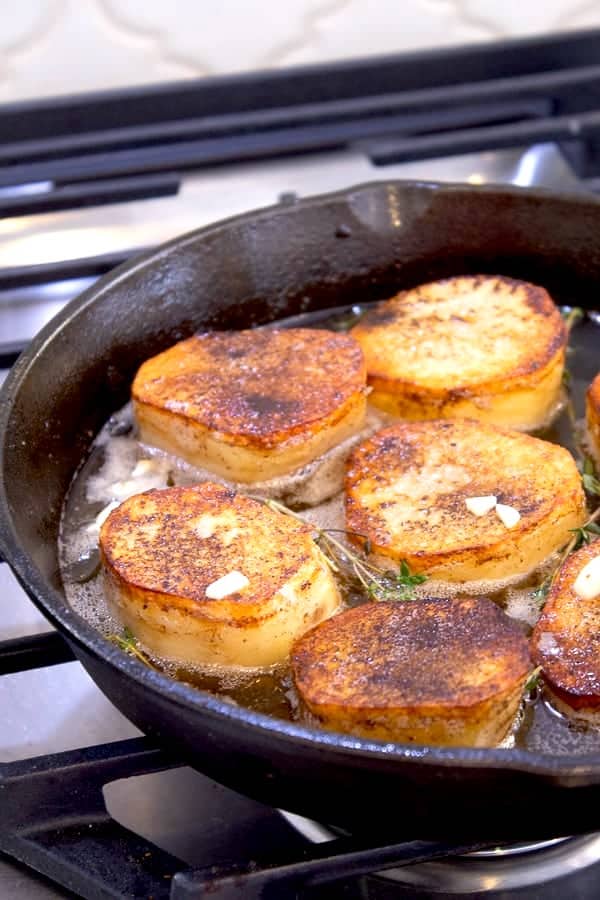 Afterwards, add the white wine, the garlic, the thyme, and the chicken stock, and throw it in the oven at 450 degrees farenheit for 30-35 minutes, or until all of the liquid has reduced down. 
Your complimentary lesson in ingredients; Spend an extra few bucks and get the good stuff. I know for some families this isn't possible, BUT- if you can swing it, do it. Use fresh thyme, fresh garlic (not the pre-peeled in the bag stuff) and good chicken stock (Kitchen Basics is a good brand- it's in a yellow box in the stock aisle. It's like $3.00 opposed to $1.50 but its so much tastier).
I garnish mine with some fresh rosemary, and then take a big ole bite and smile. Who knew potatoes could be so fancy? From French Fries to Fondant…They truly are a carb's best friend. 
I recommend serving these fondant potatoes with a slice of Restaurant Quality Steak you make right at home. 
If you are a big potato lover, check out these other fabulous 'tater recipes. 
Cheers to deliciousness!
Rachel
Catch this video on how we made our fondant potatoes- it will make it easier for you! 
Fondant Potatoes
A delicious, impressive, and super flavorful side dish perfect for holidays and dinner parties!
Print
Pin
Rate
Equipment
oven/stovetop safe pan (we used cast iron)
Ingredients
2

large

russet potatoes

cut into 1 1/2 inch thick vertical pieces (see picture/video for example)

4

tbsp

butter

we use salted

1

tbsp

olive oil

1

tsp

fresh chopped garlic

4-5

sprigs

fresh thyme

1/4

cup

dry white wine

we use pinot grigio

1

cup

chicken stock

salt and pepper to taste
Instructions
Preheat oven to 450 degrees farenheit.

Peel potatoes, remove ends, and slice vertically into 1 1/2 inch pieces. See picture or video for example.

Salt and pepper both sides of potato pieces.

Add butter and olive oil to oven safe skillet. When melted, add potato pieces.

Once potaotes are golden and crispy on 1 side, use a pair of tongs, and a thick pile of paper towels to absorb excess oil/butter in pan. Be cautious of how hot the paper towel will be. Flip potatoes onto opposite side (be cautious of oil splatter as well).

Add garlic, thyme, wine, and chicken stock to skillet. Place skillet in oven.

Once liquid has fully dissipated and potatoes are fully cooked through (roughly 30-35 minutes), remove pan from oven and enjoy.
Nutrition
Calories:
210.33
kcal
|
Carbohydrates:
29.08
g
|
Protein:
4.51
g
|
Fat:
8.05
g
|
Saturated Fat:
3.46
g
|
Cholesterol:
13.48
mg
|
Sodium:
116.83
mg
|
Potassium:
674.41
mg
|
Fiber:
2.03
g
|
Sugar:
1.8
g
|
Vitamin A:
177.95
IU
|
Vitamin C:
9.88
mg
|
Calcium:
22.43
mg
|
Iron:
1.51
mg