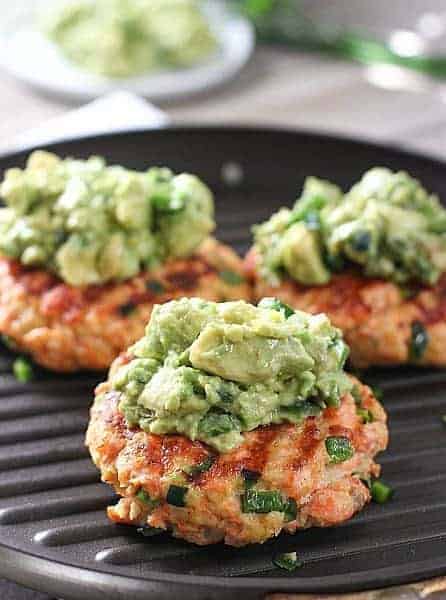 This is a recipe re-do…an up-do really!   It's a take off of my Fast and Fresh Salmon Burgers that were posted wayyyyy back in March of 2015.  Seems just like yesterday guys….
I added a bit of poblano and a heaping scoop of avocado salsa.  If you are not familiar with poblano peppers, boy are you in for a treat.  I describe them as a cross between a bell pepper and a jalapeño.  In fact I've given up green bell peppers entirely and just use poblano's.  Pepper love!  I am not a huge fan of hot and spicy, so trust me that these are mild.  I remove all the seeds and veins inside to reduce the heat, and all you are left with is a ton of flavor!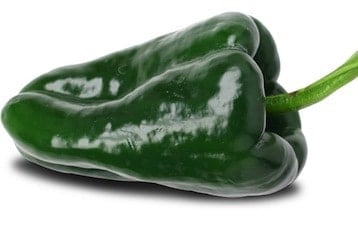 Here is a picture of the burgers naked, in case you want to go that way….with or without their avocado clothes, these burgers are darn tasty!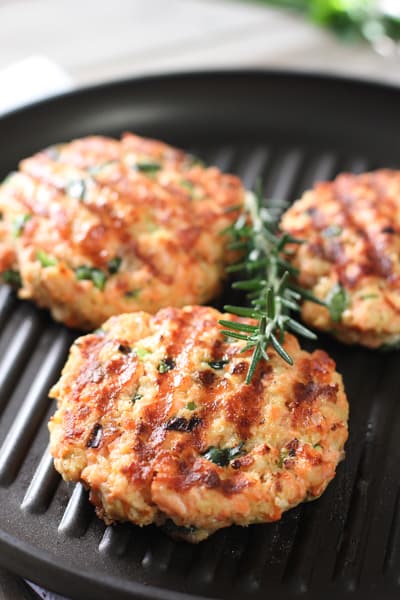 The recipe calls for a pound of salmon.  It makes four nice size patties.  One pound is about 1/2 of a large fillet.  I used steelhead salmon that I buy at Costco.  It has a ton more flavor than the Atlantic kind and costs about the same.
It is super easy to remove that pesky salmon skin.  All you need is a sharp knife and you are on your way.  It doesn't have to be perfect.  You are going to mince it all up anyway!  Pretty doesn't matter here…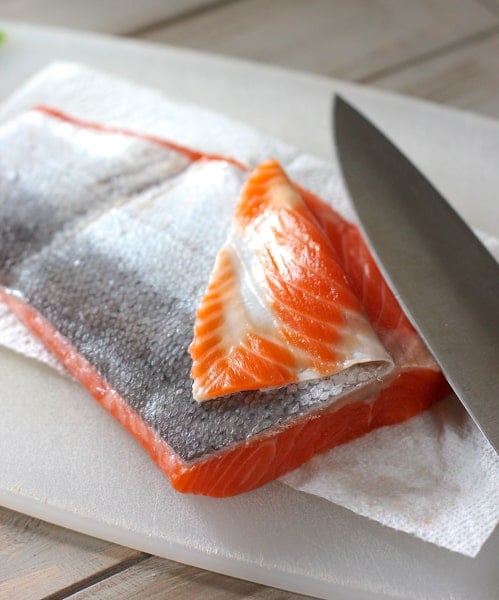 Once  you have removed the skin, simply give it a good chop. No need to dirty that food processor.  In fact the food processor makes it way to mushy.  We are going for big chunky salmon flavor here!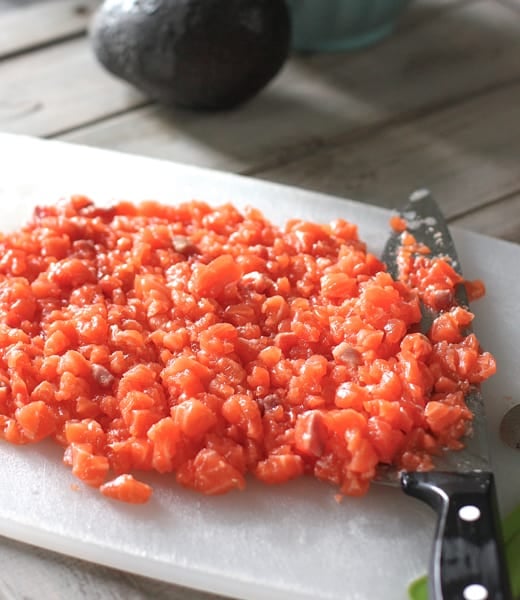 NOTES:
 I used panko crumbs as the binder (and you need a binder),  but you can substitute almond meal, whole oatmeal (not the quick cook kind), cooked quinoa or couscous.  Easy to turn into Paleo, Whole30 or GF.
It is really hard to mess these up.  The only risk is overcooking.  Just about 4 minutes on each side should do it.  Press on the middle of the patty if it feels firm, it"s done.
I love this Grill Pan!
Buy one large poblano for this recipe.  You will use half in the burgers and half in the salsa!
I've got a few other burgers that will keep things simple for you this summer.  You can check them out here!  4 Fresh and Fabulous Burgers.  It includes my recipe for Chicken Avocado Burgers which is the most popular recipe on this site!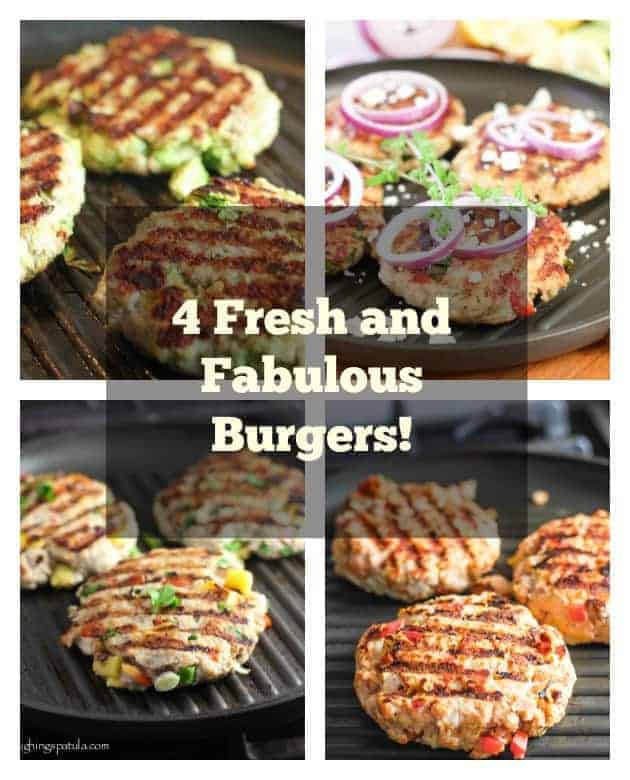 Looking for another quick meal?  You might like my recently posted Greek Chicken Sheet Pan Dinner!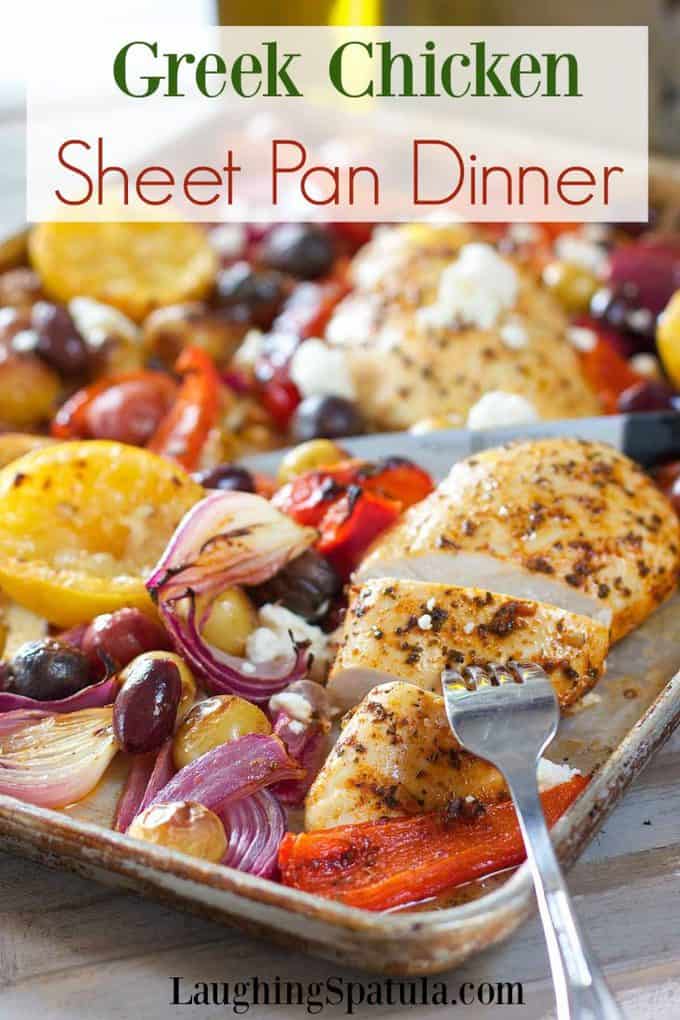 Here's to Fast and Fresh Meals!
Clink!
Kathi
Grilled Salmon Burgers with Avocado Salsa
Fresh and fast salmon burgers that you make yourself with a creamy avocado salsa topping!
Ingredients
1

pound

salmon fillet

1/2

cup

panko crumbs (See above substitutes for Paleo

W30 and GF).

1

egg

2

green onions

chopped

1/2

poblano pepper

seeded and chopped

1

tablespoon

fresh lemon or lime juice

1/2

teaspoon

salt

1/4

teaspoon

pepper

Avocado Salsa

1

large ripe avocado - peeled

seeded and chopped

1/2

poblano pepper

seeded and chopped

2

green onions

chopped

1

tablespoon

fresh lemon or lime juice

1/4

teaspoon

salt

1/4

teaspoon

pepper

1/4

teaspoon

salt
Instructions
Skin and chop salmon fillet.

Put in large bowl.

Add panko, poblano,egg, green onion, lemon or lime juice, salt and pepper.

Mix well.

(hint: make a cross on top of the salmon mixture before making into patties to ensure consistent size)

Heat indoor grill pan or outdoor BBQ to medium high heat.

Cook for about 4 minutes on each side until cooked through.

Avocado Salsa

Combine all ingredients in medium bowl

Top burgers with salsa. Serve with or without bun.
Recipe Notes
This post  may contain affiliate links, which means I might receive a very small commission should you chose to purchase that linked item.  I only link to items I know and trust.  Thank you for your support!  Clink!
Nutrition Facts
Grilled Salmon Burgers with Avocado Salsa
Amount Per Serving (4 g)
Calories 353
Calories from Fat 206
% Daily Value*
Total Fat 22.9g 35%
Cholesterol 62.4mg 21%
Sodium 520.5mg 22%
Total Carbohydrates 12.4g 4%
Protein 25.4g 51%
* Percent Daily Values are based on a 2000 calorie diet.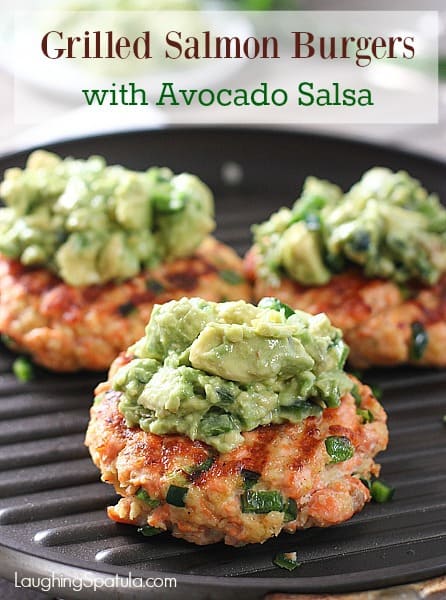 Other stuff thats yummy: