Easy Make Ahead Mushroom Gravy!  – You can never have enough gravy!  Wouldn't that make a nice tattoo?
You can use turkey drippings or just boxed broth with this recipe.  The trick is to use the proper portions of butter and flour to broth to get the perfect gravy consistency!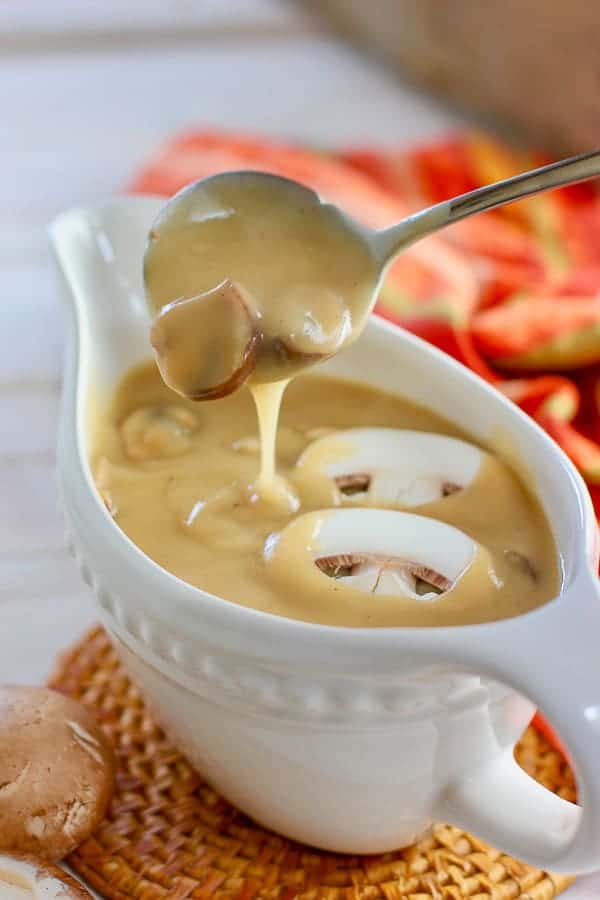 Make ahead recipes on Thanksgiving day are a gift.  It is truly one of the hardest, if not THE hardest meals to make.  Mostly because everything has to be hot and on the table at the same time.  Make this gravy up to 3 days in advance to lighten your cooking load.
How to cook Easy Make Ahead Mushroom Gravy:
By simply browning the onions and mushrooms for a few minutes in a skillet,  the flavor goes from zero to 60.  TIP:  Avoid adding salt to your mushrooms until they are as brown as you want them.  Salt makes it harder for them to reach their full browning capacity :).
This makes about 4 1/2 cups which would be enough for about 10 regular people or 8 gravy lovers!
Once your mushrooms are caramelized and your onions and garlic are tender, set them aside while you make your roux.
Melt your butter, add your flour, cook for about 4-5 minutes until it reaches a light brown color.  This will add some rich flavor and color to your gravy.
Add your stock and cook for a bout 5 minutes until thickened.  Once it starts to boil, you are done.  It is as thick as it's going to get…you have reached gravy perfection!
I like to strain the gravy to remove the onions and garlic which can make your gravy look lumpy. You can omit this step if you like lumps…its okay!
Let cool and store in an airtight container for up to 3 days.  I tested this so I know it works!
Easily double or triple this to accommodate uncle Jeb who thinks it's soup…
To increase the recipe, simply hover over the 'servings' in the recipe card.  A little slider will pop up and you can adjust the recipe easily..I love food technology!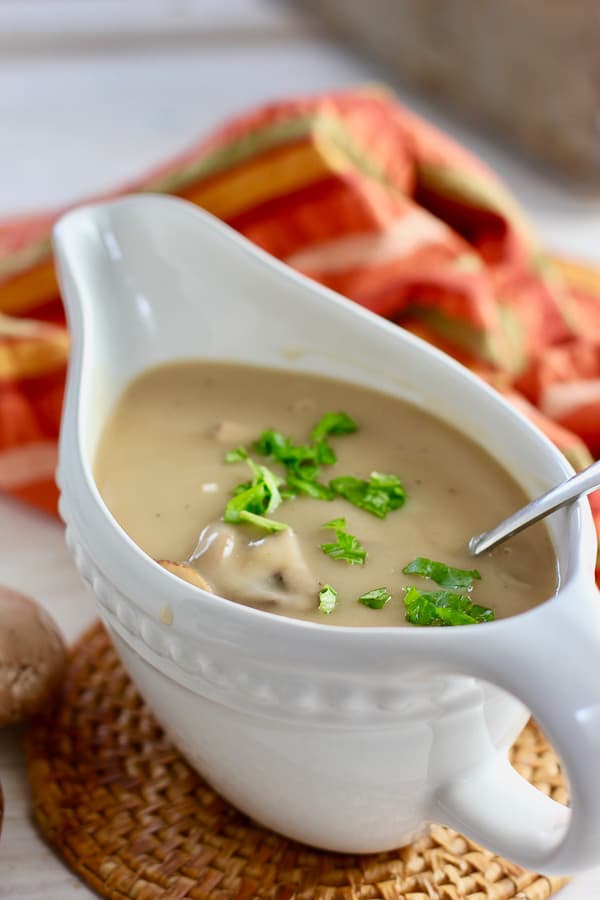 This would be really great with cooked sausage as well.  You can also add 1/3 cup heavy cream if desired!
The trick to a perfectly thick gravy is this equation:  1/2 cup butter to 1/2 cup flour for the roux,  plus 4 cups of liquid.  It will get you the perfect consistency every time.
To gravy, gravy and more gravy!
Clink!
Kathi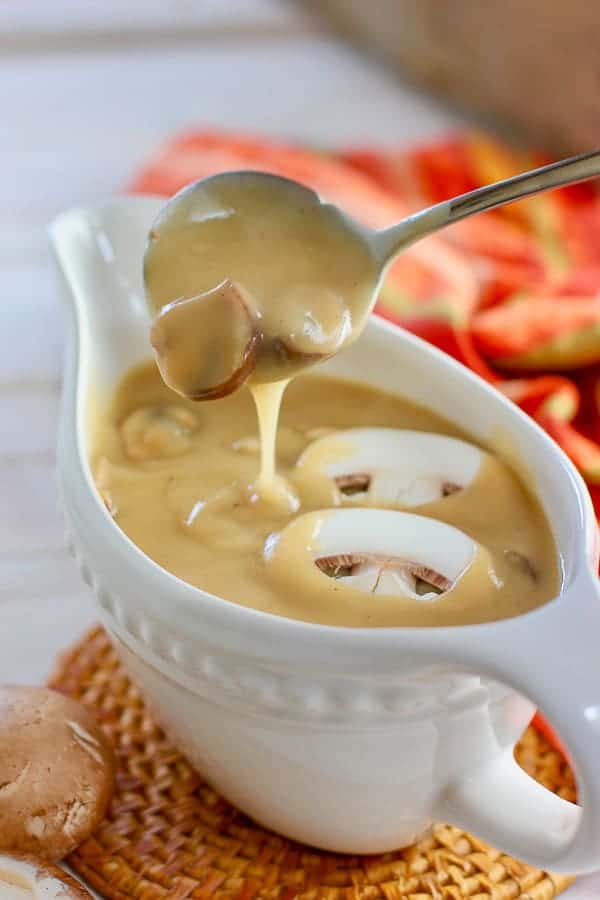 Easy Make Ahead Mushroom Gravy
15 minutes is all it takes to whip up this incredibly easy gravy! Use turkey drippings or chicken and beef stock. You will be so glad you made this in advance!
Course:
condiment, holiday
Ingredients
1

tablespoon

olive oil

1/2

cup

cremini mushrooms sliced

1/2

cup

chopped onion

2

cloves

garlic, minced

1/4

teaspoon

salt

1/2

cup

butter

1/2

cup

all-purpose flour

2

cups

chicken stock - prefer unsalted

2

cups

beef stock - prefer unsalted

1/8

teaspoon

freshly ground black pepper

1 1/2

tablespoons

chopped fresh sage or 1/4 teaspoon dry
Instructions
Heat large sauce pan or dutch oven over medium high heat.  Add olive oil and sliced mushrooms.  Saute until the mushrooms have reached a nice rich color.   Remove to bowl and set aside.

Into the same pan, melt butter, add onions and garlic. Saute until onions are soft.  Add the flour and cook until thick and bubbly and slightly brown in color.  About 4-5 minutes.

Add chicken and beef stock to flour mixture continuing to whisk. Cook for about 5 minutes until thick. TASTE FOR SEASONING, more salt, more pepper? This can vary based on the sodium content of your stock.

Strain over a mesh colander to remove the onions and garlic pieces (if desired).  Add mushrooms back to the gravy along with the sage.  Serve warm or store in a container for up to 3 days.  Heat on stove top or in microwave before serving.
Recipe Notes
Tips to make Easy Mushroom Gravy:
Use a blend of chicken and beef stock to make a richer gravy.
Substitute 4 cups turkey stock if you are making on the same day as the turkey.
Cook the roux until lightly browned.
Strain to remove the onion and garlic bits for a smoother gravy.
Store for up to 3 days.
Add cooked sausage and/or 1/3 cup of heavy cream if desired.
Nutrition Facts
Easy Make Ahead Mushroom Gravy
Amount Per Serving
Calories 144
Calories from Fat 99
% Daily Value*
Fat 11g17%
Cholesterol 25mg8%
Sodium 303mg13%
Potassium 173mg5%
Carbohydrates 7g2%
Protein 3g6%
Vitamin A 285IU6%
Vitamin C 0.7mg1%
Calcium 10mg1%
Iron 0.5mg3%
* Percent Daily Values are based on a 2000 calorie diet.