These gorgeous Purple Artichokes from Ocean Mist Farms are the perfect choice for Mediterranean Roasted Artichokes!  Bright and vibrant and just as easy to prepare as green artichokes, but what a spectacular presentation.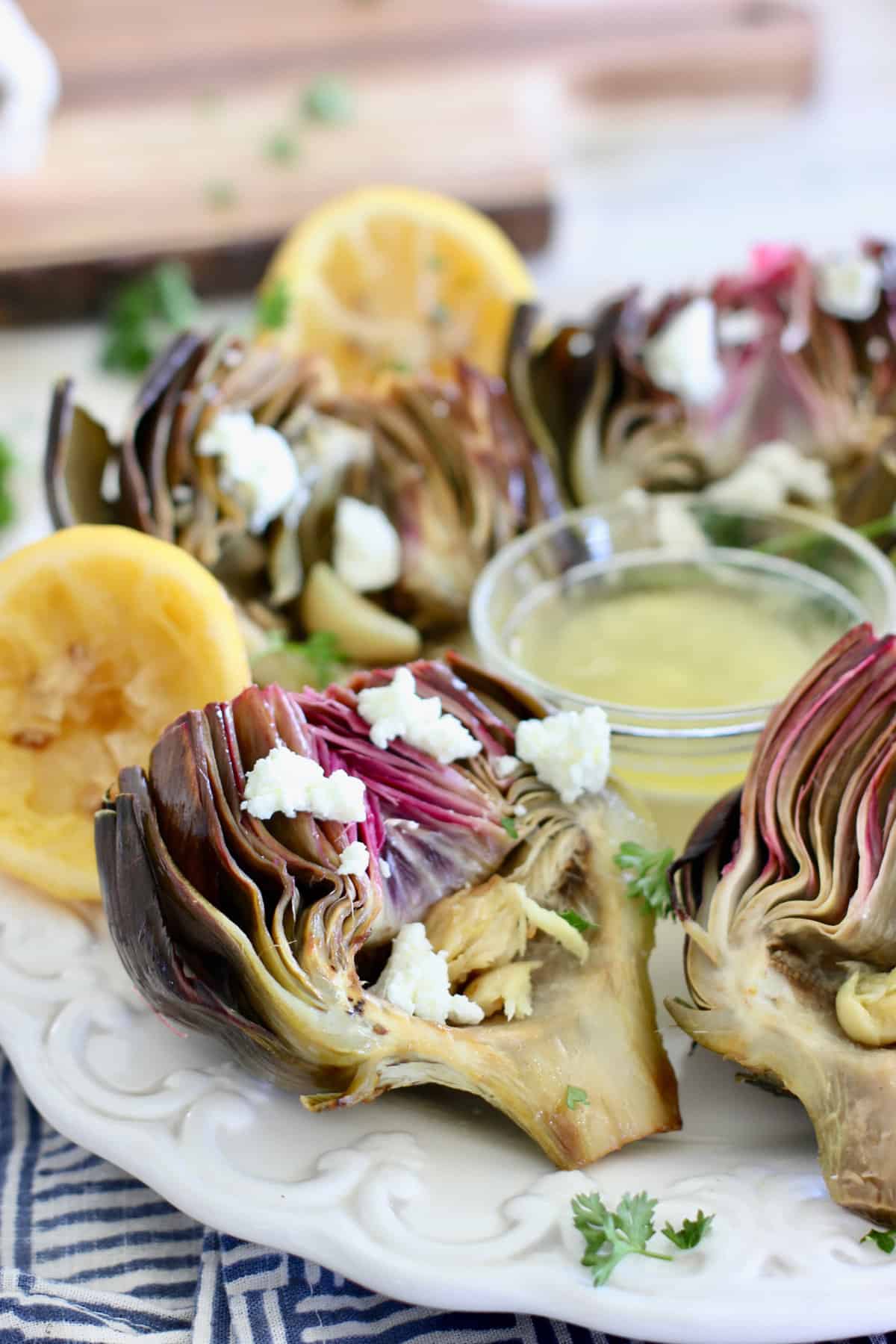 Purple Artichokes
What makes this recipe stand out is the use of Ocean Mist Farms Purple Artichokes! They're only available once a year. Reminiscent of old world Mediterranean artichokes, the leaves are meaty and and the artichokes have a natural earthy  (almost nutty) flavor. When you're at the grocery store looking for purple artichokes, search for the ones that feel the firmest and heaviest. The colors may vary in shades of purple, but pay most attention to the weight of the artichoke.
Ingredients to make Roasted Artichokes –
Ocean Mist Farms Purple Artichokes – Ocean Mist Farms developed a proprietary, seasonal Purple Artichoke selected for its superior flavor and vibrant purple appearance. This vibrant artichoke is only available once a year, and for a very limited time. Try them when you can. 
Fresh lemons
Olive oil
Whole garlic
Crumbled Feta cheese
How to Make Roasted Mediterranean Artichokes –
Step 1 – Buy the best and freshest artichokes you can find.  We love Ocean Mist Farms brand for their quality.  The deep purple artichokes make a beautiful presentation!
Prepare the Artichokes:
Rinse and pat dry.
Trim all but 1 inch of the stem.
Remove the extra bottom leaves.
Cut about 1 inch off the top of the artichoke.
Using scissors remove any pointy ends.
Cut the artichokes in half.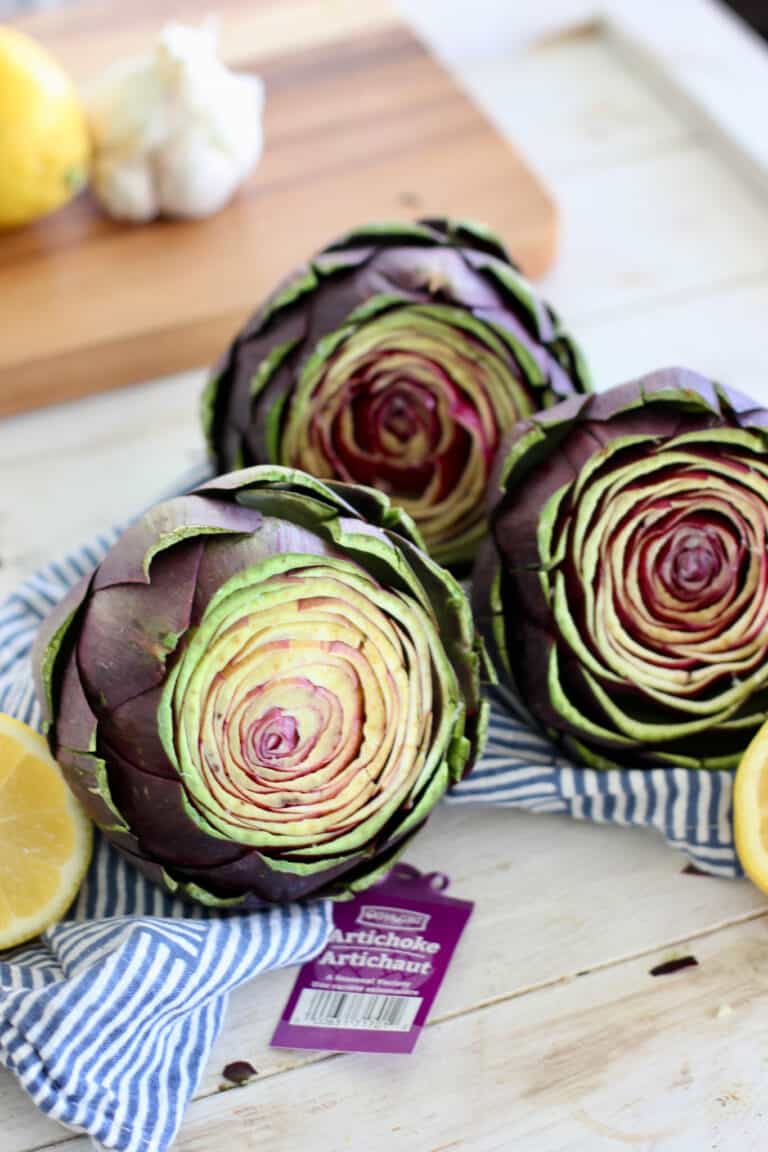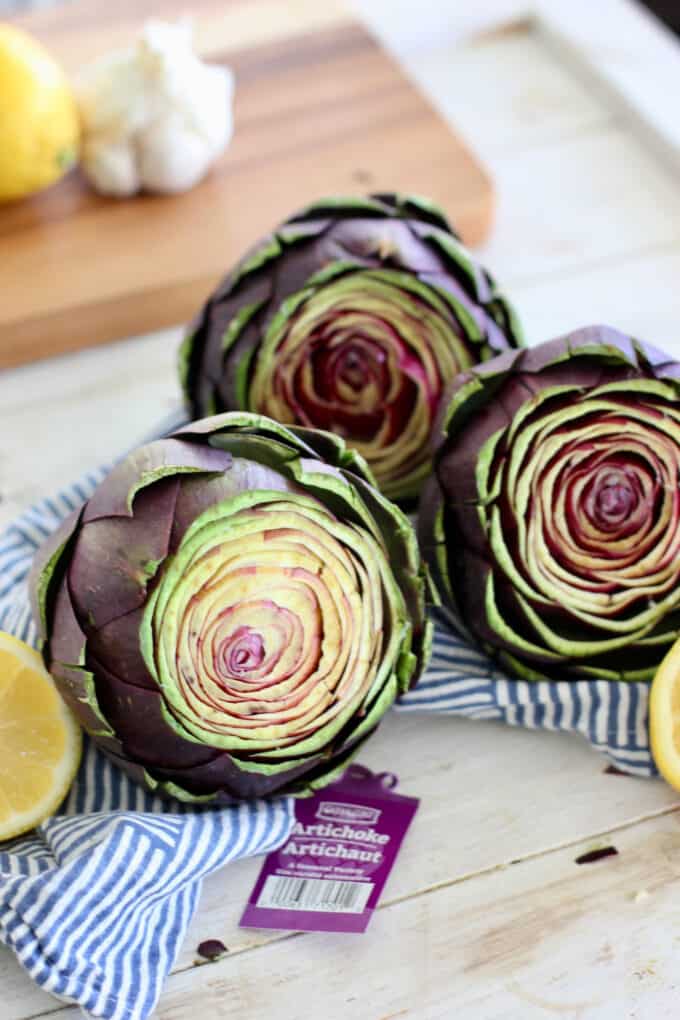 Cut the artichoke in half and immediately rub with half a fresh lemon to keep it from discoloring. Artichokes oxidize quickly, so do this fast!
Scoop out the fuzzy part, or the 'choke' and insert one garlic clove into the space where the choke is.
Drizzle with olive oil and sprinkle with salt and pepper.
Place cut side down on parchment or foil lined baking sheet (with garlic in artichoke)
Add lemons cut side down along side the artichokes.  Drizzle with olive oil, salt and pepper.
Roast uncovered for 15 minutes.
After 15 minutes, lay a piece of aluminum foil over the artichokes and lemons and continue to roast for an additional 20-25 minutes until fork tender and leaves seperate easily.
Remove from oven and add to platter.  Sprinkle with feta cheese and parsley for garnish.
Combine melted butter and the juice of half of a roasted lemon for butter dipping sauce.
We like to serve the remaining roasted lemons along side of the artichokes for presentation (or to drizzle on them!)
More easy appetizer recipes we think you will enjoy! –
Let's Eat!
Kathi and Rachel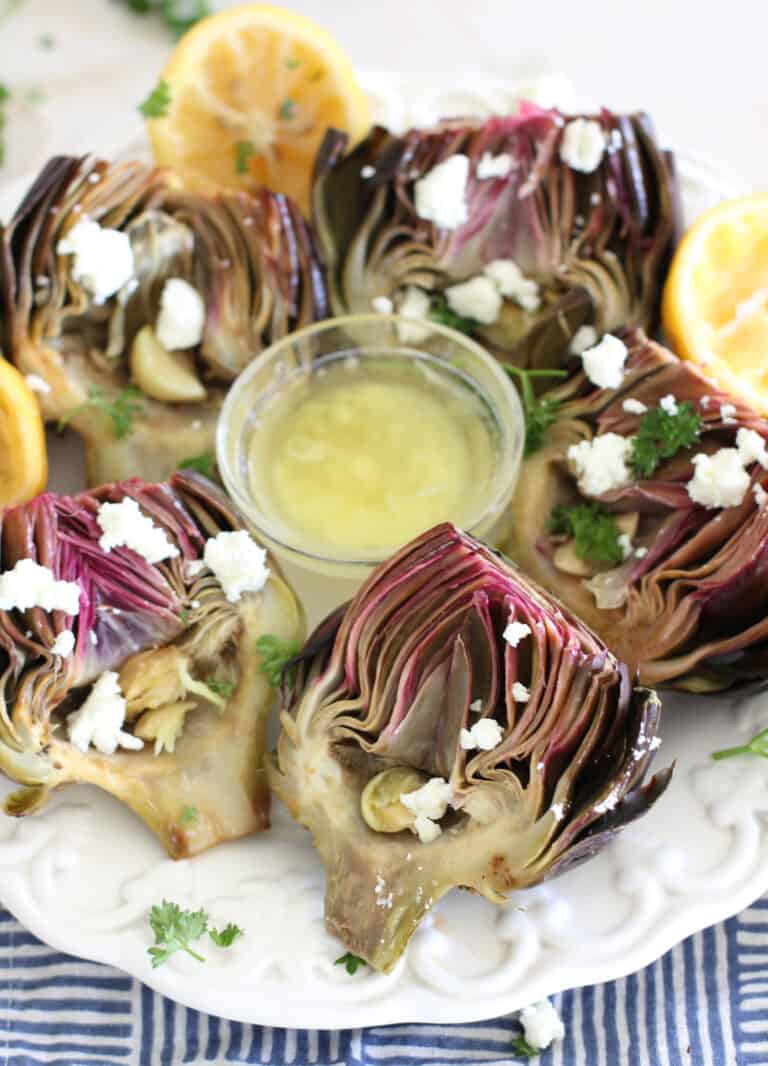 What do you think about this recipe? Have questions? Comment below! Don't forget to like us on Facebook, and connect with us on Instagram and tag your @Laughingspatula recipes with #laughingspatula,while you're at it…We love to see your pics!
Hey and check out our new YouTube Channel!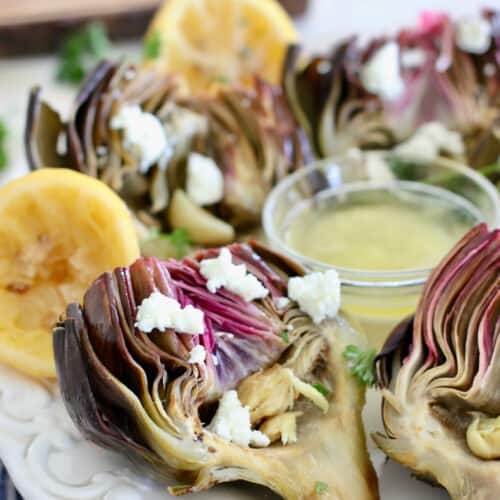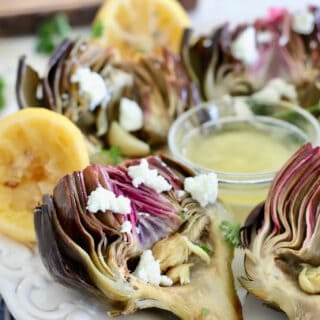 Mediterranean Roasted Purple Artichokes
These vibrant and incredibly impressive artichokes will wow your guests! Simply prepared Mediterranean style with a lemon butter dip!
Print
Pin
Rate
Ingredients
3

Ocean Mist Farms Purple Artichokes

2

Lemons

halved

3

tbsp

Olive Oil

1/3

cup

Feta Cheese

crumbled

Salt & Pepper
Instructions
Preheat oven to 400 degrees fahrenheit. Line a baking sheet with parchment paper or foil for easy clean up.

Trim and prepare artichokes by removing all but 1 inch of the stem and peeling off tough skin. Cut about 1 inch off the top of each artichoke. Remove and discard any tough bottom leaves and using scissors trim the pointy ends off the top of each leaf.

Cut each artichoke in half. Immediatly rub with half a lemon to keep from discoloring. Scoop the fuzzy part or the 'choke' out using a spoon and discard. Place one whole garlic clove inside the hole you created when removing the choke.

Drizzle artichokes all over with olive oil and sprinkle with salt. Place cut side down on baking sheet along with cut lemons, leaving garlic clove inside artichoke.

Roast for 20 minutes uncovered. Place a sheet of aluminum foil loosley over the top and roast an additional 25 minutes until artichokes are fork tender.

Combine juice from one half of lemon with 3 tablespoons melted butter. Serve on the side to dip the leaves in.

Sprinkle crumbled feta and parsley on top.
Nutrition
Calories:
124
kcal
|
Carbohydrates:
10
g
|
Protein:
4
g
|
Fat:
9
g
|
Saturated Fat:
2
g
|
Polyunsaturated Fat:
1
g
|
Monounsaturated Fat:
6
g
|
Cholesterol:
7
mg
|
Sodium:
156
mg
|
Potassium:
292
mg
|
Fiber:
4
g
|
Sugar:
2
g
|
Vitamin A:
51
IU
|
Vitamin C:
27
mg
|
Calcium:
79
mg
|
Iron:
1
mg