Mexican Shrimp Cocktails (also known as Cóctel de Camarónes) are a delicious, fresh and healthy way to enjoy a classic resort style dish. Serve them in martini glass, or in a big bowl with chips on the side for a crowd pleasing appetizer. Best part about this easy main course or appetizer is that it can be made a day or 2 in advance, and actually gets BETTER the longer it marinates!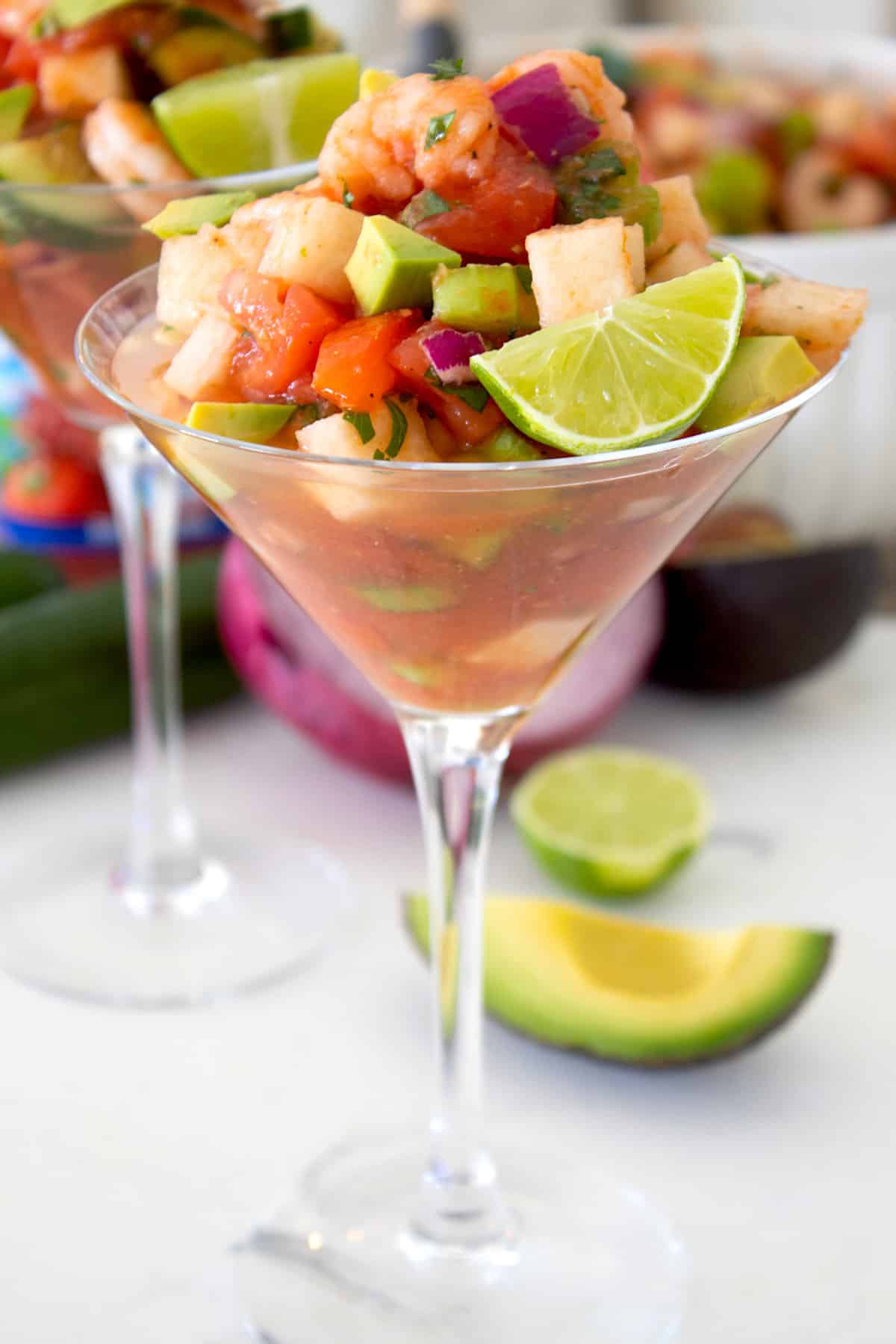 This recipe is perfect for summertime, or even Cinco de Mayo! The want to recreate this recipe actually starts right here in Palm Springs, California (where we live). Often times it is 100+ degrees on summer days and I wanted a refreshing and healthy meal. I used to order a Mexican Shrimp Cocktail at Tommy Bahama in Palm Desert of all places. We add more vegetables for a bigger and better crunch.  We also like a little less juice than most traditional Cóctel de Camarónes but to each their own.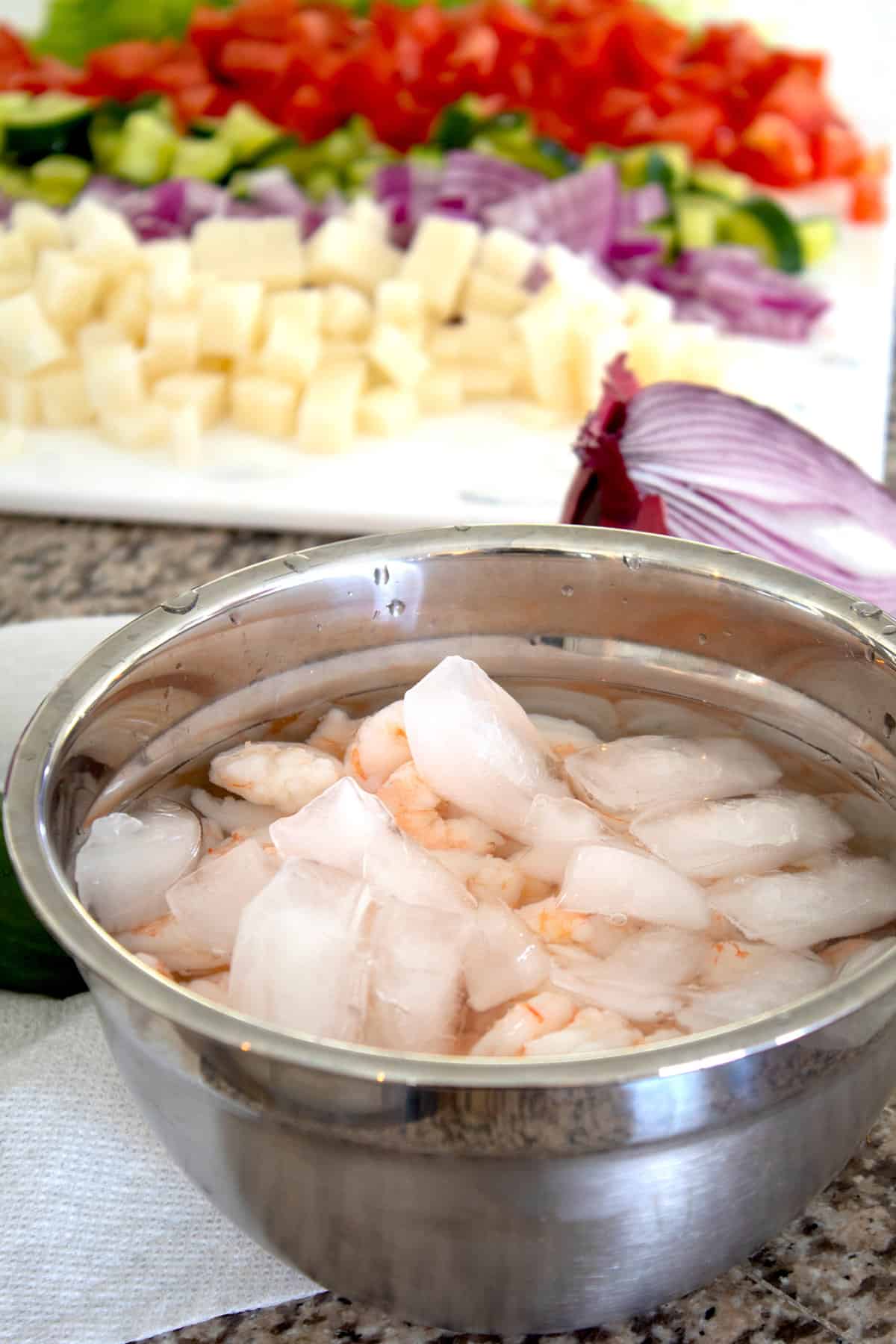 Ingredients to make Mexican Shrimp Cocktail
Shrimp: Medium sized, roughly 16-20 count per pound, and make sure they are shelled and deveined to save a step (nobody really likes peeling shrimp!). Good quality shrimp is key, Costco has great frozen shrimp. Boil them in salted water, then let them cool in an ice bath to stop them from getting overcooked, keeping them tender.
Celery: Chopped as finely or as chunky as you like.
Red Onion: Red onion can be a dominant flavor, use as much or as little as you like.
Jicama: The addition of jicama adds a starchy, sweet texture to this shrimp cocktail that can really help make it a meal. I buy mine at Sprouts already chopped into sticks.
Tomatoes: Fresh is best. Cherry or hothouse are my favorite for this dish.
Cucumber: Any variety will work.
Cilantro: Personally I LOVE cilantro, but to some, it tastes like soap. If you aren't sure if your guests like it, serve it on the side and allow them to garnish…or skip it.
Avocado: Garnishing with avocado will maintain its freshness. I find if you mix it with the other ingredients it gets smushed. Wait to add the avocado just until right before you serve to maintain color and texture.
The difference between an American/English Shrimp Cocktail and Cóctel de Camarónes is in the veggies, and in the sauce! This Mexican version is dressed in a tomato based dressing of Clamato juice, ketchup, hot sauce, lime zest/juice and fresh cracked pepper. Some people even add vodka, or Tequila, making this part reminiscent of a Bloody Mary! Traditionally, the veggies and shrimp are submerged in this sauce, but chef's choice. My best advice is to make the full batch of sauce, and dress it to your liking as you go.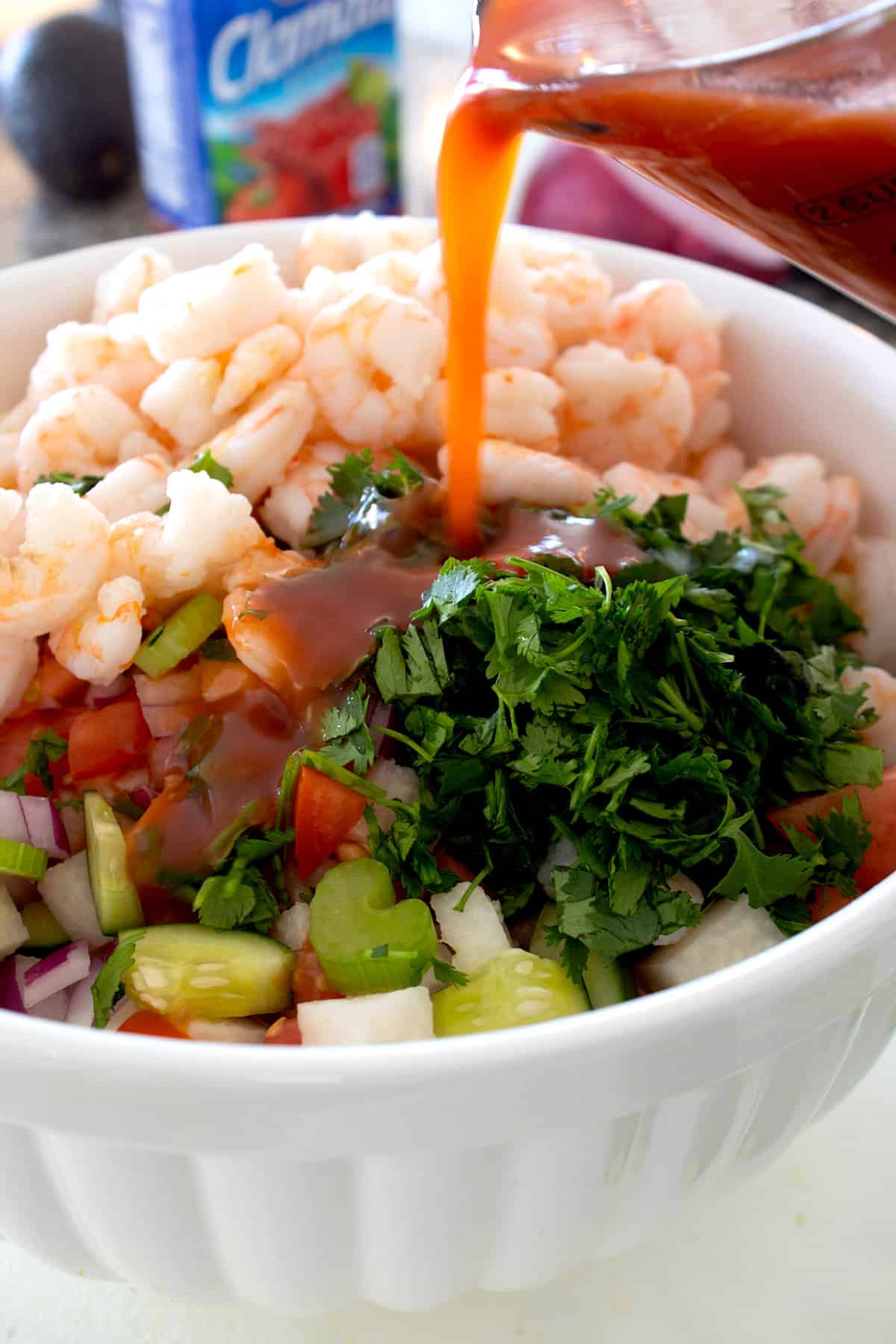 Here's how to serve Mexican Shrimp Cocktails for a few, or a crowd!
Spoon into martini or margarita glasses as an appetizer, or even a main course.
Serve in a bowl, better yet- a chilled stainless steel bowl on ice to make it even more refreshing! 
Toast slices of sourdough, and spoon the shrimp and veggie mixture on top. If making this for an appetizer, spread avocado on the bread to keep it from getting soggy. This is a great method for using up leftovers as well!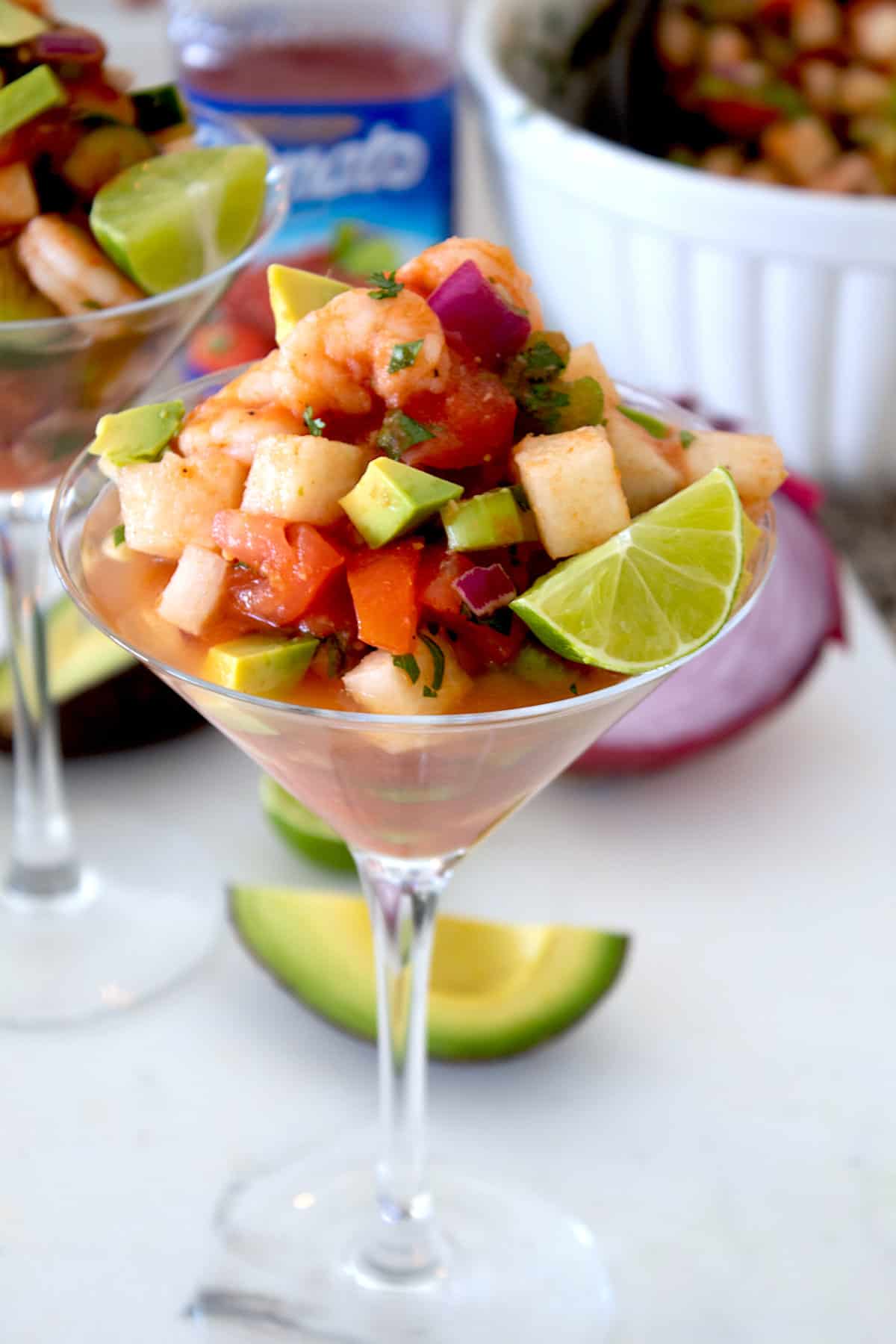 If you're interested in other Mexican inspired recipes, here's a few more we love: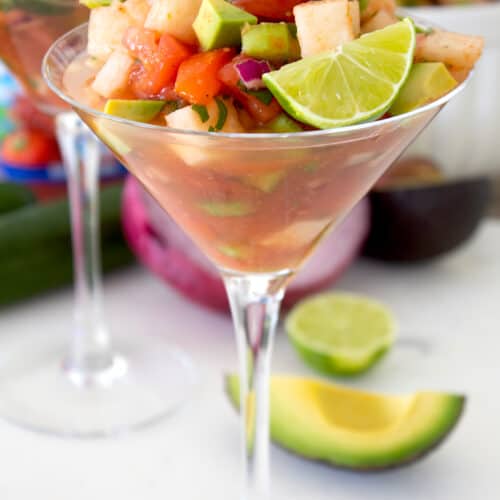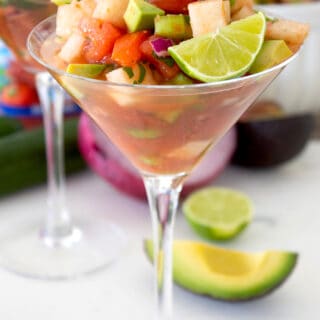 Mexican Shrimp Cocktail (Cóctel de Camarónes)
A delicious and zesty shrimp cocktail recipe reminiscent of a Mexican resort.
Print
Pin
Rate
Ingredients
1

lb

cooked shrimp

(16-20 count, deveined and shelled)

1/2

cup

red onion

(chopped)

1

cup

cucumber

(chopped)

1

cup

celery

(chopped)

1/2

cup

jicama

(chopped)

1

cup

tomatoes

(diced)

2

tbsp

fresh cilantro

(chopped)

1

avocado

(sliced or diced for garnish)
Dressing
1/4

cup

ketchup

1/2

cup

Clamato juice

(or tomato juice of choice)

2

tbsp

lime juice

1

tbsp

lime zest

1-2

tsp

hot sauce

(depending on how spicy you like it)

1/4

tsp

fresh cracked black pepper
Instructions
Dressing Instructions
Combine ingredients in a medium sized bowl and whisk until combined, set aside.

*We recommend tasting as you go when it comes to the hot sauce. Add a little at a time to ensure it is not too spicy for your liking.
Shrimp Cocktail Instructions
If shrimp is not already cooked, boil a medium pot of water with 1 tbsp salt, and as water starts to boil, add shrimp. Boil for about 2-3 minutes, or until shrimp is pink and fully cooked. Transfer to ice bath to stop cooking process, and once cooled, strain in a colander and set aside for next step.

In a large bowl, combine cooled shrimp, red onion, celery, jicama, tomatoes, cucumber, jicama and cilantro. Add dressing gradually, and stir until combined.

*We recommend dressing slowly, until you reach your desired level of 'dressed'. Chef's choice, some people prefer more or less dressing.

Garnish with avocado and serve as desired. Enjoy!
Nutrition
Calories:
141
kcal
|
Carbohydrates:
12
g
|
Protein:
12
g
|
Fat:
6
g
|
Saturated Fat:
1
g
|
Polyunsaturated Fat:
1
g
|
Monounsaturated Fat:
3
g
|
Trans Fat:
0.01
g
|
Cholesterol:
95
mg
|
Sodium:
557
mg
|
Potassium:
499
mg
|
Fiber:
4
g
|
Sugar:
5
g
|
Vitamin A:
641
IU
|
Vitamin C:
18
mg
|
Calcium:
66
mg
|
Iron:
1
mg