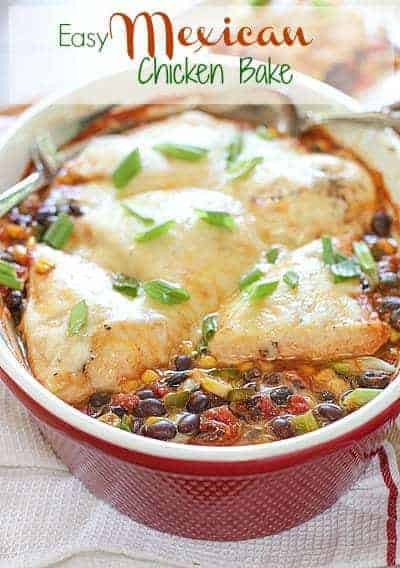 You could say that this is similar to my Southwest Chicken Bake…and you would be right!  This is just a kicked up version with a bit more flavor but the concept is still the same.  Mix some stuff together plop your chicken on top.  Bake and done!
You can't believe the flavors in this thing.  We have been eating it for a couple days and I am still not tired of it!   We topped it with Cochita cheese but I didn't get a pic of that.  If you have access to a sprinkle of Cochita or Feta it kicks the flavor up even more.
Check out how easy this is….I mixed up all the stuff in a bowl and poured it into a casserole dish, but nothing is stopping you from just mixing it up right in the dish.  No one's judging here…  (Don't you love the blur on that photo?  Am I just the best photographer ever?  Ummmm, no.)
I cut three chicken breasts in half and placed on top…all raw and stuff.  It aint pretty but it sure is easy!  Sprinkled with a bit of salt and pepper and in the oven it goes!
Bake for 40 minutes.  Top with a sprinkle of cheese and you have dinner …and lunch the next day!
Great served with my Best Spanish Rice!
If you are looking for another great easy chicken dinner, try my Italian Chicken Bake!
Easy Mexican Chicken Bake
Ingredients
3

in

chicken breasts - cut half

1 15

oz

can black beans - drained and rinsed

1 15

oz

can roasted diced tomatoes - drained

1

fresh poblano pepper - seeded and chopped

1 1/2

cups

fresh corn (frozen will work in a pinch

thawed)

2

tablespoons

flour

1

tablespoon

chili powder

2

teaspoons

ground cumin

1

teaspoon

salt

1/2

teaspoon

pepper

1

cup

grated mexican style cheese

Sliced green onion for garnish
Instructions
Preheat oven to 375 degrees.

Spray a 9 x 13 pan with non stick spray.

Mix beans, tomatoes, poblano pepper, corn, flour, chili powder, cumin, salt and pepper together and pour in casserole dish. (or just mix it all up right in the casserole dish).

Place cut chicken breasts on top and nestle into bean mixture.

Salt and pepper chicken breasts.

Bake for 35-40 minutes or until chicken is cooked through.

Remove from oven, top with cheese and bake an additional 5 minutes until cheese is melted.

Top with sliced onions.

Other stuff thats yummy: