I love anything with citrus in it- and these Orange Muffins are probably some of the best muffins I've ever had. Dense cake with a light and refreshing flavor, topped with a glaze that drips through the muffin. These are perfect for breakfast, or an afternoon snack that everybody loves.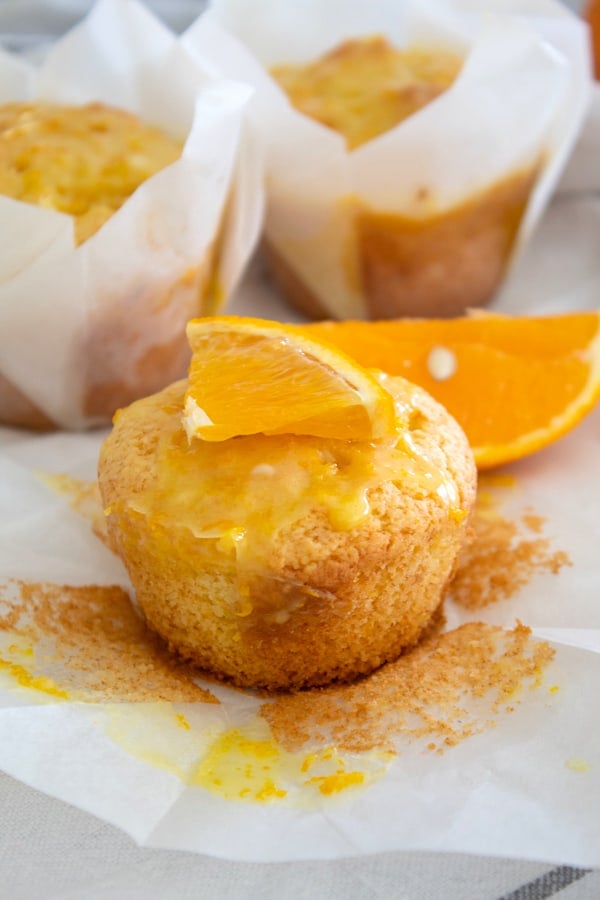 There's this little restaurant my husband and I go to in Laguna Beach called The Orange Inn. The people are lovely, the location is right next to the beach, and their breakfast is our favorite. I usually get a ham and cheese croissant with a smoothie, and my husband gets the most delicious orange muffin you have ever had. I usually end up having bites of his muffin, and he usually ends up having half of my croissant. I don't know why, it's just our Laguna Beach ritual. Anyways- that's my inspiration for this recipe. I won't say I nailed it because there is something magical about Laguna Beach and everything tastes better there, but I will say- I got darn close.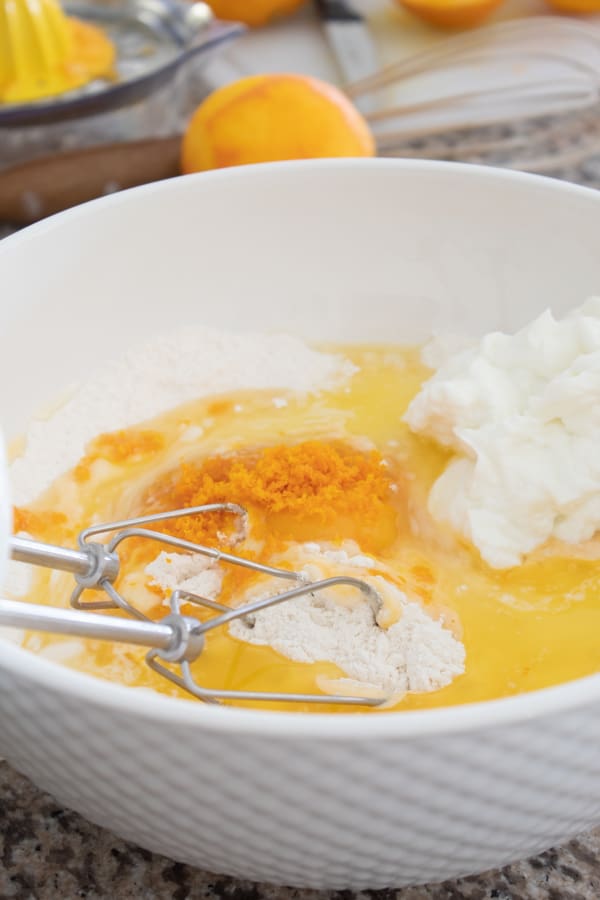 To start making this recipe, you'll need fresh oranges. These really make the difference in flavor so don't skimp! Preheat the oven to 350 degrees, mix the batter, and evenly distribute between 12 muffins in liners within a muffin tin. Bake them until a toothpick inserted comes out clean, or about 15 minutes.
Ingredients needed to make Orange Muffins:
Flour
Baking Soda
Salt
Butter
Egg
Greek Yogurt
Orange Juice
Orange Zest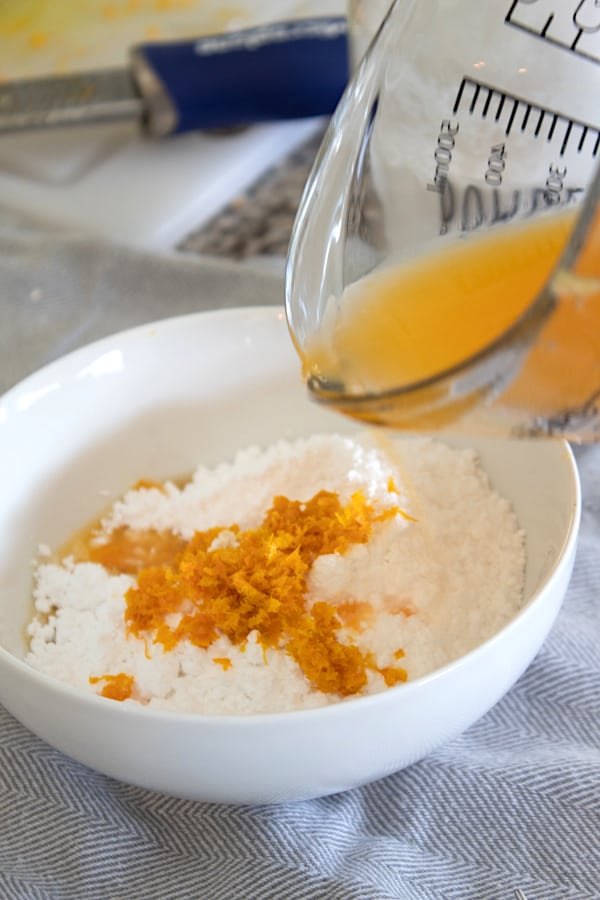 While the muffins are baking, we'll make orange glaze to top the muffins with. I find this glaze is what really sets apart this recipe- a combination of powdered sugar, orange zest and freshly squeeze orange juice mix together for a refreshing, citrus topping that via a few holes poked, will drip through to the muffin.
Orange Glaze Ingredients:
Fresh squeezed orange juice
Orange Zest
Powdered Sugar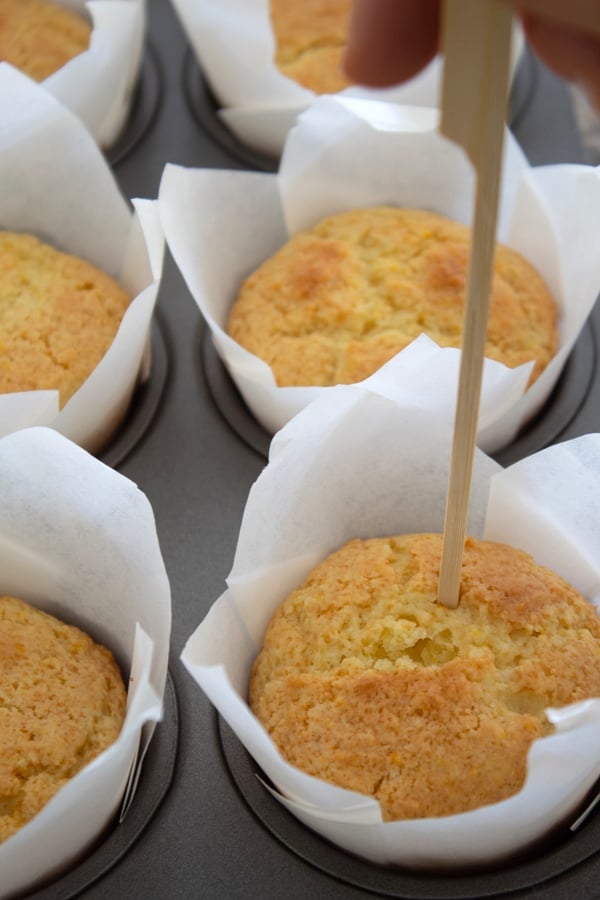 Once the muffins are out of the oven, allow them to cool for about 10 minutes. Gently poke a few holes, about 3-4 each. The muffins can still be mostly warm for the next step.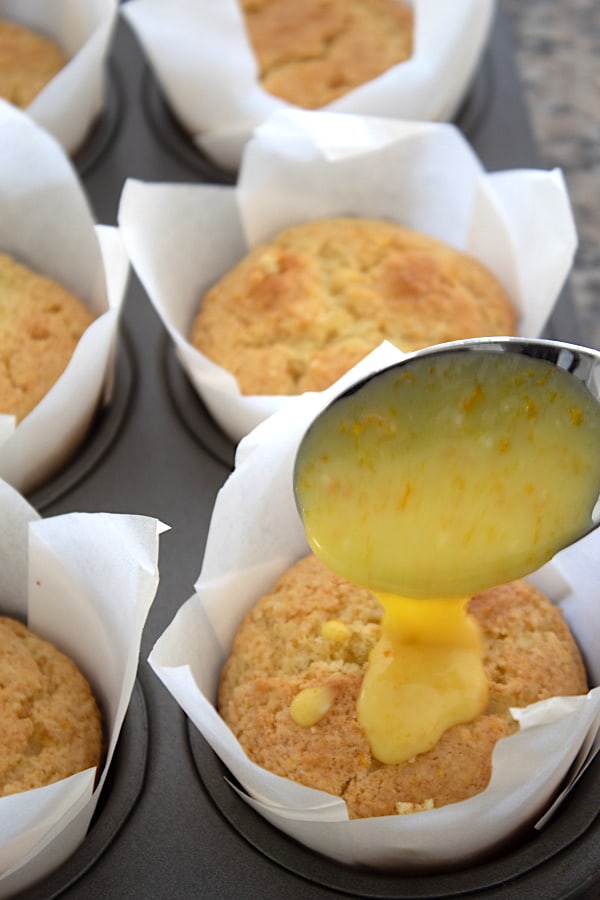 Spoon the glaze on top of the muffin. Give it a minute or two and it will gently sink into the holes you poked. This is the best part, pockets of delicious, glaze! yum!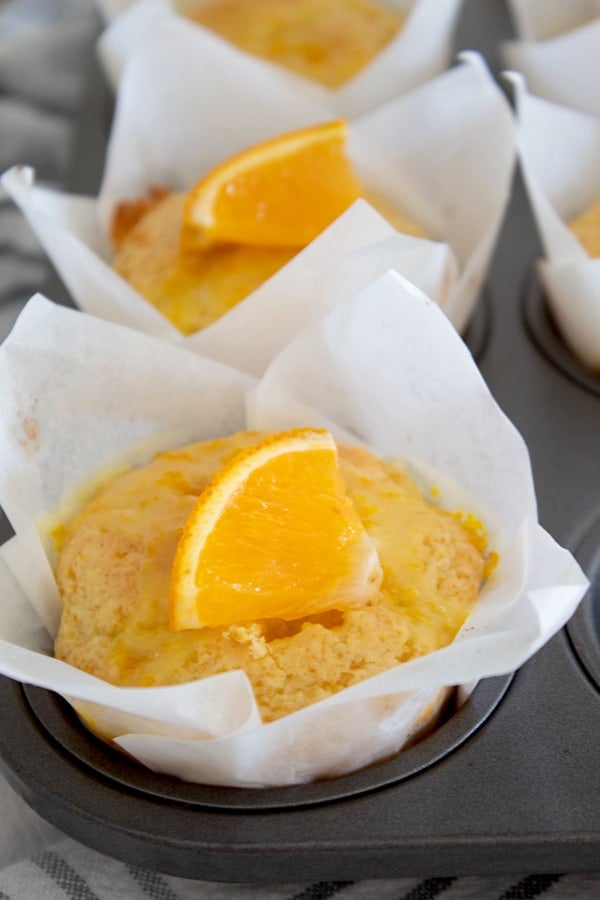 If you're bringing these to a brunch or a party, you can garnish them with an orange slice- even a candied orange slice or an orange zest ribbon would be cute, too.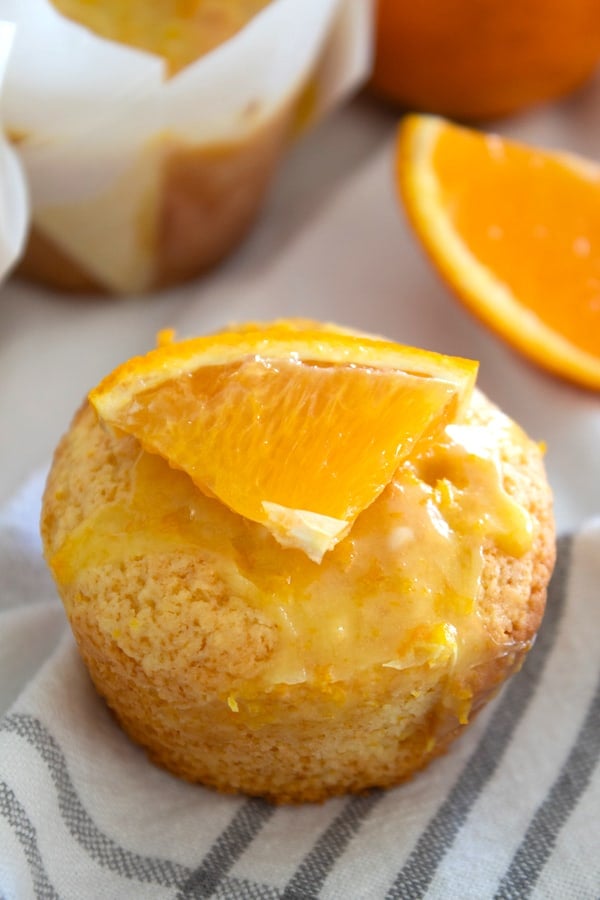 Do you love muffins? Here's a few more recipes we think you will like!
I hope you enjoy these delicious, orange flavored citrus muffins as much as I do. If you get the chance, I really encourage a trip to Laguna Beach to try the real thing…but if not, these will do just great, too (beach view not included :).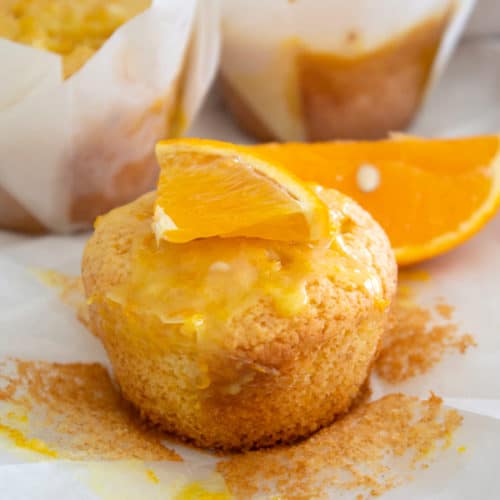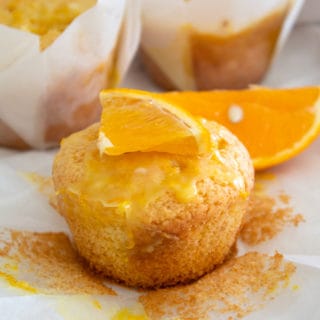 Ingredients
Muffin Batter
1 3/4

cup

all purpose flour

1

tsp

baking powder

1/4

tsp

salt

2/3

cup

sugar

1/2

cup

melted butter

(equivalent to 1 stick) (Omit salt if using salted butter)

1

egg

1/4

cup

fresh squeezed orange juice

1

tsp

vanilla extract

1

cup

greek yogurt

(or sour cream)

2

tbsp

orange zest
Orange Glaze
2

tbsp

orange zest

1.5

cups

powdered sugar

3

tbsp

orange juice
Instructions
Preheat oven to 350 degrees fahrenheit. Line a muffin tin with muffin liners. Spray with nonstick spray.

In a medium sized mixing bowl, combine dry ingredients in bowl and whisk (flour, baking soda, salt, & sugar) until combined. Add wet ingredients. Whisk to combine, batter will be thick (hand/stand mixer is recommended).

Evenly divide batter into muffin liners. Bake for 15 minutes, or until a toothpick inserted into center of muffin comes out clean.

While muffins are baking, combine glaze ingredients in a small bowl. Stir well with a fork to combine ensuring lumps are eliminated. Set aside.

Once muffins are removed from oven, allow to sit for 10 minutes, then poke 3-4 holes with a toothpick. Spoon about 1-2 tsp of glaze over each muffin. Serve & enjoy!