Nothing is better than a tender, mouth watering steak, but add a shallot and thyme infused pan sauce and you have yourself a restaurant quality meal! This pan sauce comes together in only 5 minutes, and it's the perfect topping for any steak. You can also use this method for pork chops!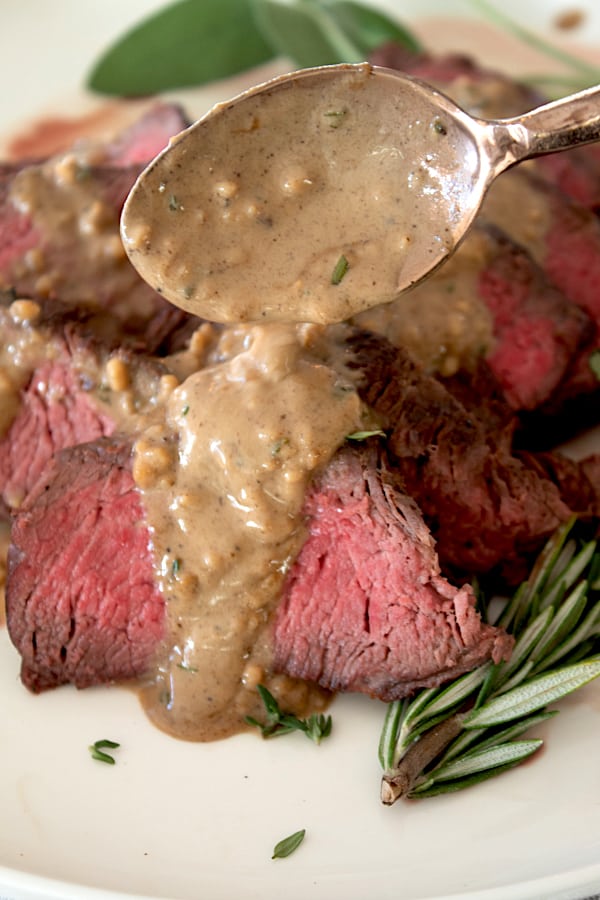 How to Cook Steak for Pan Sauce
The best methods for cooking steak are reverse searing, and pan cooking. Both use pan searing in one way or another, making them perfect for pan sauce (the brown bits are what give us the best flavored sauce!). 
Reverse Sear

Ideal for thicker cuts of steak, this method involves baking the steak first, then searing it for a short amount of time to add a crust.

Pan Cooking

The perfect cooking method for thinner cuts of steak, we allow the steak to sit out for 30 minutes to bring the steak closer to room temperature, then pan cook the steak in both oil and butter.
What is Pan Sauce?
Pan sauce is a sauce created from the leftover juices and bits from roasted meat, usually steak, but sometimes chicken and pork. A pan sauce combines an herby essence (garlic, shallots, fresh herbs),  a creamy element (dijon mustard, heavy whipping cream, etc), and a clear liquid (broth, water, or wine) is used to deglaze the pan, creating a silky, luscious sauce that perfectly complements any savory steak.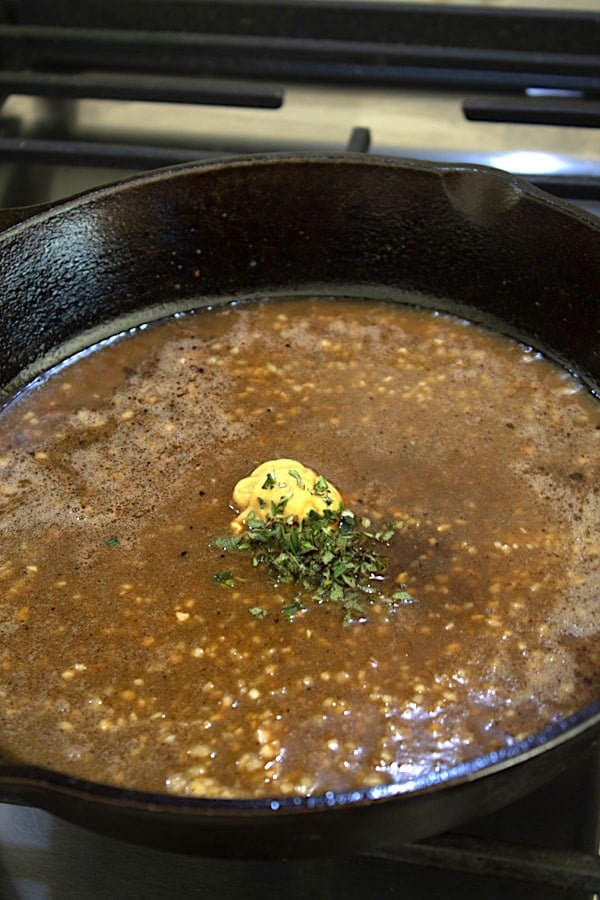 Steps to Make Pan Sauce
After pan cooking steak (or meat of choice), remove the pan from heat and allow it to cool for about 5 minutes. In the meantime, use a paper towel to absorb any excess oil from the pan, but be sure to leave the brown bits from the meat, as they add to flavor.
Return pan to heat on medium low, and add a finely chopped shallot. Saute until soft and golden (about 2 minutes). Deglaze the pan with beef broth while whisking. 
Add dijon mustard, fresh ground pepper, and fresh chopped thyme. Whisk to combine, and add heavy whipping cream.

PRO TIP: Use fresh herbs. They really infuse a strong, fresh flavor and make all of the difference!
After adding heavy whipping cream, let the sauce simmer for another 2 minutes, stirring often. Spoon over steak, and you have yourself a delicious restaurant quality pan sauce to accompany your steak!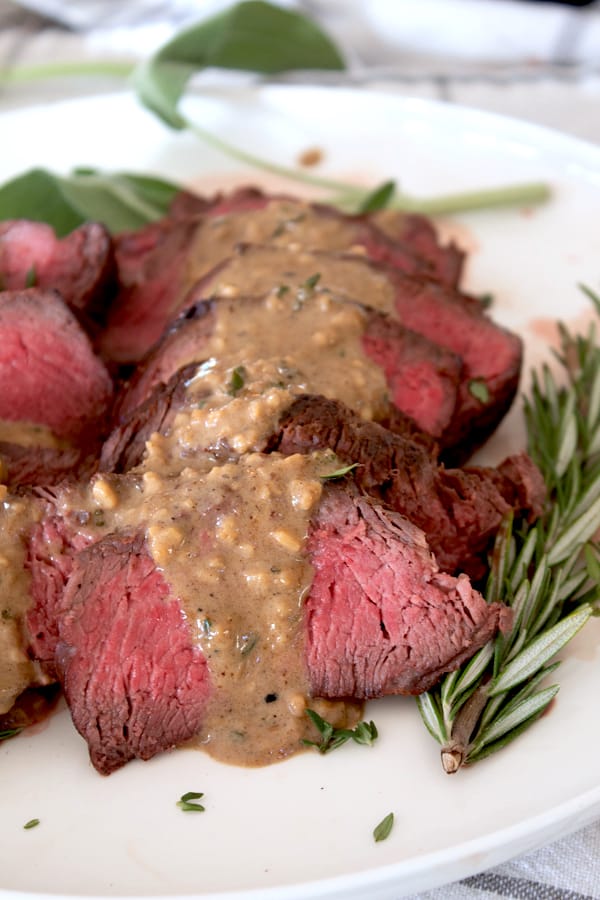 If you are looking for other ways to serve delicious proteins with pan sauces, here's a few more recipes we love. 
Cheers to easy and impressive recipes with big, restaurant flavor!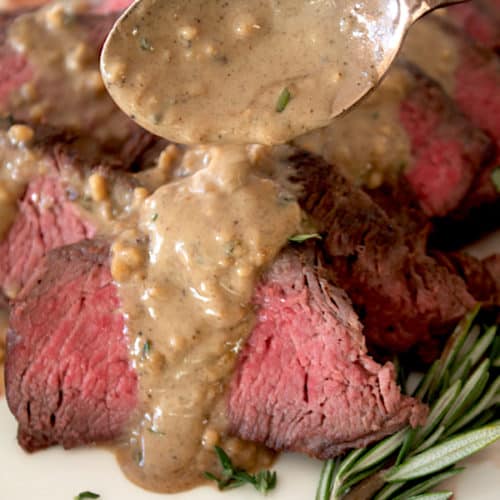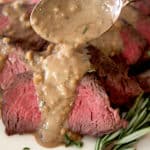 Steak with Pan Sauce
A delicious and easy guide to creating a restaurant quality pan sauce to accompany your steak.
Ingredients
2

tbsp

finely chopped shallot

1

tsp

dijon mustard

1.5

tsp

fresh chopped thyme

1/4

cup

beef broth

(chicken broth works in a pinch)

2

tbsp

heavy whipping cream

salt and pepper to taste
Instructions
After cooking steak in pan, turn off heat and allow pan to cool for 5 minutes. Use a paper towel to absorb excess oil, leaving small amount of oil and leftover brown bits from steak in pan.

Turn heat to medium low, and add shallots to pan. Once soft, add broth. Whisk in dijon, and thyme. Bring to low simmer, and add heavy whipping cream. Continue to whisk and simmer for 2 minutes. Add salt and pepper to taste.

Serve pan sauce over steak, serve & enjoy!
Nutrition Facts
Steak with Pan Sauce
Amount Per Serving
Calories 57
Calories from Fat 54
% Daily Value*
Fat 6g9%
Cholesterol 21mg7%
Sodium 146mg6%
Potassium 40mg1%
Carbohydrates 1g0%
Protein 1g2%
Vitamin A 294IU6%
Vitamin C 3mg4%
Calcium 19mg2%
Iron 1mg6%
* Percent Daily Values are based on a 2000 calorie diet.