There are fewer things I love more than peanut butter.  But add jelly and I am in cookie heaven!  Certified PB&J fanatic.  If I ever got a tattoo…it would say PB&J.  (no it wouldn't. It would say Chardonnay.  Just messing with ya :).
There are many things I love about my soon to be son-in-law.  He is kind, gentle and loves my daughter…that's a pretty good start.    But you know what really gets me?  His Grandma's jam! She makes Mason jars full of homemade jam and shares generously.   Peach, strawberry, mixed berry, raspberry and the list goes on and on.  I used raspberry for these little beauties but wouldn't peach be divine?
I am still recovering from my Peanut Butter Crinkle  obsession 'issues'.  I made a batch every weekend for about six weeks.  My jeans are getting tight and I've got wedding pictures coming up. It is time to get a grip on the cookie thing…argh!
But I had all this jam staring at me and a big jar of peanut butter left over from my PB crinkle binge days,  so whats a girl to do?  Does the jam count as a fruit serving? These are tiny little suckers…wouldn't three be one serving?  The cookie battle rages on and I am losing!
NOTE :  I highly recommend buying the raw sugar granules to roll the cookies in before baking opposed to regular granulated sugar.  It gives the cookie this great crackle crunchy thing.
If peanut butter isn't your thing (not sure we can be friends…but I'm willing to love you through it).  Try Brownie Cookies or how about cake?   This is my favorite!  Chocolate Cherry Sheet Pan Cake!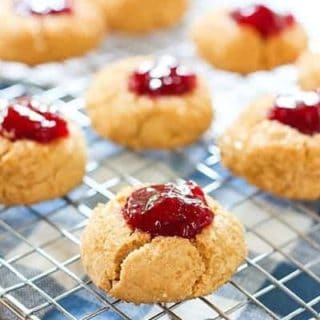 Peanut Butter and Jelly Cookies
Is there a better combo than Peanut Butter and Jelly? Get it all in one little cookie!
Ingredients
1 1/4

cups

all-purpose flour

1/2

teaspoon

baking powder

1/2

teaspoon

baking soda

1

teaspoon

salt

3/4

cup

smooth peanut butter

1/2

cup

butter

softened

1/3

cup

packed light-brown sugar

1/3

cup

granulated sugar

1/3

cup

raw sugar to roll cookies in

you can use regular granulated sugar in a pinch

1

large egg

1

teaspoon

pure vanilla extract

1/2

cup

raspberry jam
Instructions
Preheat oven to 350 degrees. Whisk together flour, baking powder, baking soda, and salt. Beat peanut butter and butter with a mixer on medium speed until smooth. Add brown sugar and granulated sugar , and beat until pale and fluffy. Add egg and vanilla, and beat until incorporated. Reduce speed to low. Add dry ingredients, and mix until combined.

Scoop level tablespoons of dough, and form into balls. Roll each ball in raw sugar, and transfer to parchment-lined baking sheets, spacing about 2 inches apart.

Bake until cookies are puffy, about 10 minutes. Remove from oven, and make indentations in centers by pressing with the handle end of a wooden spoon. Return to oven, and bake until edges are golden, 6 to 7 minutes more. Transfer cookies to wire racks, and let cool completely.

Microwave jam on high for about 15 seconds stirring, until loosened, Spoon about 1/2 teaspoon into each indentation.
Nutrition Facts
Peanut Butter and Jelly Cookies
Amount Per Serving
Calories 144
Calories from Fat 54
% Daily Value*
Fat 6g9%
Cholesterol 16mg5%
Sodium 202mg8%
Potassium 81mg2%
Carbohydrates 18g6%
Protein 3g6%
Vitamin A 130IU3%
Vitamin C 0.7mg1%
Calcium 14mg1%
Iron 0.5mg3%
* Percent Daily Values are based on a 2000 calorie diet.