Cinco de Mayo is coming up and we love any excuse to cook up a healthy and filling meal! These Taco Stuffed Zucchini Boats are filled with corn, fire roasted tomatoes, black beans and ground turkey for a family favorite and a great way to enjoy all the flavors of tacos, but in a healthy, lower carb form.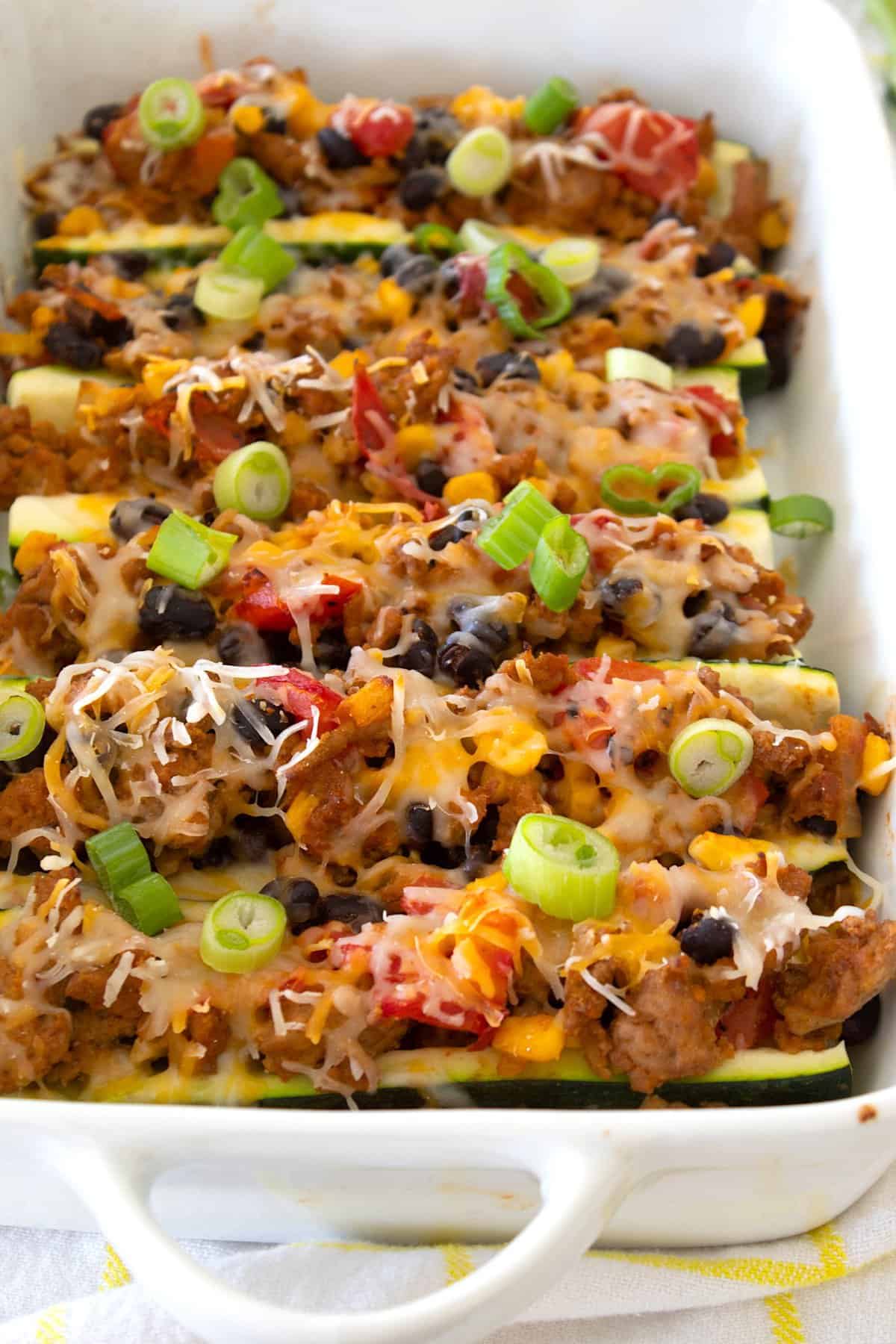 What are zucchini boats?
Zucchini boats are zucchinis that have been sliced lengthwise, and the 'meat' has been removed with a spoon, creating a boat like shape that can be filled with whatever you like! For this version, we fill them with taco meat, beans, corn, and tomatoes.
How do you eat zucchini boats?
You can either use a knife and fork, or you can eat them whole using your hands. I prefer to eat them whole so they feel more like a taco…I have to trick my brain into thinking it's eating something not healthy sometimes. 🙂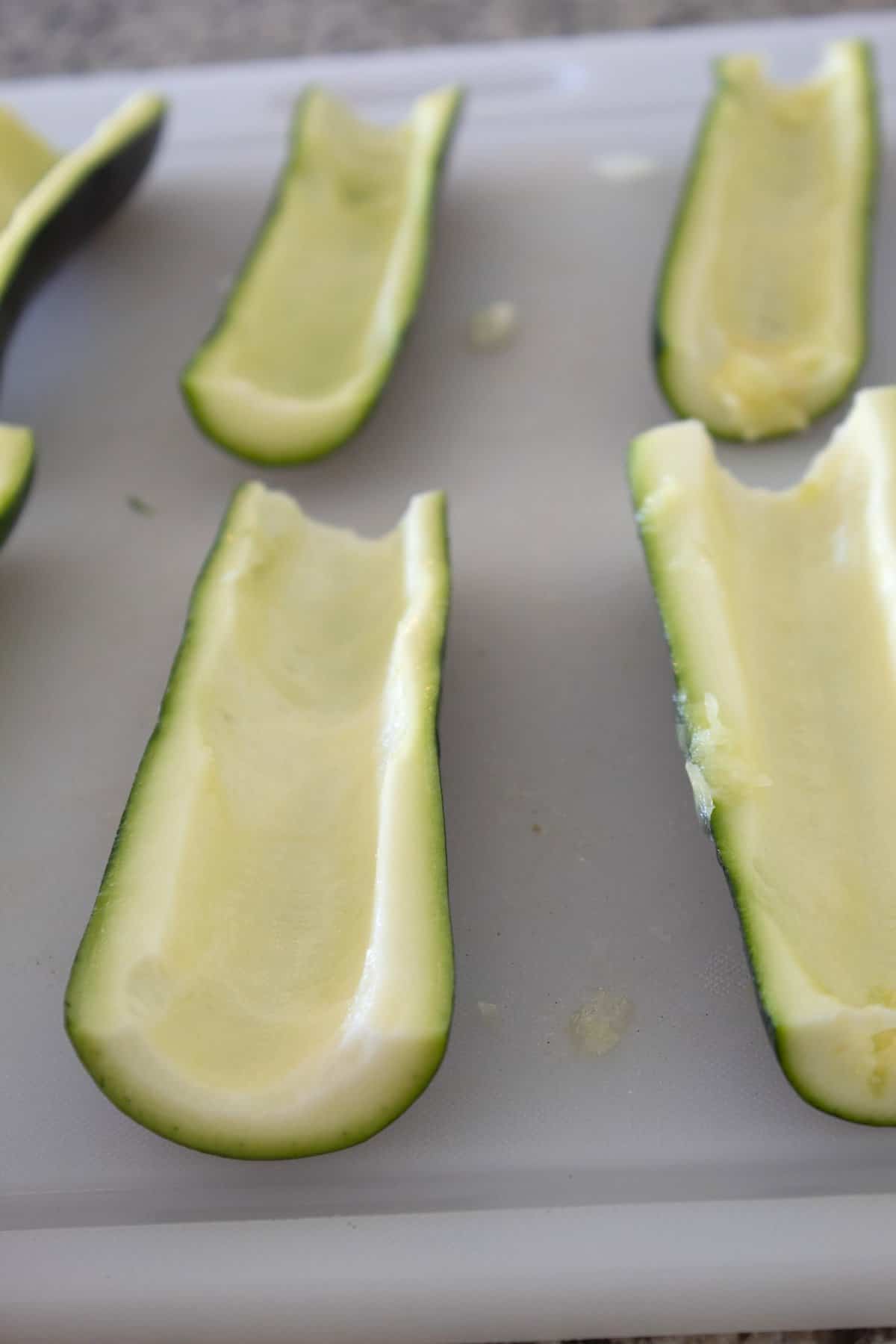 The first step to making zucchini boats is to core out the zucchini into their boat shapes. Cut the zucchini in half (lengthwise) and using a spoon, carve out the 'meat'. Some recipes call for using the zucchini 'meat', I don't like to because it has so much water in it, I find it waters down whatever you're filling them with.
Depending on how you like your zucchini cooked, you can pre-roast the zucchini if you prefer them more tender, or you can skip this step to cook them all at once.  I like to bake it all at once as I like a little bit of crunch to the zucchini!
Pre-Roast Instructions: Preheat oven to 400 degrees Fahrenheit. Place carved zucchini boats in a greased casserole dish, and rub the tops of them with olive oil, salt and pepper. Roast for about 15 minutes, or until you reach the desired doneness of your choice.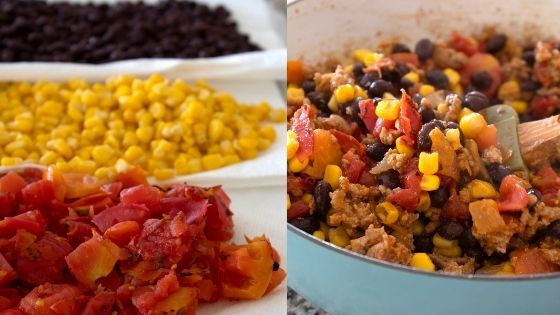 Ingredients:
For any canned ingredients used, make sure you drain them well and pat dry with a paper towel. Zucchini on its own has alot of water in it, so we want to minimize any excess water with additional ingredients to keep them fro getting soggy.
Onion: Any kind will do. I used white.
Ground Turkey: Any ground meat would work, even Beyond meat if you're vegetarian would be great.
Fire Roasted Tomatoes: You can use fresh if desired, I like canned fire roasted for added flavor.
Corn: Fresh, canned or frozen. If using fresh, consider limiting the cook time for additional crunch.
Black Beans: If you're going low carb, try adding peppers- bell pepper, or even poblano would be great. Like it spicy? Try jalapeño!
Taco Seasoning: Make your own or use store bought. I like Pioneer Woman's recipe!
Cheese: Optional, but I would suggest a little bit to top the off. Queso fresco or a cheddar blend is recommended.
How to Make Taco Boat Filling
In a sauté pan on medium heat, sauté onion in olive oil. I like to do this first to get a good brown crust on them, but chef's choice as to how you prefer yours cooked. You can go translucent, or almost caramelized.
Add ground turkey, and mix with onion until fully cooked. Mix in taco seasoning (and a tbsp of water if needed).
Add tomatoes, corn and black beans.
Turn heat off and set aside.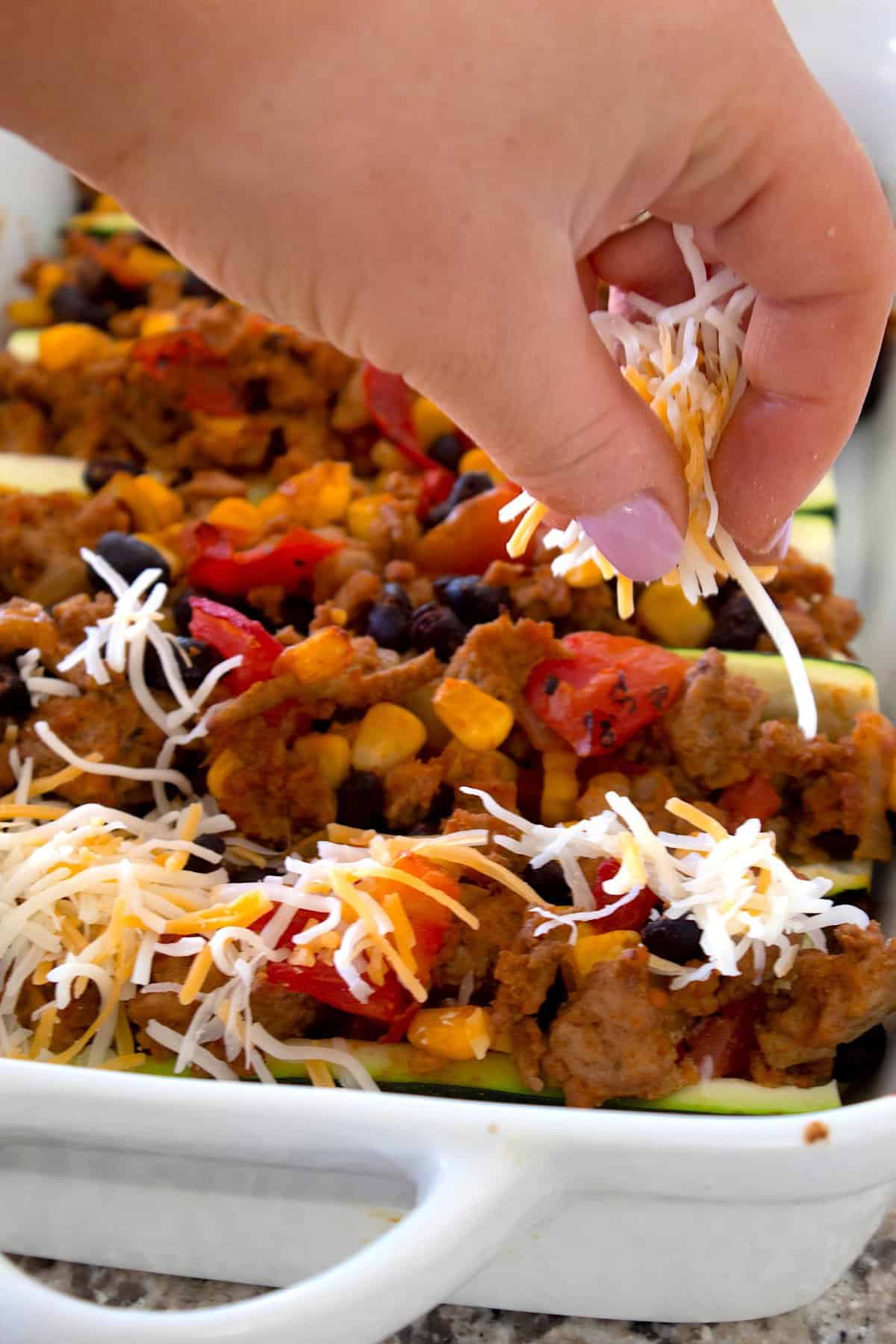 Once the filling is cooked, top the zucchini boats with it, and bake for about 15-20 minutes, or until the zucchini is cooked to your liking. You can top with cheese before baking for a crispy crust, or you can wait to add it until right before serving for a gooey topping. Chef's choice!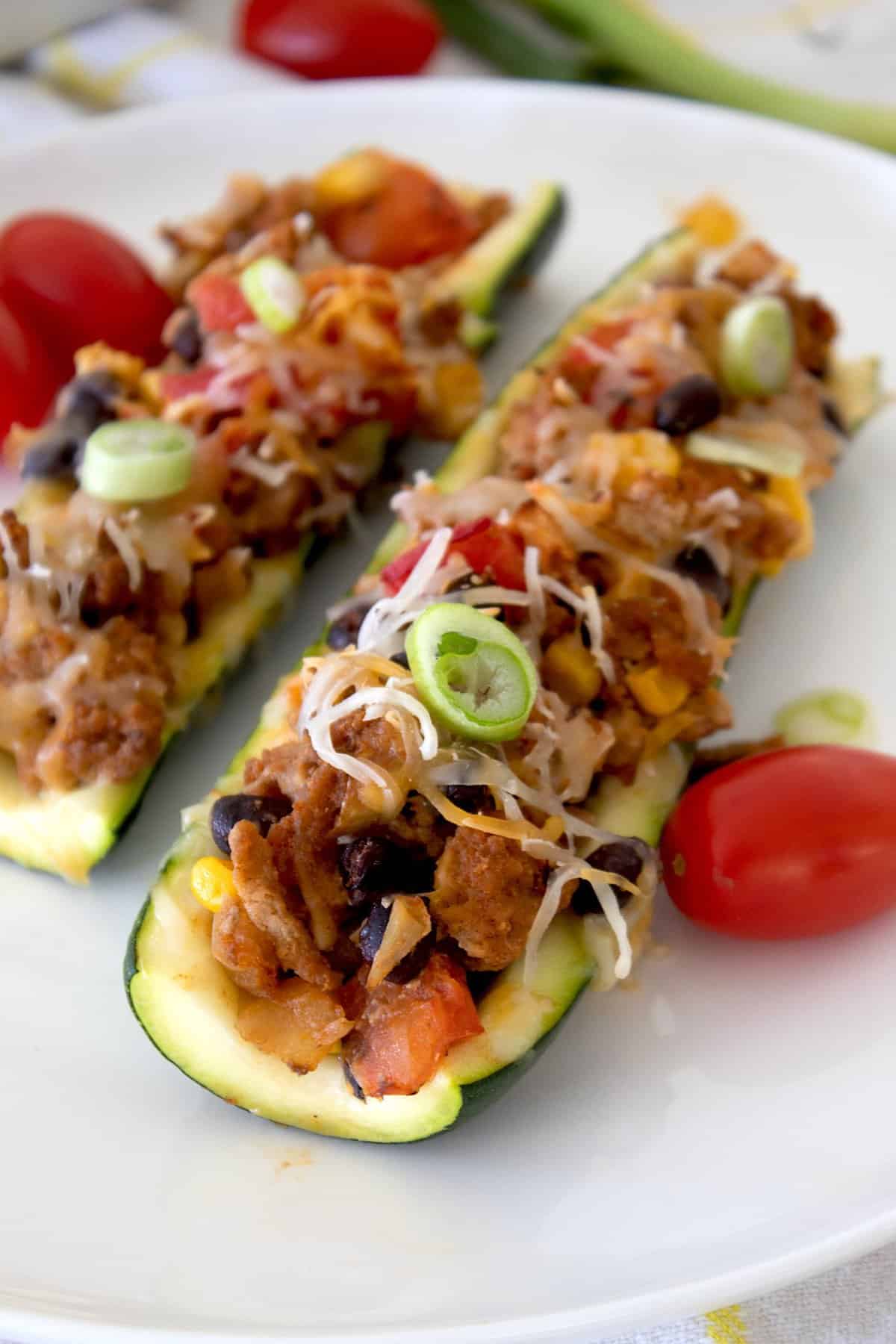 There you have it, healthy taco style zucchini boats!
Looking for more recipes with Zucchini? Here you go!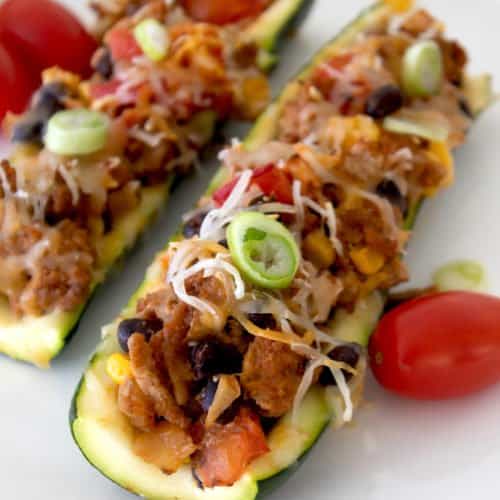 Taco stuffed Zucchini Boats
A healthy taco filled, low carb dinner that everyone loves!
Print
Pin
Rate
Servings:
6
Zucchini Boats
Ingredients
3

medium to large zucchini

1/2

cup

diced onion

1

tsp

olive oil

1

lb

ground turkey

2

tbsp

taco seasoning

(plus 1-2 tbsp water if needed)

1

15 oz

can fire toasted tomatoes, drained well

1

15 oz

can black beans, rinsed and drained well

1

cup

corn

(frozen, fresh or canned)

1/4

cup

shredded cheese

(optiona, to top)
Instructions
Preheat oven to 400 degrees fahrenheit.

Prepare zucchini: Cut lengthwise in half, and spoon out 'meat'. Place in casserole dish and set aside.

*See blog post about precasting zucchini if desired.

In a sauté pan on medium heat, sauté onion in olive oil.

Add ground turkey, and mix with onion until fully cooked. Drain fat if necessary. Mix in taco seasoning (and a tbsp of water at a time if needed).

Add drained tomatoes, corn and black beans. Incorporate into meat/onion mixture. Turn off heat and set aside.

Add taco stuffing on top of zucchini boats (there will be a fair amount of filling, top them high, or reserve remaining filling for salads later!). Top with cheese if desired and bake for 20 minutes.
Nutrition
Calories:
136
kcal
|
Carbohydrates:
7
g
|
Protein:
20
g
|
Fat:
4
g
|
Saturated Fat:
1
g
|
Polyunsaturated Fat:
1
g
|
Monounsaturated Fat:
1
g
|
Trans Fat:
1
g
|
Cholesterol:
45
mg
|
Sodium:
136
mg
|
Potassium:
303
mg
|
Fiber:
1
g
|
Sugar:
2
g
|
Vitamin A:
197
IU
|
Vitamin C:
3
mg
|
Calcium:
30
mg
|
Iron:
1
mg