This is a one bowl, 10 minute prep time recipe.  Once you make this you will never go back to a box mix!    It's a combo of chocolate, coffee, butta, sugar, a sprinkle of salt.  It's just everyday stuff but when combined, magic happens.  The frosting is a two ingredient chocolate ganache.  Ganache is just a fancy word for melted chocolate and cream.  I do this in the microwave…doesn't get much easier
This is the second time I have made this, the first batch didn't last long enough to take pictures.  I don't know who ate it, I just woke up the next day and it was gone. mmmmmm, hate that when that happens. This time, I snapped a few pics before it went AWOL.  You can see by the cake pan in the background that it narrowly  made it.
My very first 'pour shot'!   Next time I'd probably clean up the counter behind it :)…. but it sure was fun to take!  Oh boy you can almost taste that creamy perfect ganache….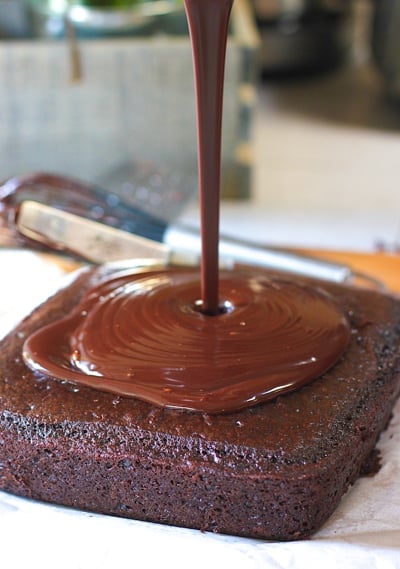 Save a cup of coffee from your morning brew and whip this up. I should mention there is no taste of coffee, it simply enhances the chocolate flavor  – your family is soooo gonna love you!
Need more cake? …and who doesn't? Here is a grown up version of this same easy recipe! It is killer and your friends will love you. Made your in laws mad? Husband cranky? Mend EVERYTHING with this cake. For real.
Double Chocolate Whiskey Cake with Whiskey Ganache !
Don't let the ingredient list scare you, it's only long because I included the recipe for an 8 x 8 AND 9 x 13 pan.  Because sometimes you need a little cake…and sometimes you need a lot!
The Best Chocolate Cake!
A delicious and easy to make chocolate cake your whole family will love, with an easy to make homemade ganache that's 100% foolproof!
Keyword:
cake, chocolate cake, easy chocolate cake
Ingredients
Recipe For an 8 x 8 Cake

see recipe for 9 x13 below

1

egg

1

cup

white granulated sugar

1/2

cup

sour cream Do not use fat free

or greek yogurt

1/4

cup

vegetable oil

2

teaspoons

vanilla

1/2

cup

unsweetened cocoa powder

1/2

cup

brewed

cooled coffee

1

cup

flour

1

teaspoon

baking soda

1/2

teaspoon

baking powder

1/2

teaspoon

table salt

1

teaspoon

sea salt for sprinkling

optional

For an 8 x 8 Ganache Frosting

1

cup

semi sweet chocolate chips

1

cup

heavy cream

1

teaspoon

vanilla

Recipe for a 9 x 13 Cake

2

eggs

2

cups

white granulated sugar

1

cup

sour cream or greek yogurt

do not use non fat

1/2

cup

vegetable oil

1

tablespoon

vanilla

1

cup

unsweetened cocoa powder

1

cup

brewed coffee - cooled

2

cups

flour

1 1/2

teaspoons

baking soda

1

teaspoon

baking powder

1

teaspoon

salt

2

teaspoons

sea salt for sprinkling

optional

Recipe for a 9 x 13 Frosting

2

cups

semi sweet Chocolate chips

2

cups

heavy cream

2

teaspoons

vanilla
Instructions
Preheat oven to 350 degrees.

Select size of cake from above recipe and proceed with instructions:

Spray an 8 x 8 pan or a 9 x 13 pan with non stick spray.

In large mixing bowl combine egg, sugar, sour cream, vegetable oil and vanilla until well blended.

Add cocoa powder and coffee. Mix until no lumps are evident.

Add flour, baking soda, baking powder and salt.

Mix until just combined.

Pour into prepared pan.

x 8 pan - bake for 25-30 minutes

x 13 pan bake for 30-35 minutes

Or until a toothpick inserted in the center comes out clean

Let cake cool completely before frosting.

For Ganache Frosting

Pour chocolate chips in large microwave save bowl and microwave for one minute until just soft.

In another microwave safe bowl heat cream until it just begins to boil. About 2 minutes. Pour over chocolate chips and let sit for 2-3 minutes. Using a wire whisk, mix well.Chocolate will melt and will become a creamy consistency. Add vanilla. Cool in fridge for 10-15 minutes before frosting cake.Note: If you are in a hurry to serve, I found that chilling the cake after frosting it, for 30 minutes helped set up the ganache.
Lovingly adopted from Averie Cooks