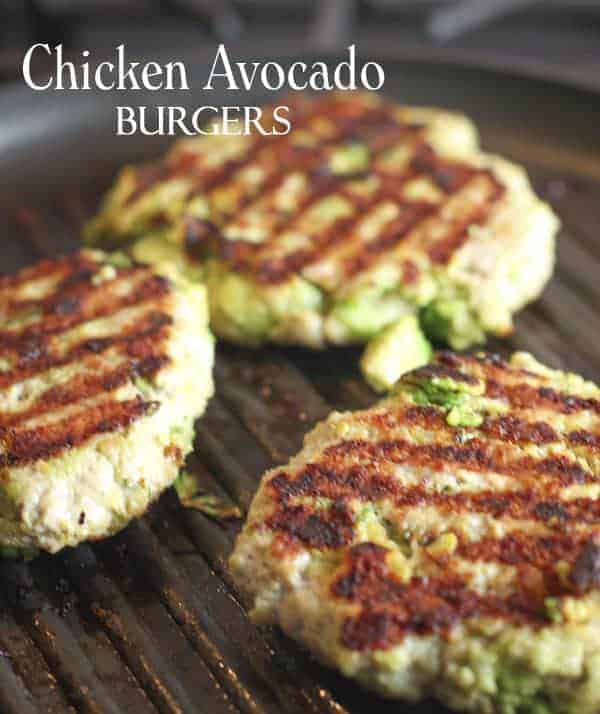 These were heaven!  #Paleo #Whole30 #cleaneating #deliciousness
I have made these many times now.  I love them with ground chicken but ground turkey will work in a pinch.  (consider increasing  your garlic, salt and pepper with the turkey to kick up the flavor a bit).
This has turned out to be the most viewed post on my blog…to say I didn't see that coming is an understatement.  The reason for it's popularity is because it is so Paleo and Whole30 friendly, not to mention super easy.
Make a double batch, you will be glad you did!  Hellooo lunchbox!
Notes:
I usually cook these on a grill pan indoors, it helps keep the meat moist…but you can certainly grill these outdoors.  Just be careful not to overcook.
When mixing the avocados and forming the patties – go gently to keep the avocado chunks intact.  Using a more firm avocado will help as well.
These will keep for several days in your fridge.  I have frozen them as well,  and the avocado holds up really great!  Wrap individually and store in freezer safe ziploc bag.
Great add in is chopped Poblano (for a little heat) or chopped Jalapeno (for more heat!)
A few other fast, fresh and fabulous meals for you to try that are Paleo and Whole30 Compliant!
Easy Roasted Chicken with Lemon and Rosemary!  – switch out the red potatoes for sweet potatoes to kick it up!
30  Minute Chicken Puttanesca! – One pan and tons of flavor!  This comes together quickly and if your not an olive fan, no worries, just leave them out!
And a ton more easy, yummy Whole30 and Paleo recipes for you to try !  (you know your plan best, omit and substitute as needed).
Have a fabulous day!
Clink,
Kathi

Chicken Avocado Burgers
Ingredients
1 pound ground chicken
1 large ripe avocado - cut into chunks
1 chopped clove of garlic
⅓ cup Panko crumbs or Almond meal (to keep it Paleo friendly )
1 minced Poblano or Jalapeño pepper (optional but recommended)
½ teaspoon salt
¼ teaspoon pepper
Instructions
Add all ingredients to a large bowl and toss gently.
Shape into desired size patties and grill inside or out!
Based on Panko crumbs not almond meal:

Other stuff thats yummy: