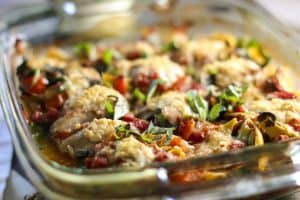 This recipe had me at the word 'Italian'.  I love Italian food, especially one pot, bang it out after work Italian food!    But when I looked at the ingredients and the preparation I was thinking ' how basic and simple…it couldn't possibly  be that good. '   But it is!….   it is that good, because it is so basic and simple!  I am crazy for one pot dinners, another great one is Skillet Sausage Pasta - even the pasta is cooked in the same pot.
You can taste the artichokes, tomatoes, garlic and herbs with every bite…and simple?  Mix up veggies and dump over chicken.  Perfect week night meal.
Notes:
I used chicken thighs but breasts will work just great.  In fact the original recipe called for breasts but I'm a thigh girl.
The first time I made this, I used marinated artichokes, the second I used canned.  You can go either way but I like the extra zing of the marinade.
Drain the artichokes and tomatoes really well.  Like pour them out of the strainer and onto a paper towel.  Too much water and the flour won't be able to thicken up the juice from the chicken.
I'm going to try this Southwest style soon…corn, chili's, tomatoes, cumin…yum!
Italian Chicken
Ingredients
6 chicken thighs – (bone in or out will work – just adjust cooking time)
1 8oz jar marinated artichoke hearts – drained well
1 14.5 oz can roasted tomatoes – drained well
2 cloves garlic – chopped
2 tablespoons flour
2 tablespoons olive oil
½ teaspoon salt
¼ teaspoon pepper
1 cup grated mozzarella or parmesean
Instructions
Preheat oven to 350 degrees.
Coat a 9 x 9 baking dish with non stick spray.
Place chicken in baking dish
In mixing bowl, combine all other ingredients.
Pour over chicken.
Bake for 40 minutes or until chicken is completely cooked through.
Top with cheese and bake an additional 5 minutes.
Garnish with fresh basil if desired.

Other stuff thats yummy: