Easy and Tender Slow Cooker Pot Roast has simple flavors and a foolproof recipe combined with the ease of a slow cooker. I started mine in the morning around 9, and we ate dinner around 6. We use red wine for a deep, delicious flavor. 
I use a dutch oven slow cooker, basically it's like an Instant Pot but in the form of a  dutch oven (but no pressure cooking option). I like it because I can brown the pot roast, sauté the veggies then slow cook the roast all in the same pot.This device is not necessary to this recipe though. You can use a stovetop pan to do any searing or sauteeing and then transfer to the slow cooker. 
I start my pot roast by patting it dry to remove any excess moisture, then  add salt, pepper, and granulated garlic to it. I sear the pot roast in olive oil in the dutch oven for about 5-6 minutes on each side. The pot roast will be golden brown on both sides and raw in the middle, so handle with care…it will not be fully cooked until the slow cooking process is over. As the old saying goes…"Wash your hands and say your prayers because Jesus and germs are everywhere!".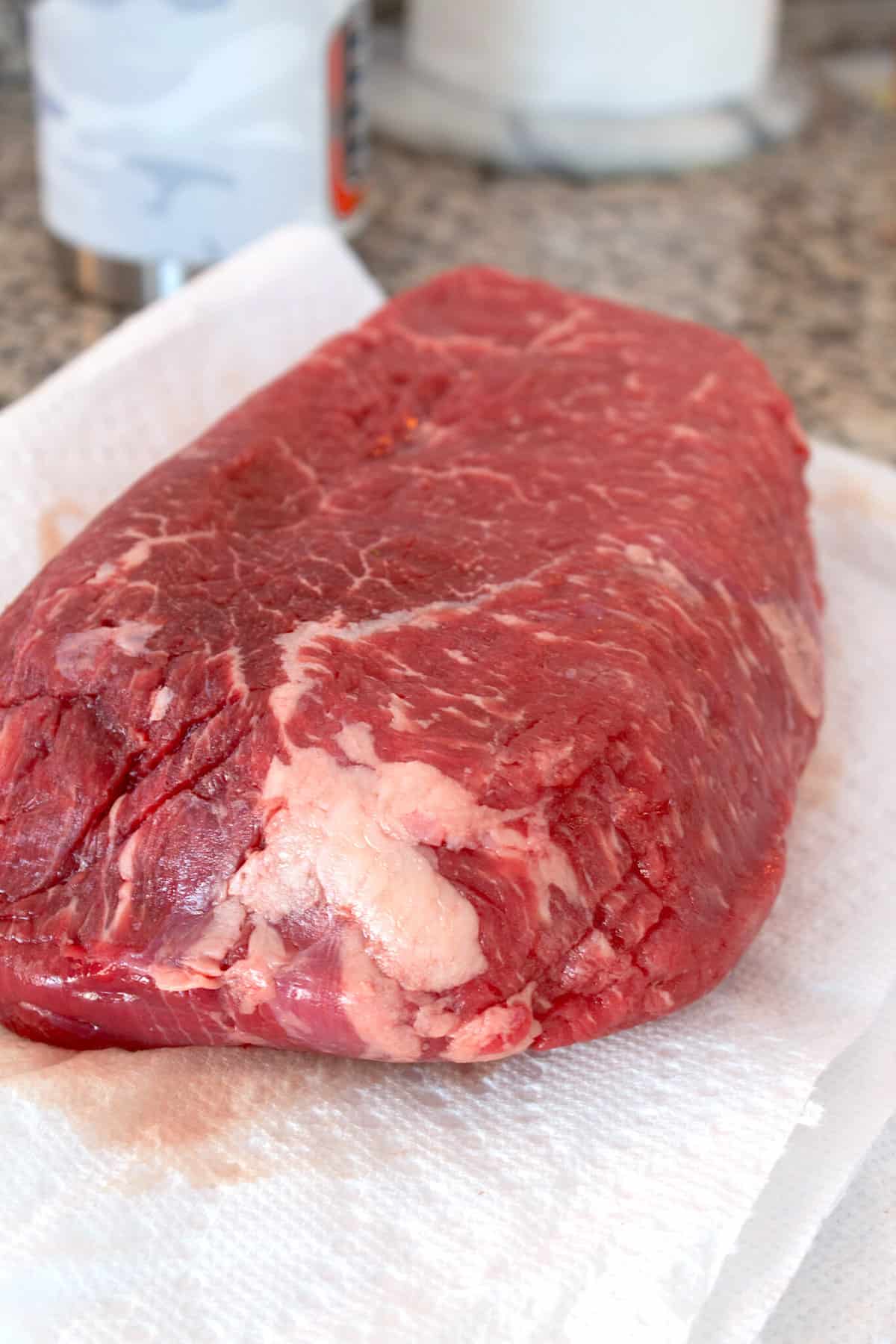 Next I remove the pot roast, and add peeled and rough chopped carrots, celery, and thick chopped white onion, a smidge of olive oil and some salt and pepper. Sauté until brown (see below!). 
After the vegetables are browned as desired, add in tomato paste, red wine (or beef stock if you prefer), fresh thyme, worchestershire, and pepper to the pan with the vegetables. This will create a medium thick sauce that will help deepen the flavor of the pot roast as it cooks.  Place the pot roast in the pan, and cook on low for roughly 6 hours, or until the pot roast tenderly shreds.
Pro tip? Don't lift the lid prematurely! Keep the heat in there for tender, delicious, perfectly cooked meat.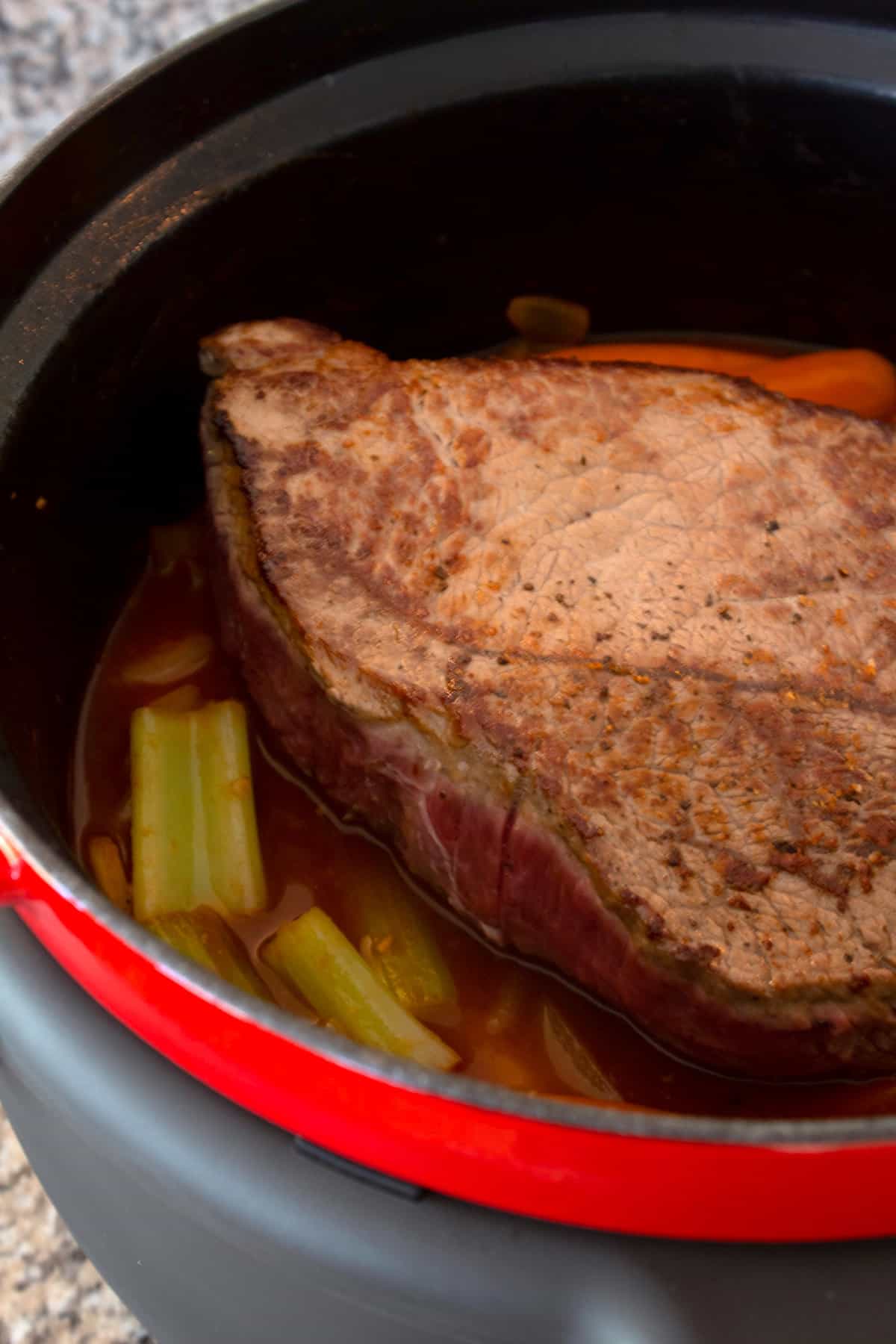 Pot Roast Q&A
Potatoes! What's the best way to add potatoes? 

Adding potatoes to a pot roast in the slow cooker can be a controversial subject. Some people love them, others think they get overdone. My solution for perfectly cooked slow cooker potatoes with pot roast? Add them around the pot roast once it is halfway done, and do not stir! Before adding potatoes, you can toss them in your favorite seasoning for added flavor. You can also just leave them simple and dress them as you like before you eat.

How do I know what kind of beef to purchase?
What do I do with leftover pot roast?

Shred the pot roast, add BBQ sauce, and slather on Hawaiian rolls. Bake in foil for 15 minutes or until heated throughout. Serve with cole slaw! 
Add your shredded pot roast to a pan, add taco seasoning and some beef broth. Use as taco filling.
Make leftover pot roast patty melts! I LOVE this recipe- toasty bread, melted cheese, tender pot roast- you really can do no wrong.
Pot Roast can be made in a variety of ways!
Slather your pot roast in dijon, salt and pepper to kick up your flavor. Horseradish is great too if you like a kick.
Add a variety vegetables to your slow cooker; green beans, potatoes, carrots, onions, purple onions, celery. Parsnips, even beets would be delicious. Be cautious, to avoid softer vegetables don't add them too soon as they can get mushy. Halfway through works great!
Don't like slow cooker vegetables? Skip adding any to your slow cooker, and roast them on a sheet pan in your oven. I like this recipe from Julie Wampler at Table for Two Blog. She uses a combination of vegetables I wouldn't think of, and they come out seriously delicious.
Add a good, hearty side dish; baked potatoes, pasta (egg noodles!), or rice is delicious. We looove serving this with our famous homemade rolls.
Make some delicious pan gravy to serve over it; bonus- use the liquid from the slow cooker to make it in place of the beef stock in this amazing Mushroom Gravy recipe. 
What do you think about this recipe? Have questions? Comment below! Don't forget to like us on Facebook, and connect with us on Instagram and tag your @Laughingspatula recipes with #laughingspatula, while you're at it…We love to see your pics! 
Enjoy your cozy pot roast dinner!!
-Rachel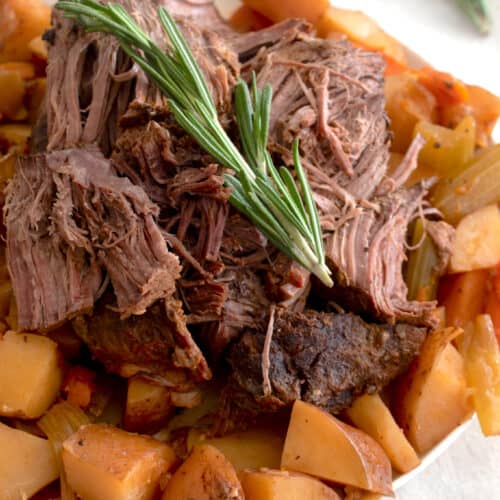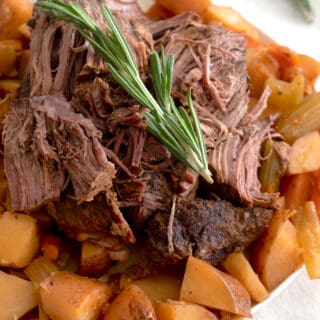 Easy and Tender Slow Cooker Pot Roast
A perfect meal for any night of the week with simple instructions; this no fail recipe is delicious.
Print
Pin
Rate
Equipment
Dutch Oven or Stovetop Pan
Ingredients
1

3-5 lb

chuck roast

1

tsp

salt

1

tsp

pepper

1/2

tsp

granulated garlic

2

cups

rough chopped carrots

or whole baby carrots

1

cups

rough chopped white onion

2

cups

diced red potatoes

2

tbsp

olive oil

2

tbsp

tomato paste

2

cups

red wine OR beef broth

1

tsp

fresh chopped thyme

.5

tsp

Worcestershire sauce
Gravy (optional)
1

tbsp

cornstarch

3

tbsp

water

1

tsp

butter (salted)
Instructions
In a small bowl, combine salt/pepper/garlic powder & stir to combine.

Remove raw roast from packaging. Pat dry with paper towel, and coat entire roast in salt/pepper/garlic mixture.

In a dutch oven (or large enough stovetop pan), heat 1 tbsp olive oil on medium heat. Add roast and cook 5-7 minutes on each side or until each side is golden brown. Remove from pan once exterior is seared to liking.

Add remaining 1 tbsp of olive oil to pan along with onions, carrots and celery and sauté until slightly browned. Remove vegetables from pan and turn off heat.

In a small bowl, whisk together tomato paste and wine (or broth), thyme & worchestersire and add to slow cooker, along with sautéed vegetables and pot roast. Cook on low for about 7-8 hours. Halfway through, add diced potatoes on top of roast (do not stir into broth to avoid mushy potatoes). Serve as desired, or continue recipe for gravy instructions.

GRAVY RECIPE: After roast is fully cooked, remove meat and vegetables. Strain leftover liquid (be cautious it is hot), from slow cooker through a fine mesh strainer (or cheesecloth) into a shallow sauce pan. Heat on medium-high, and once simmering, whisk in cornstarch slurry. Sauce will thicken quickly. Remove from heat once thickened, and whisk in 1 tsp butter.
Nutrition
Calories:
173
kcal
|
Carbohydrates:
19
g
|
Protein:
2
g
|
Fat:
6
g
|
Saturated Fat:
1
g
|
Polyunsaturated Fat:
1
g
|
Monounsaturated Fat:
4
g
|
Trans Fat:
0.03
g
|
Cholesterol:
2
mg
|
Sodium:
478
mg
|
Potassium:
542
mg
|
Fiber:
3
g
|
Sugar:
5
g
|
Vitamin A:
7237
IU
|
Vitamin C:
10
mg
|
Calcium:
34
mg
|
Iron:
1
mg
*This post  may contain affiliate links, which means I might receive a very small commission, at no additional cost to you,  should you chose to purchase that linked item.  I only link to items I know and trust.   Clink!