This  Italian Wedding Soup is so delicious- the perfect blend of vegetables, meatballs, and and pasta all come together in a delicious, simple broth. An easy comfort food that doesn't take long to make and packs a flavor punch. Another bonus? Our version only takes 30 minutes and is made all in one pot. No dirtying sheet pans for meatballs…yay!
First things first- gather your ingredients and let's get the prep out of the way. Chop carrots, onion, and greens (we use spinach) as well as some fresh herbs. Then, mix your meatball mixture; we use chicken sausage, along with an egg and breadcrumbs. Add 1 tablespoon butter and 1 tablespoon olive oil to a large soup pot. Form the meatballs into 'balls' and cook until browned.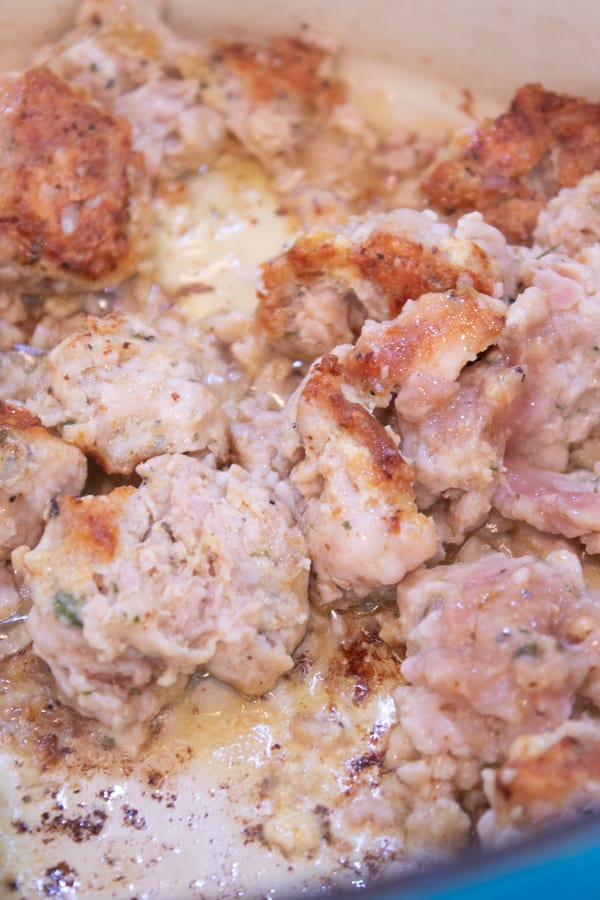 When making Italian Wedding Soup, many  recipes call for cooking the meatballs in the oven separately. We prefer the 'one pot' method for several reasons. 
Browning the meatballs in your soup pot creates more flavor, and an ultimately more flavorful soup. 
The meatballs will naturally somewhat fall apart in the pan- this is okay. Rustic chunks of meat in your soup are more aesthetically pleasing than a bajillion meatballs. 
This keeps everything in 1 pan. Why add more steps when you don't have to?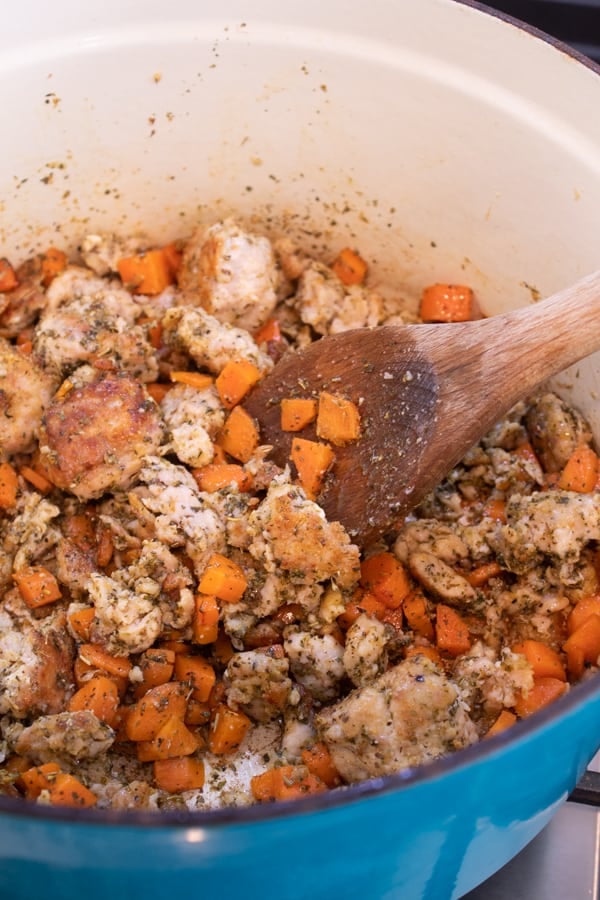 Next step- add your veggies and fresh herbs. Italian Wedding Soup vegetables range from a full mirepoix mixture, to just carrots. We opted for carrots and onions only. Fresh herbs will also help kick up the flavor of this soup; we use thyme, parsley, and rosemary. Saute carrots along with chicken sausage until about 50% soft, then add onions. We wait to add the onions so they don't caramelize. After adding the onions, add broth, and then it's pasta time!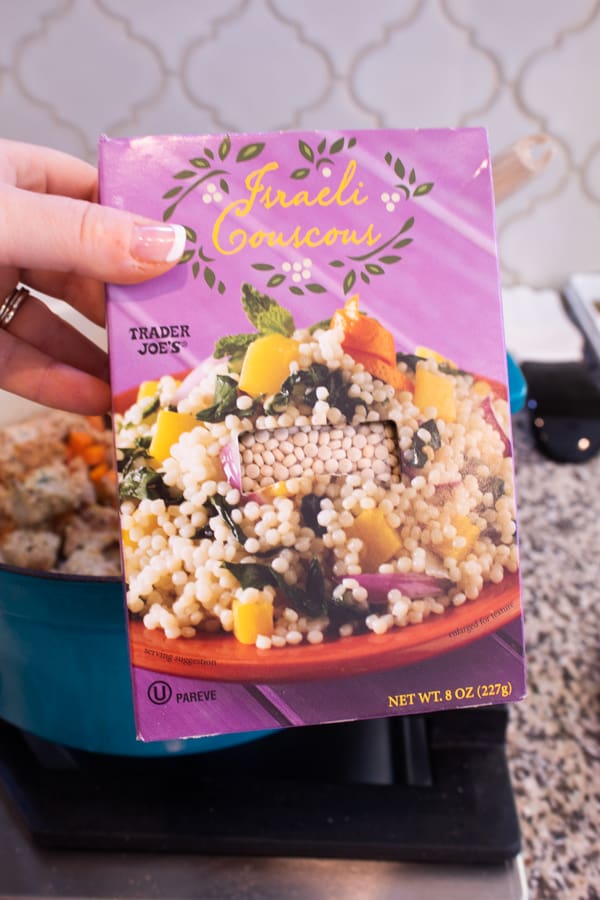 So, funny thing about this soup is that it's most popular in the United States. It's not necessarily traditional, which means there are a variety of ways to make it. Some varieties of Italian Wedding Soup call for Acini de Pepe pasta (in Italian- Acini de Pepe means 'Grains of Pepper') which is peppercorn shaped pasta. I have found that difficult to find in grocery stores, so I go another route and use Israeli Couscous which is common among Italian Wedding Soup recipes as well. I get mine at Trader Joes. It is in the pasta aisle. 
After the Couscous is fully cooked, and just shortly before you are ready to serve, add your greens. I like to add the greens about 5 minutes before it's served- just enough time to soften them,but not enough time to wilt them. Greens are an important staple of Italian Wedding Soup; The soup originally was called 'Minestra Maritata' which means 'married soup'. We're not talking about nuptials- but the 'marriage' of greens and meat in soup broth. The original, more traditional version of this soup features escarole, kale, chard, and chapini…But, for this Americanized version, we just use spinach.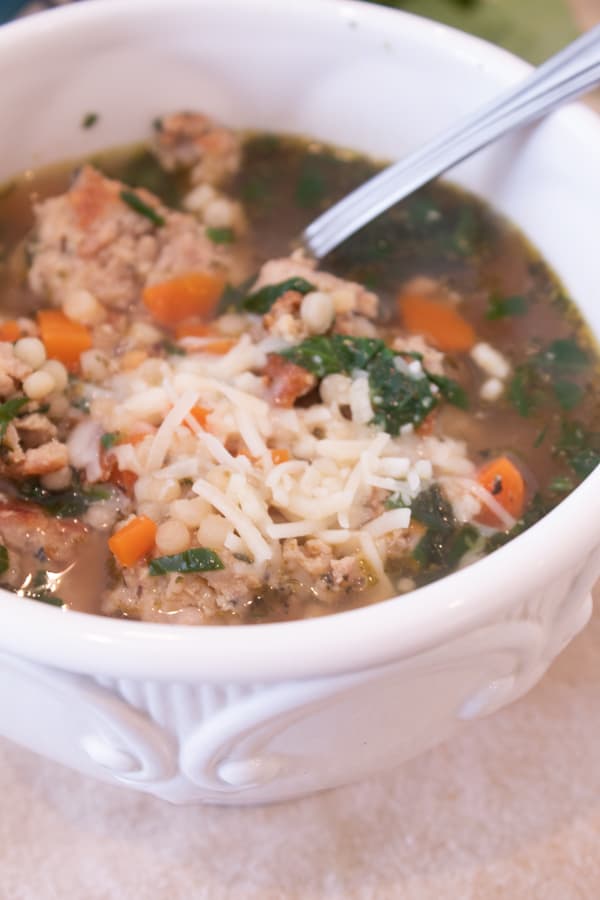 Time to serve it up! A big warm bowl of Italian Wedding Soup goes great with a chunky piece of crusty cheesy bread. It's got all of the elements so it's perfect just on its own, too though.
Enjoy Other Easy One Pot Soup Recipes: 
Cheers to easy and delicious soups- made simple. 🙂 – Rachel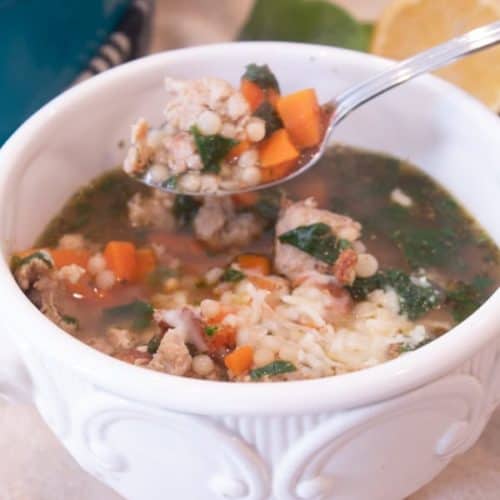 Italian Wedding Soup
A delicious 30 minute, one pot version of the Italian staple made popular in the United States.
Print
Pin
Rate
Ingredients
1

tbsp

olive oil

1

tbsp

butter

1

cup

chopped carrots

3/4

cup

chopped onion

yellow or white will work

8

cups

chicken broth

Kitchen Basics is our favorite brand

2

tsp

fresh parsley

fresh is best but dried will work

1

tsp

thyme

fresh is best but dried will work

1

tbsp

minced garlic

1

tsp

chopped rosemary

fresh is best but dried will work

1

cup

israeli couscous

or acini de pepe if you can find it

2

cups

chopped spinach

wait to chop until closer to serving time

parmesan to top (optional)
Meatballs
1

lb

chicken sausage

1/2

cup

bread crumbs

1

egg

1

tsp

salt

1

tsp

pepper
Instructions
Prep all ingredients except spinach; chop carrots, onions, rosemary, thyme, parsley, and garlic. Set aside.

Combine all ingredients for meatballs in a small bowl; mix well and form into balls. Set aside.

Heat butter and olive oil in a large soup pot on medium high heat. Once butter has melted, brown chicken sausage meatballs. It is okay if they do not retain shape.

Add chopped carrots to pan. Once about 50% soft, add onions and saute until translucent.

Add broth. Bring to light rolling simmer. Add couscous and cook for about 7 minutes, or until soft and fully cooked. Turn off heat. Chop spinach.

Once soup has slightly cooled and right before serving, add spinach and stir. Serve immediately. Top with parmesan if desired.
Nutrition
Serving:
1.5
cups
|
Calories:
404
kcal
|
Carbohydrates:
41
g
|
Protein:
24
g
|
Fat:
18
g
|
Saturated Fat:
4
g
|
Cholesterol:
58
mg
|
Sodium:
1365
mg
|
Potassium:
489
mg
|
Fiber:
3
g
|
Sugar:
4
g
|
Vitamin A:
4843
IU
|
Vitamin C:
8
mg
|
Calcium:
60
mg
|
Iron:
3
mg