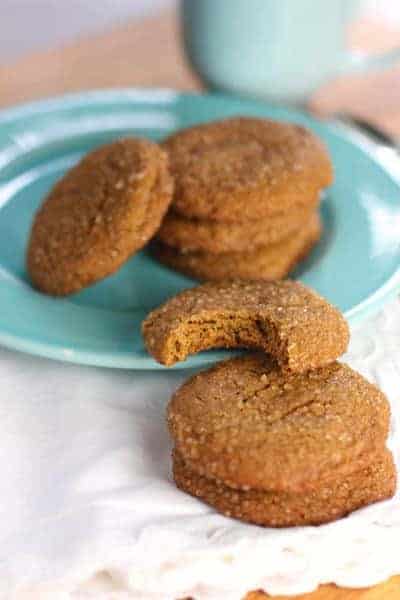 So lets just do this shall we?  Lets just post cookies all month…no chicken, no salads or veggies, nothing but cookies!   I have a cookie round up planned that is going to be so fun….because guess what?  In January, we diet!  I'll be sharing  how I've lost my 25  pounds and my struggle to lose another 20.  I have a couple guests lined up who will be sharing their stories as well.  We will do it together!  But until then?  Let there be cookies!
Soft Ginger Cookies….not to be confused with my Perfect Molasses Cookies.  These are softer and more cake like. (cake…yay!) but side by side?  Hey, I'd eat them both.  I couldn't pick one favorite between the two.  So make both and share!  Pick up a pack of cellophane gift bags from your local hobby store, stack them up, tie them with a pretty ribbon and share with those you love!
Another great gift cookie are Cream Wafer Cookies. These are based on an old Betty Crocker recipe.  They look so fancy but are really just so easy to make!
NOTES:
Do take the time to preheat your oven when making cookies – impatience will not be your friend.
Make sure there is at least 2 inches between your cookies before baking.  It's the difference between having a perfectly round cookie that looks like it came from a bakery or a semi-square cookie that looks like…well not a bakery cookie!
You can easily substitute regular sugar for the raw sugar to roll the dough in, but I like the crunchy texture the raw sugar gives and it kinda makes your cookies all sparkly..I like sparkly.
Soft Ginger Cookies
Ingredients
2¼

cups

all-purpose flour

2

teaspoons

ground ginger

1

teaspoon

baking soda

1

teaspoon

ground cinnamon

½

teaspoon

ground cloves

¼

teaspoon

salt

¾

cup

butter

softened

1

cup

white sugar

1

egg

¼

cup

molasses

1/3

cup

raw sugar

regular sugar will work too
Instructions
Preheat oven to 350 degrees.

Line cookie baking sheet with Silpat liner or parchment paper.

In medium bowl combine flour, ginger, soda, cinnamon, cloves and salt and set aside.

Using an electric mixer beat softened butter and sugar until light and fluffy. Add egg and molasses. Beat until well combined. Scraping down sides of bowl.

Gradually add dry ingredients to wet ingredients until well combined.

Shape cookie dough into 1" balls and roll in raw sugar.

Place 2" apart on prepared baking sheet.

Bake for 10-12 minutes or until cooked through but soft to the touch.

Cool 5 minutes before removing from baking sheet onto cooling rack.

Other stuff thats yummy: