Skillet Baked Eggs with Potatoes and Bacon: Super easy to make, and with a few modifications, is Whole30 compliant!
My name is Rachel, and I'm an eggaholic.
I love eggs. Poached eggs. Hardboiled eggs. Egg Salad. Runny Eggs. Firm Eggs. Scrambled Eggs. Hell-even chocolate eggs. I could go on…
My husband hurt his back and I've been tending to him- what.a.joy. (Insert sarcastic emoji face here). While his back was bugging him and he was in some serious pain, he insisted on breaking out his chainsaw and going to town on some tree stumps in the backyard. Aaaaaaand they wonder why women live longer than men…
So- He is working outside, I'm inside cleaning and singing stupid songs to my dog that I love entirely too much "Mr. Walter likes to dance…Mr. Walter wears no pants…", (it's a simple life, but hey- it's mine), and I thought a nice hearty breakfast would do us both some good.  SO, I raid the pantry…Skillet Baked Eggs with Potatoes and Bacon it is.  
I just bought a new cast iron skillet from Fred Meyer (a Target-Like store we have here in WA state), and OMG- I love it! I have never had a cast iron skillet before, and I am so in love with this thing! Pretty sure I was a pioneer princess in a past life. Okay, probably not, I can't stand camping, and I'd die without a curling iron, but hey- cast iron skillets, they're great.  I just wished they curled my hair!
Here's the link to my favorite – A Lodge Cast Iron Skillet.  There is a bit of a science to cast iron skillets,  (link here).   Wishing I would have found one a lot sooner!
I love this Skillet Baked Eggs with Potatoes and Bacon because it is stupid easy to make, and it looks so impressive! If you're a Whole30-er, eliminate the cheese, and replace the butter with ghee for a delicious and compliant meal. I topped mine with basil, but green onions would be great, too.  Or tomatoes! Oooooh do tomatoes WITH basil, you so fancy.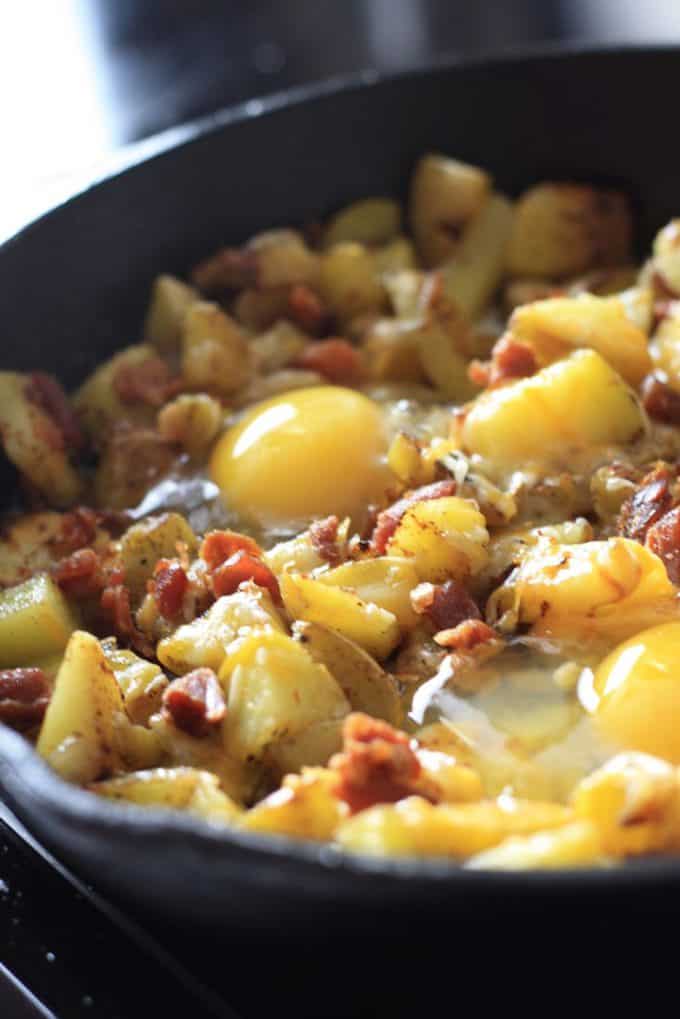 If you love this recipe- check out our Eggs Benedict Casserole, and our Easy Breakfast Pizza!
Skillet Baked Eggs with Country Potatoes and Bacon
A delicious, quick option for a healthy, hearty breakfast!
Ingredients
2

tablespoons butter

I use Kerrygold because it's magic. Seriously- try it- it's incredible.

4

cups

medium golden yukon potatoes

But- any type of tater would work.

1

cup

diced white or yellow onion

4

eggs

More than 4 people? Add more eggs!

1/4

cup

crumbled bacon

1/4

cup

cheddar cheese

salt and pepper to taste

basil

Optional- Only if you're fancy.

tomatoes

Option- Only if you're fancy.
Instructions
Preheat oven to 350 degrees.

On Stovetop: Heat skillet to medium heat, and add butter (ghee if you're on the Whole30 diet), potatoes, and onion to pan. Stir for 10-15 minutes, or until potatoes and onion have nice brown toasty edges.

Top potatoes and onion mixture with bacon and stir. Sprinkle with cheese if you desire (Whole30 dieters- leave this step out!). Make small well where for eggs, and gently crack and drop eggs into well, leaving yolk in tact.

Sprinkle with light dusting of salt and pepper, and place into oven for 10-12 minutes, or until eggs are cooked to your desire.

Serve as is, or top with basil and tomatoes if you desire and enjoy!
Nutrition Facts
Skillet Baked Eggs with Country Potatoes and Bacon
Amount Per Serving
Calories 266
Calories from Fat 81
% Daily Value*
Fat 9g14%
Cholesterol 179mg60%
Sodium 253mg11%
Potassium 1022mg29%
Carbohydrates 30g10%
Protein 15g30%
Vitamin A 310IU6%
Vitamin C 26.9mg33%
Calcium 148mg15%
Iron 7.8mg43%
* Percent Daily Values are based on a 2000 calorie diet.